This post contains affiliate links. If you book something through these links I get a small commission at no extra cost to you. You can read more about mydisclosure and affiliate policy here.
…
Diving in Indonesia is world-renowned and for good reason. With over 16.000 islands surrounded by the Indian Ocean and the Pacific Ocean, there are plenty of great dive spots to explore. Where to go diving in Indonesia depends entirely on what you are in the mood for – here are some of my favorite dive spots and how to get there.
My favorite places for diving in Indonesia
The options to go diving in Indonesia are sheer endless. Raja Ampat, Alor diving, Bali, Wakatobi, the Banda Sea – it all depends on when you want to dive and what you want to see. Lembeh diving is great for macro life, Komodo and Nusa Lembongan for mantas, the Gili Islands for turtles… Read on and find out more about some of my favorite dive destinations in Indonesia.
Diving in Indonesia – Prices & Logistics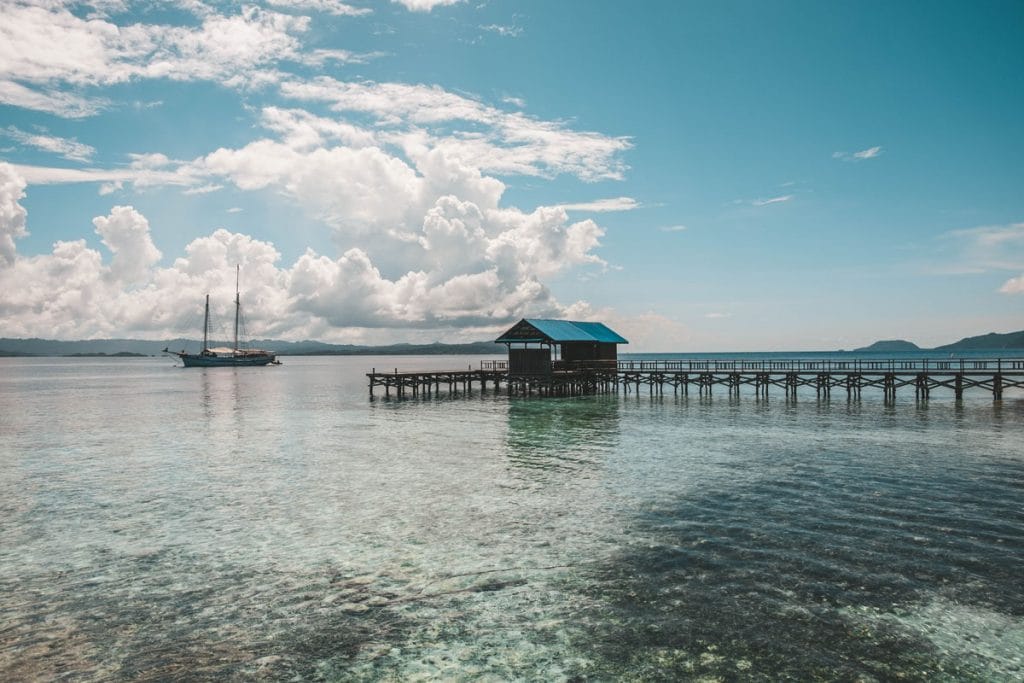 On average, fun dives throughout Indonesia will cost you between 1,000,000 IDR (ca. $65) and 1,500,000 IDR (ca. $100) for a 2-dive trip. The price will depend on where in Indonesia you are diving, if you are doing boat or shore dives, and if you bring your equipment. Most dive centers will offer a small discount if you have your own gear and/or are a dive professional. If you are planning to stay longer you should definitely inquire about dive packages to save a bit.
Another factor to keep in mind when putting together your dive budget for Indonesia are marine park fees as those can be quite steep. In Komodo, the prices are currently 125,000 IDR (about $8) for divers per day (but are said to increase for 2023) and in Raja Ampat, you will have to pay 1,000,000 IDR (ca. $65) for a yearly permit.
Indonesia has both, boat and shore diving, it really depends on where you want to dive. Boat diving is done from speedboats, traditional fishing boats, dingies – you name it. If you prefer certain comforts or need space for sidemount tanks or something like that, ask your dive center beforehand how they conduct their dives.
Unlike Thailand, diving in Indonesia is a little trickier simply due to logistics and distance when it comes to getting to places. For some of the best scuba diving Indonesia, you will have to travel to remote islands or even get a liveaboard. While flying with domestic carriers in Indonesia is pretty inexpensive it can add up, especially if you are taking your own dive equipment.
The best time to dive in Indonesia
Scuba diving Indonesia can be done all year long. The season is loosely split between the dry season from May to September and the rainy season from October to April with the dry season offering slightly better conditions. However, it will very much depend on where you go diving in Indonesia and what you want to see.
Generally, I would not be deterred to dive during the wet season. Not only does it not rain nonstop but also prices are usually better when you don't dive in high season.
Many liveaboards in Indonesia will move with the season i.e. first they cover Komodo, then the Banda Sea, and later in the year Raja Ampat.
Find a Liveaboard in Indonesia
Komodo
One could assume that Raja Ampat and Komodo fight over the spot for the best diving in Indonesia, but luckily you don't have to choose one or the other.
Komodo is world-renowned for its currents that bring nutrient-rich water which attracts mantas, all kinds of sharks, and big schools of fish and critters.
Komodo is both the name of an island and a national park. You can reach the Komodo National Park from Labuan Bajo in Flores. There are a few dive centers in the area as well as boats that offer day trips and of course, liveaboards that will show you the best of Komodo diving over a few days.
Find a Komodo liveaboard!
Diving in Komodo is possible all year long as the area is divided into north, central, and south which each have their own conditions. It also depends of course, on what you want to see.
A highlight even for divers: Komodo offers a lot of cool stuff above the surface as well. You can see the famous Komodo dragons, visit Bat Island, hike to amazing viewpoints, and chill on one of the few pink beaches in the world.
Read the complete guide for diving in Komodo
Diving in Bali
Bali is a paradise for both surfers and divers, and there are great Bali diving spots all around the island. You can dive in Sanur and Padang Bai but probably the most famous areas are Amed and Tulamben as well as Menjangan Island. Another region often overlooked by divers who don't know the area well is the north of Bali, from Permuteran to Lovina.
The east coast offers one of the most famous wrecks in Asia: the USAT Liberty Wreck, Bali. Dive centers in both Amed and Tulamben can take you there for a shore dive. If you are not into wrecks there are plenty of amazing reef dives with wonderful macro life in the area.
Menjangan Island is an uninhabited island in the West Bali National Park. You will only see people during holidays as there are some important temples and shrines on the island. If you get lucky you will get to see some deer, which the island is famous for.
For divers, there are quite a few stunning walls and reefs to discover – beautiful coral fans, warm water and lots of marine life await.
If you head further east from Menjangan you will find plenty of dive spots along the coast. Most are shore dives or you will hop on a traditional fishing boat.
You can find some of the best diving in the north of Bali in Permuteran Bay, in Lovina, or – my personal favorite – at Puri Jati in Pantai Umeanyar. The latter is a wonderful ugly muck dive site known for Mimic octopuses, Pegasus sea moths, and many other weird and wonderful critters.
A yoga & diving retreat in Bali
Many dive centers in Bali also offer trips to Nusa Penida and Nusa Lembongan though the prices are quite a bit higher than if you stay on the islands directly and choose a local dive center.
Nusa Islands
The Nusa Islands are east of Bali and for many synonymous with Bali diving. The area is known for its manta and mola mola sightings as well as some beautiful reefs and amazing visibility.
You can dive and have a good chance for manta rays all year long though if you want to see sunfish you should come in August or September. The most famous dive sites are Manta Point and Crystal Bay as well as Blue Corner. If you are a novice diver chat with your dive center beforehand as conditions can get quite rough – cold water and lots of current sometimes require that divers have more experience at those sites.
You can reach the Nusa dive spots either on a day trip from Bali or hop on a speedboat and stay on Nusa Penida, Nusa Lembongan, or Nusa Ceningan. In terms of diving, it doesn't really matter as most dive centers will take you to all the famous dive sites that are dotted around the three islands.
The complete guide to Diving Nusa Lembongan
Gili Islands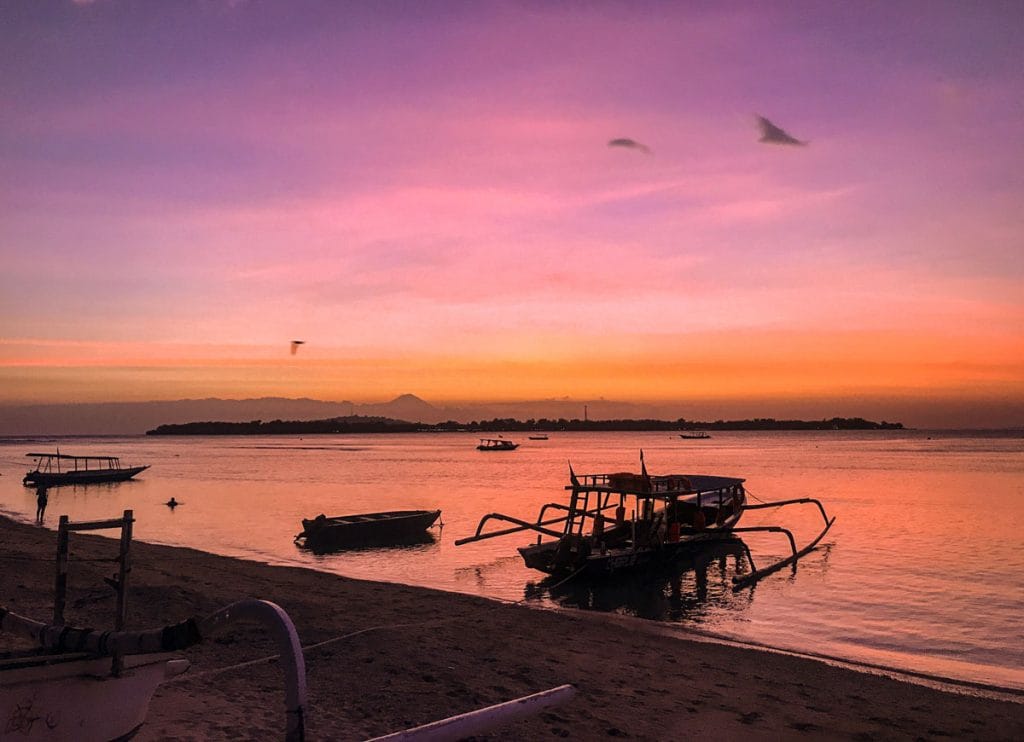 The Gili Islands are technically part of Lombok but you can easily reach them from Bali as well. The diving is not the best in Indonesia but a wonderful option for those who love warm water, are new to diving, or are into turtles. After all, the Gilis are considered the Turtle Capital of the World!
Diving in Gili is best in May and June as well as in October and November. There are three Gili Islands with dive centers all around that cover more or less the same 20-something dive spots in the area. While the reefs are unfortunately not in the most pristine conditions you can still look forward to many turtles, reef sharks and colorful reef fish, frogfish, and nudis.
If you are into muck diving let your dive center know as they are usually more than happy to put a muck dive in Kecinan Bay or Lombok Harbor on the schedule.
The complete guide to Diving in Gili
Raja Ampat
Raja Ampat is one of those places that is whispered about in awe by divers. Even when it comes to diving in Indonesia which can be considered overall great, Raja Ampat takes the cake.
The islands are part of the Coral Triangle at the meeting point of the Indian and Pacific Oceans. The biodiversity in Raja is incredible, both above and below the surface. Probably most famous is Cape Kri, a dive site where 374 species were counted on a single tank dive. But even if you can't count that many, diving in Raja Ampat rarely disappoints – from mantas to pygmy seahorses, from wobbegong sharks to frogfish there is something for everyone here.
Find a liveaboard in Raja Ampat
You can technically dive in Raja Ampat all year long though the best months are from October to May when most liveaboards cross the Four Kings (the name derives from the four main islands of Raja). Most leave either from Sorong or Waisai.
If you prefer to set your own dive schedule there are plenty of dive resorts all over Raja Ampat as well as some smaller dive centers in places like Arborek Village.
The complete guide to dive Raja Ampat