This post contains affiliate links. If you book something through these links I get a small commission at no extra cost to you. You can read more about mydisclosure and affiliate policy here.
…
Diving in Thailand was my first scuba experience and maybe that is why the country still holds such a special place in my heart. While it might not be the most exciting dive destination in the world, there are beautiful places to explore underwater and I am here to show you some of the best places to dive in Thailand.
My favorite places for diving in Thailand
Thailand diving can be roughly divided by east and west. The Andaman Sea is in the southwest of Thailand and comprises the Similan Islands, dive sites between Koh Lanta and Phuket as well as Koh Lipe and the Tarutao marine park in the south, just above Malaysia. On the east side lies the Gulf of Thailand. Here you can go to Pattaya or the islands around Koh Chang, though the best scuba diving in Thailand for beginners is on Koh Tao.
Diving in Thailand – Prices & Logistics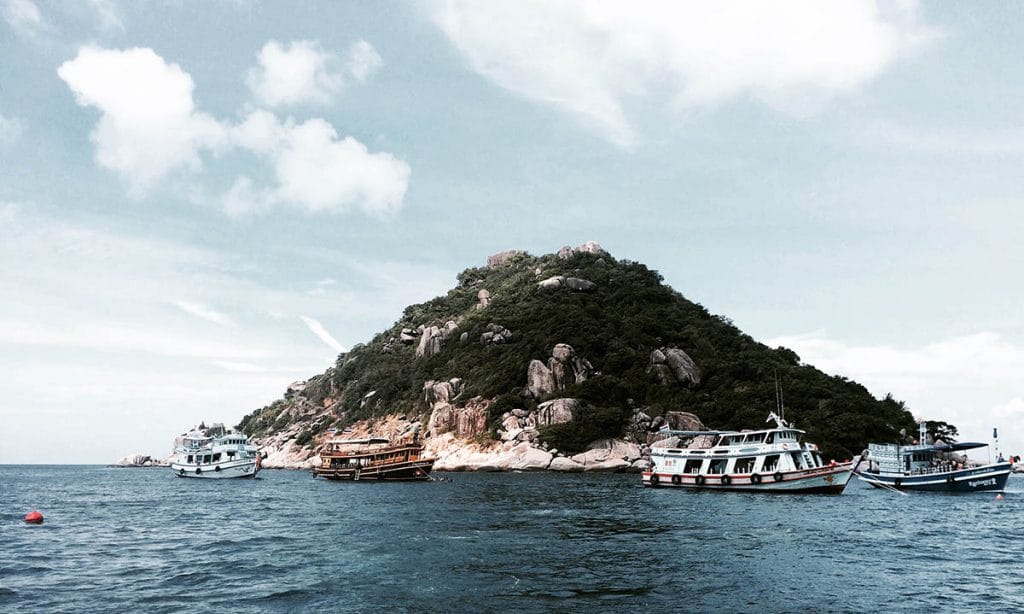 Diving Thailand is quite inexpensive, especially when compared with other scuba destinations around the world. If you are on a budget, Koh Tao is probably your best option to save. Thanks to a huge amount of dive centers prices for courses and fun dives here are notoriously low. At the moment you can expect to pay about 10,000 baht for an Open Water Course and 1,600 baht for 2 fun dives and on the Andaman side about 14,000 baht for the OW and 2,500 baht for 2 fun dives.
Many dive centers on both coasts will offer packages if you book more than one day of diving and give discounts if you bring your own equipment and/or are a dive professional. Keep in mind that if you plan to dive in Thailand's Andaman Sea, most dive sites are part of a marine national park. To access those parks you will need to pay an extra fee, both as a diver and as a snorkeler. Your dive center will tell you how much this is (usually about 600 baht per person per day) and if you get a discount when diving for more than one day.
How to get to the best diving spots in Thailand? Depending on which coast or island you choose, getting there will be easy breezy or a little bit more complicated. When in doubt check with your dive center of choice as many will help you organize transfers or will at least advise you on how to plan your Thailand scuba diving holiday.
Dive boats in Thailand tend to be super comfortable. Depending on the dive site and weather conditions, many dive centers offer a trip on their 'big' boat or a speedboat. Needless to say that a speedboat gets you to your designated destination faster however I prefer the 'big' boats in Thailand – more room to chill, more things to eat (many dive shops in Thailand will include your meals), and a compressor on board which makes for easy tank-filling.
The best time to dive in Thailand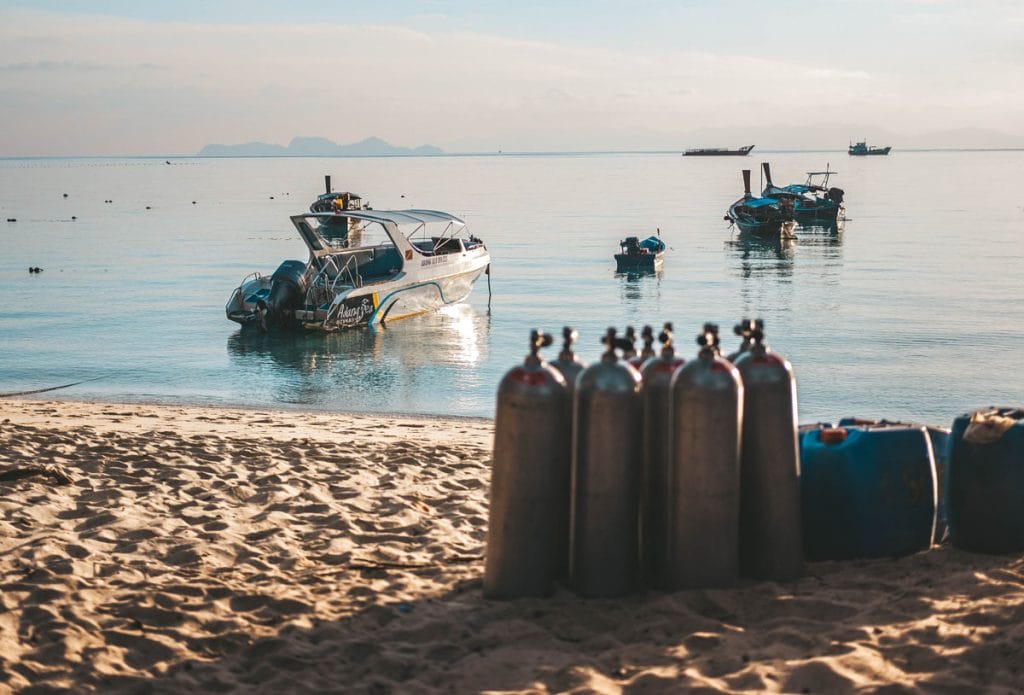 The Andaman Sea diving season lasts from October to May with the high season being from December to April. During the other months, you can expect quite a bit of rain and storms, making diving there not so fun. The best time to dive in Thailand's gulf is from May through September, which makes scuba diving in Thailand a year-round activity. Regardless of when or where you go you can usually expect balmy temperatures that hover around 29 C.
The season you choose will determine the best diving spots in Thailand. Click on the area you are interested in on the map above and learn more about Thailand's scuba diving destinations, what they have to offer, and how to get there.
Similan Islands & Surin Islands
If you are looking for the best diving in Thailand in November head to the Similan Islands. The marine park is open from October 15 to May 15 and with that, the Similan Islands diving season is in full swing.
While you can do a day trip to the Similan Islands from Khao Lak, the best way to explore the park is a liveaboard as the sites are quite far off the coast. Liveaboards usually depart from Khao Lak or Ranong and offer short 3 day trips or a longer excursion which will usually include the Surin Islands, a great place for macro lovers.
Find a Similans liveaboard!
In the Similans, you can look forward to diving with a variety of marine life, and even mantas and whale sharks when in season. Trips usually include dives at Richelieu Rock which many claim is the best place to scuba dive in Thailand.
Can you dive in Khao Lak? Yes, technically you can dive in Khao Lak though dive sites themselves are nothing to write home about, to be honest. But it is a good base to head on a liveaboard in Thailand or explore dive sites further south for a day.
Read the complete guide for Similans liveaboard diving
Andaman Sea Diving – Phuket, Koh Phi Phi & Koh Lanta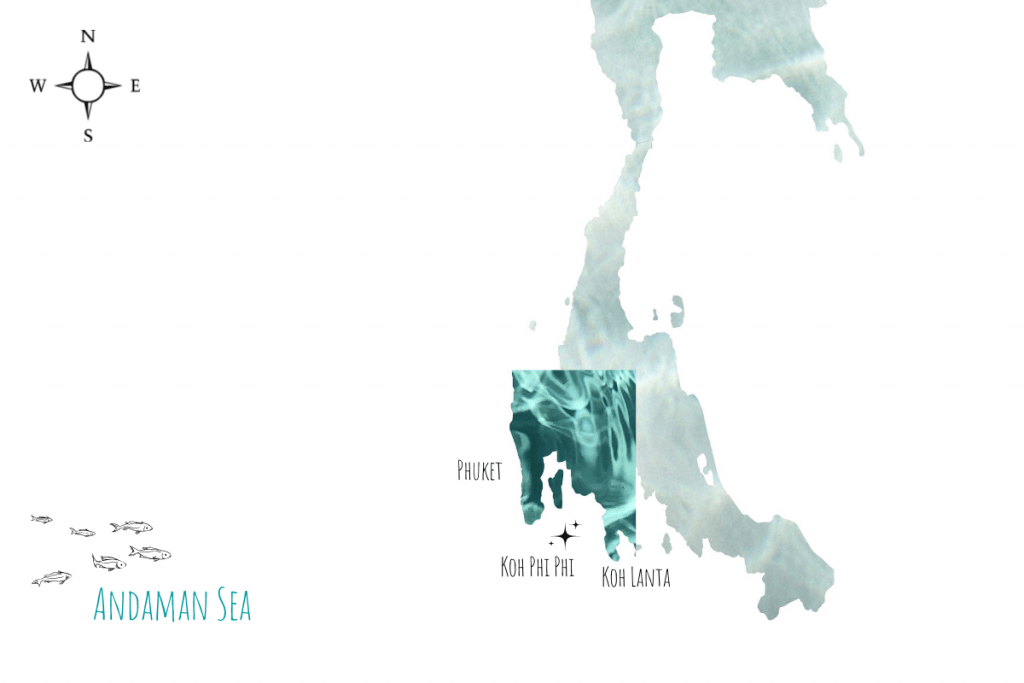 In the Andaman Sea, you have Phuket in the west, Koh Lanta in the southeast, and little Koh Phi Phi somewhere in the middle. All three islands share their dive sites so don't be surprised if you see the same ones offered from a Phuket diving center or a Koh Lanta dive center.
So what are the different dive sites in the Andaman Sea? One of the most famous dive sites is probably the King Cruiser Wreck, a passenger ferry that sank on its way to Phi Phi (don't worry everyone survived!). You get the Anemone Reef and Shark Point as well as Racha Yai and Racha Noi (also simply called the Rajas) and then you get the really good stuff.
Find a dive center in Koh Phi Phi!
Thailand's best diving is done at Hin Daeng & Hin Muang, the islands around Koh Haa, and Koh Bida. Those can best be reached from Koh Lanta or Koh Phi Phi and offer plenty of dive sites for a variety of levels. To get to Hin Daeng the conditions have to be just right but once you made it, this is your best option to see mantas and whale sharks.
Which island you choose depends on what kind of holiday you are looking for: Phuket is the biggest island and offers the most in terms of entertainment and activities. If you plan to go scuba diving from Phuket make sure to stay in the east of the island or at least somewhere on the coast to avoid super long travel time. Technical divers should also head to Phuket because Ben Reymenant's has his famous Blue Label Diving on the west coast close to the airport.
Koh Phi Phi is the smallest option and perfect for sunseekers, backpackers and partygoers while Koh Lanta offers probably the best mix between the two others and is closest to some of the best diving in Thailand.
The complete guide to Koh Phi Phi Diving
Regardless of which island you choose for the best scuba in Thailand, you will need to expect at least an hour's boat ride.
The complete guide to Koh Lanta Diving
Koh Lipe Diving
With all the excitement that Koh Lanta diving offers, it seems that Koh Lipe is sometimes an afterthought when people talk about scuba in Thailand. What a pity because to me Koh Lipe seriously offers the best diving in Thailand!
Mind you getting there is a bit of a mission, and in non-Covid times your best bet is to come via Langkawi, Malaysia as the island has its own immigration office. Otherwise, you need to fly, take a minivan, and then a boat. But it is so worth it!
Find a dive center in Koh Lipe!
From Koh Lipe, you can head to a variety of dive sites, some of which are part of the Tarutao marine park. What makes diving in Koh Lipe so special is a beautiful mix between big stuff, macro life, and the most incredible soft corals. Think fields of purple and pink and a whale shark hovering on top while you are taking a picture of a frogfish – yes, this can happen in Koh Lipe!
The complete guide to Koh Lipe Diving
Gulf of Thailand – Koh Samui & Koh Tao Diving
If you want to go diving in Thailand in May you should head to the Gulf. Off the coast in Surat Thani, you find Koh Samui, Koh Phangan, and little Koh Tao. Koh Tao has made a name for itself as one of the diving destinations in Thailand and offers great prices and easy conditions. While the diving might not be as exciting as in other parts of Thailand, there is still plenty to see and it is the perfect place for an Open Water Course and to learn scuba diving.
And yes, you can also go diving in Koh Samui though the local dive centers tend to head to Koh Tao for their diving so you may as well stay closer to the action.
Find a dive center in Koh Tao!
All around Koh Tao you have some beautiful, easy dive sites, the HTMS Sattakut wreck which is a good wreck for beginners, and maybe a whale shark or two. If you wanted something a bit more exciting look out for trips to Chumphon Pinnacle, South West Pinnacle, or to Sail Rock, Thailand which is considered the best dive site in the Gulf.
By the way – the island also has some excellent options for technical divers and some pretty exciting wrecks further out for those keen for a deco dive.
The complete guide to Koh Tao Diving
Pin for later!