This post contains affiliate links. If you book something through these links I get a small commission at no extra cost to you. You can read more about mydisclosure and affiliate policy here.
…
In the mood for a diving holiday in Thailand? Consider Koh Tao scuba diving for your next trip! All you need to know about diving around the little paradise in the Gulf of Thailand in this post. And if you are wondering is Koh Tao open at the moment – yes, it is! Read about how to get to Thailand in 2021!
The Ins & Outs of Koh Tao Scuba Diving
What makes diving in Koh Tao so special?
I will be the first to admit that Koh Tao diving can't keep up with some of the great dive destinations in the world like Maldives or Raja Ampat. Even in Thailand, places like the Similan Islands or Koh Lipe are probably better suited if you are an experienced diver in search of really cool marine life. That said, Koh Tao holds a special place in my heart as this is the island where I first learned to dive and did most of my training.
While diving Koh Tao might not be the best of the best, it is pretty good thanks to easy conditions, accessibility, and a huge selection of dive schools. Some may call it a scuba factory and the truth is – it can be. However, if you take your time to research the find the right one for you amongst all those Koh Tao diving schools you are in for a treat.
Dive sites offer something for beginners and advanced divers as well as wreck and technical diving. Fish life is plentiful and Koh Tao is known for its many whale sharks sightings in summer.
More great spots for Diving in Thailand
On top of it, it is pretty easy to get to there and the Koh Tao diving prices for courses as well as fun dives are incredibly low compared to other parts of Thailand and the rest of the world. In addition, there are great options for accommodation for each budget, some good bars and plenty of restaurants, beautiful beaches and hikes – all in all, a great holiday destination not just for scuba divers.
Best time for diving in Koh Tao
Technically you can dive all year long in Koh Tao with balmy water temperatures of 29 °C degrees. However, the best conditions are definitely between May and August – this is the best Koh Tao diving season! Create your perfect trip and head to Koh Lipe and the Similan islands before and then go diving in Koh Tao afterward when the diving season in the Andaman Sea is ending.
Koh Tao Dive Sites you shouldn't miss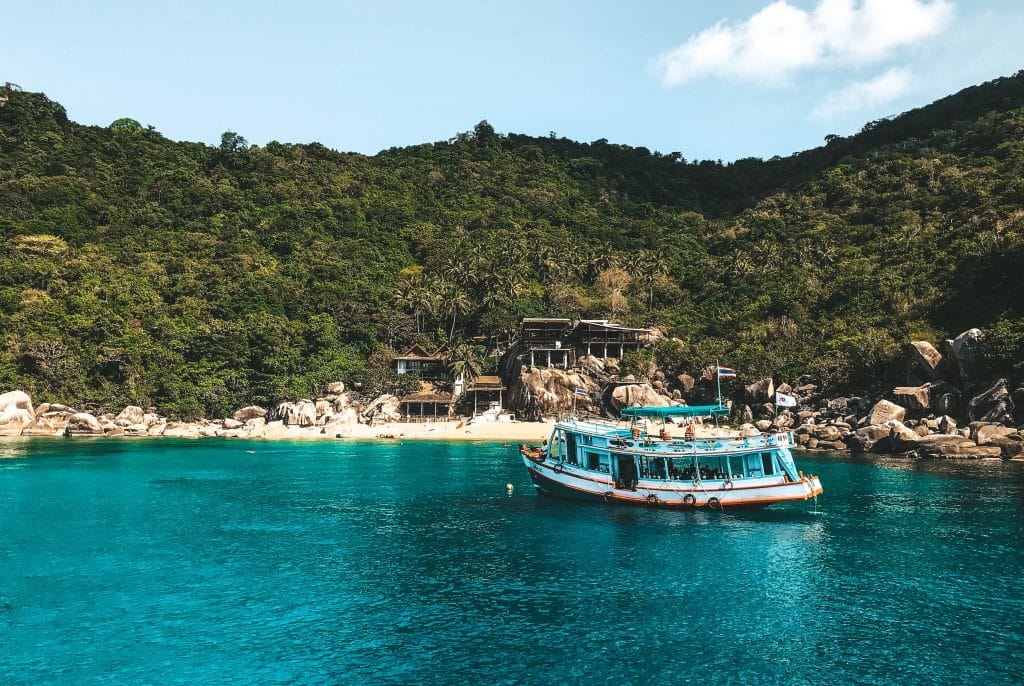 Dive sites are usually announced the previous day by dive centers according to weather conditions and course requirements. They also depend on where the dive center is located to avoid long boat rides and the tide which sometimes won't allow the longtail boats to access the beach.
If you have a dive site in mind you want to dive in Koh Tao, just ask – usually dive centers are more than happy to put special muck dives, night dives, or simply your favorite on the schedule if they find enough people to fill a boat.
There are plenty of sites for Koh Tao scuba diving including places like the Junkyard Reef, Aow Mao, Laem Thian, Tanote Bay, and Aow Leuk. Some dive centers in Koh Tao have a boat with a bottom finder (like Big Blue!) and can access less frequented dive sites like Samran and hidden wrecks like the Chip-Ship which won't even make it on a Koh Tao dive sites map they are so far off.
These are some of the favorite and most frequented Koh Tao dive sites:
Sailrock
Trips to Sailrock are usually a highlight for many divers and are normally announced a few days in advance. Most trips will offer 2-3 dives, include breakfast and lunch, and cost a bit more than your average boat dive as fuel costs need to be covered since it takes about 1,5 hours to get to Sailrock from Koh Tao.
Once you have made it, you will be rewarded with huge schools of fish like barracudas, a cool chimney to swim through, and if you get lucky a whale shark or two.
Sailrock depth: 1 – 40 m
The complete guide to Sail Rock Diving
Chumphon Pinnacle
Chumphon Pinnacle is one of the favorite dive sites in Koh Tao for many divers myself included. Maybe because I most recently saw whale sharks there or because the fields of anemones on top of the pinnacle are so beautiful or because you are almost guaranteed to find some huge schools of fish there.
It is also perfect for deep-dive training as there is a part that goes down to 40m, for beginners as there is plenty to see on top of the pinnacle, or for a solo dive as it is almost impossible to get lost.
Chumphon Pinnacle depth: 12 – 35 m
Why you should get your Deep Diver Speciality
Southwest Pinnacle
Southwest Pinnacle is another beloved dive site about 10 km from Koh Tao and a great one for deeper dives. There is also a Secret Pinnacle worth a detour for schooling fish like trevally and barracudas. Look out for Bryde's whales on the way!
Southwest Pinnacle depth: 5 – 30 m
Sattakut & Hin Pee Wee
I am not a wreck lover. There I said it and I only changed my mind a bit when I decided to do my wreck specialty during my most recent trip to Koh Tao. But many divers love it and the HTMS Sattakut is a great playground for those who love wreck diving.
I enjoyed it mainly because the Sattakut, an old battleship, was sunk on purpose making it less eerie to me and also because it was so much less crowded than usual. With a minimum depth of 20 m, you will need at least your AOW to dive here but she is also frequently used for the wreck specialty course and tech diving as there are various levels that you can penetrate. For everyone else, there are some fun swim-throughs, two canons, and the options to explore Hin Pee Wee, a dive site next to it. The combination is quite nice as you can explore a bit longer once you reach your NDL at Sattakut.
And yes, the visibility is not always the greatest here…
Sattakut depth: 20 – 30 m
Hin Pee Wee depth: 8 – 28 m
White Rock, Green Rock & Red Rock
The three Koh Tao rocks are all fun dive sites with plenty to see – whether you are looking for triggerfish (not me!), small shrimp and pipefish, or just a whole lot of colorful reef fish. They are also great dive sites if you want to go night diving in Koh Tao.
White Rock is the biggest of the three and easy to spot even for the untrained eye as you can see the white rock just beneath the surface. Green Rock has plenty of swim-throughs and Red Rock, next to Japanese Gardens, is probably best known for its Nangyuan cave. Fear not – it is not an actual cave but rather another fun swim-through!
Green Rock depth: 5 – 25 m
Red Rock depth: 5 – 20 m
White Rock depth: 2 – 22m
Twins & Buoyancy World
Twins is super popular for diving novices in Koh Tao as it is an easy and shallow dive site consisting of two main rock formations. Since it is used so often for training I honestly forget what a pretty dive site it actually is thanks to plenty of coral and fish life like blue-spotted stingrays, moray eels, and gobies. While the once-famous Nemo has allegedly left Twins it is still worth a dive or two.
Alternatively, you can drop down to Buoyancy World next to Twins a fun dive site with some concrete underwater creatures and structures making it perfect for yes, buoyancy practice, or in my case sidemount training and line laying.
Twins depth: 5 – 18 m
Buoyancy World depth: 10 – 15 m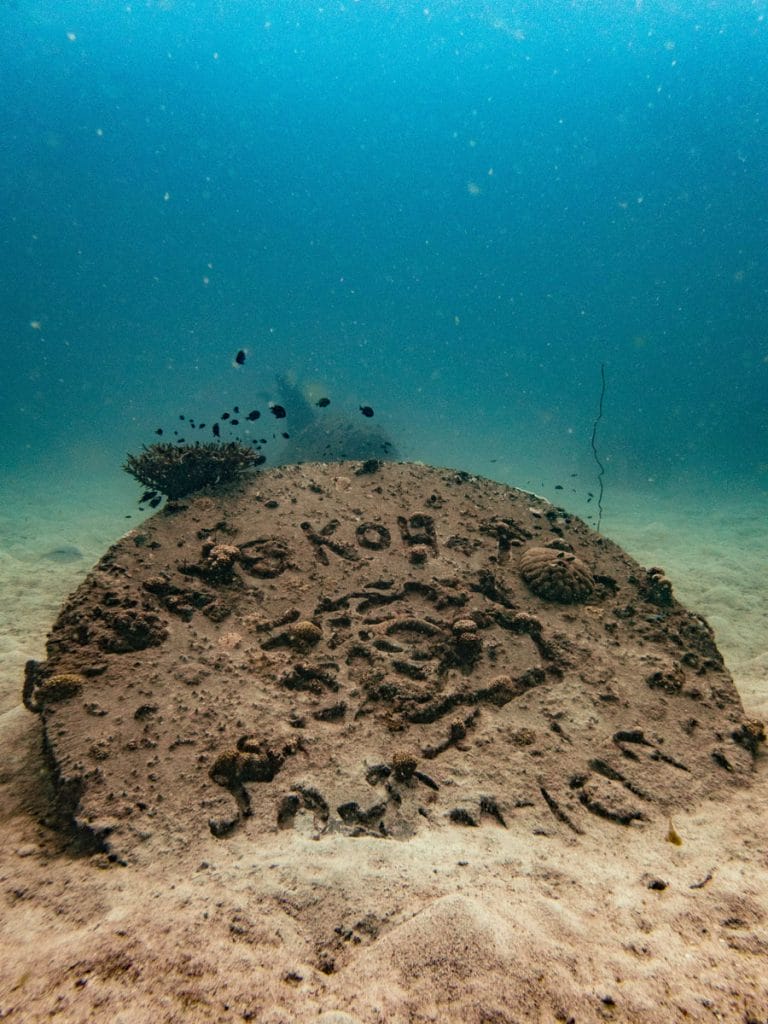 Japanese Gardens
Just off Koh Nangyuan lies Japanese Gardens another beloved dive site for beginners. It can get a bit crowded here as it is also popular with snorkelers but the dive site makes up for it with beautiful coral formations and plenty of smaller marine life. While I don't think it resembles an actual Japanese garden I would put it on my list of easy favorites in Koh Tao.
Japanese Gardens depth: 1 – 14 m
HOW TO GET YOUR OPEN WATER SCUBA CERTIFICATION
Mango Bay
Mango Bay is also a perfect mix of training and fun dive site. While there are plenty of artificial reef cubes that are great to lay lines and do buoyancy practice there are also coral heads and some good sea life to discover. In addition, the bay itself is really beautiful and makes for nice a nice backdrop during a surface interval.
Mango Bay depth: 2 – 18 m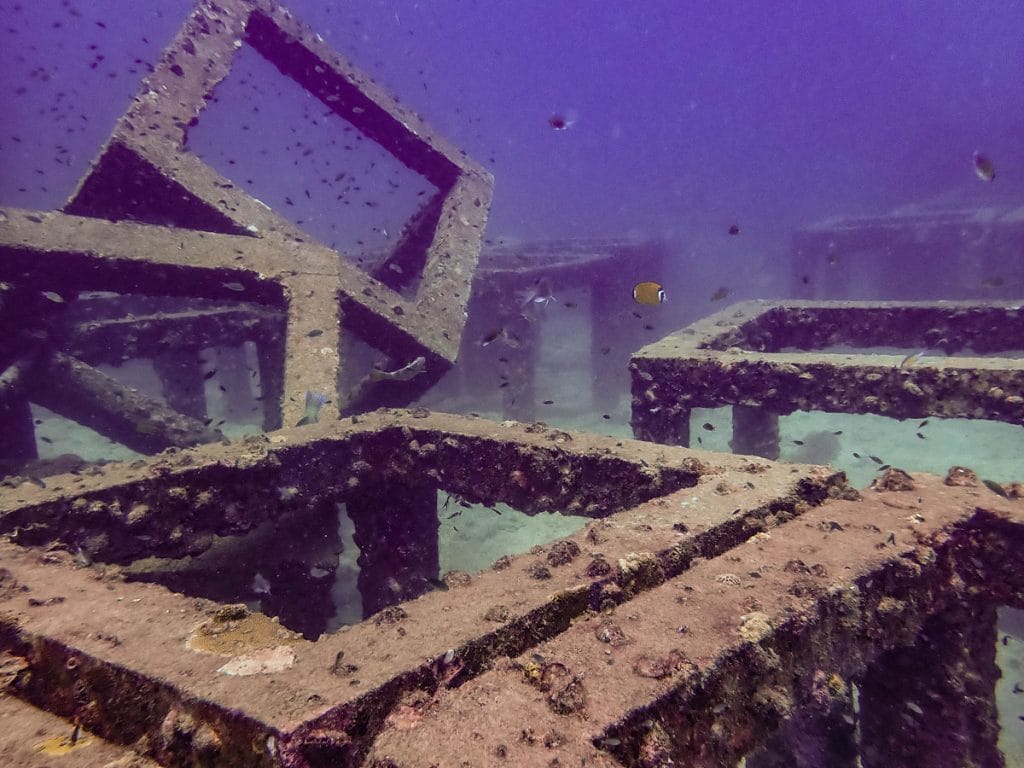 Shark Island
Unfortunately, Shark Island is not called Shark Island due to its huge shark population but the fact that its shape looks a bit like a shark fin. Still, if you are in the area of Aow Leuk it is a great dive site to see especially if you wanted a bit of a challenge – unlike most Koh Tao dive sites this one can get quite a bit of current.
Shark Island depth: 4 – 25 m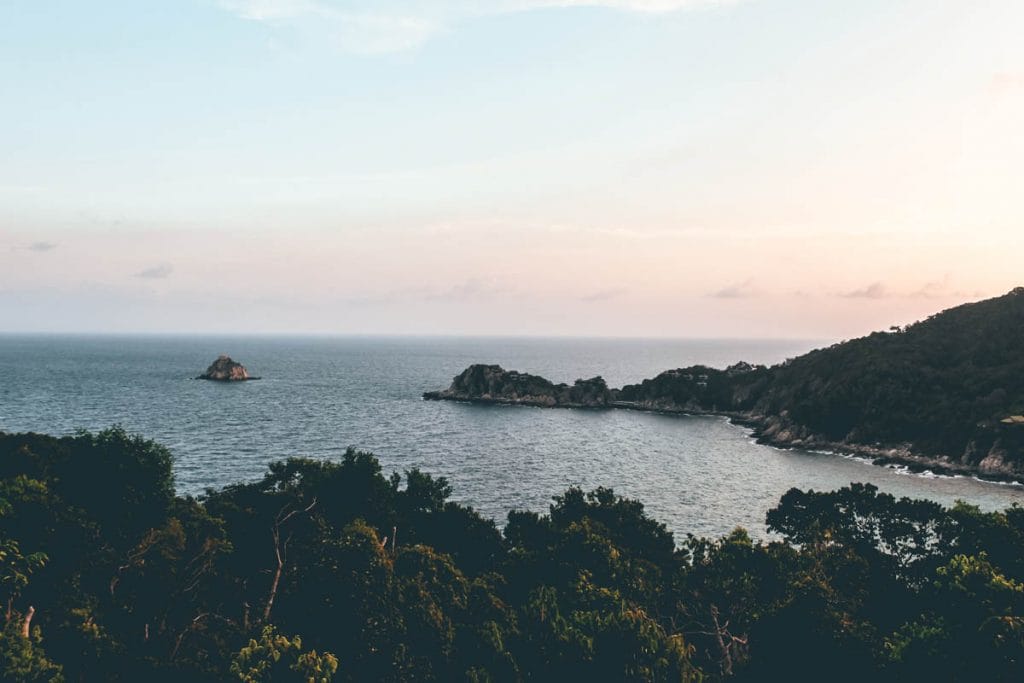 How to find a great dive center Koh Tao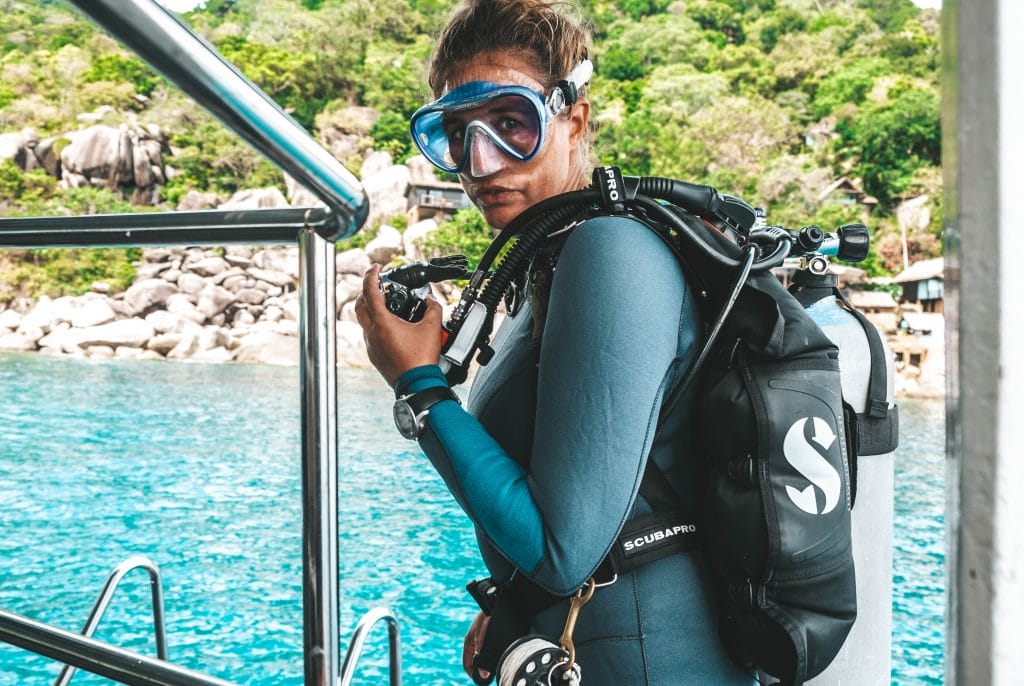 By now there must be about 70 dive centers in Koh Tao and with this many choices, you can definitely find something to your liking. Ban's Diving, Rocktopus, Koh Tao Divers, and Big Blue Diving Koh Tao are some of the most established, biggest diving schools in Koh Tao but there are many smaller ones as well. If you prefer to be taught in Thai, German, French, or Spanish there are also suitable schools that offer classes in languages other than English. In addition to all the regular scuba diving schools, there are also a few where you can take a freediving course.
Find a dive center in Koh Tao
My advice: Get to Koh Tao and have a look around. Most Koh Tao dive schools are either dotted along Walking Street in Sairee, in Mae Haad, or in Chalok Bay. Depending on where you want to spend your holidays you should choose your dive center accordingly. Especially at the moment, there is really no reason to pre-book your dives or courses and chances are good that you can arrange everything once you have arrived. This has the advantage that you can meet potential instructors and dive guides, get a feel for the atmosphere at the dive center and see their equipment beforehand.
After a not-so-great divemaster training with a dive center in Chalok Bay, I switched and started diving with Big Blue, my now favorite diving school, Koh Tao. While I was initially put off by their size I realized that coursed and dive groups are still kept small but due to their size they are able to offer a lot more dives in a day and a better variety of dive sites.
Another bonus for me was the fact, that they are one of the few dive centers in Koh Tao that has their own tech diving division, Big Blue Tech. So if you ask me what the best dive shop on Koh Tao is, I'd say Big Blue. But as I said – I highly recommend checking out a few dive centers when you arrive and see what you like.
Book dives with Big Blue Koh Tao
By the way – prices for diving in Koh Tao are set so unless you can score a deal with accommodation you don't need to shop around for the best rate but can focus on finding the perfect instructor for you and your Koh Tao PADI course (or SSI, SDI of course…).
How to get to Koh Tao
There are a couple of options to get to Koh Tao, depending on how much time you have and your budget.
The fastest option is to fly to Chumphon, Koh Samui, or Surat Thani and then take a ferry like Lomprahay. As there is a flight involved this is also the most expensive option and you will need to time your departure right. While companies like Nok Air offer a Fly 'n Ferry combo they don't guarantee that you will catch your ferry if your flight is late and vice versa so make sure you book a trip with enough connection time.
Alternatively, you can also take a ferry & bus combo from places like Phuket or Bangkok with Lomprayah. Obviously, this takes quite a bit longer and will usually involve an overnight trip either on the bus or on the night ferry. Mind you, it is also the cheapest option to get to Koh Tao so if you are not in a rush but on a budget, this might be the way to go.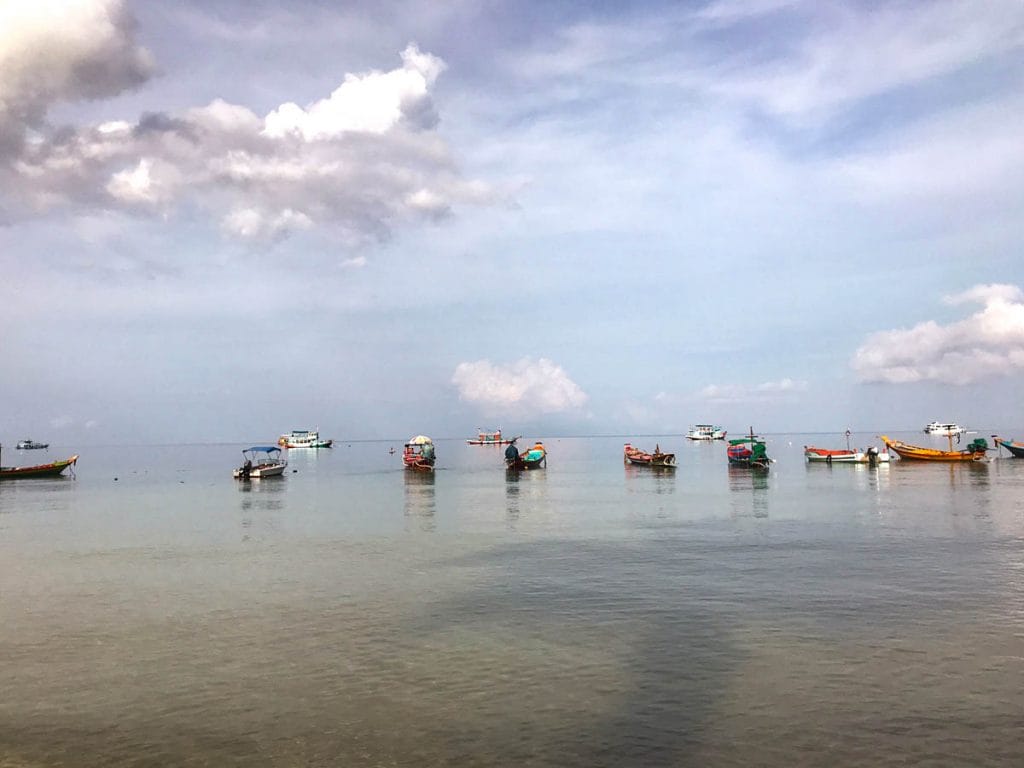 At the moment, the options to get to Koh Tao are somewhat limited so make sure to check the schedule in advance as the ferry runs with limited capacity.
In Koh Tao, all boats arrive at Mae Haad pier. Unless you are staying in Mae Haad directly you will need to organize some sort of transport to get you to your accommodation. While taxis are readily available they are incredibly expensive on Koh Tao and you will usually pay 400 baht to either Sairee or Chalok Bay. Unless you have very little luggage and can walk I recommend checking with your hotel, guest house, or Koh Tao dive center if they can organize a transfer for you – right now many places offer one for free!
12go.asia is a great resource to find the best connection and tickets for you. Just add where you are coming from below and they will show you the best way how to get to Koh Tao.
Where to stay in Koh Tao
There are plenty of options where you can stay when you go scuba diving in Koh Tao. As I mentioned above some dive centers on the island offer accommodation as well and especially at the moment you can find some great deals on dive & stay packages.
Alternatively, you will find various hostels, guesthouses and hotels dotted all around Koh Tao, depending on your budget and what you are in the mood for. I would definitely pick accommodation within the vicinity of your chosen dive center unless you are happy to zip around on a scooter.
Obviously, places right on the beach are the most expensive but if you have transport or don't mind a little hike, some places up on the hill are cheaper and offer amazing views over the coast.
Here are some of my favorites:
Prik Thai Resort – Probably one of the cheapest little resorts on Sairee Beach but still very clean and well kept (unlike some others). They don't have direct beach access but the bungalows are right across Walking Street.
Check out rooms at Prik Thai
Blue Tao – A new boutique hotel right on the beach in Sairee. Not the cheapest but a very nice option if you are looking for something special. They are also conveniently located right next to Big Blue Diving.
Check out rooms at Blue Tao
Baan Talay – A beautiful jungle resort up in the mountains with stunning views over Aow Leuk Bay. They are part of New Heaven Dive School in Chalok Bay and offer a shuttle a few times per day as walking up there is kind of impossible. Perfect if you like it secluded!
Check out rooms at Baan Talay
If you are looking for a place to stay for a month or two it pays off to ask around and check Ko Tao accommodation groups on Facebook for a good deal as many places offer discounts for longer stays.
Want to dive somewhere else in Thailand? Check out these posts:
THE ULTIMATE GUIDE FOR DIVING IN THE SIMILAN ISLANDS.
A GUIDE TO DIVING IN KOH LIPE, THAILAND.
A GUIDE TO DIVING IN KOH Lanta, THAILAND.
Pin for Later!