This post contains affiliate links. If you book something through these links I get a small commission at no extra cost to you. You can read more about mydisclosure and affiliate policy here.
…
I just returned from another Thailand trip and finally managed to get some Koh Phi Phi diving in. The little island in the Andaman Sea is the perfect destination for a fun trip if you are coming from Phuket. And while Phi Phi has a reputation as a party island, the diving there is not to be underestimated!
The Ins & Outs of Koh Phi Phi Diving
What makes diving in Phi Phi Island so special?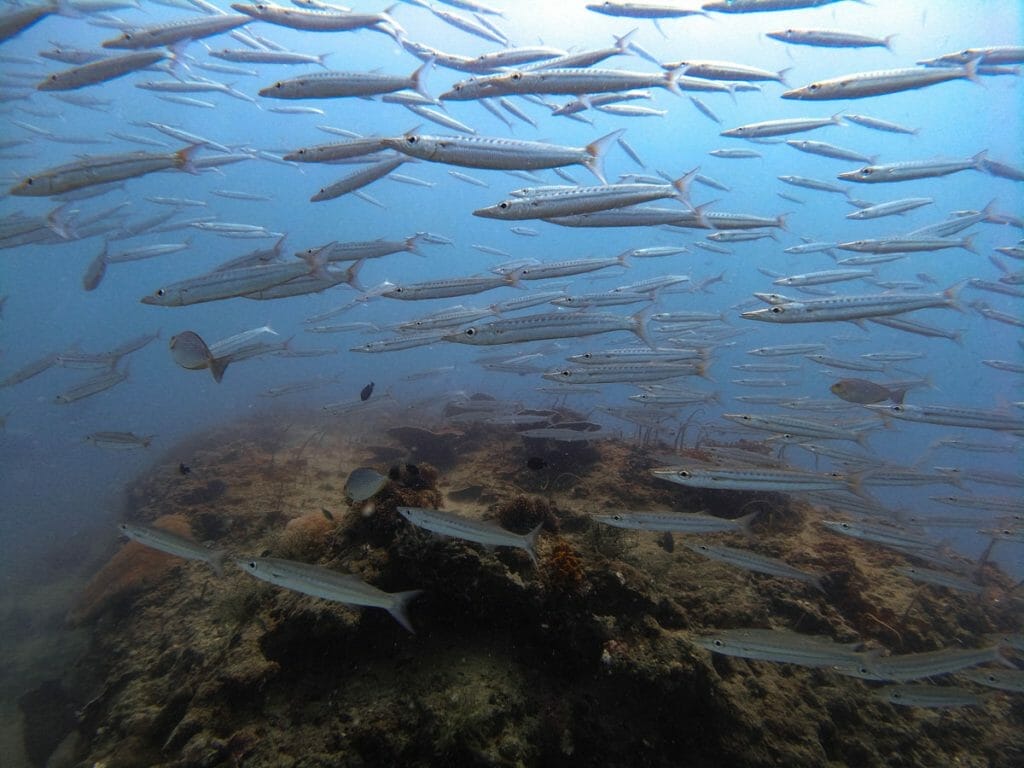 Diving in Phi Phi is often underrated since the island is best known for parties, fireshows, and make-your-own cocktail-in-a-bucket kits. That said, Phi Phi is so much more – white beaches, crystal clear water, and some great dive sites at your fingertips. An all-around great destination whether you want romance or a great party after you come back from your dive.
While Koh Phi Phi diving might not be the most exciting compared to places like Mexico or Indonesia, there are some beautiful and beginner-friendly dive sites. Most dives aren't too deep so even an Open Water diver will get to see beautiful corals, big schools of reef fish, and depending on the season and your luck, maybe a Whale Shark or even a Leopard Shark.
Best time for diving Phi Phi
The good news is that you can dive in Phi Phi all year long! The low season between May and October brings the South-West monsoon but that shouldn't deter you. Even during monsoon season, it usually only rains in the afternoon or evening, and there is still plenty of sunshine to go around.
Unless it rains for days at a time, the visibility isn't really affected by the monsoon season. Most dive centers will choose suitable dive sites that are sheltered from the wind, and only go where water conditions allow.
A definite plus of low-season diving in Koh Phi Phi – fewer divers mean less crowded dive sites. You are also more flexible to book dives on short notice with most dive centers.
If you come during the high season which starts in October and especially during the Christmas holidays you should book your courses and dives in advance.
Water temperatures hover around 29-29 °C degrees all year long, no need to wear more than a shortie or a rashguard.
The best scuba gear for beginners
Koh Phi Phi dive sites you shouldn't miss
Whether you go diving in Phuket, from Koh Lanta, or directly from Phi Phi chances are you will come across some of the same dive sites. One of my absolute favorites which I first saw during a dive trip in Lanta is the Bida islands, two tiny islands south of Koh Phi Phi.
In Bida Nok, there is always a good chance to see Blacktips in the shallows as well as huge schools of Yellow Fusiliers. There are also Moray Eels, Octopus, a variety of reef fish and smaller critters, and if you get lucky a Leopard Shark.
A GUIDE TO KOH LANTA DIVING.
While Bida Nok isn't far, some dive sites are even closer and scattered all around Koh Phi Phi Ley. Diving here is lovely and offers the nicest backdrop during your surface interval – you might even get a view of the famous Maya Bay. Two favorite dive sites here are Viking Cave and Piley Wall.
On my most recent trip, we went to Viking Cave which offers some huge cube structures that are great for buoyancy practice and full of marine life. My favorite? Plenty of Batfish all around. Chances are also pretty good to see that Leopard Shark and they have a very friendly eagle ray that lives here and likes to hang out with divers as well as so many cute Porcupine Pufferfish.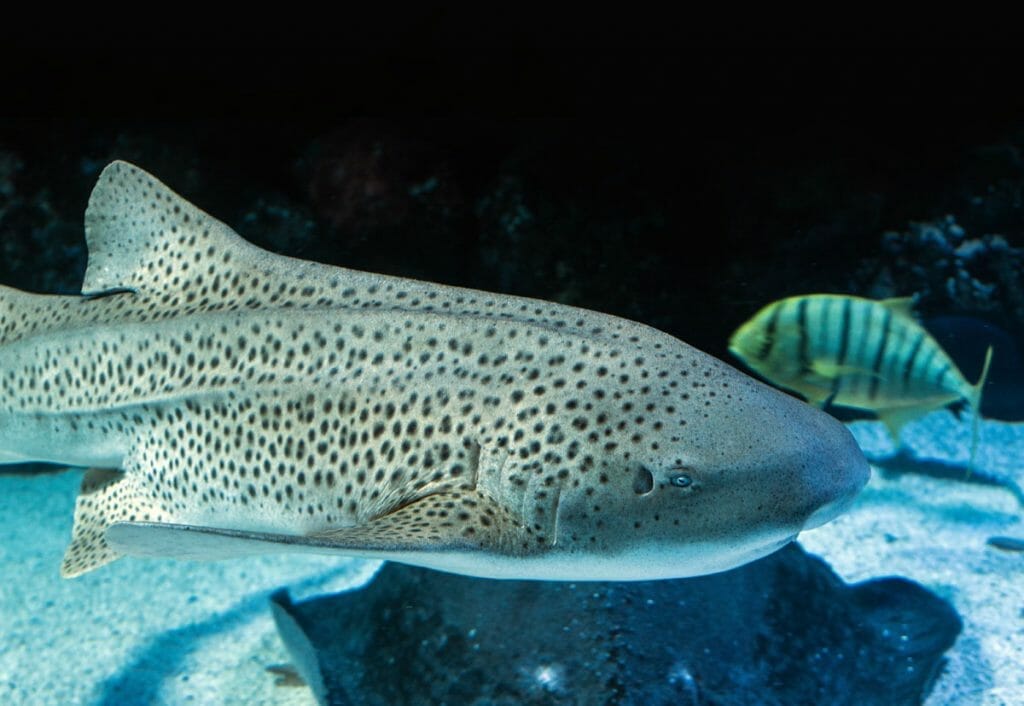 Wreck fans should schedule a trip to the Kled Gaeow Wreck, not far from Phi Phi. It is an old Thai navy ship that was purposefully sunk to create an artificial reef. Since it lies at 27 m depth you will need to be an Advanced or Deep Diver to dive this site.
We recently dived the wreck and had the honor to be accompanied by the Thai Navy General who sunk the wreck 8 years ago to bless it. The blessing worked like a charm as we had an incredible dive.
Diving the wreck always takes a bit of luck when it comes to conditions but when they are good they are really good! When they are good the wreck is still a bit tricky to find as tends to be covered in thousands (or millions) of tiny fish – be careful you don't bump into something!
Also, if you are diving with Nitrox definitely take your time, next to pufferfish and lionfish there are also frogfish to be found on the wreck.
Further north between Koh Phi Phi and Phuket you will find the King Cruiser Wreck, a former car ferry that sank when it hit Anemone Reef (another popular dive site in the area). The wreck lies between 16-32 m and often sports some stronger currents, making it only accessible for advanced divers. While the wreck cannot be penetrated anymore, it is considered one of the best wreck dives in Asia. Most dive centers offer a trip to the King Cruiser in combination with a dive at Shark Point, a lively dive site with plenty of favorites, big and small: Moray Eels, Trevally, Leopard Sharks, Sea Horses, and Ghost Pipefish.
My favorite dive center in Koh Phi Phi
Many of the more secluded resorts on Phi Phi have their own dive center. However, if you are staying around Ton Sai Beach in the center of the island there are plenty of dive centers all around that you can choose from.
I went with PKT Diving, a lovely dive center run by my friend Emma. They have a comfortable big boat and offer PADI courses as well as daily fun dives. Their boat is a proper advantage when diving in Phi Phi as many dive centers use longtail boats for their dives. While they may seem idyllic and cute, a big boat with plenty of space to chill (not to mention a toilet!) is just so much more comfortable.
How much does scuba diving Phi Phi cost? Lucky for you, you don't need to shop around for the best prices as diving prices are set on the island (obviously a bit more expensive if you opt for resort diving in Phi Phi). You will pay THB 2,500 (ca. $67) for 2 fun dives, and THB 3,100 (ca. $83) for 2 fun dives including one dive at the Kled Gaeow Wreck. Those prices include equipment rental, weights, tanks as well as lunch. In addition, all visitors need to pay THB 600 (ca. $11) in cash for diving in the marine park. You can reuse your permit for 3 consecutive days and only pay THB 200 for each additional day.
Note that if you are interested in doing a Discovery Scuba Dive or Open Water you will need to do your confined session off the beach in Koh Phi Phi. Most dive centers on the island do not have a pool. If you prefer to take your first breaths underwater in a pool, check out courses at Zeavola which has a big private pool for the confined sessions.
How to get to Koh Phi Phi?
Phi Phi is easily accessible from many of the surrounding islands, either by ferry or speedboat. The easiest and fastest way is a speedboat from Rassada Pier on the east coast of Phuket. It takes about one hour, or two if you take the ferry.
There are plenty of boat companies that offer multiple trips each day which usually include a pick-up and drop-off to your accommodation.
There are two piers in Phi Phi you can go to: the main one in the center of the island on Ton Sai Beach or the pier at Laem Tong Beach in the northeast. Depending on where you want to stay, you should book your trip accordingly because getting around on Phi Phi is not the easiest.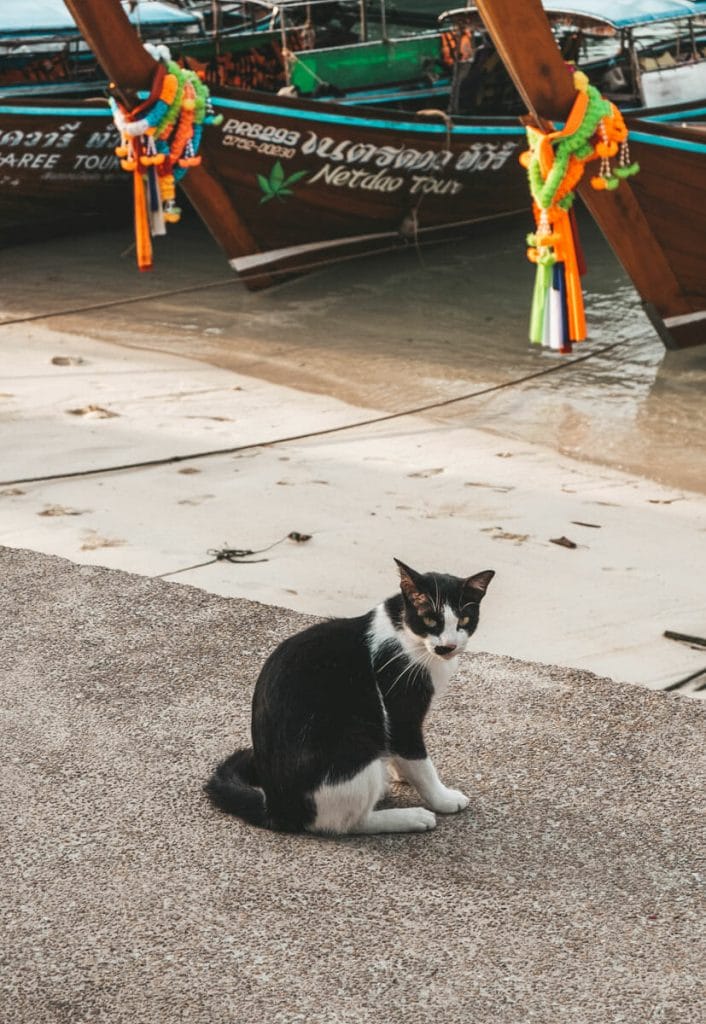 Note that when you arrive at Ton Sai pier you will need to pay THB 20 in cash as some sort of island tax.
Usually, you don't need to book your ticket in advance as there are plenty of boats going to and from Phi Phi. That said, I would recommend booking earlier in high season or if you are coming back to Phuket and have a plane to catch.
Where to stay in Phi Phi?
Where to stay in Phi Phi really depends on what you are in the mood for besides diving. If you want to meet people, get some drinks and be in the center of the action stay around Ton Sai Beach.
I recently stayed at Panmanee Hotel right by the market which was inexpensive, clean, and simple. That said, the location right by the market can be a disadvantage if you wanted to have some peace and quiet. Especially during high season, it might not be the best choice.
If you wanted a place a little quieter but still within walking distance from PKT, shops, and restaurants check out Phi Phi Sand Sea View Resort at the end of the beach west from the pier. The basic rooms are basic, to say the least, but clean with good wifi and aircon, and the location is right on the beach.
If you are looking for some more seclusion head to Laem Tong Beach where you will find the beautiful Zeavola resort. They are a 5-star eco-hotel in Phi Phi with their own PADI dive center in-house.
Find a room at Zeavola
Want to dive somewhere else in Thailand? Check out this posts:
The best diving in Thailand!