This post contains affiliate links. If you book something through these links I get a small commission at no extra cost to you. You can read more about mydisclosure and affiliate policy here.
…
Keen to go diving in Thailand? Most travelers myself included are! Depending on the time of the year you have the option to dive in the Andaman Sea or the Gulf of Thailand.
Thailand is the perfect place to start your diving life as it offers great conditions and incredible prices for courses with well-trained instructors. And of course, there is everything else that makes a Thailand holiday so enjoyable: beautiful beaches, rich history, bustling nightlife, and yummy food.
Diving in Thailand has become a big industry sometimes to the country's detriment and let's just say that you if have dived in places like Raja Ampat, Mexico, or the Maldives, diving here might not be the most exciting option for you. Luckily some exceptions will excite even more experienced divers: Koh Lipe and Similan Islands scuba diving.
You can read all about why I fell in love with Koh Lipe in this post here while this story is about diving in the Similan Islands, what makes it so incredible and how to plan your trip.
Diving in the Similan Islands with the Smiling Seahorse Liveaboard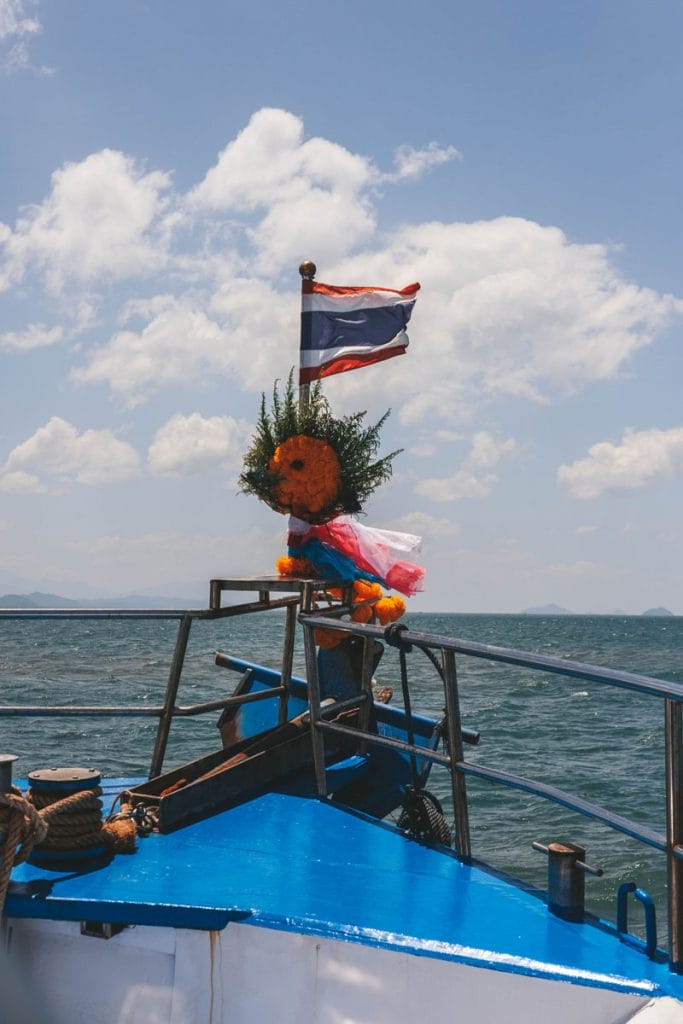 Why you should dive in the Similan Islands
Similan islands scuba diving is said to be simply the best in Thailand. The marine park hosts some dive sites that make divers hearts around the world beat faster. Those include Tachai, Richelieu Rock, and Koh Bon, an amazing macro dive site in the Surin Islands.
The marine park lies off the coast of the Andaman Sea, and you can reach it either from Ranong, Phuket, or Khao Lak. To dive in the Similan Islands, it is advisable to book a Similan liveaboard trip because they're pretty far out, and almost impossible to reach on a day trip. Many liveaboard companies in the area, combine a trip to the Similan islands with Surin Islands diving.
Tips for Liveaboard diving for beginners
Some of the most famous dive sites in the Surin and Similan Islands include Tachai and Richelieu Rock, a dive site that frequently tops charts as one of the best sites in the world.
The marine life in the Surin and Similan Islands is spectacular and includes something for every taste. In the right season, you can see mantas and whale sharks, as well as an array of colorful reef fish, schools of barracudas, snappers, and trevallies as well as some amazing macro critters like harlequin shrimp, ghost pipefish, and various nudibranchs.
More great spots for Diving in Thailand
Best season for Similan Diving
The Similan Islands are in a national park that is open from October 15th to May 15th each year. Check before when your liveaboard is running as some may only start their journeys in November or already end in April. During the season the water temperature usually hovers around a pleasant 29 C degrees – at the most, you will need a 3mm wetsuit, many divers are happy with a shortie or a rashguard.
In case you are wondering what else to pack for a tropical dive trip you can find my complete liveaboard packing list here.
Diving with the Smiling Seahorse liveaboard
I decided to treat myself to a birthday trip to go diving in the Similan Islands and for me, it was clear that a liveaboard was the only way to go. The Similan Islands are pretty remote and I don't like to waste time on long transfers. I also appreciated that the Smiling Seahorse, the liveaboard I settled on after some recommendations, also includes the Surin Islands on their itineraries, which are less frequented but great for macro fans like myself.
The Smiling Seahorse offers various routes with the shortest one being 4 days & 3 nights – perfect if you are short on time or on a budget. They usually also offer trips to dive in Myanmar something I am keen to do in the future when they are back on their schedule.
Book a trip with the Smiling Seahorse
I did the North Andaman Cruise which departed Ranong in the morning heading straight to the Surin Islands. Here we did an afternoon dive at Koh Chi as well as a night dive. The next day we went to dive in the Similan islands with 2 dives at Koh Bon and 2 dives at Koh Tachai. One was a sunset dive – my absolute favorite! The final day saw 4 dives at Richelieu Rock which is considered Thailand's best dive site!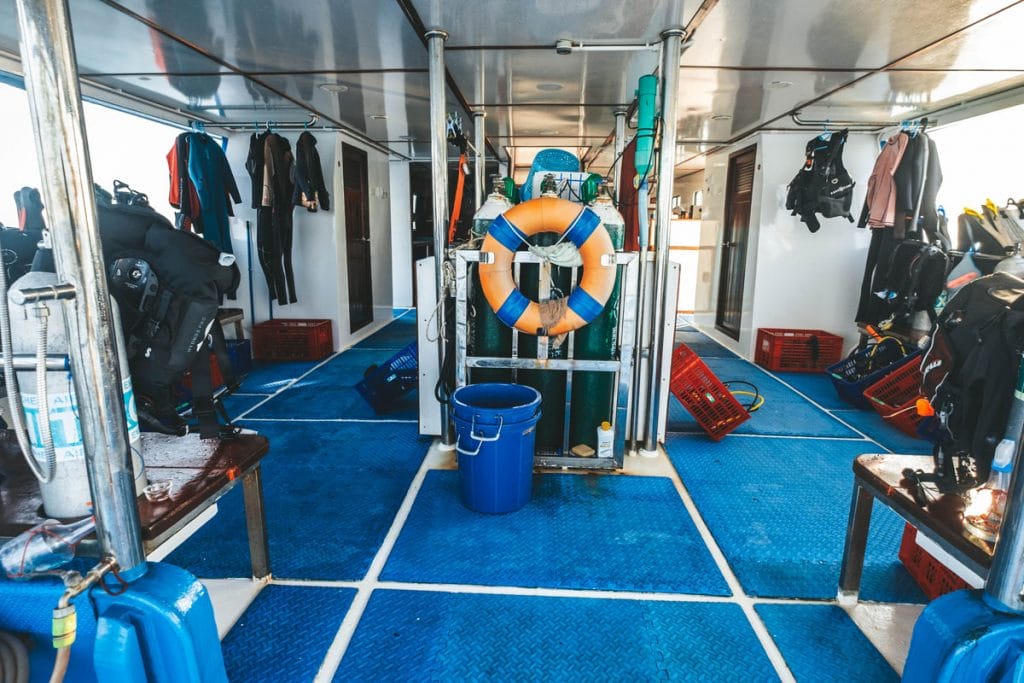 Packages usually include:
Accommodation (on a twin share basis unless you pay single supplement) with towels and reef-friendly shower gel and shampoo.
Check my liveaboard packing list to know what else you may need!
All meals and snacks (they have an open snack bar basically), soft drinks, water, tea, and coffee as well as up to 4 rehydration salts per day.
Dives including a dive guide, 12 l tanks, weights, and weight belts. The number of dives will depend on the length of your trip.
Not included are alcoholic drinks, dive insurance, rental equipment, 15 l tanks, or Nitrox as well as a marine park fee of 2000 THB.
Book a trip with the Smiling Seahorse
Details of booking a liveaboard to the Similan Islands from Ranong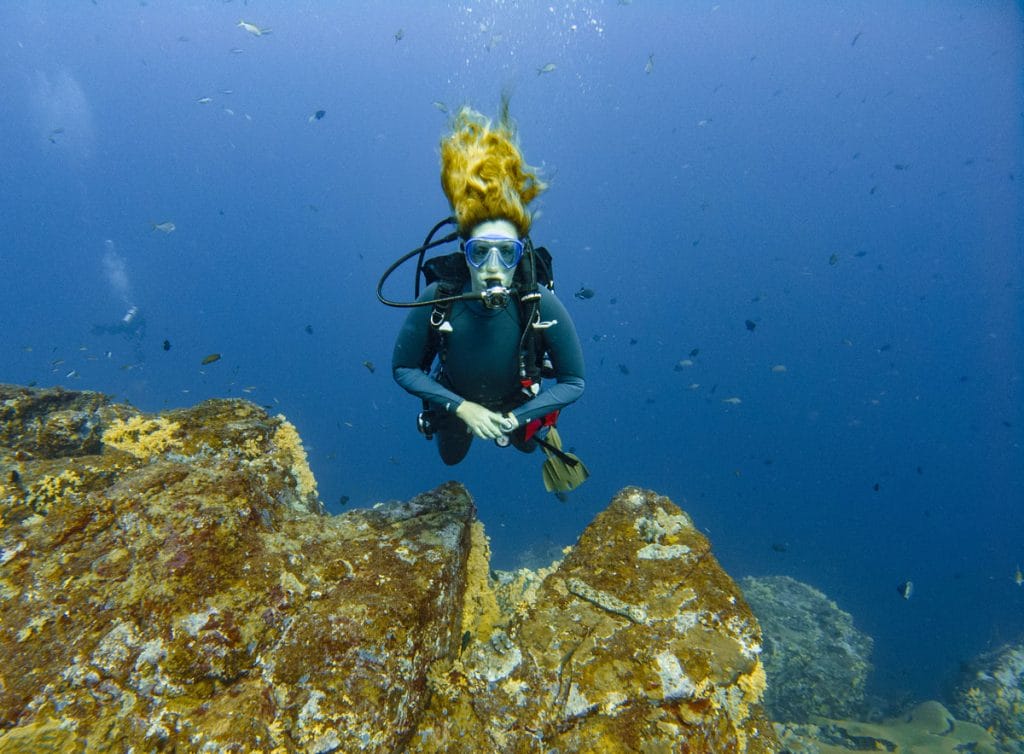 Most Similan liveaboards will either leave from Khao Lak, Phuket, or Ranong. The Smiling Seahorse departs from Ranong which is an easy destination to get to as they have an airport and the company can organize a pick up for you. Depending on when you leave you can either fly in early in the morning or the day before which is what I opted to do as flights at the moment are still a bit erratic and can change at a moment's notice.
Find the best way to get to Ranong:
While Ranong is nothing to write home about there is enough to do and see to keep you entertained for a night or two. I stayed at the Day Inn which was incredibly cute and budget-friendly, and most importantly only a short distance from the Smiling Seahorse office. Check-in is usually done early in the morning when you settle all your paperwork at the Smiling Seahorse office before heading off to the pier where you will board your liveaboard.
Alternatively I love the look of the Hidden Resort which looks like an absolute jungle paradise.
Book a room at the Hidden Resort
I can highly recommend Masaru Sushi Bar for a good sushi dinner or the FarmHouse which is considered the best restaurant in Ranong.
Note: At the moment you will need a doctor's note in order to dive in the marine park, stating that you are in good health (which obviously implies – COVID free). You can get that at Ranong hospital or online but if you want to save yourself a lot of hassle and money I recommend you pop into the pediatrician's office that is located next door to the Smiling Seahorse office. While I needed my Google Translate to tell them what I needed, it was a super quick check and they only charged me 50 baht.
How to travel to Thailand in 2021
Cabins & amenities of the Smiling Seahorse
The Smiling Seahorse offers a variety of cabins ranging from standard to deluxe cabins and suites. They either have a double bed or two twin beds and all of the cabins have aircon. The deluxe cabins and suites also have an ensuite bathroom and in boat terms, those bathrooms are mighty spacey and even have a proper window.
As it is with most liveaboards if you're traveling by yourself, you will be teamed up with another diver in your cabin, unless you want to pay a single supplement. While the amenities are not as luxurious as a Maldives liveaboard, the cabins and all the common areas are well-equipped and super comfortable.
On the upper deck, you will find a couple of tables, as well as the counter where all meals are served, and a nicely stocked fridge where you can help yourself to cheeses and yogurts, sodas, and juices. There's also an honesty fridge for bees and wine after your dive which are very reasonably priced, not a given for many liveaboards. My favorite was the unlimited snack basket as well as free rehydration packages in between dives.
Another favorite is the giant day bed area, which offers plenty of space to lounge, nap, and cuddle with the resident whale shark & shark.
On the very top, you will find the sun deck with a hammock and loungers, which is also a great spot to watch the stars at night. The dive deck at the bottom in front of the cabins holds plenty of space for 16 divers, their tanks, and equipment. The amazing crew is always at hand to help you when kitting up and getting in and out of the water, especially the latter can be a bit precarious when the waves are high. But luckily, the crew will literally reel you in and give you a hand to get you back onto the dive platform. Luckily the ladder is fin-friendly!
Dive Sites in the Similan Island
Surin Islands
Unlike many other liveaboards, Smiling Seahorse also includes Surin Islands diving in their itineraries. They are less frequented than the Similan Islands and a paradise for macro life.
We started our trip at Koh Chi and the South Surin Bay where we did a night dive. There is plenty to see like nudis and other small critters like ghost pipe fish and my beloved frogfish (unfortunately I didn't get so lucky).
Mind you, you also have the chance to see bigger reef fish like bumphead parrotfish, barracudas, and if you get very lucky a manta or eagle rays.
Unfortunately, the visibility during our night dive wasn't the greatest, and snow in the water made it hard to get good pictures. But when that happens do what I did and simply cover your torch (don't turn it off but just shine it against your wetsuit) and play with the fluorescent plankton.
Koh Bon
On day two, we headed to Koh Bon which is divided into Koh Bon Pinnacle and Koh Bon Bay, which has a beautiful reef.
The pinnacle is pretty much a deep dive as it starts at 18 meters so you should have at least an AOW or even a Deep Diver Speciality. We got plenty of warm and cold thermoclines going around and got lucky with some great visibility.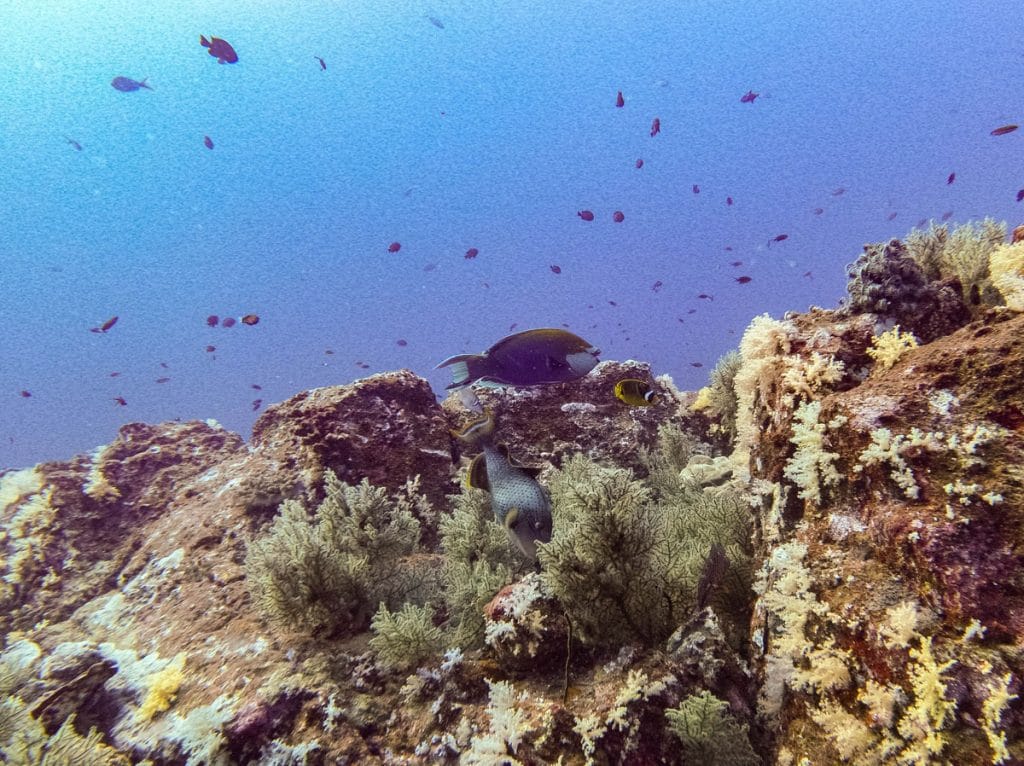 How to get your Advanced Open Water certifications
Between the rocks of the pinnacle, you will find an amazing array of nudibranchs and schools of fish but the highlight for us was an eagle ray as well as a few marble rays in the distance. Unfortunately, those preferred to hang out at 40 meters, making them inaccessible for most of us but it was still nice to see them from a distance. Another reminder, it pays up off to have a Deep Diver Speciality!
Why you should get your Deep Diver Speciality
If you get very lucky this is also a great place for mantas and even whale sharks and zebra sharks!
Our second dive at Koh Bon reef reminded me a bit of diving in Crete with plenty of interesting rock formations underwater. This part of the dive site reaches from 10 m down to 35 m and again, offers a chance to see mantas.
Either way, you will enjoy big schools of reef fish (including another favorite of mine – batfish!), a coral head that is home to frogfish, and beautiful staghorn corals all around.
Koh Tachai
Koh Tachai quickly became my favorite dive site in the Similan Islands and consists of two pinnacles – the southern and the northern pinnacles, also called the 1st and 2nd pinnacle.
We headed to the 2nd pinnacle first which is a 50 m swim at 24 m to get to. It was worth the trip as we had the pinnacle to ourselves. While smaller than the 1st pinnacle it is a beautiful place starting at 18 m depth with lots of sea fans and corals.
Our last dive of the day was a sunset dive at the 1st pinnacle and it reminded me just how much I love sunset dives – this is just the time when all the fish come out to hunt and play. This pinnacle starts at 12m, making it a suitable depth for beginners and also to keep a low profile at the end of an exciting dive day.
I cannot even begin to describe the amount of fish and schools we saw – it was incredible! During sunset, you can just stay in one spot here and never get bored. That is until a Green Monster comes in (a murky thermocline that brought in cold water and chased the fish away) – it was slightly eery and also messed with our incredible visibility. Still, this is the dive in the Similan Islands I would do over and over again!
Richelieu Rock
Last but not least we headed to Richelieu Rock, the crowning jewel of the Surin Islands and often hailed as one of the top dive sites in the world. Many liveaboard trips in the Similan Islands will offer at least 3 dives here, we even did 4!
Richelieu Rock reaches from 5 m down to 40 m depth and the main rock is visible on the surface when the tide is right. Technically the dive site itself consists of a few rocks in a horseshoe shape. While I could have done with one dive less (and rather do another at Koh Tachai!) it was still worth it as the dive site is not super big and can get a bit crowded if there is more than one boat moored. We got lucky as we were first in the water and made our way directly to the home of the resident harlequin shrimp that live here.
Other highlights can include frogfish, seahorses, ghost pipefish, and yes, even whale sharks. Mind you, even if you don't get lucky there is always plenty to see and thanks to carpets of sea anemone and purple and white soft corals Richelieu Rock is an absolute beauty!
Book a trip with the Smiling Seahorse
Pin for Later!