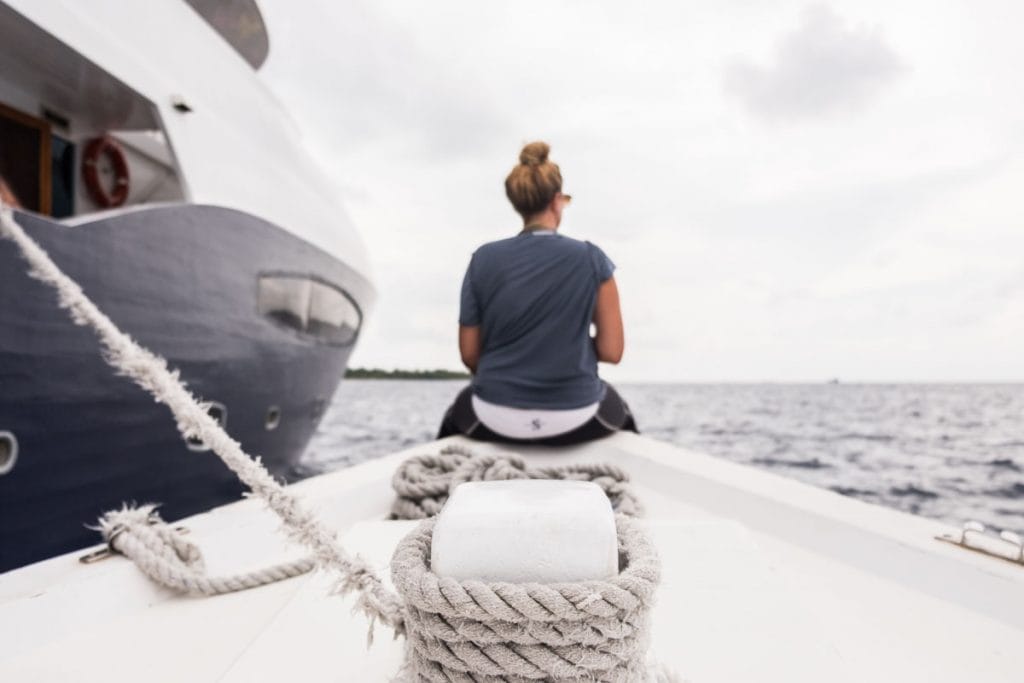 The other day I was having dinner with some new friends who had just started their Open Water Course in Koh Tao. We were chatting excitedly about all things scuba, and I started raving about some liveaboard diving trips I was planning to do. My friend just looked at me blankly and said – a live-a-what??
It dawned on me that many beginners simply don't know the term or that such a wonderful option even exists for divers. So I started my 'liveaboard diving for beginners' speech over Thai pizza. I'd like to think it was inspiring rather than snoozy because I am going to share my best liveaboard tips with you now, and hopefully answer all your liveaboard-related questions.
Liveaboard diving for beginners – All you need to know!
What is a liveaboard?
A live-a-what?? A liveaboard is both a vessel and a kind of dive trip – as implied by the word you will live aboard. The vessel can be a ship, a yacht, a phinisi, or if you get unlucky and didn't do your research properly a boat where it rains in your cabin (yes, been there done that!). To be honest, I am not sure why liveaboards are only referred to as such when it comes to diving because technically any cruise offers you the option to live aboard a boat. But here we are…
There are many amazing diving destinations around the world that are far-flung and require a big amount of travel time to get to. This is when a liveaboard excels as you can travel overnight and get underwater in the morning once you have arrived.
Liveaboard diving trips are usually between 3 and 10 nights long, depending on where you go and what kind of route you book. During your trip, you will usually do 2-4 dives each day and travel during your surface interval and at night. Some companies also include land and snorkel excursions, and of course your accommodation in a cabin as well as all your meals.
Why you should consider a liveaboard for your next dive holiday
1 – Dive at the best places around the world
Some dive sites are just a little harder to reach but a liveaboard can go where a regular diving tender can't. Because you stay on board, you can travel longer distances and get to even hard-to-reach places. The liveaboard concept is perfect for destinations like the Maldives, Galapagos, the Great Barrier Reef, Komodo & Raja Ampat in Indonesia as well as the Cayman Islands to see Caribbean reef sharks.
You are not bound to one location but get to see the best dive sites in an area. This especially comes in handy when weather conditions change quickly. If you are diving land-based you may need to cancel your dive if the conditions turn bad but on a liveaboard trip you can simply move on to another dive site.
2 – Get more for your money
Are liveaboards expensive? Yes, they are, I am not going to lie. But if you add up what you would spend on guided dives, food, and accommodation you might be better off booking a liveaboard in a lot of destinations. Particularly in a place like the Maldives, budget accommodation is hard to come by. If you are looking for an all-inclusive diving holiday, a liveaboard dive trip is probably your best bet.
And if you are traveling solo, fear not – most liveaboards won't ask for a singles supplement but simply pair you up with another diver in your cabin!
3 – Lots of experience in a short amount of time
If you want to up your number of logged dives in a short amount of time, there is probably no better way than liveaboard scuba diving. Your dives are booked and paid for and all you have to do is get in the water. Especially if you are a somewhat new diver practicing your skills every day for a few days in a row will do wonders for your experience and confidence.
4 – Find the perfect liveaboard for you
Diving destinations are as varied as the liveaboard dive boats themselves. This way you can book a route that is perfectly suited to your needs and wants – choose wreck cruises in Egypt, go on a manta expedition in the Maldives or see all the big pelagics in Socorro. If you don't know where to start go for a 'best of' itinerary that most liveaboard destinations offer.
In addition, you can choose a liveaboard boat according to your budget. Some have shared dorm-like bunks for sleeping with communal showers while others include a spa and a sommelier as well as suites with a private balcony.
Where to book your liveaboard? Most fleets have their own websites you can book through. Mind you, options can be daunting if you don't know yet where you want to go or which companies are right for you. I recommend browsing through liveaboard.com or divebookers.com – these platforms function like booking.com and allow you to search for liveaboards according to destination, time of the year, budget, and more. And you can also read reviews from other divers before booking.
How does a liveaboard dive work?
Get up and gear up is the motto on most liveaboards. You will be given the schedule for the day the night before with the times for dive briefings and entry into the water.
Usually, the crew will come around the cabins to wake everyone up in the morning or ring a bell. Make sure you are punctual and prepared when heading to your briefing. During a briefing, your guide will tell you all you need to know about the next dive site, the dive procedures as well as the marine life you may see. Generally, there are certain procedures for dives with whale sharks and manta rays, or if you are diving in a protected marine park. If there is anything special you need to know, you will learn it during the dive briefing so don't miss it!
Afterward, it is time to gear up. For liveaboard diving, most boats have a separate tender or a dhoni (typical for the Maldives) that will function as a place to store gear and get ready and/or bring you to your dive site. Reason to use a tender? More space on the main boat, less noise as you sleep away from the compressor, and better access to the dive sites which might be hard or impossible to reach with the big boat.
Liveaboard tips for smooth sailing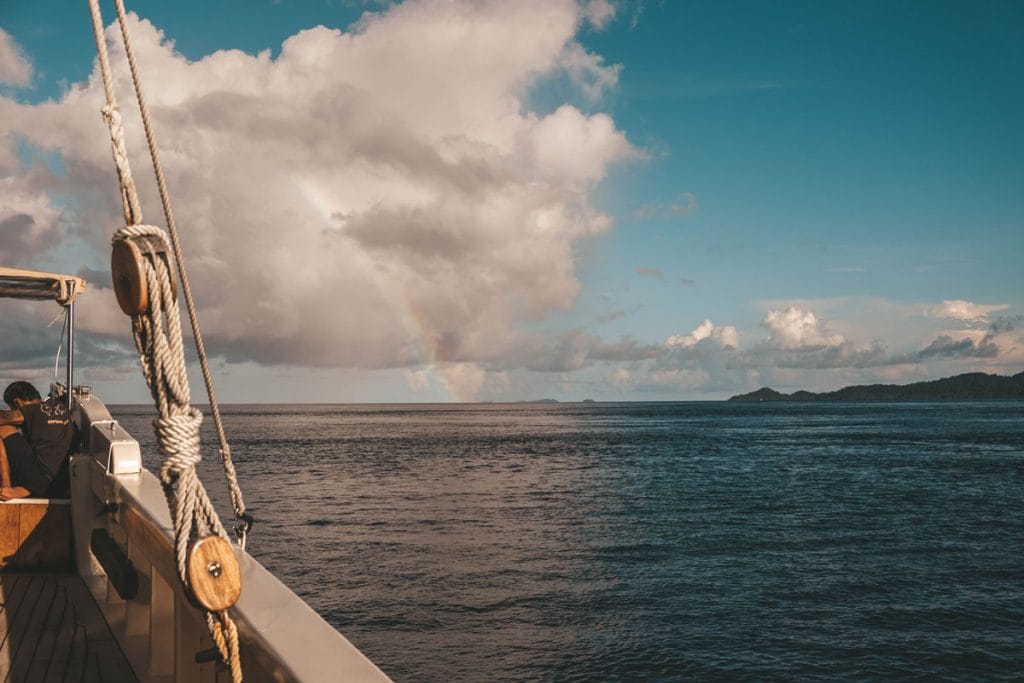 Pack light
What to pack for a liveaboard – a question that is probably on your mind now and I have answers. In fact, you can check my liveaboard packing list with all the details below.
The ultimate liveaboard packing list!
To keep it short: pack light as space is limited and you won't need much. Shoes are usually a no-go on most boats so I would just take a pair for land excursions. Make sure you have something comfy and warm for after the dive as well as enough swimwear so you can always put on a dry suit for the next dive. Reef-friendly sunscreen and bath products are a must as well as a good book and a deck of cards for surface intervals.
And while I think it should go without saying: pack some seasickness medication even if you have never been seasick before.
Dive gear
Most liveaboards will give you the option to either rent dive gear or bring your own. Obviously bringing your own gear will be better but if that is not an option make sure to reserve your sizes prior to departure. The same goes if you want to rent a bigger tank, sidemount tanks, or book Nitrox fillings – let your boat know beforehand what you need to have an awesome liveaboard trip!
I'd recommend you invest at least in a mask, a computer, fins, and a DSMB before you embark on your first liveaboard. In fact, many require each diver to have their own computer and SMB.
The best scuba gear for beginners
If you are prone to getting cold easily I recommend you check the water temperature beforehand and ask the liveaboard company about their wetsuits. When in doubt bring some layers like a sharkskin or a hood to stay warm.
I also recommend bringing your own reef hook if needed as well as a torch if you are planning for night dives. While you can either rent or buy those on board they seem to be exponentially more expensive to rent than to buy at your dive shop at home.
Take advantage of the check-out dive
Almost all liveaboards will do a so-called check-out dive close to the starting point of your journey. This is the perfect opportunity to get accustomed to your equipment, make sure you are weighted correctly, have a thick enough wetsuit, and are happy in your buddy team. If anything is not right let your dive leader know – this is what a check-out dive is for!
Speak up
Everyone seems to have a friend or buddy but you? Fear not! Especially when you are traveling alone, a new group of divers can be intimidating but it is usually super easy to make friends on a liveaboard.
While some will give you a briefing and let you dive with your buddy, many organize dives in a group (usually depending on certification level) with a guide – so yes, you can definitely do a liveaboard alone! Mealtimes are usually a shared affair and chances are you will make new friends in no time.
If something bothers you, whether your allocated buddy or your cabin mate, speak to the crew. Most liveaboards have a cruise director who is in charge of logistics and will be able to handle those issues. Just make sure to speak with them as soon as an issue arises so they can actually find a solution for you. Stewing on a problem will only spoil your trip and a bad TripAdvisor review is not going to help anyone in hindsight.
Take it easy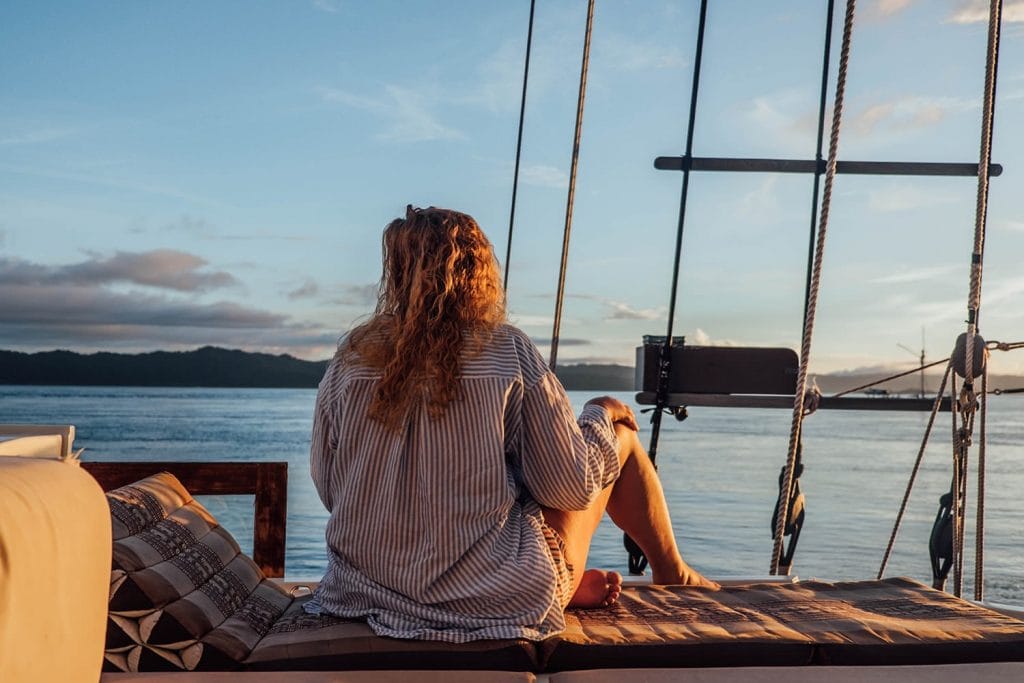 While many passionate divers relish the idea of diving from morning till night (after all, that's why many choose to book a liveaboard!), diving can be exhausting. If you are a fairly new diver or conditions are challenging, it is perfectly fine to sit out a dive or two.
I completely get the FOMO one can get on a liveaboard as every dive seems to be the most special and the most exciting and how could you possibly miss it?! I get it, but listen to your body and take it easy if you are feeling a bit under the weather. Diving is a taxing sport and you need to know your limits. When in doubt sit the dive out and take a nap, you rather want to miss one than feel unwell for the rest of your trip.
Liveaboard tipping
How much to tip on a liveaboard? Usually, liveaboards will include a 10% service charge or advise the same as a tip for the crew. While I struggle with the approach of a set amount for tipping, a liveaboard crew works incredibly hard, doesn't make a lot of money, and probably deserves every cent.
Of course, most liveaboards will appreciate anything beyond that 10% however on the boats I have been on I was asked not to tip individuals beyond sharing a beer together after the dives. Thinking about it I completely understand the concept that tips should be shared – after all, the crew onboard works just as hard as your divemaster or guide.
Another thing to consider: Gifts from home or hard to get items for the crew. Chocolates seem always welcome as are little diving accessories that might be a lot more expensive in a hard-to-reach liveaboard destination.
Pre-requisites for a liveaboard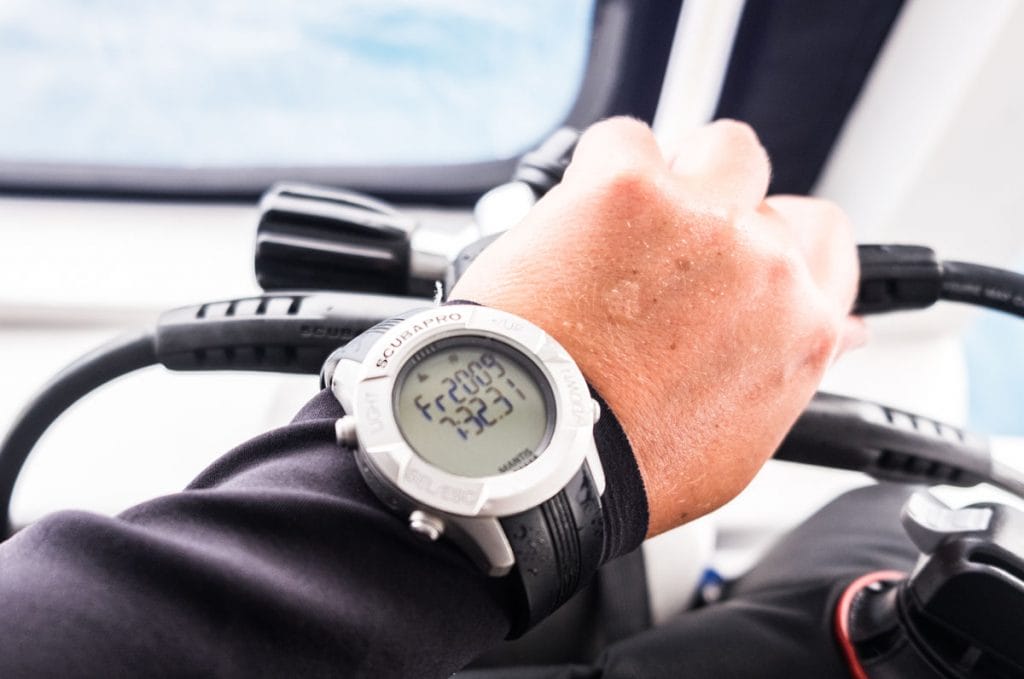 Before you book a liveaboard you should make sure that you know all the requirements to join. Most boats do require a certain certification level as well as a minimum number of dives. Liveaboards don't put these rules in place to bug you but rather to make sure that all divers are safe – some liveaboard diving destinations can have challenging conditions and the company will want to make sure you can handle them so you get the most out of your trip.
Some liveaboard dive trips have the option for you to do your open water course or advanced open water. I personally think you should do your open water certification prior so you can enjoy your fun dives to the fullest when you come on board.
Make sure you have a recent medical statement, deeming you fit to dive, as well as travel and diving insurance. Ask your liveaboard dive boat beforehand if insurance (including the pesky decompression chamber) is part of the package. If it is not, I recommend you sign up with DAN for a yearly membership.
Many liveaboard boats offer the use of Nitrox. Depending on the company this might come as a premium or is included in the price. Especially when doing multiple deep dives a day, Nitrox comes in handy. Diving with Nitrox will make you less tired and a lot safer – an important factor particularly when your diving destination is quite remote.
In locations that are prone to strong currents, scuba divers need to bring their own DSMD. While even beginner divers should have learned how to deploy an SMB many seem to be super intimidated by that skill. Practice makes perfect and I would strongly urge you to practice before going on a liveaboard. If you are unsure how to do it ask your instructor or dive guide for help.
Did I miss any tips for liveaboard diving for beginners or do you have additional questions? Please leave me a comment and I will get back to you!
Pin for Later!