This post contains affiliate links. If you book something through these links I get a small commission at no extra cost to you. You can read more about mydisclosure and affiliate policy here.
…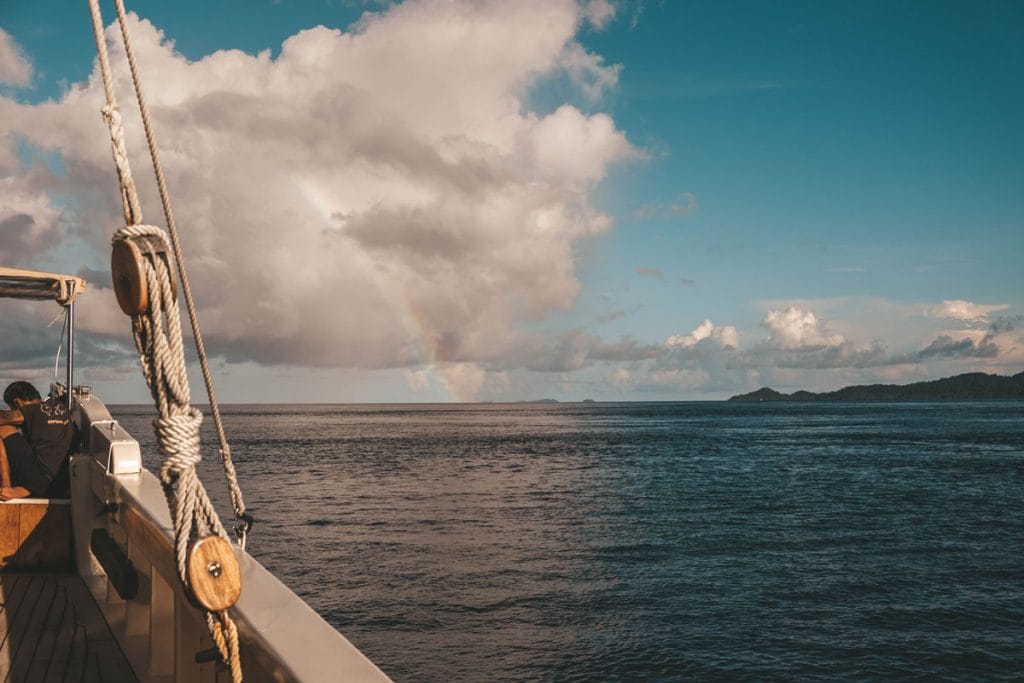 Diving in Raja Ampat is an incredible feast for the senses. Its location in the far east of Indonesia in the middle of the Coral Triangle has brought along one of the highest biodiversities in the world. It is an absolute marine and thus divers' paradise.
As with all paradises, you have to work to get here. Even from Bali to Raja Ampat, it will take you two flights (one of them at 4 am!), an airport layover, and usually a long trip by boat. But once you have arrived you will quickly realize just how worth it is.
Once you made it, hop aboard the Emperor Raja Laut, one of the best Raja Ampat Liveaboards, and sail away for a diving adventure of a lifetime.
Tips for Liveaboard diving for beginners
Emperor Raja Laut – The best Raja Ampat Liveaboard
Why you should choose a liveaboard in Raja Ampat
When it comes to diving, Raja Ampat is best explored with a liveaboard. While there are some amazing dive resorts in the area, the region is also quite vast and by choosing a Raja Ampat diving liveaboard you can travel far and wide to reach the best dive spots. From the remote north to the far south Raja Ampat spans 170 nautical miles!
Considering how expensive domestic flights are in Indonesia and how long it may take you to get from island A to island B in Raja Ampat, chances are you can save time and money when you do a Raja Ampat liveaboard instead. This way you do most of your traveling at night and can enjoy a variety of the best dive sites instead of being stuck in the proximity of one island.
Cruising Raja Ampat with Emperor Diving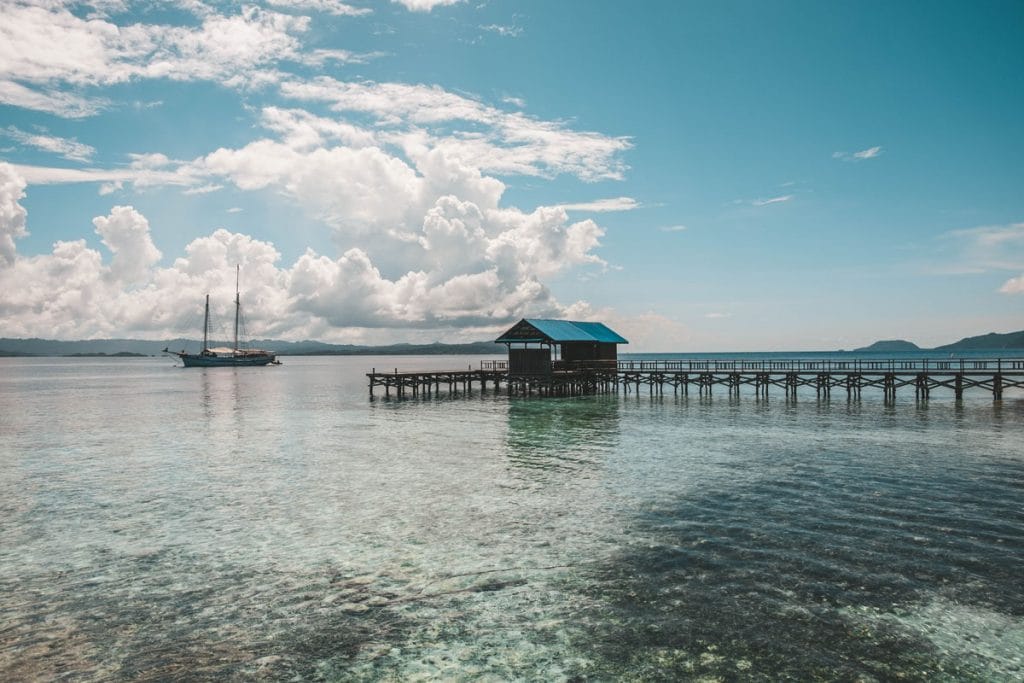 Emperor Diving has liveaboards in different countries. In Indonesia, they have 2 boats that cover Komodo, Alor, the Banda Sea, and Raja Ampat depending on the season.
The Raja Ampat liveaboards offer a few choices:
12 nights – Raja Ampat and the Banda Islands
7 or 9 nights – Best of Raja Ampat
I did a 7-night trip to see the best of Raja Ampat. This tour is offered from December to May and covers the Northern and Central Sections of Raja. While I did mine at the end of the season in May it actually turned out to be a big advantage as we had even the most popular dive sites all to ourselves and the conditions were still amazing.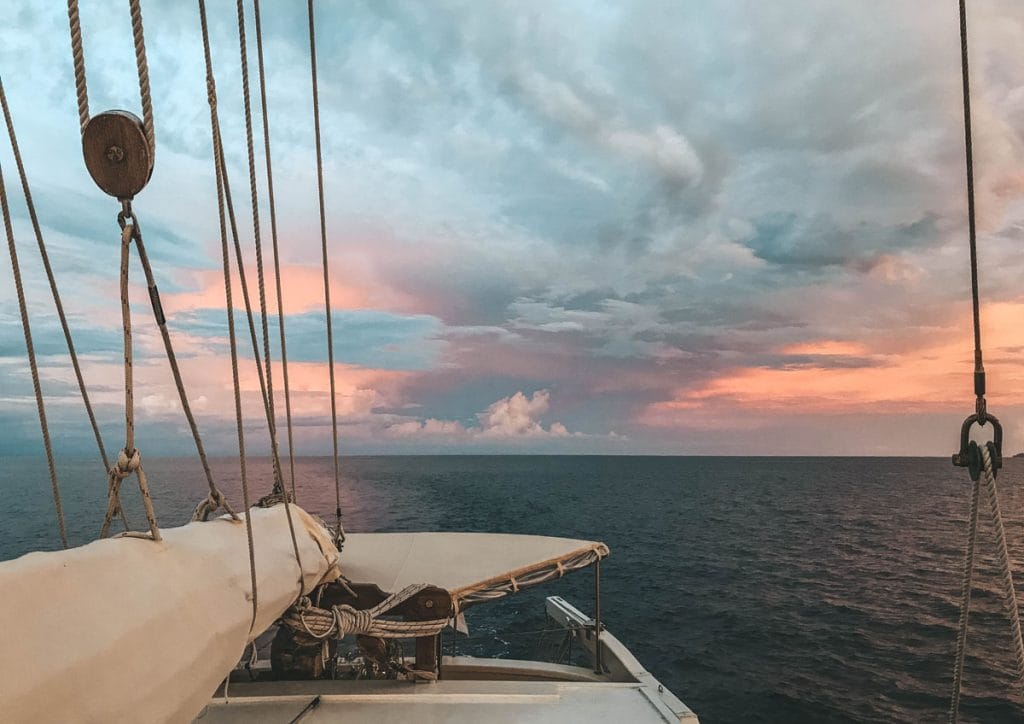 For most trips, you will embark at Waisai port and disembark in Sorong. For both your arrival and departure airport will Domine Eduard Osok Airport in Sorong. With your booking, Emperor Diving will include a ferry ticket to get you from Sorong to Waisai.
Find out the best way how to get to Sorong from anywhere else in Indonesia:
Pre-requisites: In order to join the Emperor in Raja Ampat you will need to have 30 logged dives and be at least an Open Water Diver. Since some dives are below 18 m and can come with stronger currents it pays off to have an AOW or get certified while you are on board.
Before leaving Waisai you will do a check dive in the area to make sure you have the right amount of weights and to see that all equipment works and fits well.
If you don't have your own scuba gear you can rent equipment on board. Check beforehand to get prices and reserve the size you need. Bring your own dive computer and mask; SMBs and Nitrox are provided free of charge.
Find my ultimate liveaboard packing list here!
The Raja Laut has two zodiacs that will take you directly to your dive site and pick you up afterward. On deck, there is a designated area to kit up and store your equipment. Photographers also have a designated place to rinse and store their cameras.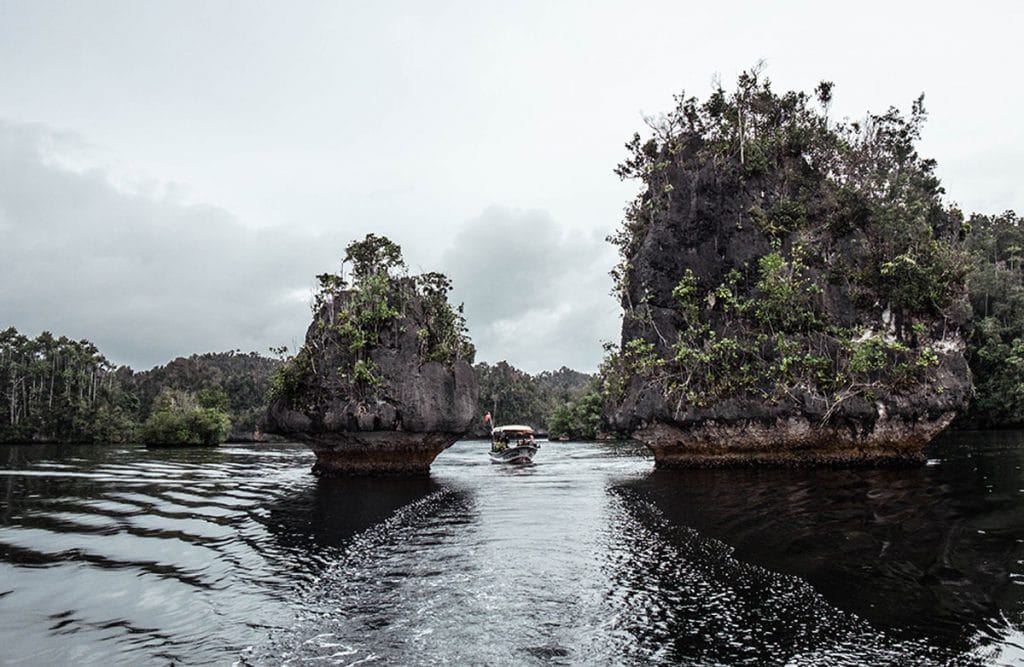 Which dive sites in Raja Ampat you will visit will depend on the route as well as conditions. During the 7-day Raja Ampat liveaboard trip you will do 6 days of diving with 2-3 dives each day and 2 dives on the last day.
Dive site highlights include famous Cape Kri (this is the place where 374 species were counted on single tank dive!), Blue Magic, Melisa's Garden, and Arborek Jetty. You can see anything from tiny pygmy seahorses to giant mantas, wobbegong and epaulet walking sharks, and if you get lucky even an elusive blue-ringed octopus.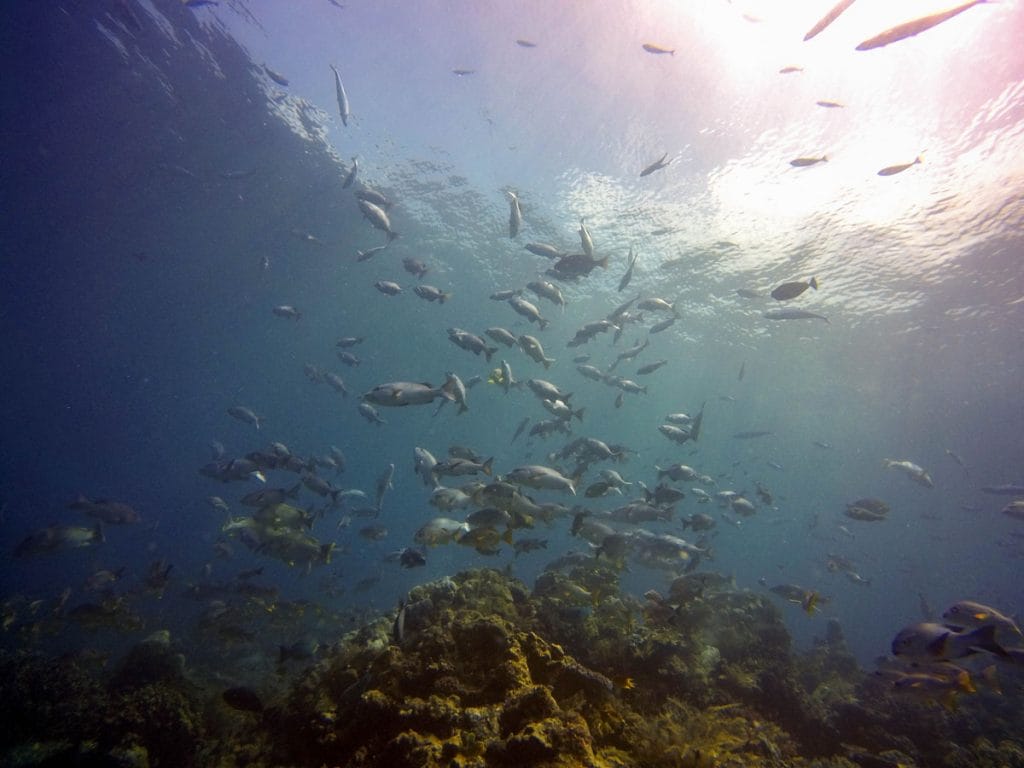 Click through to read more about the amazing diving in Raja Ampat
Cabins & amenities of the Emperor Raja Laut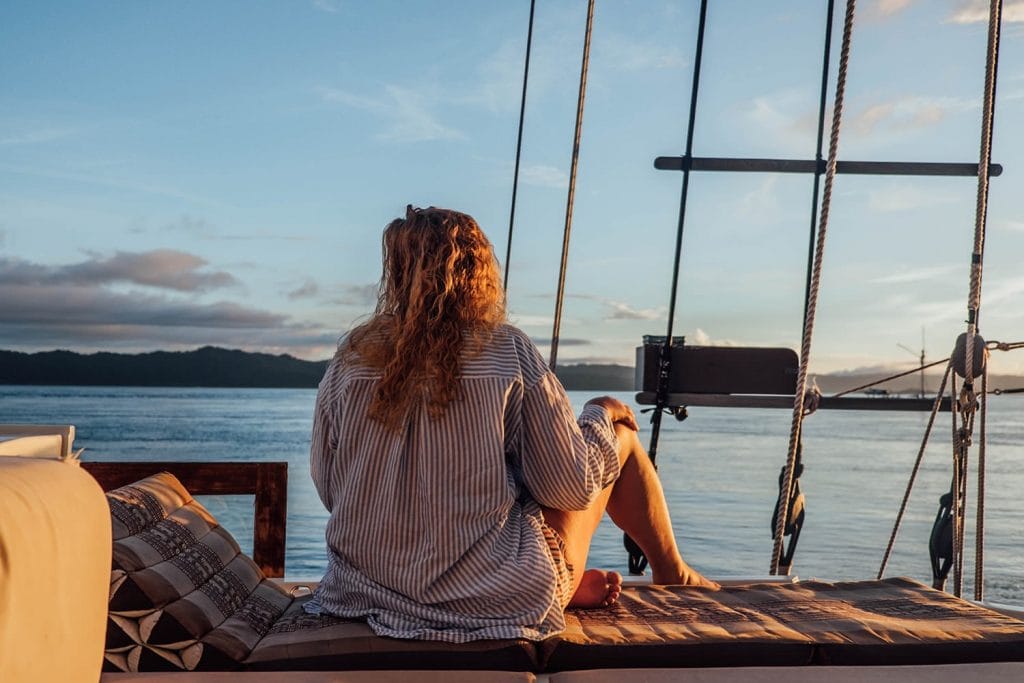 The Emperor Raja Laut is a modern boat in a traditional costume of a local schooner. It is a sailing yacht though, to be honest, there is little sailing done – we only hoisted sails once to get some good pictures.
Onboard there are only 6 cabins for 12 guests, half have a double bed and the other half have twin bunk beds. Each cabin has an ensuite bathroom and AC. Great news for solo travelers: there is no single supplement as you will be paired with another diver of the same gender. If there is no one to share with you will get a cabin all to yourself at no additional costs!
The common areas include a lounge with a TV screen, a small library, and a minibar and outside there are various deck options to chill and sunbathe. Most meals are taken outside on the deck and it tends to be a feast. The food is a mix between western and Indonesian – yes, that means noodles for breakfast! – and there is always plenty. I was especially impressed with the vegan options that one of my fellow travelers got.
In addition to tea, coffee, and water you also get a smoothie in the morning and hot chocolate when you return from a night dive. And yes, there is wine and beer onboard which you can buy!
Details of booking a Raja Ampat Liveaboard trip with Emperor Diving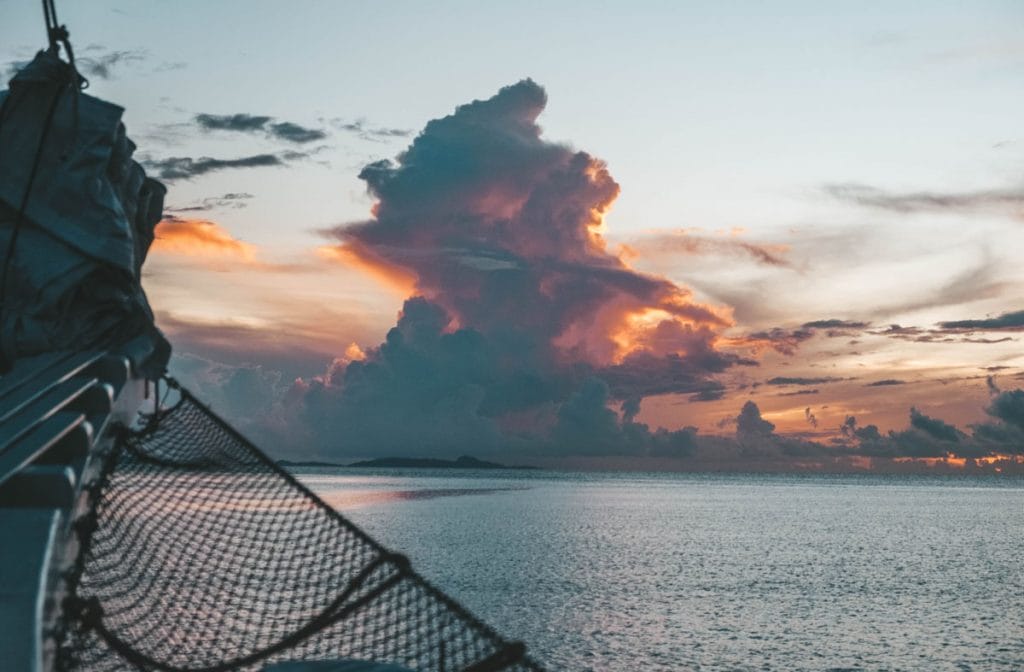 You can check for prices and dates for the Emperor Raja Laut here
Rates for the Best of Raja Ampat 7-night route usually include the following:
6 days with 2-3 dives each day, 12 l tanks, weights, Nitrox, and dive guides
Return group transfer from the airport incl. ferry ticket to Waisai
Marine Park & Port Fees
7 nights in a cabin with double sharing occupancy.
Full board incl. coffee, tea water but excluding soft drinks & alcohol
Diving insurance upon request
Activities like beach cocktail party, a trip to the Piaynemo viewpoint & walk at Arborek Village
If you need rental equipment or want a 15 l tank you should inquire beforehand about rates and availability. Notify the boat upon booking about any food allergies or special requests.
The crew works incredibly hard to make sure that you have an enjoyable and safe liveaboard trip in Raja Ampat – please make sure to put some money aside as a tip for them!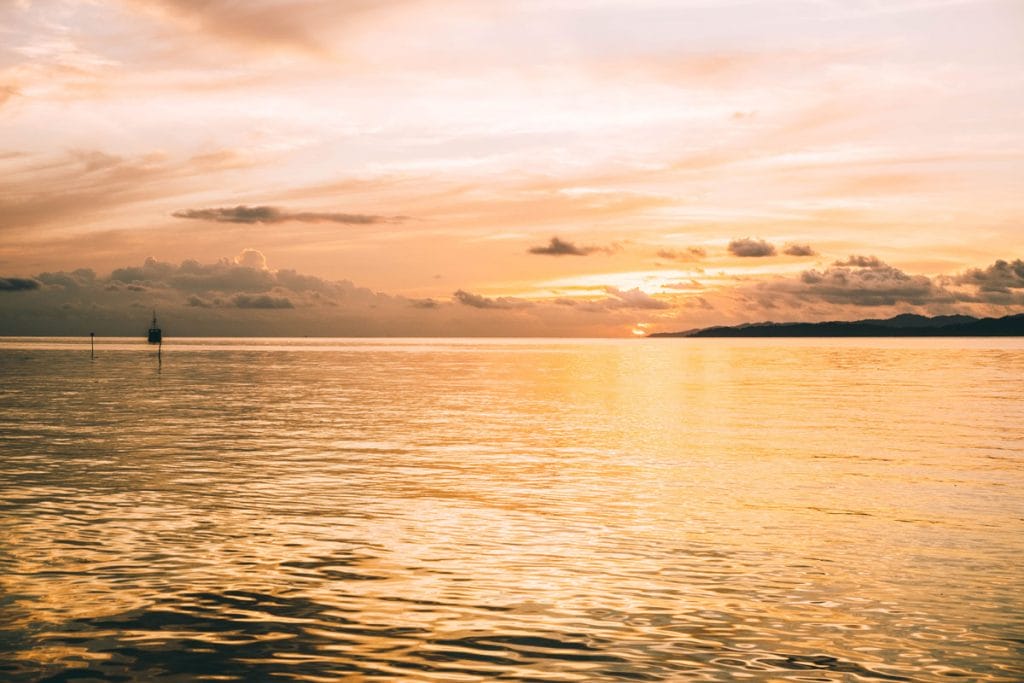 Please note: There is no wifi on board! Oh the shock, I know I know. But to be honest, wifi tends to be ridiculously expensive on the liveaboards I have been on that offered it so I don't really see the point. While I always travel with a local SIM card to make a hotspot it was quite tricky while being on my Raja Ampat liveaboard to connect. Just take it as a beautiful chance to disconnect from the world for a week.
Book a trip with the Emperor Raja Laut
Pin for Later!