This post contains affiliate links. If you book something through these links I get a small commission at no extra cost to you. You can read more about mydisclosure and affiliate policy here.
…
The Maldives are my happy place. I know that sounds a bit weird and pompous but it isn't so much the glitz of the beautiful resorts that appeal to me but rather the vastness, the solitude, and the color of the ocean.
On top of that, they are one of my favorite dive destinations in the world.
Here you have the choice between fancy 5-star resort diving, small dive centers on local islands, or Maldives diving with a liveaboard. The latter is my preferred choice and I have done it a few times. There is a myriad of liveaboard companies that cruise the Maldives and I had the pleasure twice to be onboard the Blue Force One Maldives. I honestly cannot recommend them enough so if you are looking for a Maldives liveaboard trip they would be high on my list. Here is why…
Central Atolls Classic Route with Blue Force One Maldives
Why you should do a Maldives liveaboard
Why do a trip with a Maldives liveaboard you may ask? Why not choose a nice resort or dive center on a local island?
While all of these options have their perks, one needs to remember that the Maldives are really big. Not so much in terms of landmass but distance and getting around from island to island will require a long ferry ride or a flight. Don't get me wrong, flying with a Maldivian seaplane is as fun as it gets but it is expensive as are the regular domestic flights. If you choose a resort for your Maldives diving holiday you will be bound to a certain area. Nothing wrong with that per se but obviously the dive sites will be somewhat limited.
When you book a liveaboard in the Maldives you will do most traveling at night and are thus able to cover longer distances quite literally in your sleep. This way you can actually see some of the best dive sites in the Maldives in a relatively short amount of time. In addition, your liveaboard captain can adjust the route quickly if the conditions at a chosen dive site are less than ideal. This is not always an option if you are 'stuck' at one resort.
My best tips for Liveaboard diving
Another factor is cost. Maldives resorts are notoriously expensive. That is not to say you shouldn't splurge (I certainly know I would if I had the money!) but it also means that all activities they offer come at a premium – diving included. While I am always happy to pay more for good service and a great safety record when it comes to diving, there is a limit to how much more I am willing to pay. Diving in the Maldives is fantastic as it is, personally, I don't want to pay extra to eat my dive snack from a silver platter.
Costs won't be an issue when you dive with a liveaboard in the Maldives. While the prices seem steep at first glance, they are actually not when you break it down by night, the number of dives, and meals and compare it to diving with a resort in the Maldives.
Routes with Blue Force One Maldives
I have been on board the Blue Force One Maldives twice doing their Central Atolls Classical Route in the past few years. This is their most popular route which starts and ends at Malé Airport which makes it super convenient whether you leave the Maldives straight after your liveaboard or move on to a different resort.
The route covers areas in the North and South Malé Atolls, Vaavu, and Ari. From August to January and in April and May this route is done weekly. It includes 7 nights and 6 days of diving, always considering your no-fly limits on the last day of course!
They also offer a 7 Atolls – Southern Hemisphere Route, a South Hemisphere Route, and a special Manta Expedition Route.
I am incredibly keen to do their South Hemisphere Route next as I heard the diving and variety of marine life is even better. Alas, one has to fly to Gan or Kooddoo depending on the port of embarkation. Mind you not so bad if you are coming from Sri Lanka for example but a bit more complicated if you want to stay in the Maldives afterward as chances are you will need to add another flight to Malé to your holiday budget.
Diving with the Blue Force One Maldives
The classic route includes 18 dives with 2 night dives. All dives are conducted from their dive dhoni (a dhoni is usually a traditional Maldivian boat) which is home to all the tanks and equipment for the week.
For each dive, you will make your way to the dhoni where every diver has their own little kitting station. If you are a solo traveler fear not – all dives with the Blue Force One Maldives are guided and you will be put together in appropriate groups. So even if you don't have a buddy you will not dive alone. Groups are organized by certification level and nitrox certification. Of course, if you come with your partner or with a group of friends you can also dive together.
Pre-requisites: You need to be at least an Open Water Diver. However, it is recommended that you are an AOW and have at least 50 dives logged. Nitrox is $50 extra for the week and you need to be Nitrox certified. You can do your AOW and Nitrox certification on board too.
Keep in mind though that some dives will have strong currents so some experience is highly advisable. And while you are limited to 30 m for recreational diving in the Maldives, many dives have a lot of action below 18 m so an Advanced OW is handy.
You are also required to have your own computer, SMB, reef hook, and torch. I recommend bringing your own but you can also buy or rent most of those dive accessories on board.
Find my ultimate liveaboard packing list here!
After embarkation, you will stay in Malé harbor for a check dive. This dive is done to evaluate divers' abilities and to check your equipment before heading out to sea. The latter is especially important if you are unsure how much weight you need and to check if the rental equipment fits.
To be honest, I always thought that check dives were useful but a bit of a bore. Not so on my last liveaboard trip with Blue Force Maldives as we went to the Malé Fish Factory. This sloping dive site is a playground for hundreds of hungry Rays, Moray Eels, and Bannerfish. They come here to play with discarded tuna heads and fish bones and while this sounds gruesome I have never seen a more beautiful dive site, teeming with life. It was so amazing that they added an extra dive there when we returned to Malé, making those two the best dives in the Maldives I have ever had!
Unfortunately, I cannot show you pictures as I didn't take my camera for a mere check dive and it had died before the second dive. Moral of the story: never dive without your camera!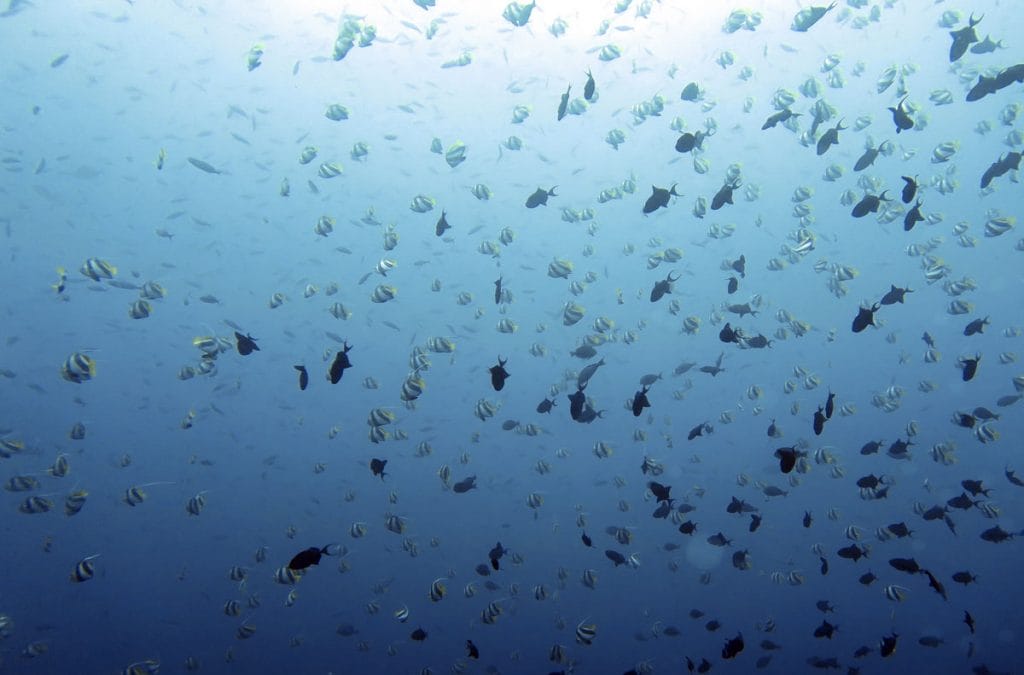 Most dives in the Maldives are done at a thila (an underwater pinnacle) or in a channel. The channels are the ones with the strong currents which are in charge of bringing the bigger pelagics. Sharks galore await – usually you will just go down, hook in your reef hook and enjoy the show. Thilas offer a great variety of reef fish, schooling Bannerfish (my favorite) and Red Tooth Triggerfish, and some beautiful coral gardens. There are even a few Frogfish around! Honestly when someone asks me what there is to see in the Maldives I don't know how to answer – what isn't there to see?
In addition, chances are good that you will get to visit a Manta cleaning station as well as do a night dive with Nurse Sharks and Mantas. While I was never a huge fan of night dives before these are both very special. For the nurse sharks, dive guides usually take some 'fish soup' to attract them while you hook in and watch the feeding frenzy. Fear not, nurse sharks are incredibly docile and just a little curious at times. Mind you it will get your adrenalin going to dive with 20-30 sharks at night.
For the manta night dive, you usually stay in the vicinity of the boat and use lights to build them a snack shop. All divers put their torches in the sand which will attract plankton which will attract mantas. Make sure to keep low because chances are the mantas will get very close on their way to the delicious plankton snack you are providing for them
Cabins & amenities of the Blue Force Maldives
We have established that the diving with a Maldives liveaboard is great, right? But now let's take a look inside the boat!
My first liveaboard which shall not be named was terrible. It smelled of petrol and there was water dripping from the ceiling in my cabin. Not ideal to say the least. Luckily that is so not the case with the Blue Force One Maldives.
They have 12 cabins for a total of 24 divers that spread over 3 decks. All cabins have their own bathroom as well as a window or at least a porthole. I stayed in a deluxe cabin on the lower deck on both of my trips and was super happy with my choice. Honestly, you spend so little time in your cabin that to me it is not worth splurging on a great view.
I did however visit my friends who were on their honeymoon in their suite and loved it. I guess if you are traveling for a special occasion it might be worth paying a bit more – the price difference between the deluxe rooms and the master suite is only $300.
As I said, chances are you won't be spending much time in your cabin because there are plenty of common areas on deck that are lovely and come with great views. The boat has different tanning and chilling areas with mattresses and sunbeds as well as two jacuzzis.
There is also a covered bar area with lots of sofas to chill, an outdoor dining room as well as an indoor salon with TV, sofas, and comfy armchairs.
Though not part of the amenities of course but special mention to the incredible staff. The dive guides and the interior staff are simply amazing and will pamper you to no end. Honestly, this is a really hard job with long hours and weeks of non-stop work, however, the crew always has a smile on their faces and will give you a helping hand or cocktail if needed. Don't forget them during check-out/tipping time!
Food onboard the Blue Force One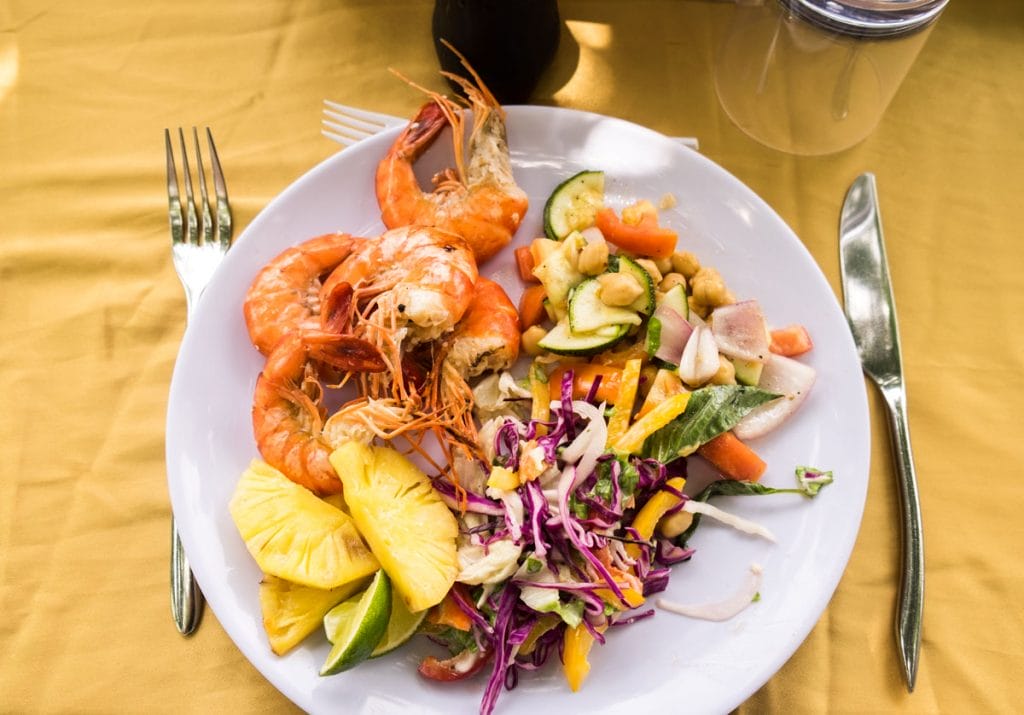 If I had to be a bit critical about a liveaboard trip with the Blue Force One it would be about the food. Then again, I am a big food snob and it takes quite a bit to impress me.
While I am quite partial to chicken nuggets, I think overall the food is just a bit too much on the starchy, meaty, fried side for my liking. I would have preferred more fresh salads and veggies as we had during our beach BBQ.
Mind you, the other passengers seemed to love it so I guess maybe the food is not to blame but rather my picky tastebuds.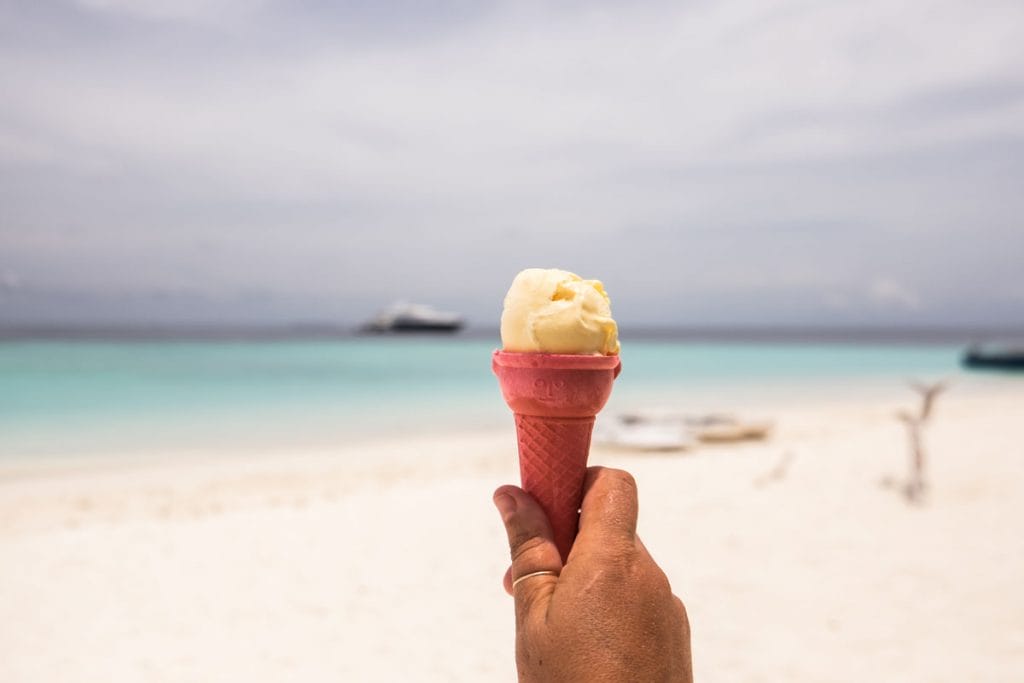 On the other hand, they have an awesome bar selection and the prices are quite reasonable – both for Maldives and liveaboard standards. They also offer free coffee and drinking water and you get your own flask to fill it up from a big water dispenser. Yay for not wasting tiny plastic bottles!
Details of booking a Liveaboard trip with Blue Force Maldives
You can check for prices and dates for the Blue Force One Maldives here
Rates for the Central Atolls Route usually include the following:
18 dives with S80 tanks, weights, and diving guides
Transfer from the airport to the boat and back (make sure to doublecheck which airport you are departing from depending on your route)
Cabin with double sharing occupancy. A great note for solo travelers: you won't have to pay a single supplement but will be teamed up with another solo traveler!
Full board incl. coffee, tea water but excluding soft drinks & alcohol
Diving insurance
Activities like beach BBQ, whale shark safari & guided tour in Malé
Please note that you will need to pay various taxes on top which include: Green tax, Maldives tax, and Service tax (which is a mandatory tip, however, you can always add some more in the end – the guys definitely deserve it!).
If you need rental equipment or want an S100 tank you should inquire beforehand about rates and availability. Nitrox is an extra $50 for the week.
Book a trip with the Blue Force Maldives
Pin for Later!