Why should I do an Advanced Open Water? Surely 18 m is deep enough…
If you have done your Open Water chances are you have already fallen in love with diving a bit and want to learn more. Or you are at least intrigued but maybe still a bit insecure about how to handle this whole being underwater business. Either way, after you have completed your initial Open Water course the real fun of diving can begin! For many this simply means enjoying what they've got and honing skills – fun dives is the name of the game.
Others may want more – more skills, more experience, more certification levels. This is when the Advanced Open Water or AOW comes into play.
An advanced scuba certification will allow you to dive deeper, introduce you to different diving environments, and help you to develop the skills you have learned in your Open Water course. Many dive sites are not accessible to divers who hold a mere OW certification as they lie below 18 m or require a special skill set to explore them comfortably and safely.
In addition, many liveaboards, a gateway to some of the best dive destinations in the world, will require a certain amount of logged dives and sometimes an Advanced Open Water.
THE INS & OUTS ON HOW TO GET Advanced OPEN WATER
Table of contents
Should you do your AOW immediately after getting your OW?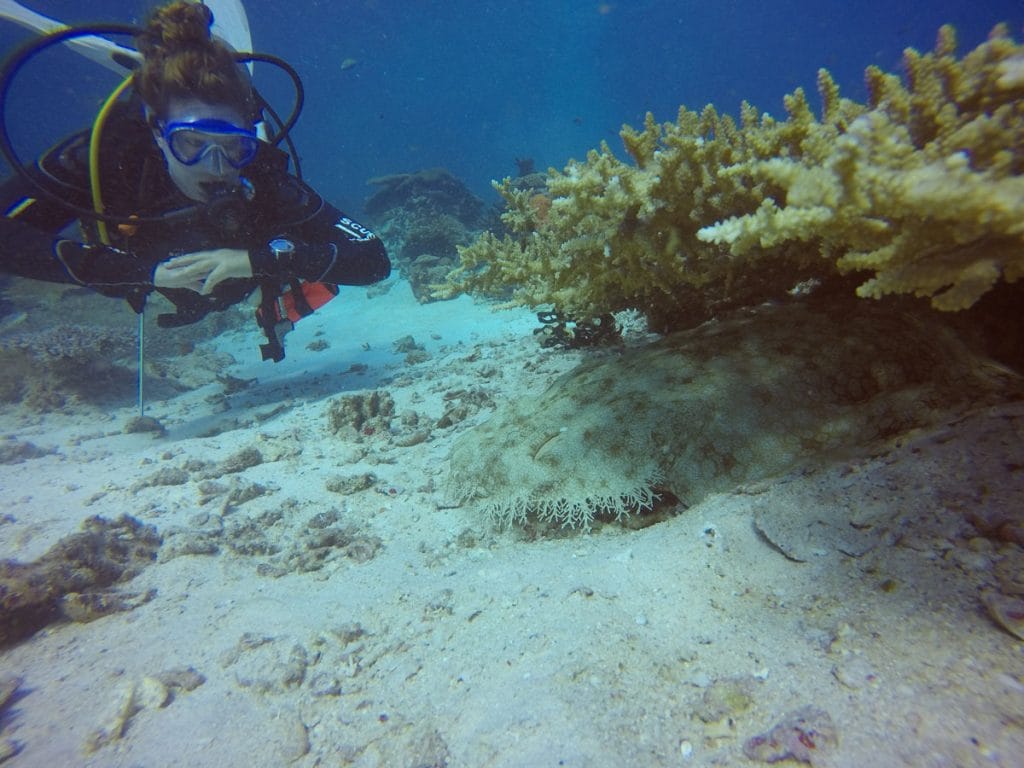 This is not an easy question to answer. Chances are most dive centers will convince you to take your Advanced Open Water course immediately after your done with our OW. After all, this is how a dive center and a diving instructor make their money and the more certifications an instructor has under their belt the better for them.
I remember after doing my OW in Koh Tao, I returned two weeks later to do my Advanced Adventurer. For me, that was the right decision as I was already in paradise and knew my way around the dive center. I also hadn't struggled much with my skills during the Open Water course and it seemed to make sense both financially and time-wise to just continue my education while I was in Thailand.
How to get your Open Water Scuba Certification
I didn't regret this decision at all but I underestimated how green I still was after I finished with my Advanced Open Water. At this point, I had done a total of 9 dives during my courses plus a handful of fun dives. I only realized just how little experience I had when I arrived on a liveaboard in Sipadan. It took me a whole lot of more diving to see that only practice makes perfect – not certification levels.
With that said, if you have the chance to add your Advanced Open Water course right after becoming a certified diver – go for it. That is if you have an instructor you trust and are also in a location where you can choose specialty dives that truly interest you (no point in doing Fish ID if you would rather dive the Titanic!).
If the conditions aren't right don't rush your AOW. Rather take the time to do fun dives, dive in different conditions and with different people – you will already be able to work on your buoyancy and air consumption while just enjoying being underwater.
How is the Advanced Open Water organized?
Doing an advanced diving course is meant to give you a glimpse into different diving environments (i.e. wreck diving, drift diving) as well as hone the basic skills you have acquired during your Open Water course.
The setup for an SSI or PADI Advanced is pretty similar (and I imagine for the other agencies as well though I cannot speak for them with personal experience). In your course, you will do 5 open water dives which are so-called Adventure Dives.
These dives are equivalent to the first dive of any given specialty course thus you will gain a bit of knowledge in each of them. Mandatory is a deep dive as well as underwater navigation. You are free to choose the other 3 and this choice will depend on your interest, your instructor, and where you are diving.
Why you should get your Deep Diver Speciality
In addition, you have to do a knowledge review for the Adventure Dives you choose but luckily you won't have to do an exam after.
Pre-requisites to do your Advanced Open Water
There are not many prerequisites to get started with your Advanced Open Water. You do need to be a certified PADI Open Water Diver (or equivalent from another agency) or PADI Junior Open Water Diver.
To do your Junior Advanced Open Water you need to be at least 12 years old. Once certified you will be allowed to a depth of 21 m until you are 15 years old when your certification will be turned into an AOW and you can dip down to 30 m like the grown-ups.
You will also need a dive knife/cutting tool, compass, and a dive computer/ timing device & RDP Table – check with your dive center beforehand if you need to own all of these or if you can rent them for the duration of your course.
For certain adventure dives like sidemount or dry suit, you will of course need some further equipment your dive instructor will inform you about in advance.
What Adventure Dives can you do?
For the PADI Advanced, you have those 2 required Adventure Dives. Those are a deep dive and a navigational dive.
The deep dive is especially important as it will show you how depth and increased pressure affect your body. You will notice that your air consumption may go up and that you may need to add a little more air to your BCD in order to stay neutrally buoyant.
You will also learn how to plan your dive, manage your air, and monitor your no stop & dive time limits, and learn about nitrogen narcosis. The latter is something that can happen at increased depth when the nitrogen saturation affects your body more due to the increased pressure.
Nitrogen narcosis is not dangerous per se as its effects vane once you go up a bit, however, it can decrease your nerve and muscle function, can lead to poor judgment, and euphoria. Being narced is like being a bit drunk (they also call it the Martini effect) – for diving it is important you know what signs to look out for and how to counteract them before you could get too reckless and get yourself in a potentially dangerous situation. During your deep dive, you can go down to 30 m so you may or may not even experience any narcosis yet (I didn't and was very disappointed!) – every diver is different.
Chances are your instructor is also going to play some games with you to test your reactions and thinking-skills 'under the influence' and will show you how colors fade the deeper you go.
Please note that you will be allowed to go to 30 m once you have completed your Advanced Open Water course. In order to go deeper, you will need to do the Deep Dive specialty course. The deep dive you are doing during your AOW can count towards it.
The navigation dive will teach you some underwater compass skills and how to use natural landmarks to find your way. Usually, you will do some compass work on the surface first before taking it underwater where you will need to dive back and forth, make a square, etc. by using your compass. I have come to realize that it is not as easy as it sounds…
In addition, you will learn some basics on how to use corals, manmade structures, and even the sand to determine directions underwater. You will also learn how to measure your kicks and get an idea of how long it takes you to dive 30m/100ft so you can measure distances.
The other 3 Adventure Dives will depend on your interests, your location, and your instructor. A firm favorite for many is Peak Performance Buoyancy and for good reason. Buoyancy is one of the most important skills a diver should hone and this class will teach you some nifty tricks on how to get it just right. Mind you, practice makes perfect so your buoyancy will get better the more you dive but still, this specialty is a great place to start.
I also did a wreck dive and a night dive. I will admit that I only chose the night dive because my instructor was very cute and I trusted his long batting eyelashes without hesitation… honestly, that was a good thing because the idea of jumping into a dark ocean seemed very scary at first, but wasn't so bad once he and I were underwater. And ever since I have become a big fan of night dives!
As for my wreck dive – I don't remember much and I am still not the biggest fan of wreck diving but if you doing your Advanced Open Water Diver in a location with good wrecks go for it! I know many people who love wreck diving and some wrecks are certainly very special (and great to find frogfish which is all that I care about in a wreck!).
Alternatively, you can choose courses like Fish ID, Drift Diving, Search & Recovery, Digital Underwater Photography, and many more. As I said, check what is available and see what sounds interesting to you. The Advanced Open Water is not only a great course to gain some new skills but also to dip your toes into different areas of diving and see what you like and may want to get specialties in.
PADI Advanced Open Water or SSI?
Oh, this is a bit of a tricky question, to be honest as a PADI Advanced Open Water is not the same as the SSI Advanced Open Water. Let's break it down, shall we?!
PADI Advanced Open Water = SSI Advanced Adventurer
PADI Advanced Open Water – 5 open water specialty dives. 2 of those 5 dives have to be a deep dive & navigation.
SSI Advanced Adventurer – 5 open water specialty dives.
Both will include some theoretical knowledge development however there is no exam at the end of it. After you complete either of these courses you are what is commonly known as an Advanced Open Water Diver (AOW) and are allowed to dive to 30 m.
However, if you have a look at the SSI website you will see that there is also something called the SSI Advanced Open Water. What is this? This is a certification you get after finishing 4 specialty courses which usually entail a certain amount of open water dives. In addition, you will need to have 24 logged dives to get your certification for the SSI Advanced Open Water. So technically you don't need to do any additional training if you fulfill these requirements but simply accumulate dives and specialties.
You can however combine the SSI Advanced Open Water and the SSI Advanced Adventurer. Either you can count the adventure dive towards the corresponding specialty or count one of the specialty dives as part of your Advanced Adventurer dives.
There is no PADI equivalent to the SSI Advanced Open Water.
Pin for Later!