This post contains affiliate links. If you book something through these links I get a small commission at no extra cost to you. You can read more about mydisclosure and affiliate policy here.
…
You are a scuba diver or want to become one? Great, you are at the right place! One of the few things that seem to deter people from diving are the costs of equipment. Indeed, good scuba gear is not cheap. But the good news is: you don't need your own equipment at the beginning and you definitely don't need to buy a whole kit at once!
So what scuba gear for beginners is necessary and/or advisable and how much is it going to cost you? Read on!
Scuba gear for beginners – Buy or try?
You will notice that this post doesn't include any links except for the cameras and a few accessories as I think it is crucial to try the gear on in person or even better try it during a dive. Chances are that won't be possible if you go to a scuba shop or buy online as you won't be able to return gear that has been worn in the water. This is one of the reasons why I'd recommend you rent gear for some dives before committing to buy your own. This way you can try various brands and models, and really find something that works your body type. You will know what size you need and what type of diving you enjoy which will ultimately guide your equipment choices.
Some dive centers require you to have your own mask, snorkel, and fins before you start your course. If you cannot rent them for your first dives, a good dive center or dive shop should guide you to find the right equipment for you to get started.
And what is next? What are crucial pieces of scuba gear for beginners and what can wait a while?
Mask & Snorkel
The most important piece of scuba gear you should invest in from the get-go is a good mask. Fit is crucial when it comes to a mask since faces come in various different sizes and shapes. If a scuba mask is too small it will feel uncomfortably tight with increasing pressure while one that is too big will leak.
Overall, I think a mask can really make or break a dive so this should be the first piece of equipment you buy.
You should always try on a mask before you buy it so I definitely wouldn't recommend getting a mask online unless you know exactly which brand and style you need.
During your Open Water course or a Discover Scuba Diving, your instructor will usually fit you with a mask. When you are buying one you obviously cannot take it for a trial dive but you can test the mask before: put the mask on your face without the mask strap and inhale through your nose, a well-fitting mask will stay on your face. While this test is not 100% foolproof it should give you a good idea if the mask is right for your face.
You can already get a good scuba mask from a reputable company like Scubapro, Mares, or Aqualung for 40 € or check out the Tidal Mask which has an in-built anti-fog film!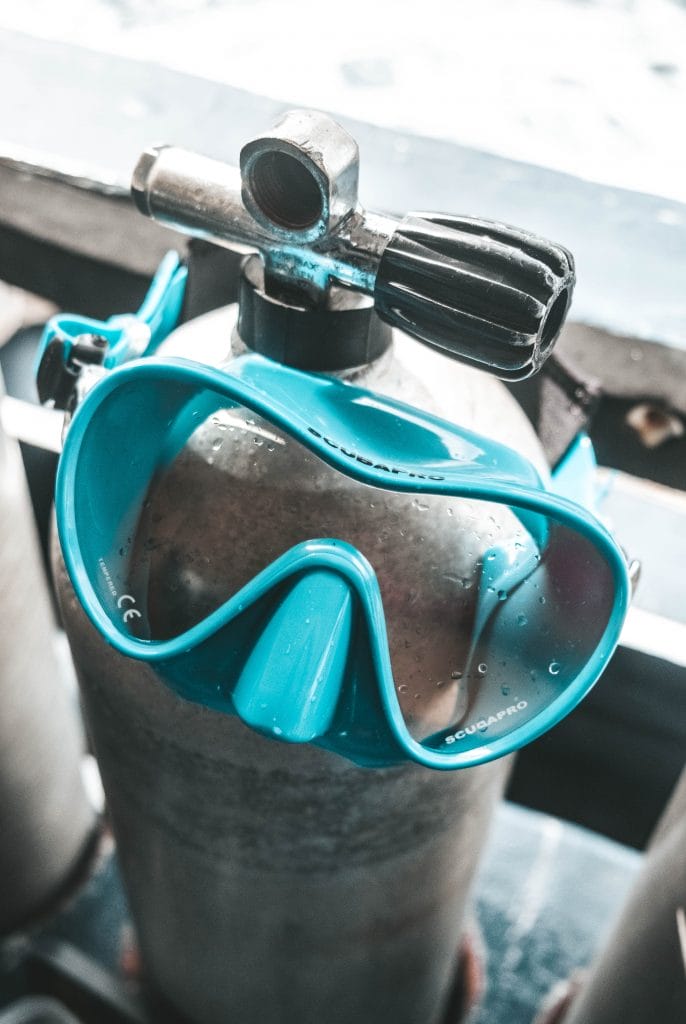 Personally, I don't usually fun dive with a snorkel but it is a requirement for all beginners' courses and good to have if you are diving in rougher conditions and may expect a longer surface swim. Also, snorkels are not expensive so I would recommend you buy one with your mask and be done with it.
While maybe not super important for divers with short hair I couldn't do without a mask strap that prevents my hair from getting tangled.
Fins & Booties
Fins are another item super important for your dive. Many dive centers only offer closed-heel fins when you rent equipment, not the most comfortable if you often dive or the fins don't fit perfectly. I recommend an open-heel fin and a pair of booties – which also add some warmth to your feet.
Which fins to choose will depend on a few things: do you need a lot of power to kick in current, do you need heavier fins to counterbalance a dry suit or floaty feet, or do you want something light for traveling? I would recommend you try a few varieties until you figure out what you like and need for future dives. In fact, I would recommend you buy booties before you buy fins because if you are still renting equipment, you have the option to try open-heel fins (don't try them without booties – blisters await if you do!).
Just like wetsuits, booties come in a variety of thicknesses. They are also great if you are shore diving and may need to make your way over rocks or sand.
I recently got a pair of Poseidon booties and cannot recommend them enough. They aren't too buoyant and thus help with my floaty legs. Also, no struggle to get them on or off because they have a very convenient zipper in the back. Ever since I got them, I am also tempted to wear them out of the water because they are also incredible stylish – they come in a variety of colors and look like Converse high-tops!
Wetsuit
An old divers' saying goes like this: There are two types of divers – those who pee in their wetsuits, and those who lie about it.
Regardless of whether you do pee in your wetsuit or not, it is rather nice to have your own. Most dive centers (unless you dive in really cold climates) only have short wetsuits which I personally think are quite hideous – they are the bicycle shorts of wetsuits! I prefer a full wetsuit and not just for aesthetics and water temperature as it also offers protection should I accidentally brush against or bump into something.
Buying a well-made, well-fitting wetsuit will make your dive so much more comfortable especially if your body type is not easily categorized by S, M, L. These days there are also plenty of wetsuits made especially for women which take hips and boobs into consideration.
Which thickness you choose will depend on what kind of diving you plan to do and whether you get cold easily.
I own a full 2/3mm and a full 5mm which I use depending on where I dive. In places like Crete where the water is too cold for my 5mm (this might just be me, I am such a warm water diver), I will usually layer a 5mm shortie on top or wear a hood for added warmth. When in doubt I always opt for the thicker one as I have never been too warm underwater. Just keep in mind to take it off on the surface so you don't overheat in your wetsuit.
By the way – the wetsuit I am wearing in this pictures was a cheap one from Decathlon as I had forgotten my Scubapro suit at home. While it was perfectly fine for a few dives, it was not the most comfortable and started to tear on the seams after about 40 dives. Invest in quality!
DSMB
Okay, this might surprise some but I think a DSMB/SMD (delayed surface marker buoy/ surface marker buoy) and reel is one of the most important pieces of scuba gear for beginners and advanced divers alive. A surface marker buoy will alert boats that divers are in the water underneath and also make it easier for a dive boat to spot you, should you get lost.
Most liveaboards in places like Maldives and Komodo will require you to carry one however, I rarely see them on the list of rental equipment so it pays off to get your own. Mind you, you shouldn't just carry one but also know how to deploy it properly. I only learned to do that during my divemaster training but honestly, it is such an important skill that can quite literally save your life in an emergency. Find an instructor or divemaster to teach you to deploy it and practice it regularly.
Computer
A dive computer is technically not necessary as a new diver however it becomes more important once you start planning your own dives, want to dive with Nitrox, or go on a liveaboard.
During your Open Water course, you will either learn how to use a computer or be introduced to the oh-so-fun world of dive tables. Your computer will take any calculations off your hands meaning you can dive safer and usually longer as it adjusts to your actual bottom times during the dive, unlike a dive table.
When starting out you don't need to go for the most expensive or complex dive computer. Suunto makes some of the best dive computers for beginners and they are available for under 300 €.
Once you get one, make sure to read the manual so you know how to set up all the functions you need!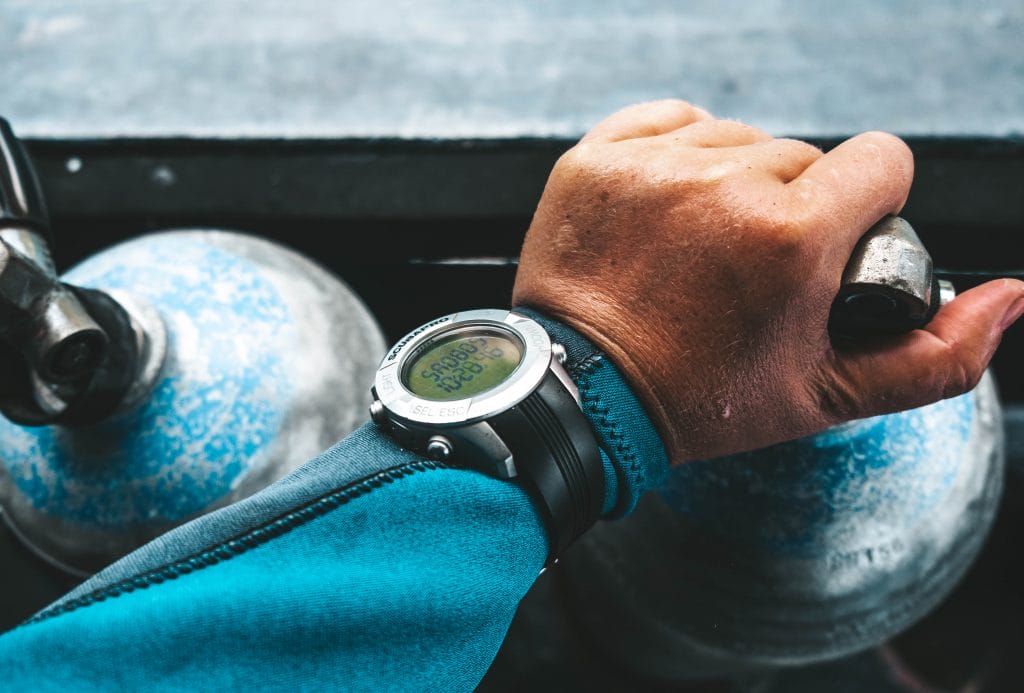 Camera
Okay, so technically a camera is not dive equipment but chances are you do want to take pictures underwater at some point. I highly recommend you wait until you have managed good buoyancy and feel comfortable underwater before taking a camera.
What you buy will depend on your budget and what you want to do with the images – if you are an aspiring underwater photographer chances are you need to fork out quite a bit more.
For the average fun diver, I recommend a DJI Osmo Action, which unlike a GoPro also has a front-facing screen which is great for selfies. Definitely get a floating handle for it – it saved my camera twice after losing it underwater.
If you like to take macro pictures and want overall better image quality the Olympus TG-6 and underwater housing cannot be beaten when it comes to price/quality ratio.
You will notice that I haven't mentioned regulators or BCDs in this post. While it is nice to have your own, I definitely don't consider them scuba equipment for beginners. A good regulator and BCD is a serious investment and you will want to make sure to get the perfect one for you and your diving needs. Since you can't try them in action in a store I recommend you use different rental equipment for a while until you know what you like. In the meanwhile, you can start a piggybank!
Pin for later!