Interested in becoming a Sidemount diver? You have come to the right place as this post is all about the nitty-gritty of what is involved!
What is a Sidemount diver?
Sidemount diving stems from the cave diving world but has also found its way into the recreational, non-overhead diving world in recent years.
Simply put: instead of wearing one or two tanks mounted on your back, you will wear your tanks on your side. The tanks are attached to a Sidemount BCD with clips and/or bungee cords allowing for great flexibility. Initially, it was this flexibility that allowed cave divers to take their tanks off underwater to fit through narrow spaces as well as making their overall profile smaller.
The advantages of Sidemount diving are an additional independent air source as you are diving with two tanks each with a first stage, SPG, and regulator. This makes it a lot safer and gives little air-hogs like myself a whole lot more air. I also found diving with Sidemount to be incredibly comfortable because you can easily don tanks on the surface and there is no pressure on your back.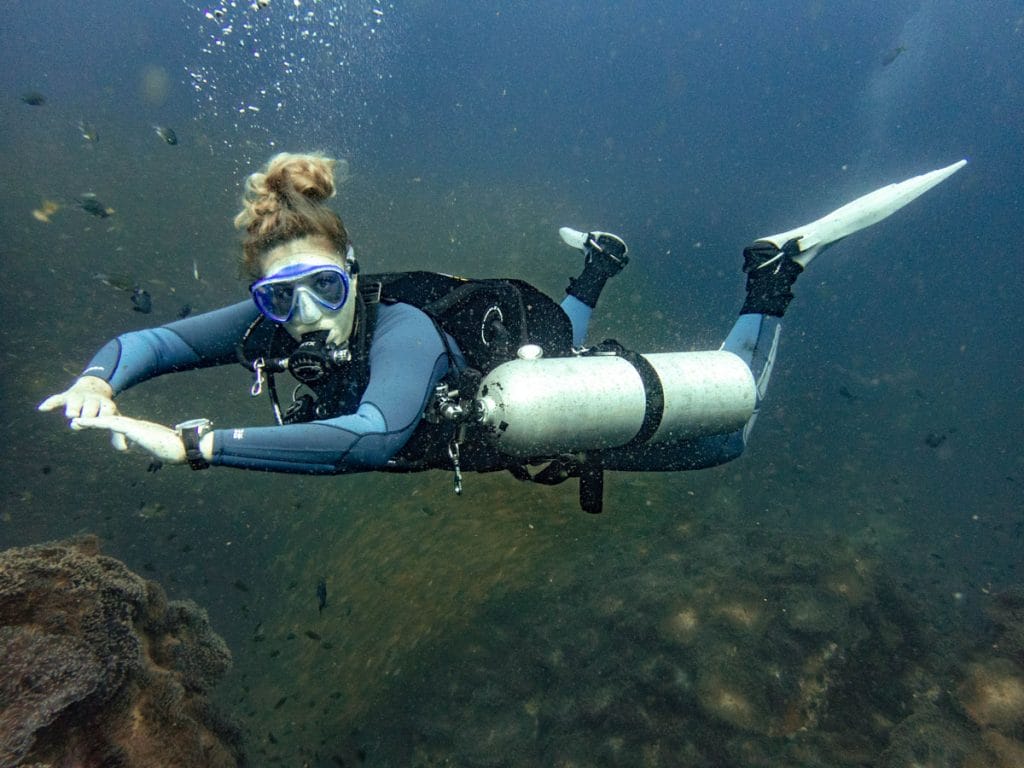 While most Sidemount divers use two tanks as a standard, you can also just use one tank (I was told it's called 'monkey') or more than two tanks for deco dives.
Prerequisites for the Sidemount specialty
To get started on Sidemount diving you don't need more than an Open Water Diver. Mind you, it obviously helps to have good buoyancy and trim and you should be able to set up and handle your equipment comfortably by yourself. Sidemount diving will add a whole new dimension when it comes to equipment setup and skills.
With most agencies you can choose between recreational Sidemount and technical Sidemount. The prerequisites for example with SDI and TDI are the same but the tec Sidemount course will add more skills. It will also ask more of you in terms of mastering them – perfect trim and keeping still and leveled during your skills is a must!
SDI/TDI
Includes 2 open water dives
Minimum 18 years, 15 years with parental consent
Must have an SDI Open Water Diver or the equivalent
PADI
Includes 3 open water dives
Minimum 15 years
Must have an Open Water Diver
Sidemount Diving Equipment
The Sidemount diving setup is a little different from the setup when diving backmount and so is the equipment.
Your Sidemount BCD is a harness with a bladder and a somewhat intricate system of sliding D-rings, bungee cords, and clips. Their position and fit are crucial for your tank position and trim later in the water and your instructor will probably spend quite a bit of time to get them just right.
In addition, your Sidemount rig includes tank bands, clips, and probably some more bungees to stow away your regs nicely. The clips will be connected to your harness and again, their position is important for the position of your tanks.
You will also learn how to use Sidemount regulators. Usually, you will have one regulator on a long hose as well as one regulator on a short hose with a necklace. Unlike your normal regs, Sidemount regs are also marked so you can easily distinguish which tank you are breathing from. During my training, this included a swivel joint for my short hose regulator. In addition, you will have 2 SPGs – one for each first stage.
On top of this specialized Sidemount equipment, you will also need your usual wetsuit, fins, mask, computer, compass, and DSMB.
If you worry now about how this will all come together, don't – a big part of the course is learning how to set up your Sidemount equipment as well as to measure and adjust bungees and clips to make sure your tanks are in trim next to your legs. And of course, your instructor will help you with all of it!
How is the Sidemount diver course structured?
When or why I decided to do my Sidemount course I don't remember. As with most of my diving decisions, it was probably a case of – oh that looks cool, could be useful, I'm going to try it!
I knew that Sidemount was going to be a useful certification and something that I could use in the future and build on. I also knew that I eventually wanted to do some proper cave diving and that a Sidemount certification would come in handy for that.
A regular Sidemount course will include:
Sidemount theory with an exam
Dive planning & briefings
Setting up your Sidemount rig and balance your tanks
Safety drill
Donning equipment on the boat, in shallow water, and in water too deep to stand
Underwater skills and safety drills
Open water dives in Sidemount
I will admit my Sidemount Diver course was probably one of the most challenging courses I have ever done. Mind you, this was mainly because my trusted dive center in Koh Tao, Big Blue Tech, and my instructor Fiona included a lot more skills and dives as part of my course than required. While always making sure that my task load was manageable we practiced skills over and over again and included things like mask removable, tank removable underwater, SMB deployment, out of air drills, and many more all while staying (or at least trying to) in perfect trim.
A Guide to Koh Tao Scuba Diving

While I still haven't mastered this art quite yet, I am proud to say that after 20 Sidemount dives I am excited to call myself a Sidemount diver and think it is the most comfortable way to dive!
Book a Sidemount course with Big Blue
Pin for later!