This post contains affiliate links. If you book something through these links I get a small commission at no extra cost to you. You can read more about mydisclosure and affiliate policy here.
…
Liveaboard diving is a dream for many divers and a great way to get in a big amount of dives in a short time as well as cover lots of ground and dive otherwise hard to reach dive sites. On a liveaboard, you are not tied to a special location but can travel far and wide – quite literally in your sleep as most of the distance is covered at night. That makes a liveaboard perfect to explore places like Raja Ampat, the Similan Islands, Maldives, or the Galapagos Islands.
Raja Ampat Liveabaord with Emperor Raja Laut
What is a liveaboard's biggest advantage – the remoteness – also means that you need to pack quite smartly which is why I put together a liveaboard packing list for you. Chances are there won't be any shops close by where you can quickly stock up on things. Also living on a boat for a few days and staying in a rather small cabin comes with its own challenges. But fear not, I've got you covered – after quite a few dive trips, I have got my packing for a liveaboard down to an art.
Click here to read all about Blue Force One Maldives liveaboard
You can use the list whether you are setting sail on an ultra-luxury liveaboard or one where you will share a communal dorm room. You will learn how to not overpack and still have everything that you may need for the ultimate liveaboard adventure.
What to put on your liveaboard packing list
Table of Contents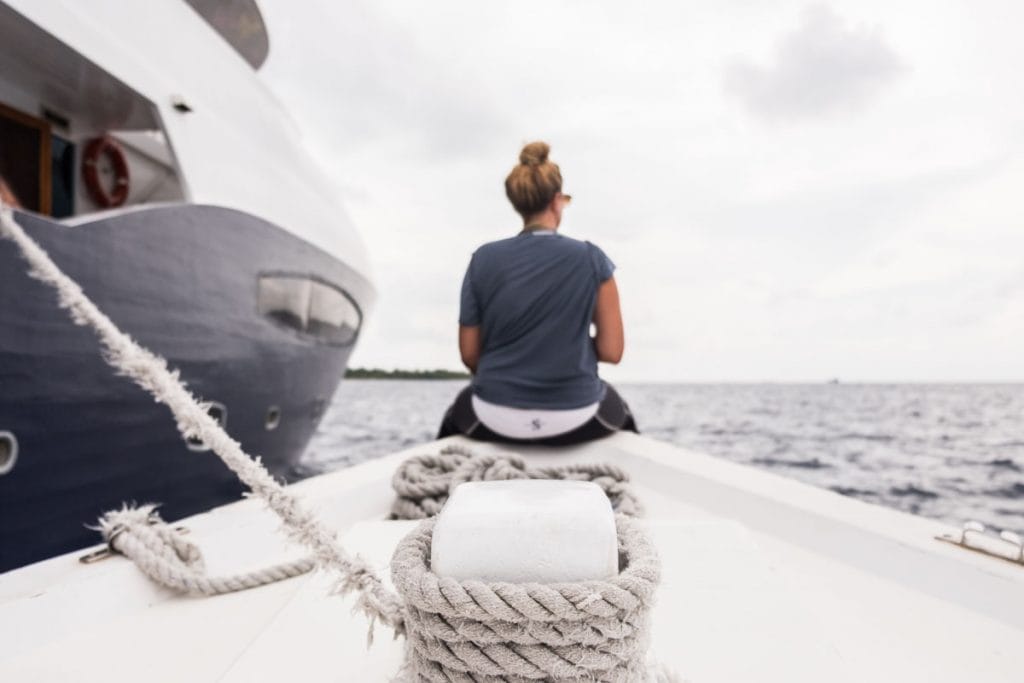 Scuba equipment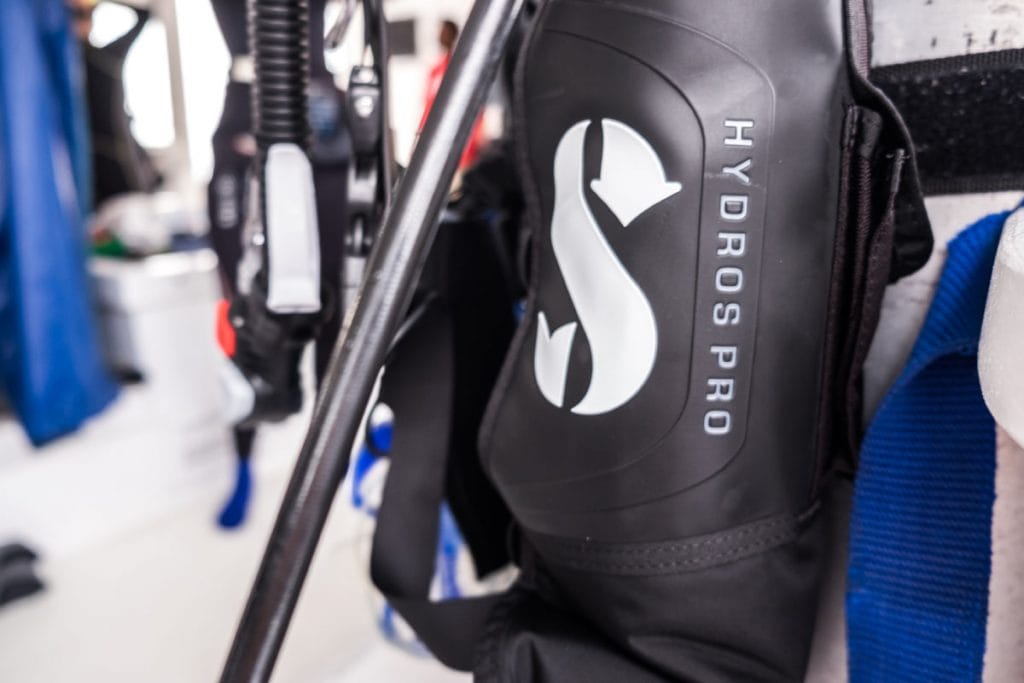 If you don't have your own scuba equipment yet you can rent it when doing a liveaboard trip. However, if there was ever a time to pack your own equipment – this is it. After all, you are doing a liveaboard trip to do up to 4 dives each day and so you want to be as comfortable and safe as possible.
Scuba Gear for Beginners – what you really need!
At the very least you should bring the following:
mask | To me a good mask or lack thereof can make or break my dive. A well-fitting mask is the first piece of scuba equipment you should invest in and is definitely on top of your 'what to pack for a liveaboard' list. If you have a backup mask take that too.
Especially if you have a lot of hair take a mask-strap or check Scubapro's new masks with a comfort strap to avoid tangles.
Unless you need something specific you don't need to bring antifog as most liveaboards have soapy sprays available. If you are taking a new mask bring a lighter so you can burn it a few times before your dive.
computer | A dive computer has to be on your liveaboard packing list and is compulsory for most liveaboards. Make sure to have the battery checked before you leave on your trip.
fins, booties & socks | For multiple dives every it pays off to have comfortable fins and booties. If you have sensitive feet socks can help to prevent getting blisters.
wetsuit & rashguard | If you ever considered buying a wetsuit your first liveaboard trip is a perfect time. Its thickness will depend on where you plan to dive but when in doubt rather go for a little thicker – most of us tend to get colder faster when doing multiple dives in a day. Ask the liveaboard company what water temperature is expected and take some extra layers and maybe even a hood if you get cold easily.
I would also pack some rashguards and dive leggings for snorkeling excursions or when the water is warm enough to dive without a wetsuit.
SMB | I think an SMB is one of the most important pieces of equipment to have and actually many boats require you to put it on your liveaboard packing list especially if you don't dive with a guide.
Even if you have a dive guide who will usually deploy their SMB at the end of a dive you should have one on you for safety – make sure you practice how to use it regularly.
Learn new skills during your Advanced Open Water
reef hook/ gloves | Some dives recommend using a reef hook and some divers prefer wearing gloves. However, before you pack them check beforehand if their use is allowed in your destination.
torch | Are there night dives on the agenda? Then you will need a torch! Even if you dive throughout the day a torch can be useful to spot critters.
Many liveaboards will sell or rent smaller diving accessories however note that purchasing equipment on a boat will be a lot more expensive than at a dive shop. Also renting things like torches can quickly add up – before you start your trip you should consider how many night dives you plan, rental costs, and if it might not be smarter to buy a torch beforehand.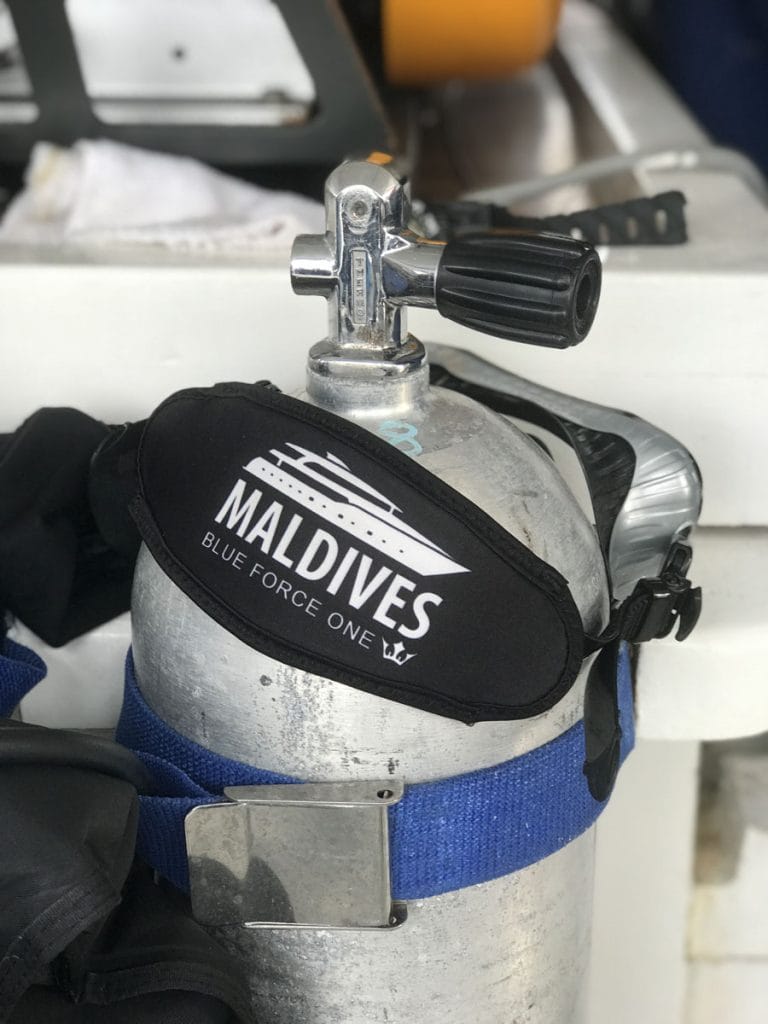 save-the-dive-kit | Most liveaboards will have equipment like o-rings and such at hand, but take your own kit if you have special requirements as well as things like an extra mask or fin strap.
Obviously, if you have your own BCD and regs you should take them – as I said before using your own trusted equipment will make your dives a lot more enjoyable especially if you are diving in a new destination. If you don't have your own BCD and regs make sure to reserve everything you need in advance with the liveaboard company and doublecheck the makes and sizes available.
Clothing for your liveaboard trip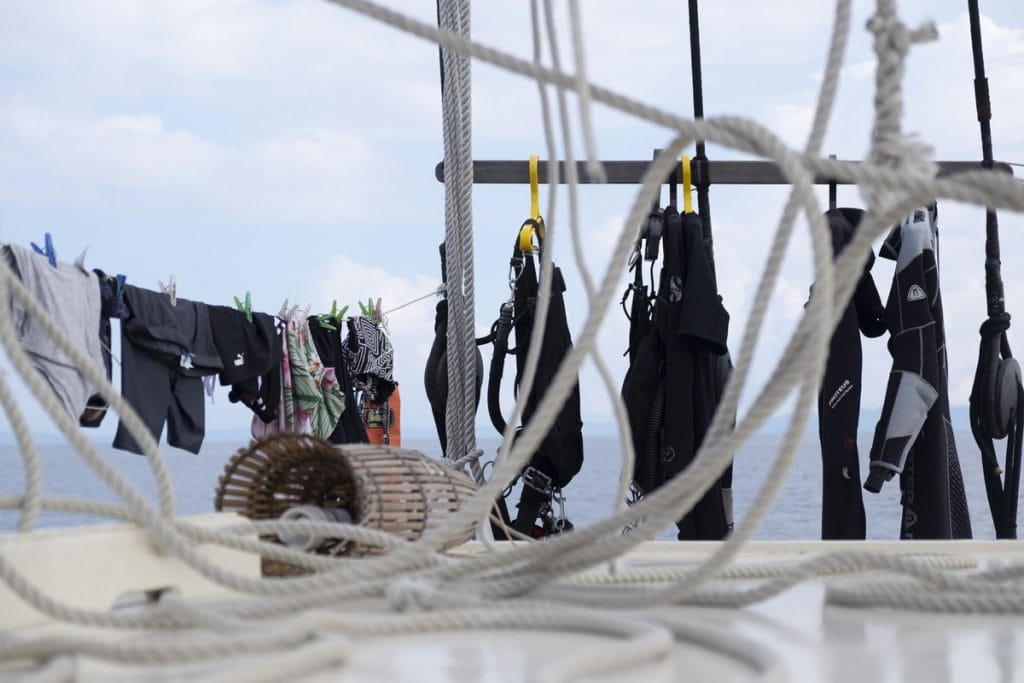 Personally, I hate packing lists that will tell you exactly how many pairs of socks and t-shirts you will need for a given trip so I won't do this here. I will however remind you not to overpack because storage space on boats is limited and you won't need a huge variety of clothing – divers tend to be casual and even on the Scubaspa, one of the fanciest liveaboards in the Maldives, nobody blinked an eye when I wore the same simple cotton dress for dinner every night.
3 bikinis or bathing costumes | That is the one number I will insist on because chances are you are always wearing a costume and you want it to be dry. Lounging in wet swimwear is not comfortable and is asking for a UTI.
travel towel/ sarong | Most liveaboards will give you a towel for your cabin and one for after getting out of the water. However, it is nice to have an option for beach excursions or while sun tanning on the boat so I would definitely take a quick dry towel to travel.
long sleeve shirt, jersey, or hoodie | After a long day of diving you may want to snuggle up in something warm and cozy even if the weather is warm. Pack another one if you are heading to a destination where both water and the outside temperature is chillier.
sandals | Shoes were off-limits on all liveaboards I have been on so there is no need to bring too many. But you will need at least one pair of sturdy sandals for land excursions. I personally love the EVA Birkenstocks which are made out of plastic. They are still incredibly comfortable and light but also dry quickly.
Beauty & Medication
sunscreen | Obviously you should be going for reef-friendly products if you need to use sunscreen. Mind you, it can be quite hard to determine which ones are actually reef-friendly and which only use the term.
Luckily Stream2Sea came along with an awesome range of reef-friendly sunscreen, lip protection (awesome to avoid cold sores!), and other products like a leave-in conditioner.
moisturizer | Pack body & hand lotion for after diving. While I usually don't use body lotion in hot climates my skin is craving it after spending a lot of time in seawater. For my face, I actually prefer Aesop fabulous face oil as my skin tends to get incredibly dry.
hair | I will have to write an entire post about keeping hair somewhat tangle-free when diving but I never travel without a shampoo bar and lots of leave-in conditioner. Since this can also get into the water Stream2Sea is a great reef-friendly option though I will admit that I am also partial to Sun Bum 3-in-1 conditioner as few others make my hair manageable. And I never go on a trip without a tangle teaser brush! If you prefer an all-natural product, try coconut oil.
medication | In addition to your regular medication and a little first aid travel kit I recommend putting some seasickness medication on your liveaboard packing list. Even if you are not prone to seasickness being on a boat for a prolonged time and in different weathers can be challenging.
And while one shouldn't dive with decongestant I would take some for the evenings as well as some swimmer's eardrops if you have sensitive ears.
contacts & glasses | If you wear contact lenses I recommend trying dailies for a dive trip as they are more hygienic. In addition, pack some eye-drops, contact lens solution, and your glasses.
feminine products | While you might be granted a nice bathroom on a liveaboard, all boats have marine toilets that cannot stomach toilet paper or anything else. So an upcoming liveaboard trip might be the perfect time to switch to a menstrual cup instead of bringing tampons or pads – mind you, give yourself a few cycles as a try-run to get the hang of using it.
Don't forget to pack these eco friendly travel products!
Technology
camera | If there is one dive trip you will want to bring your camera it is a liveaboard trip! Or two… I still remember how upset I was during one of the best dives of my life in the Maldives after my GoPro had died.
These days I am testing the Sealife Macro 3.0 and I also take my DJI Osmo Action. This one is similar to a GoPro and great for videos but has a front-facing screen too which is great for selfies. It also seems a lot more intuitive in its use. Just like the GoPro the DJI also requires special housing to go diving below 10 m while the Sealife can go up to 60 m without housing.
Make sure to pack enough batteries and SD cards as well as clips/carabiners and a lanyard to connect your camera to your BCD. For the DJI I also recommend a floating handle – I have lost mine twice underwater and found it again each time thanks to its floating handle.
apps | Download Dive+ – this is a great app to color correct your underwater images afterward without having to use a red filter. They have an unpaid version with limited 8 picture edits per day as well as an unlimited version for 6.99 € per month.
wifi & laptop & phone | A liveaboard might be the perfect opportunity to disconnect alas, some of us still have to work or may want to use a laptop to watch movies. Your best bet is to download whatever you may want to watch because wifi is expensive on liveaboards. I recommend you don't bother and rather get yourself a local SIM card instead to make a hotspot or take a pocketless wifi device. Chances are there might be areas where you will have no reception whatsoever but closer to shore you can usually get online.
Documents
insurance | Bring your insurance card or policy number from your insurance. When going on a liveaboard trip make sure to have special dive insurance from a company like DAN or DiveAssure. Check beforehand that you are covered for the dives you plan to make (depth and certification level) and treatment in a decompression chamber. if you don't have an annual insurance check with your liveaboard company as some will include dive insurance.
And of course, you should also have regular travel & medical insurance.
certification | Either bring your highest certification card or have it ready digitally – PADI for example has recently stopped issuing physical cards but you can show your brevet with their app.
How to get your Open Water Scuba Certification
logbook | Either a physical logbook (check out this really cute one!) or as an app – make sure that you have the required amount of dives to join the liveaboard.
health | Take a doctor's note for any chronic illnesses or recent surgeries and a statement that you are fit to dive.
Extras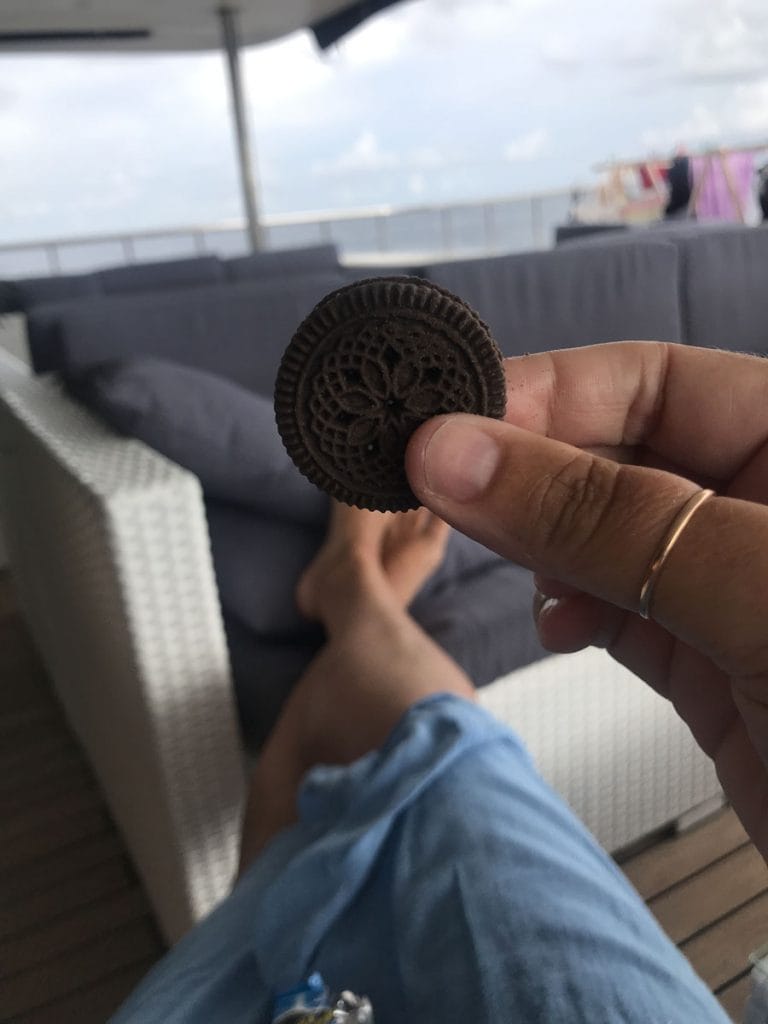 dry bag | For land excursions you should definitely take a dry bag.
luggage | Make sure to bring as little luggage as possible. If you are bringing your own dive gear investing in special dive luggage is a good idea. Alternatively, take your suitcase but bring a mash bag for your equipment so you can take it to the dive platform and keep it separate from your regular clothes.
earplugs/ noise-canceling headphones | Boats can get loud especially since a lot of traveling is done during the night. Take some earplugs and/or noise-canceling headphones. I am eyeing the Bose ones which are wireless too.
entertainment | A deck of cards or even better the Heads Up! app. If you are an avid reader I recommend bringing a Kindle instead of too many books.
fish ID books/ apps | Depending on where you go bring a fish identification book suitable for your destination.
snacks | While most liveaboards tend to feed you quite well bring any special snacks you may like or supplements if needed. I always bring some Fisherman's Friends or mints as my throat gets quite dry when diving a lot.
rehydration salts | When I did a Similan liveaboard it was actually the first time I had rehydration sachets provided, something that was much appreciated after a few dives. Since most boats don't seem to offer them, I recommend you take some yourself.
alcohol | Check beforehand if you are allowed to bring extra alcohol on board – some liveaboards may not allow it or charge you a corkage fee but it could still be worth it if you want to enjoy a special cup of something.
Everything else you need to know about liveaboard diving!
Pin for later!