This post contains affiliate links. If you book something through these links I get a small commission at no extra cost to you. You can read more about mydisclosure and affiliate policy here.
…
Sail Rock diving is probably as good as it gets in the Gulf of Thailand. This underwater pinnacle is home to some incredible marine life that makes the rather long trip to its lone location worth it.
When to dive Sail Rock, Thailand, what you can see & what makes it so special, and how to plan your trip in this post.
The Ins & Outs of Sail Rock Diving
Where is the Sail Rock dive site?
Sail Rock, also called Hin Bai, is an underwater pinnacle located in the Gulf of Thailand between Koh Phangan and Koh Tao. The unique rock formation attracts a diverse array of marine life including some pretty big pelagics. It is considered one of the best dive sites in Thailand.
It juts out about 10 m above the waterline but its true beauty lies underneath as it is considered the largest underwater rock formation in the Gulf of Thailand
You can get to Sail Rock from Koh Tao and Koh Phangan, though it is closer to the latter.
Best Time for Sail Rock Diving
Sail Rock diving is best done between May and September. This is a great dive time for the Gulf of Thailand overall and you will have a hard time finding trips to Sail Rock outside of this season.
The conditions are definitely better from May onwards which means less current and better visibility. There is really no point to waste money or time diving at Sail Rock when the vis is bad.
The water temperature will hover around 27-30 °C though there can be quite a few thermoclines making it a lot colder or warmer throughout the dive.
Obviously, if you come before June you will have the best chance to see a whale shark.
What to See at Sail Rock & what makes it so special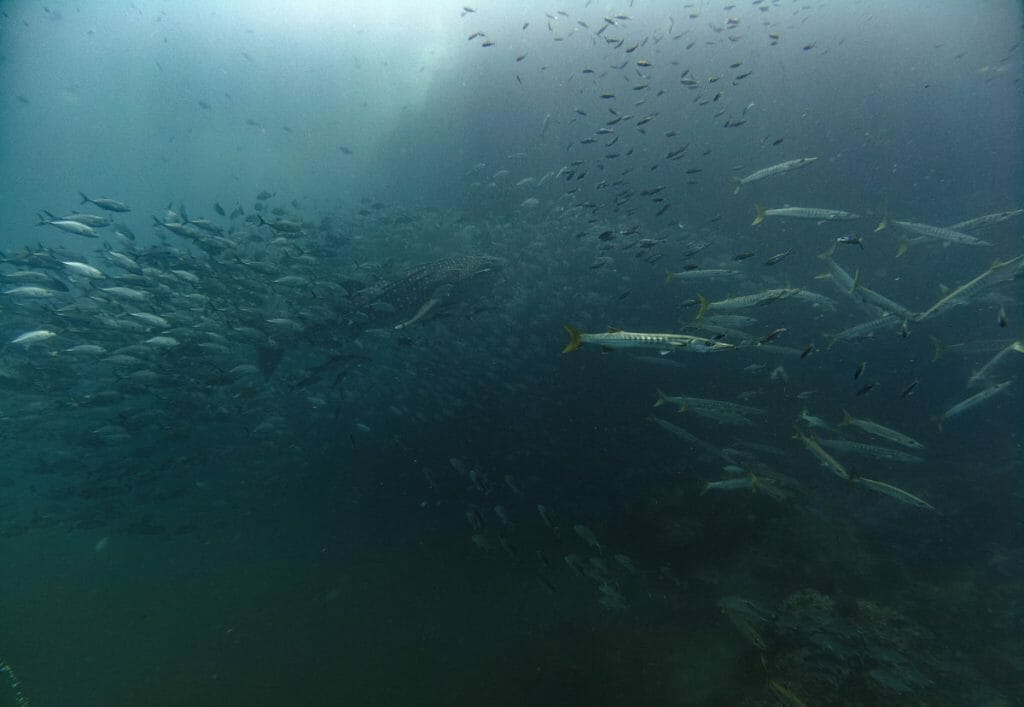 So yes, whale sharks are quite common at Sail Rock and here your chances are as good as it gets to see one. Mind you, in the Gulf of Thailand you will usually see baby whale sharks so don't expect anything much bigger than 4 m. Still they are a sight to behold. Once you see it, you should stay put (never chase a whale shark!) because it will often just circle and you get to meet it again.
Even if you are not as lucky there is so much marine life to enjoy when diving Sail Rock. You can usually see huge schools of Barracuda, Trevally, Snappers, and Fusiliers that are incredible due to their sheer size at times. Sometimes they will even tornado around you.
Then there are plenty of larger predators like Giant Barracudas, Queenfish, and Mackerels hunting in the blue and obviously corals, sponges, colorful reef fish, and some exciting macro life if you know where to look for it.
Sail Rock offers enough to do at least 2 dives since there is also the "Chimney", a fun and not too challenging vertical swim through. The entrance hovers around 5 m and the exit at 18 m (or vice versa). Good buoyancy control is a must and check your surroundings so you don't bump into other divers trying to go up or down the Chimney at the same time.
If that isn't enough excitement for you and you have an experienced guide by your side you can also head out to the Secret Pinnacle. It makes for a fun excursion if you have already done a Sail Rock dive, however, you need to know its approximate location, how to navigate and have good visibility. Otherwise it is not a secret pinnacle but remains a hidden one.
Who Can Dive at Sail Rock?
Most dive centers seem to require at least an Open Water certification for you to dive Sail Rock, though as stated below, some only ask for a Scuba Diver.
To be honest, I think it is a dive site best enjoyed if you are a little more advanced. Not necessarily in terms of depth but Sail Rock can sport some more challenging conditions in terms of currents, thermoclines, and visibility. On our recent trip, it felt like I was back in the halocline in Cenote Angelita, the visibility was that bad.
I did see some divers being led by their guide holding them on their first stage, something I only know from Discovery Scuba Divers. I sincerely hope they weren't DSDs but regardless, diving like this is no fun. There are plenty of other wonderful Koh Tao dive sites where you can get your fins wet first and practice your skills.
While Sail Rock itself goes down to only 20-something meters, the bottom slopes further to about 40 m. Therefore it is also a suitable dive site to get your Deep Diver specialty or for technical divers.
How to organize your Sail Rock dive trip
Technically you can go to Sail Rock from all three Gulf islands, Koh Samui, Koh Phangan, and Koh Tao. However, Samui is definitely quite far away and seems to charge the highest prices.
For diving in the Gulf of Thailand, I would always base myself in Koh Tao and take a trip from there, or as an alternative if you prefer a bigger island go from Koh Phangan to Sail Rock.
More great diving in Thailand here!
Diving Sail Rock from Koh Phangan
I usually wouldn't recommend Koh Phangan as a base if you want to dive in the Gulf of Thailand as most dive sites are closer to Koh Tao. The one exception would be Sail Rock diving.
Hotels & Guesthouses in Koh Phangan
From Koh Phangan, it takes only about one hour to get to Sail Rock, a big difference from its distance from Tao. This also makes it a bit cheaper and you will need less time, not just for travel but also for diving as many dive centers offer it as a 2-dive trip.
Sail Rock Dive Resorts regularly offers Sail Rock trips during the season which include 2 dives for 2800 THB (ca. $83). This will include your equipment, guide, breakfast, and lunch. The minimum certification you need is Scuba Diver which will allow you to dive to 12 m.
You can get your ticket to Koh Phangan here:
Diving Sail Rock from Koh Tao
If you are diving in the Gulf of Thailand, chances are you are diving in Koh Tao. After all, most of the favorite dive sites in the area are nearby.
Find accommodation in Koh Tao
And don't worry you can still head to Sail Rock from Koh Tao. Trips will just take a little longer and be a little more expensive to cover the fuel costs.
I like diving with Big Blue and their Sail Rock trip is 3800 THB (ca. $110) which includes 3 dives, breakfast, lunch & a whale shark. According to them, the whale shark is not guaranteed though I got lucky during my last trip with them. The price also includes your dive guide and equipment rental.
Boats depart at 6.30 am from Koh Tao and the journey takes about 2 hours to Sail Rock depending on what kind of boat is used. You will usually have breakfast and coffee on the boat, take a nap and set up your gear before you get to Sail Rock.
Most dive centers will offer 2 dives at Sail Rock and add a 3rd dive on the way back. This will be something like South West Pinnacle which is close to Sail Rock or Shark Island closer to Koh Tao.
When the season starts and conditions improve, many dive centers will offer Sail Rock trips quite regularly. There are various Facebook groups for Koh Tao travelers and expats and most dive centers will announce their Sail Rock trips there. If you prefer to stick to your favorite dive center just ask them and sign up for a future trip if you are not set on a certain date.
What else is there to do on Koh Tao and where to stay? Check out my complete Koh Tao travel guide for divers here. Book your tickets to Koh Tao below: