This post contains affiliate links. If you book something through these links I get a small commission at no extra cost to you. You can read more about mydisclosure and affiliate policy here.
…
I finally returned to Mexico to go diving cenotes in Tulum. I never thought I would fall in love with any kind of diving that doesn't offer a myriad of marine life but here we are. As another diver once said to me: when you dive in the ocean you look down to find things, when you dive in a cenote you look up because that is where the magic happens.
"The Sea, once it casts its spell, holds one in its net of wonder forever."
I don't know what Jacques Cousteau said about cenotes but I think his sentiment applies to them as well… Cenotes are magic. A play of light and darkness, hard edges and soft elements, thrilling and beautiful at the same time. And to me, utterly addictive.
Want to see the magic for yourself? Read on…
THE INS & OUTS OF DIVING Cenotes Tulum
What is a cenote?
First things first. You might be wondering: what even is a cenote? Cenotes are natural sinkholes that came to life due to caves' ceilings collapsing.
The Yucatan Peninsula is home to thousands of cenotes, some registered and many yet to be discovered – you won't find that many cenotes anywhere else in the world!
There are different kinds of cenotes: some are still full-fledged caves, others resemble open ponds or nothing more than a puddle, and some are a combination of all.
Cenotes were used for centuries, both as a source of freshwater (many are connected by an underground tunnel and river system) and in Mayan culture as an entrance to the underworld.
Many cenotes are privately owned and thus charge an entrance fee. It also means that many have bathroom facilities and even showers, a small restaurant, and rental gear for snorkelers.
Over the last decades, cenotes diving has become one of the biggest draws for divers in the Yucatan Peninsula. While some can only be explored by certified cave divers, many are accessible to recreational divers. And if people talk about scuba diving in Tulum chances are they actually mean cenote diving. While you can dive in the ocean here, the reefs are much more beautiful in Cozumel and you won't find cenotes as stunning anywhere else.
What certification do I need for diving cenotes in Tulum
Mexican cenotes diving is divided into cavern and cave dives. What is the difference between a cavern and a cave? When you are exploring a cavern you should be able to see natural light the entire time while exploring, never be further than 60 m from your entry point when penetrating, and dive within no decompression limits.
Tulum cave diving will take you beyond these points and you will need specialized equipment as well as training.
Unless you are a certified cave diver you will need to stick to the cenotes that are classified as caverns. There are quite a few so chances are you won't get bored! Depending on the cenote you will need to be an Open Water or Advanced Open Water diver.
In addition, all cenote dives need to be accompanied by a certified guide. Make sure to check your guide's credentials before booking. The guide needs to be at least a divemaster and certified cave diver and hold permits to guide in the cenotes you are going. They also need to be in a double-tank set-up (either sidemount or twinset) and cannot guide more than 4 divers at a time. They will also need various backup lights and stick to the light zone and cavern lines when entering a cenote.
What to wear for diving cenotes in Tulum
As you may know, I get cold easily so I wouldn't recommend you dive cenotes without a full 5 mm wetsuit. Temperatures range from 24 °C – 26 °C all year long, unless you come across a nice, balmy halocline underwater. Chances are you may want to have a hood as well.
You will see plenty of divers wearing a drysuit but unless you are doing technical or cave dives, I reckon that won't be necessary for the average diver.
Most guided cenote tours will include your gear with a single tank backmount set-up. Of course, you can also bring your own – I took my sidemount equipment and was incredibly comfortable with it. Regardless of the set-up you use, you will definitely need a torch so check with your guide beforehand if you don't have your own.
The best scuba gear for beginners
For those wanting to bring a camera, double-check the cenote rules: most require a camera fee for larger cameras (approximately $10-25 depending on the cenote). Some allow GoPros or similar for free but not all of them!
How much does diving cenotes in Tulum cost?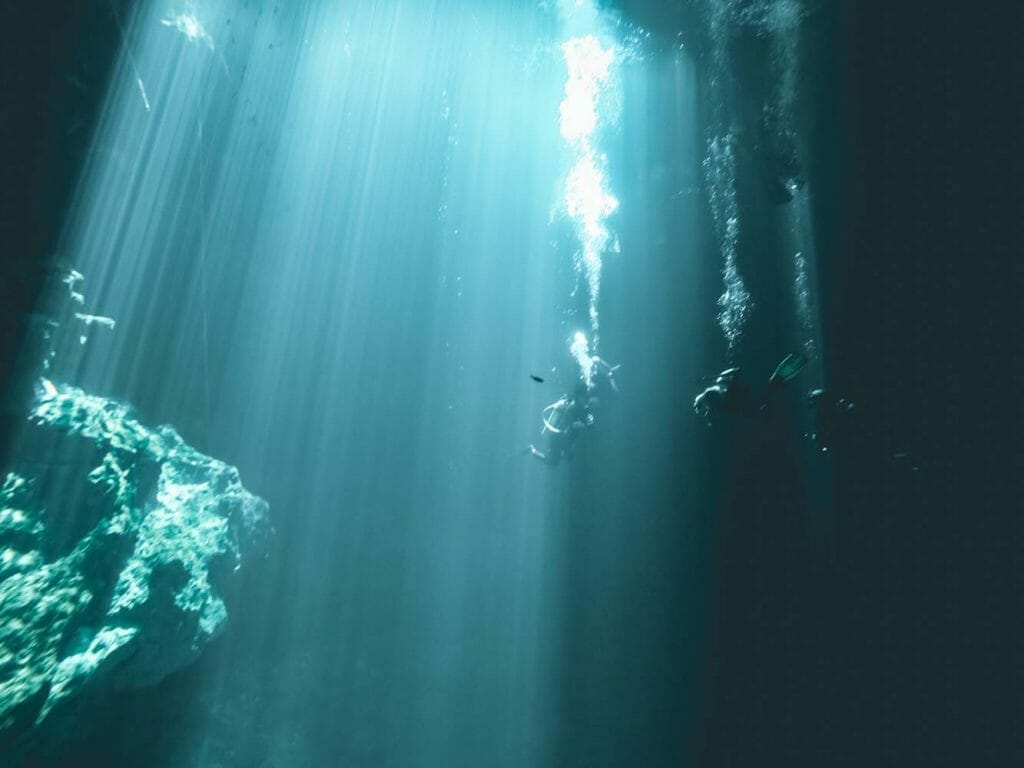 Tulum diving like everything else in Tulum is not cheap. On average you will need to pay $200+ for 2 guided cenote dives. This usually includes equipment, tanks, weights, your guide, water and snacks, entrance fee to the cenotes as well as transport from the dive center. Doublecheck beforehand where your dive center is located. Many dive centers in Playa Del Carmen also go diving in the Tulum cenotes and leave from there. If are staying in Tulum you may need to make your own way to the cenote.
Depending on the amount and dive guide, the price may include Nitrox fillings.
Note that you will usually be required to carry your own tanks from the parking area to the cenote's entrance. While most offer somewhat easy access, those stairs can get difficult to climb with a tank strapped on your back and weights in your BCD. If you have issues carrying your gear, check beforehand if your dive guide can help you carry.
Protec Dive Center Tulum offers a so-called 'Sherpa Service' for an additional $30 per day so you don't have to worry about carrying things yourself.
Cenote el Pit offers the option to have your tanks lowered into the water with a pulley system so you don't have to walk down the very wobbly stairs with your tanks. The operator charges only $2,50 to get your tanks (I was on sidemount so I had 2 tanks!) down and back up again – a very worthy investment.
Which dive center to choose when diving in Tulum
To fully enjoy the best diving in Tulum you should choose a great guide. After exploring all my options I booked my dives with Taz Diving. Taz is a independent guide who has been in Tulum for years and I loved diving with her. Since she is a freelance guide her rates were the absolute best that I found and she was incredibly lovely and knowledgeable.
While she may group divers together if she has more than one booking for a certain date, I got lucky as I ended up diving by myself with her – a private guide at no extra cost! And with that said, if you book a certain date you can also tell her which cenotes you would like to visit.
Unfortunately, Taz got sick for our last dive day and so I booked a package with Blue Life to dive Angelita and Carwash. I had previously dived with them and they offer some great packages for diving in cenotes, diving in Playa Del Carmen, scuba diving Tulum, and diving in Cozumel.
As their Tulum dive center is still closed at the moment, my guide Oliver picked me up in the morning which made for an incredibly easy dive day.
Their prices are slightly higher than Taz's' so I would strongly recommend you reach out to her first but if your dates don't align, definitely give Blue Life a shout.
If you are a tec or cave diver and want to go diving Tulum, I say Protec is your best bet. They are highly regarded in the area and have the best tech and cave diving facilities and instructors in the region.
The best cenote dives in Tulum
Dos Ojos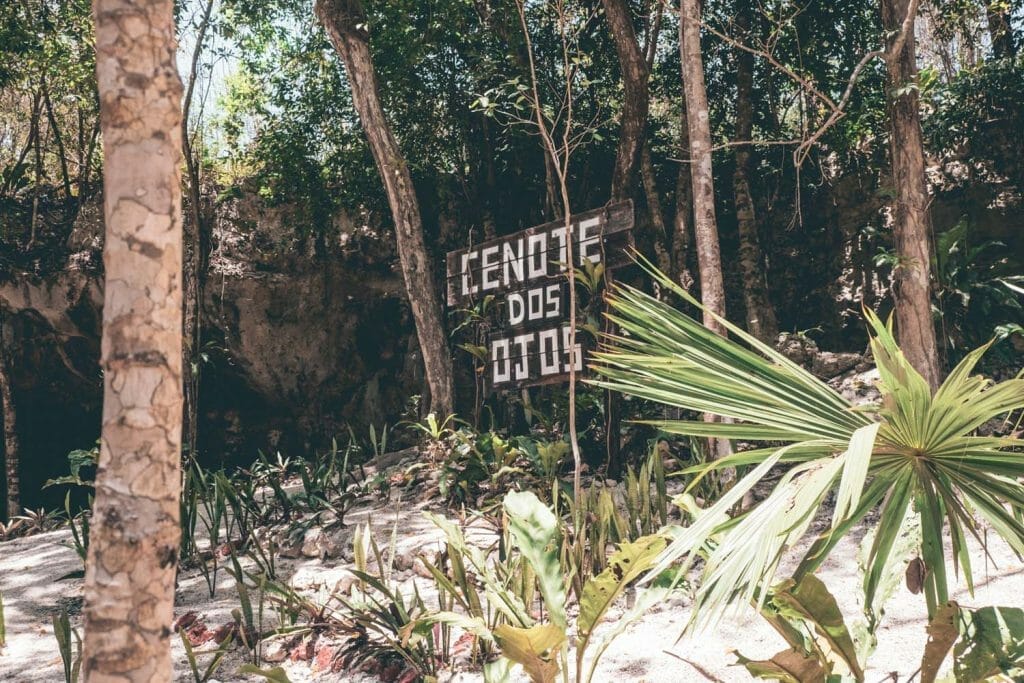 Dos Ojos is probably one of the most favorite cenotes for scuba diving Tulum. Dos Ojos means 'two eyes' which you will only be able to see from the above. These two cenotes are connected by an underground tunnel system perfect for both divers and snorkelers.
For Dos Ojos diving you have the choice between two routes: the Barbie Line and a route leading to a bat cave where you can ascend. From the parking area where divers set up their equipment, you make your way down some stairs to the entrance. Surrounded by overhanging trees and some hammocks, perfect for a surface interval, you will see a platform by the water. Snorkelers go to the right and divers to the left to enter the water.
Both lines are suitable for Open Water divers and chances are you will see snorkelers' feet from below as you make your way through stalagmites and stalactites. The routes loop so you will get back to your starting point eventually. The way to the bat cave leads you to an actual bat cave where you can ascend, take your reg out, and admire the bats that live here. The Barbie Line will, as the name implies, take you to a Barbie who hangs out with her plastic crocodile friend at the turning point of the route. A total highlight for me as I used to be a huge Barbie girl as a child!
The Pit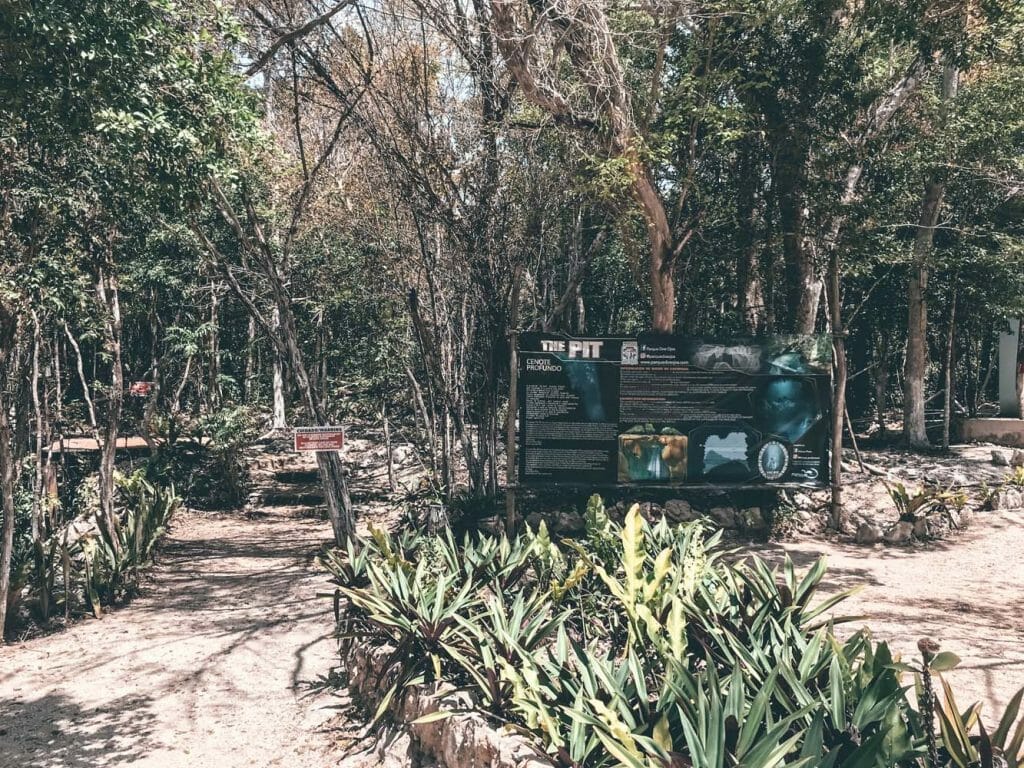 Diving in the Pit is often combined with Dos Ojos so you get a nice idea of how different cenotes can be.
From the top, you will need to make your way down a raggedy staircase (you can use a pulley to get your tanks down!) and from there you enter the water. The Pit drops down to below 40 m but most of the action happens above. At around 15 m you will encounter your first halocline where fresh and saltwater meet – watch your buoyancy! Further down at 30 m is a mysterious-looking sulfur cloud with a few tree branches – spooky and beautiful.
Most dives start at the cloud before you make your way up, diving in circles and admiring stalactites and old pottery, and when you look up rays of light that are dancing through the water.
Cenote Ponderosa/ Garden of Eden
Ponderosa is also called the Garden of Eden and with good reason. Crystal clear water attracts not only divers but also many snorkelers and there is even a platform to jump in from.
Divers make their way over mossy rocks surrounded by small fish before getting to the cavern entrance. From here you will follow the line over big limestone boulders before you come to a beautiful opening: light filters through from above, trees and mangroves everywhere – it really does look like Eden.
Afterward, you head further in and will get to a very strong halocline, a nice place to warm up a bit and quite a weird phenomenon to experience. Don't worry, it is not your camera settings that make for blurry pictures here!
Taj Maha
Cenote Taj Mahal is actually called Taj Maha as 'ha' means water in Mayan. The entrance is similar to Dos Ojos and you will set up in the car park before making your way down to the water's edge.
Once you start your dive things feel very dark and cave-like at first (don't worry, you are still in a proper cavern) and you will see signs where the cave diving zone starts.
You will dive up and down over boulders and in between stalagmites and stalactites before you get to another cenote. Here you can ascend, take your regs out and look around. There are some vines, lots of bats, and a raggedy latter for those who simply want to take a dip.
Taj Maha even charges $10 for GoPro usage but I dare say it's worth it. They also have two cats on the property which makes up for anything in my eyes.
Angelita
My absolute favorite was the Angelita Cenote dive I did on my last day in Tulum. I first saw it in this amazing free-diving video and was in complete awe of it after.
Angelita looks like a serene little pond surrounded by jungle but its true beauty lies below the surface. At around 30 m you will see a sulfur cloud surrounding an island of sorts full of branches and smaller tree trunks. Some of these branches rise from the cloud and it is both, eery and magnificent.
My guide and I even descended a little further down in the cloud which can get a bit uncomfortable if you stay too long as sulfur will irritate your skin. We only stayed for a moment before coming up again to clear visibility. I would love to dive Angelita again with two full tanks of Nitrox and stay down there for as long as possible though – it is magical.
On the way up there are some caverns and crevices to explore before you do your safety stop looking up at massive trees that have put their roots down below the waterline. If you are lucky you might even see the resident tiny crocodile that lives here.
Note: The way from the car park to the cenote is quite far if you need to carry your equipment, and the ground is a bit uneven. If you have back issues or such, this is definitely the place you may want to pay for a sherpa service, or in my case, tip your guide really well if he ends up carrying your tanks (thank you, Oliver!!).
Carwash
Carwash or Cenote Aktun-Ha literally used to be a place for truck drivers to wash their cars. Today it is one of the most well-maintained cenotes in Tulum with a little restaurant, washrooms, and a lovely concrete platform to get to the water.
Carwash is considered the most beautiful cenote in Riviera Maya by many and is also easily accessible for snorkelers. You can see how crystal clear the water is just by looking down from the water's edge. What makes it so special are its fields of waterlilies that grow below the surface and are home to thousands of tiny fish and some turtles.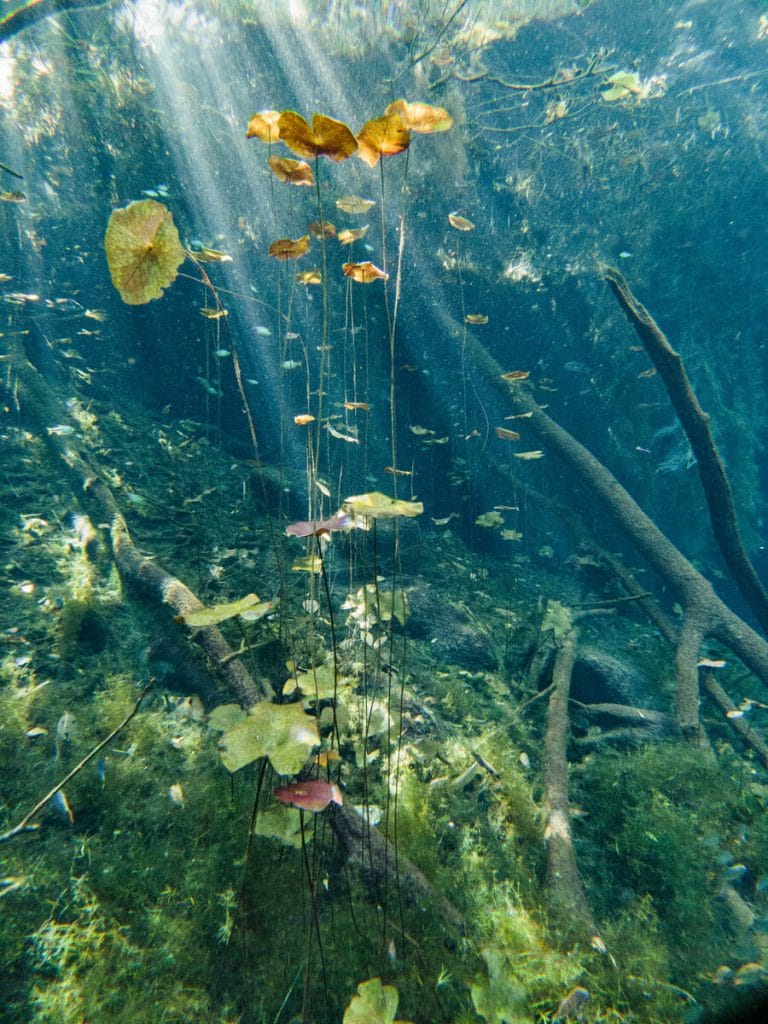 Divers can also explore the surrounding caverns with stunning rock formations but honestly, if I had to spend my entire time amongst the lilies, I wouldn't mind.
Casa Cenote
Casa Cenote diving is perfect for freedivers and Open Water students as the cenote is pretty shallow but offers plenty of excitement. Rocks and boulders, fallen branches, nibbling fishies, and the resident crocodile, Pancho await. Don't worry – Pancho is a somewhat small and very friendly crocodile. As long as you keep your distance, he won't harm you!
To be honest, I probably wouldn't waste a guided cenote dive on Casa Cenote, but it is an awesome spot for new divers, snorkelers, and freedivers.
How to organize your cenotes diving trip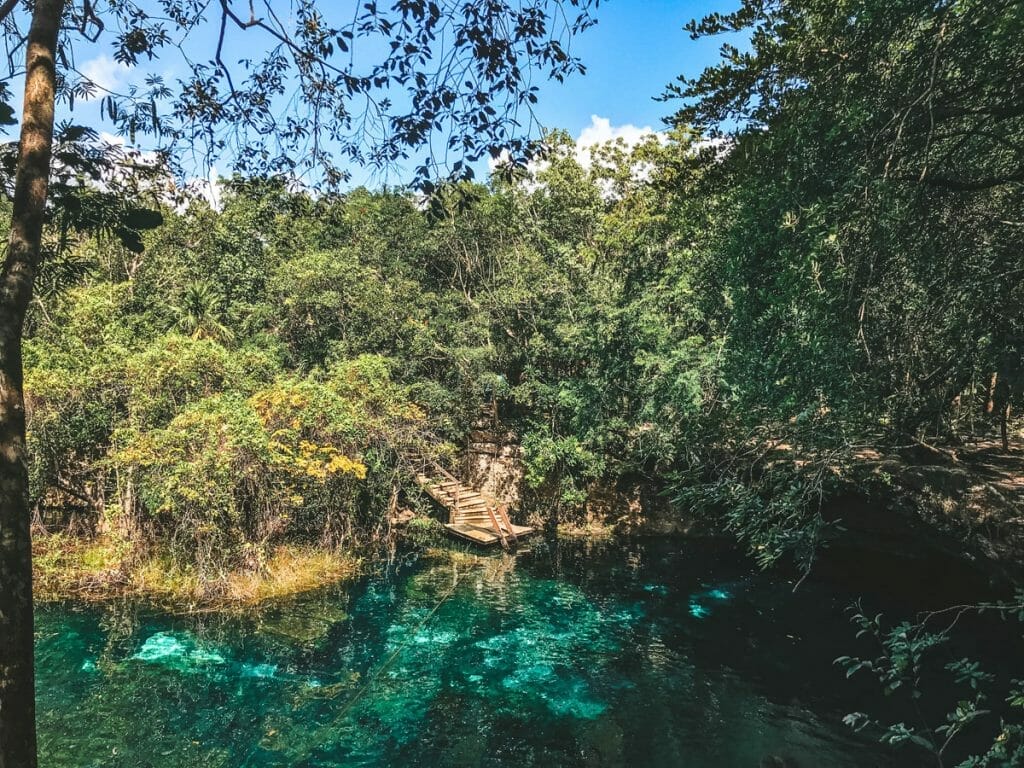 Many cenotes are dotted somewhere between Cancun and Tulum so I'd recommend you book your accommodation either in Tulum Pueblo or in Playa Del Carmen.
When you arrive at Cancun airport you can easily take the ADO bus to either city which is cheap and super convenient as the bus stops are located in the center.
In Tulum I recommend Ruta del Sol or Les Suites Calle 2, places I both stayed at that are within walking distance from Protec Dive Center. If you are staying in Playa I'd go for Selina hostel which was right in the center and not far from the beach and Blue Life.
You can go diving in cenotes pretty much all year long as many are quite sheltered from the weather. The visibility is almost always crystal clear and no tides or currents are affecting your diving. I visited in late October/ early November which was the perfect time if you are visiting Tulum on a budget as it was still low season. Great as places are less crowded and prices are lower.
The best diving in Cozumel, Mexico!