This post contains affiliate links. If you book something through these links I get a small commission at no extra cost to you. You can read more about mydisclosure and affiliate policy here.
…
After just returning from Mexico I thought it was high time to tell you all about the best scuba diving in Cozumel. The little island off the coast by Playa Del Carmen is known for some of the greatest diving in the Caribbean. And while the island might be a little sleepy, the underwater world is anything but…
The Ins & Outs of Scuba Diving in Cozumel
Table of Contents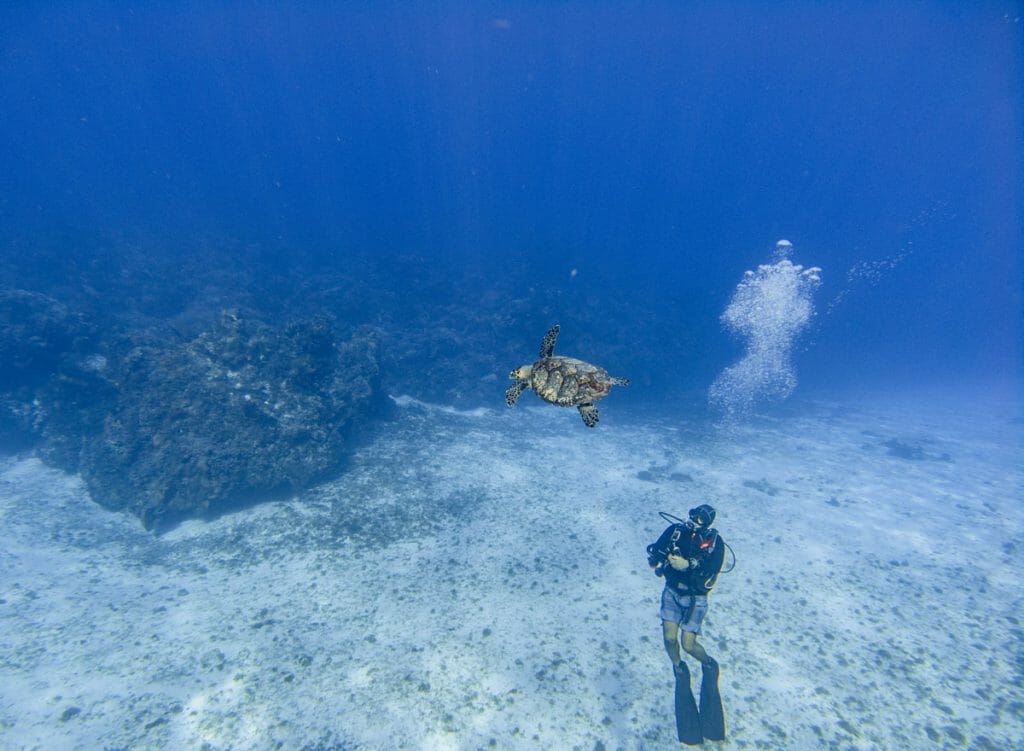 What makes diving in Cozumel so special?
The island of Cozumel is world-renowned with divers and its magic quickly reveals itself when you put your head underwater. Currents can be quite strong but that is all part of the fun when diving in Cozumel. The Great Maya Barrier Reef has nutrient-rich water and is home to an incredible variety of marine life. Sharks, turtles, eagle rays, lots of critters as well as colorful reef fish (including the endemic splendid toadfish), and stunning coral formations wait for you under the surface.
Best of all? Great visibility and beautiful topography thanks to white sandy bottoms that reminded me of a winter wonderland.
The best time for diving Cozumel
The high season starts in December but you can dive in Cozumel almost all year long. The Cozumel reef is known for its incredible visibility ranging from 30-50 m and you don't need to pay high season prices to enjoy it.
For the best scuba diving in Cozumel though, you should head to the island from May to September for calm and warm water or after November when bull shark sightings increase.
I went in October, a month usually known for much rain but it didn't rain once during my week in Cozumel. I tend to get lucky with the weather and take these forecasts with a grain of salt.
Water temperatures hover around 25-28 ºC while it can get a little colder during the winter months. I wore a full 5 mm and was nice and toasty even during long dives but I saw plenty of divers in shorts. If you are prone to getting cold easily bring a hood and something warm for the boat ride back to shore.
The best scuba gear for beginners
Cozumel dive sites you shouldn't miss
There are about 30 Cozumel dive sites dotted around the island, mainly on the west coast and in the south. They offer something for each level of experience and most of the best dive sites are part of the Cozumel Reefs National Marine Park.
Drift dives are most common in Cozumel thanks to sometimes strong currents, depending on the season and the dive site. For those who are not advanced divers yet, this can be a challenge. Make sure to carry an SMB and let your dive center know beforehand so they can choose suitable sites.
The most popular dive sites in Cozumel include Punta Sur, Santa Rosa Wall, Francesca, Palancar Reef, and Palancar Caves. What they have in common are beautiful coral formations and varied marine life. Make sure to take your camera because the visibility in Cozumel is second to none.
Columbia Reef
Columbia is divided into three different parts, depending on how deep you want and can go. What they have in common are beautiful coral formations, white sandy bottom, and lots of fish action.
Moray eels, pufferfish, reef sharks, honeycombed cowfish and scrawled filefish await.
Yucab
Yucab was one of my favorite places to dive and our afternoon trip turned into a long sunset dive. While we were drifting nicely thanks to a good current we still had plenty of time to look for nudis and even found two splendid toadfish.
We also got lucky as we met Charlie, a resident Loggerhead Turtle who is over 100 years old. While I am usually not easily impressed by seeing turtles anymore, Charlie was different: when you are diving next to a turtle with a head as big as yours you can't help but be in awe.
Punta Sur & Punta Sur Sur
If you are looking for an exciting deep dive head to Punta Sur. The underwater topography is spectacular: lots of swim-throughs and corals contrasting with what looked like snow-white powdery sand.
We got lucky when we came to Punta Sur Sur, the most southern part, as we got to hang out with a beautiful Eagle Ray for a bit. Eagle Rays usually frequent the Cozumel Reef during the winter months so I got lucky seeing one in October.
Punta Tunich
One of the most beautiful wall dives is Punta Tunich. Strong currents bring a variety of marine life including hawksbill turtles, sometimes nurse sharks, and so many angelfish. We got extra lucky as we saw a tiny juvenile spotted drum.
Santa Rosa Wall
Another great wall dive is Santa Rosa, both suitable for beginners and advanced divers, depending on the depth you choose. There are plenty of fun swim-throughs and lots of fish life.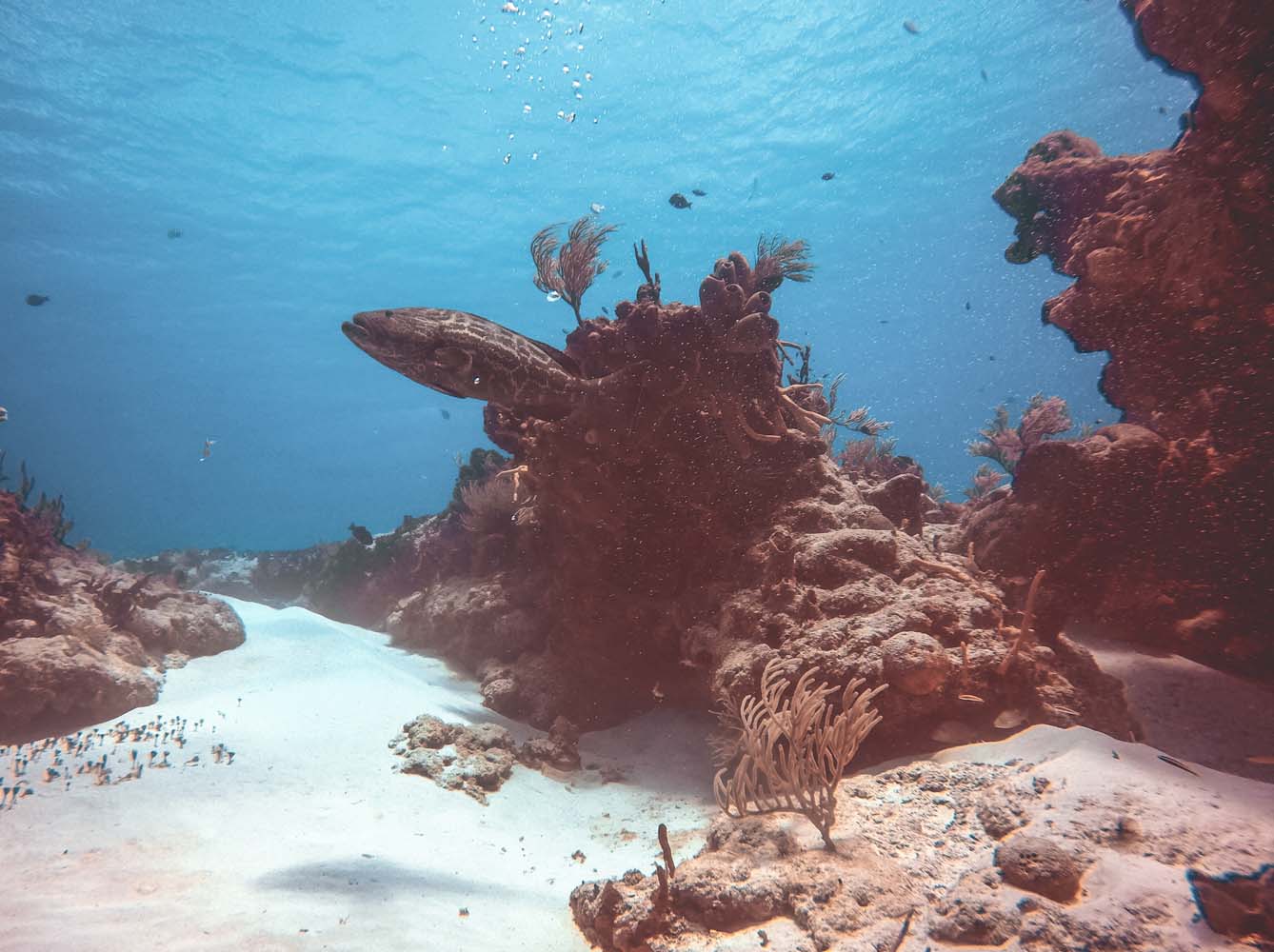 Tormentos Reef
Tormentos is one of the best reefs around Cozumel and all-around one of the best dive sites I have ever seen. If you are looking for a picture-perfect real-life aquarium this is it and if you get extra lucky you will find some sleeping nurse sharks, dancing eagle rays, or see big groupers making out with each other. As a bonus, the visibility was so good that it looked more like fresh than seawater.
Even better Tormentos is also a good dive site for beginners as the currents here are quite mild.
My favorite dive center in Cozumel
Diving is one of the things to do on the island so it comes as no surprise that there are plenty of Cozumel dive shops around. After quite a bit of research, I settled to go with Aldora Divers.
While a 2-tank dive trip will usually set you back around $90, Aldora charges somewhat higher prices. However, they offer 100cf-120cf steel tanks and thus dive times of up to 90-minutes and smaller boats with only 6 divers.
They are one of the only dive centers in Cozumel that will accommodate sidemount divers.
Their price for a 2-tank trip is $95 which includes your guide, dive boat, equipment, weights, and water. Tax and marine park fees as well as equipment rental are extra.
Chances are you will want to dive with Nitrox which costs an additional $10 per tank but it is worth it for the extra bottom time.
Boats leave from a pier in San Miguel and they offer morning and afternoon dives, a night dive as well as their Aldora Adventures where you go lionfish hunting. Lionfish are considered an invasive species in the Caribbean Sea and thus hunting is encouraged. They taste great as ceviche or on a pizza (check out Cerveceria!).
New divers should make sure to state their experience clearly so the dive center can put them in an appropriate group and avoid dive sites more suitable for experienced divers. If you are not a diver yet, you can always book a Discover Scuba Cozumel for your first dive or get your PADI Open Water while there.
Alternatively, you can book one of the Cozumel dive resorts, which often offer great packages for diving and accommodation. While most of the diving is boat diving, there is the option for shore diving in Cozumel as well. Many dive resorts will include shore dives in their house reef for free if you book a dive package with them.
Yet another option if you are short on time and don't want to stay on the island, is to book one of the Cozumel diving packages many dive centers in Playa Del Carmen offer. I previously dove with Blue Life. For our excursion, we took the ferry to Cozumel in the morning and had a dive boat waiting for us at the marina. Dive centers that offer these kinds of Cozumel dive trips will usually include ferry tickets and a porter for your gear in their prices.
How to get to Cozumel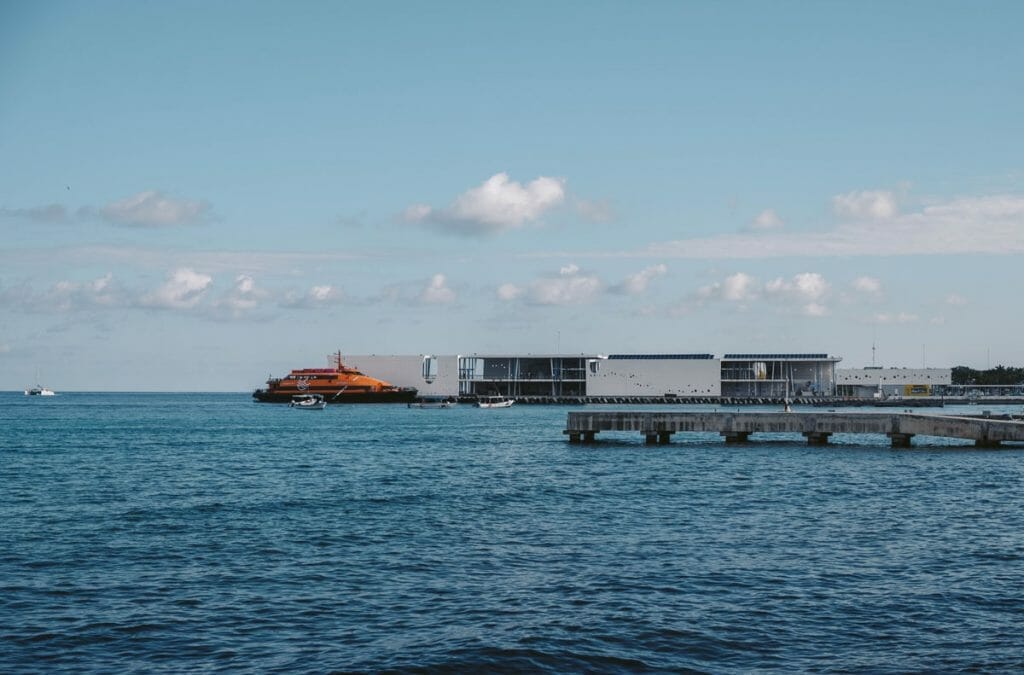 You can either fly to Cozumel International Airport or take a ferry from Playa Del Carmen. Flying is a great option if you are coming from the US or another destination in Mexico.
If you are already in the Yucatan Peninsula or flew to Cancun I recommend you take the ferry. Playa can easily be reached by ADO bus from Cancun Airport, Tulum, and many other destinations in the region. The bus station is within a 5-minute walking distance of the ferry terminal.
Two companies service Cozumel: Winjet and Ultramar. Times depend on the season, but usually, you will be able to get on a ferry hourly. The trip to Cozumel takes about 40 minutes and costs approximately $12.50 per person. Unless you have a plane to catch on your way back, you don't need to prebook but can just get a ticket for the next boat at the pier.
Both piers have porters available to help with your luggage and you hand your suitcase or dive bag to the handlers on the boat. The ferries are super comfortable even in economy class and offer aircon, toilets, and a bar for coffee and drinks.
Once you get to Cozumel you can easily grab a taxi to take you to your dive center or accommodation. Within San Miguel, a ride will cost you about $3. For a pick-up, you can order a taxi online and they will come to your address within 15 minutes.
Where to stay in Cozumel & tips for your stay
While prices in Cozumel aren't as crazy as in Tulum, I'd still consider it a somewhat expensive destination. I stayed at Cozumel – Av 25 Apartments which had everything that I needed and was only $25 per night in October. My room was spacious with good aircon, wifi, a TV with Netflix, a small balcony, a fridge, and filtered water. It was a good 10-minute walk from Aldora and close to shops and restaurants.
Book a room at Cozumel – Av 25 Apartments
Alternatively, you can check out other Cozumel accommodations here. I definitely recommend you book somewhere within walking distance from your dive center. Some hotels have their own pier where the dive center can pick you up from.
Where to eat after a long day of Cozumel diving?
I recommend the following:
Taqueria El Pique – cheap and yummy tacos al pastor
Cerveceria Punta Sur – lion fish ceviche or pizza and craft beer
Corazon Contento – amazing local breakfast and the loveliest service
Bebamus – fancier tacos & aguachile and great margaritas
K'ooben Laap – the Cozumel restaurant for homemade, authentic Italian pasta
Taqueria Los Sera's – cheap, quick, and the best tacos with chicken and cheese
Want to more diving in Mexico? Check out this post:
Diving Cenotes in Tulum