This post contains affiliate links. If you book something through these links I get a small commission at no extra cost to you. You can read more about mydisclosure and affiliate policy here.
…
Looking for a great spot to go diving in the Philippines? You may have a hard time deciding because with over 7.000 islands and a prime location in the Indo-Pacific's Coral Triangle there are just so many great diving spots in the Philippines to choose from.
Diving in the Philippines is a great experience for new divers and experienced divers alike. The country has many incredible diving sites to offer that range from shallow reefs to deep wall dives and wrecks.
Home to sardine baitballs, thresher sharks, whale sharks, and mantas as well as amazing reefs and wonderful macro life, chances are you won't get bored. Where to go and how to plan your trip? This post will introduce you to the best diving spots in the Philippines.
Diving in Philippines – Prices & Logistics.
How much does it cost to dive in the Philippines? If you are already a certified diver, fun dives range somewhere from $27 to $39 per tank on a boat dive. This will usually include your weights and dive guide. Depending on where you dive and the dive center this may or may not include equipment rental and might be less for a shore dive.
Nitrox fills are usually extra as are marine park fees. Luckily these fees are not too much, usually around $2,50 per day.
There are plenty of well-managed and well-maintained dive centers in the Philippines as well as some dive resorts that offer diving & accommodation packages.
If you bring your own equipment and/ or are a diving professional you can usually ask for a discount. Many dive centers in the Philippines will also give you a good package deal if you book a few days of diving with them.
How to get to the Philippines? There are international airports in Manila, Cebu, and Boracay. To get to some of the smaller islands you can take domestic flights or a ferry. If you are flying after your dive trip, make sure to adhere to the no-fly time after your last dive!
Note: When flying to and in the Philippines with your own dive gear remember that it is officially not allowed to carry regulators in your hand luggage. While this may or may not be enforced, I recommend you wrap them up well and put them in your check-in luggage.
The best time to go diving in the Philippines
Just like Indonesia, the Philippines are another destination where you can technically dive all year long. The weather will differ depending on where you go but generally the best time for diving in the Philippines is during the dry season from December to April. Then again, diving in Tubbatha is only possible with a liveaboard from March till June.
Water temperatures hover around 25-30 °C but again, it will depend on when you go and where. Best ask your dive center what to expect before your pack your gear.
The top diving spots in the Philippines
Where to head for scuba diving Philippines? Here are some of the best diving spots in the Philippines that you shouldn't miss!
Boracay, Aklan
One of the most thrilling sports on the island of Boracay is scuba diving. There are roughly 25 dive sites nearby that may be reached by a quick boat journey. The best months for Boracay diving are from October to May, when the island's weather is at its optimum.
Angol Point is one of the simpler diving sites, making it ideal for beginners. Additionally, due to the depth and current, more difficult dive locations like Yapak and Camia are only accessible to experienced divers.
Laguna de Boracay is another well-known dive destination where you may occasionally see sea turtles near the coral gardens. For underwater macro photography, nearby dive spots like Crocodile Island and Laurel Island are also excellent locations because there are lots of creatures to see.
Moalboal, Cebu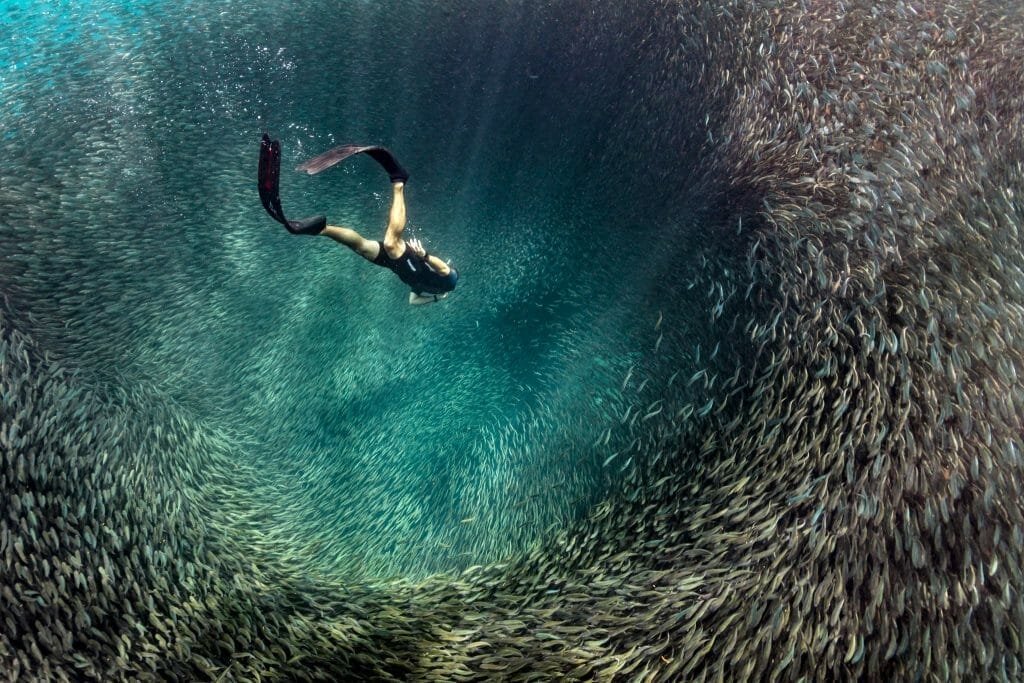 Moalboal is the center of the Philippines' marine biodiversity and Cebu diving. Its robust reefs and steep walls are home to schools of snappers, jacks, barracudas, sardines, reef sharks, tuna, turtles, passing thresher sharks, and occasionally even whale sharks.
Moalboal diving is probably best known for its Sardine Run (no, there is not only a Sardine Run in South Africa!). All year long millions of sardines congregate at Panagsama Beach and form huge baitballs. It is a sight to behold and you don't even need to be a diver – you can simply snorkel to see them!
The village of Moalboal is home to lovely beaches and a wonderful, laid-back vibe, and the diving there offers spectacular walls and abundant marine life. From November to May, when there is little rain and the weather and visibility are at their finest, is the greatest time for diving in and around the Moalboal area.
Apo Reef, Mindoro
Apo Reef is probably one of the best diving spots in the Philippines and according to UNESCO "the second largest contiguous coral reef in the world". The Apo Reef Natural Park lies in the Mindoro Strait between Coron and Mindoro and is home to three small islands.
Under the surface, you will find a huge number of diverse marine fauna as well as marine animals. Large pelagic fish including mantas and sharks (and yes, hammerheads!) as well as the coolest macro critters hang out in the Apo Reef.
The best way to experience diving in Apo Reef is with a liveaboard from Coron Bay. Some trips will include Coron's wrecks while shorter ones are available to dive exclusively in Apo.
Find a Liveaboard in Apo Reef
Puerto Galera, Mindoro
The Puerto Galera, which the Spanish named in 1570, is a series of little, nearly landlocked coves at the northern tip of Oriental Mindoro. It is famous for its stunning island vistas, beaches, and remarkable scuba diving.
Some dive locations worth visiting are Montani and Shipyard, which are less well known but have outstanding macro life, and Giant Clams, a protected region in Puerto Galera bay with clams hundreds of years old and up to 1.5 m big.
Scuba divers looking to explore some gorgeous reefs, as well as take advantage of a vibrant nightlife and stunning beaches, will find Puerto Galera to be the ideal destination for diving in the Philippines.
Coron, Palawan
In the Philippines, Coron diving is known in the scuba community as the spot for wreck divers. All wreck divers will have an amazing experience and trips appeal to both, history enthusiasts and outdoor adventurers.
There is currently a list of favorites wrecks in Coron Bay known as "The Big 6": the seaplane tender Akitsushima, the Japanese refrigeration ship Irako, an unnamed Japanese freighter, the big cargo tanker Kogyo Maru, the oiler Okikawa Maru, and the freighter Olympia Maru.
In order to dive the "Big 6" you should be at least an advanced diver as most of them lie quite deep (25 m – 40 m) and if you want to penetrate you will need to be a certified wreck diver. Otherwise, there are some easier wrecks to dive in Coron like the East Tangat Gunboat and the Lusong Gunboat.
Tubbataha Reef, Palawan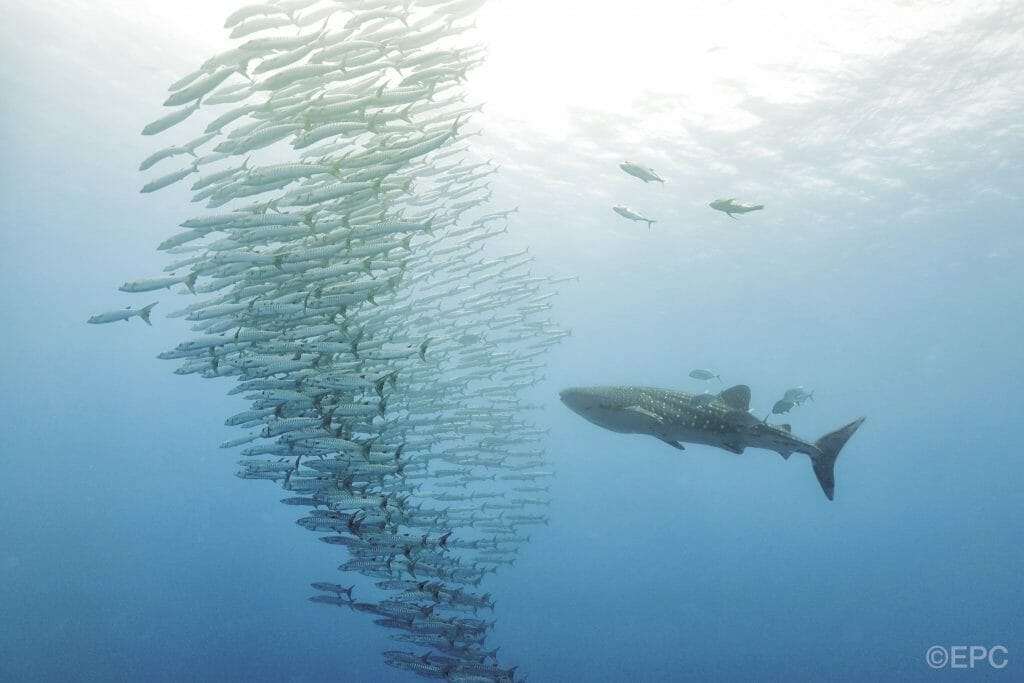 In the Sulu Sea to the east of Palawan, there is a marine protected area called Tubbataha Reefs Natural Park, another popular spot for scuba diving in the Philippines. It is home to more than 1,200 marine species, including fish, sea turtles, sharks, rays, coral, seagrass, algae, seabirds, and marine mammals.
The three main areas for diving in Tubbataha include North Atoll, South Atoll, and Jessy Beazley Reef. Only liveaboard diving is permitted, and Tubbataha has a limited liveaboard diving season each year that spans from March to June. Liveaboards for Tubbataha leave from Puerto Princesa in Palawan.
Find a Liveaboard in Tubbataha
Malapascua
Malapascua is known as the best place in the world to dive with thresher sharks. They are a common occurrence here all year round.
The best dive site is Monad in the Visayan Sea where they come to get cleaned by the cleaner fish that live here.
A thresher shark dive is best for advanced divers and similar to when diving with sharks in South Africa you should be able to be still and keep good buoyancy.
Mind you, there are plenty of other dive sites around with larger pelagics and some great macro life. In order to make it worth the trip you should definitely stay for a few days!
THE ULTIMATE GUIDE TO MALAPASCUA DIVING.
El Nido, Palawan
The most notable features of El Nido are its white sand beaches and its laid-back, tropical island atmosphere. Underwater it offers a wide variety of vibrant and fascinating aquatic life forms. You can expect healthy corals, colorful reef fish as well as blacktip sharks when diving in El Nido.
The renowned South Miniloc and its cabbage corals, which were found by Jacques-Yves Cousteau in the 1970s, are among the most stunning diving locations in the Philippines and are located in El Nido.
Apo Island, Dumaguete
Apo Island, not to be confused with the Apo Reef, is another one of the Philippines' most popular diving sites. It is located 30 kilometers south of Dumaguete and is an oceanic island that is 12 hectares in size and surrounded by magnificent coral reefs. The term "Apo" means "respected ancestor" in the Visayan languages and "grandchild" in Tagalog.
Apo Island is renowned for its stunning coral gardens, enormous schools of barracudas and jacks, and a broad diversity of aquatic life. Since it is a marine sanctuary, there is an admission fee at the registration office that goes toward preserving and protecting the island.
Anilao, Batangas
The underwater world of Anilao Batangas is incredibly rich and offers a variety of marine life and an excellent opportunity to explore a diverse range of underwater environments. Especially if you love muck diving then diving in Anilao is for you.
Fabulous dive sites in Anilao Batangas include Anilao Pier and Twin Rocks. Anilao Pier is a popular night diving spot in the Philippines because of its worms, shrimps, and small fishes. With its shallow waters and calm waves, it's also an ideal place for beginner divers or snorkelers to explore.
Twin Rocks is another popular dive site in Anilao. The area consists of two rock formations only a meter apart. These rocks are known as Twin Rocks because they look like twins from a distance. The rocks are covered with corals and sponges, and there are many small caves and crevices where you can see colorful fish swimming around.
Anda, Bohol
The waters off the coast of Anda are clear and calm; they are perfect for beginners and experienced divers alike. You will find a wide variety of sea creatures here, including octopuses, seahorses, sting rays, lobsters, nudibranchs, and leather corals just to name a few. This is also the place for you if you want to see some rare species like mandarin fish, glass catfish, or dragonfish!
Diving in Anda is great because you can pretty much dive here all year long. Great dive sites in Anda include Dap Dap, Paradise Garden, Snappers Cave, Lumayac, Wonder Wall, and Virgin East House Reef.
This post was done in collaboration with Maria Nerizza S. Veloso from Travel Connect Experience.