This post contains affiliate links. If you book something through these links I get a small commission at no extra cost to you. You can read more about mydisclosure and affiliate policy here.
…
Malapascua diving is famous not only in the Philippines but worldwide, and for good reason. The island north of Cebu, part of the Visayas, is tiny but mighty thanks to some very special sharks that like to come here and hang out.
All information on what to expect above and below the surface in Malapascua, and how to plan your trip in this article.
THE INS & OUTS OF Malapascua Diving
Table of Contents
What makes Malapascua diving so special?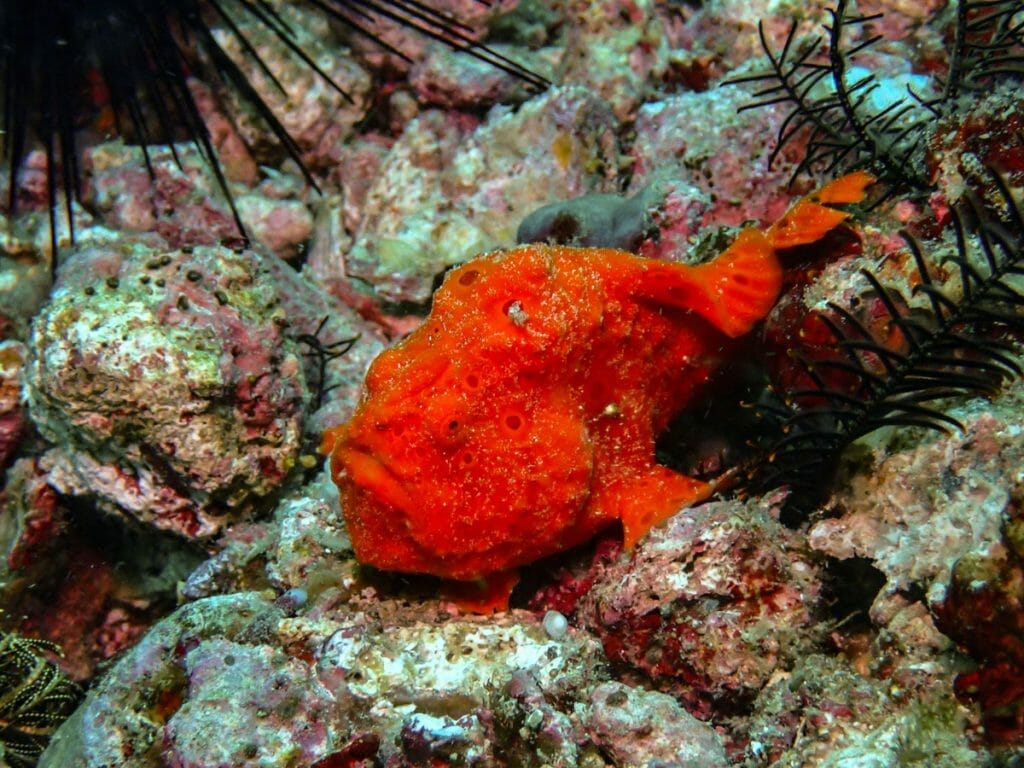 Thresher shark diving Malapascua is the name of the game. That's why divers come here. Thresher sharks can be spotted here all year long and at the moment Kimud Shoal offers almost guaranteed sightings thanks to its cleaning station. In addition, there is the infamous Monat Shoal also home to hammerheads and tiger sharks.
And yes, there are pretty corals and walls but to be honest, I was more excited to find out that Malapascua is also an absolute haven for incredible macro life. You will find muck diving at its best here.
The best time to dive in Malapascua
You can go diving in Malapascua all year long. January till May is the best time to dive with all-around great conditions and visibility. I was also told that April and May are best to see shoals of hammerheads.
I went to dive in Malapascua at the beginning of October when the risk of typhoons is increasing. While I got lucky and had pretty good conditions above the surface except for one very rocky trip to Gato Island, the visibility was less than stellar. That said, except for some blurry thresher shark pictures I didn't care.
Make sure to check the regional calendar as the island and dive sites get busy for Chinese New Year or in my case the Chinese National Day.
Temperatures hover around 29-30 °C but can drop to 26 °C in the winter months until January.
The best Malapascua Dive Sites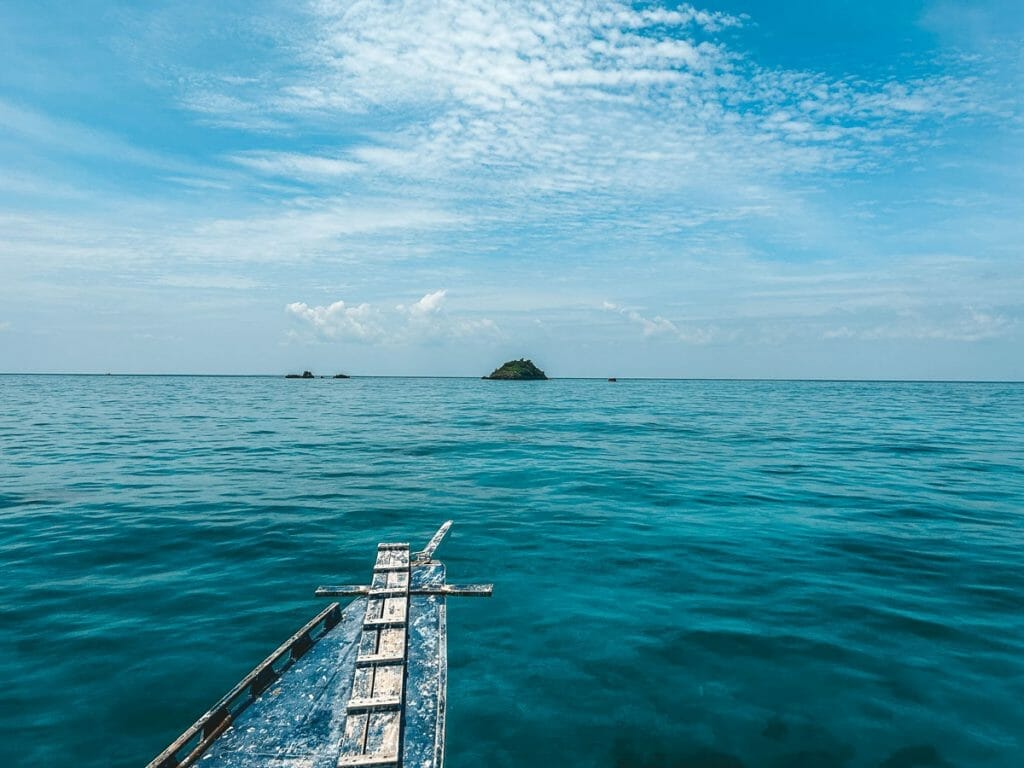 Thresher shark or tiny nudi? Here are some of the best dive sites in Malapascua and what you can find where.
Kimud Shoal
While Monad Shoal used to be the place to see a thresher shark in Malapascua, they apparently have moved over to the Kimud Shoal cleaning station. Just as well as this site is a lot shallower and sharks usually can be seen between 15-20m.
The site is also smaller which improves your chances to see the often elusive thresher even when the visibility is lacking. We got lucky and saw 7 during our two dives, one even coming around to circle us for a bit. In general, I recommend you have your camera ready and the finger on the shutter button – they are quick and often seem to come out of nowhere.
Even without the thresher sharks Kimud is a nice enough dive site with some lovely sea fans and soft corals where you can find octopus and reef fish. With some luck you can also see devil rays and hammerheads coming from the depth – Kimud is an underwater plateau with a huge drop-off.
Evolution is the only dive center whose boats depart at 5 am to be at Kimud with first light. You will notice coming up from your first dive that a lot more boats have followed, all leaving later. This is good news for you as you will have at least one dive without crowds.
Diving at Kimud is always a two-dive trip since the boat ride takes about 45 minutes. You will get oatmeal and coffee or tea during your surface interval.
If you want to dive Kimud with Evolution you will need to be at least an Advanced Diver or an Open Water with a minimum of 30 logged dives, or you can do your Deep Speciality with them. The reason is not so much depth but rather experience to not kick corals, chase sharks, etc.
Gato Island
Gato Island is a highlight for many divers as it offers both great macro and bigger stuff if you get lucky. Either way, it is a beautiful dive site covered in fields of purple and dusty rose soft corals. Dive centers in Malapascua usually organize special trips out there as the trip is quite far. Depending on the water conditions it will take about an hour to get there, for us it was closer to an hour and a half thanks to a very choppy ocean. But since you go out for two dives and lunch it is well worth it either way.
What to see at Gato Island? As the name implies you might get lucky and find a little sleeping cat shark. Most dive guides will start at a tunnel that is about 20 m long. Its entrance lies at 5 m depth and you will come out at 10 m, you can always see entry or expit point while you dive through so no cave certification is needed. That said, watch your buoyancy and your finning so you don't kick up too much silt towards the person behind you. Apparently, there are often sleeping white-tip reef sharks in the tunnel, alas we weren't lucky enough to see any.
But there is plenty of other cool stuff to find. First, be warned because Gato Island is a breeding ground for the sea krait, a banded sea snake, a fact I knew but conveniently forgot until I saw one. Luckily she was not bothered by us and vanished so quickly that not everyone in our group got to see her.
We also found some cool nudis, the tiniest of tiny pygmy seahorses, a cute little stonefish that I found all by myself, shrimps, crabs, and a myriad of other small critters. And have I mentioned the beautiful corals?!
We didn't go deeper than 23m on the first dive and 17m on the second dive so I reckon this is a great dive site for beginners as well. I was told if the current is strong you usually drift, but I much prefer it calm so you can actually spend time looking at small stuff.
Mandarin Fish Dive
There are plenty of mandarin fish in the waters around Malapascua and you can do special dives at sunset to have a chance to see them mate (or fight over desirable females). Most dive centers will take you to the Lighthouse but Evolution has its very own exquisite House Reef with some spectacular macro life and said mandarin fish.
The boat ride takes a couple of minutes before you jump just before 6 pm when the sun has set. The mandarin fish hang out in a few staghorn corals at 6m depth. To be honest, I didn't like the 'set-up' at first. In order for the mandarin fish to come out you will need to turn off your torch. Only the guides will use their torches, half hidden behind their fingers for minimum light penetration. This already makes it hard to see them and even harder to photograph. Now imagine a small patch with countless divers trying to see the fish – a fin kick in the head is almost guaranteed. Luckily we didn't have to wait long until most other divers left and then it was just us trying to film a bit of mandarin fish p*rn.
As if by magic our guide JR managed to make one follow his torch beam up in the water – no proper picture but it was magnificent to watch.
After twenty minutes we moved on as there was plenty of more stuff to see at the House Reef. This included some cool nudis, a huge stone thresher shark (JR wasn't lying when he said we may see another thresher shark lol), scary-looking shame crabs, and plenty of other small critters.
Dotted around the House Reef are some artificial structures that are now teeming with life. If you get lucky you might even see a little Bobtail Squid!
Maximum depth is 15m so you can usually get a 60-minute dive in. While conditions are easy, I think it is definitely important to maintain good buoyancy especially when other divers are around trying to see the mandarin fish. And to be honest, chances are if you are not a photographer it might get a bit boring as you spend quite a long time with them.
Giliano
So this little dive site came as such a surprise but within one dive it became my favorite of Malapascua diving. Then again, you will need to be able to appreciate some good macro because part of it is quite ugly.
From Evolution, you will take the boat for about 15 minutes heading northeast. There is one mooring line you can use to go down. Most dives start at a sandy rubble bottom at 22-23m. This is where the magic happens!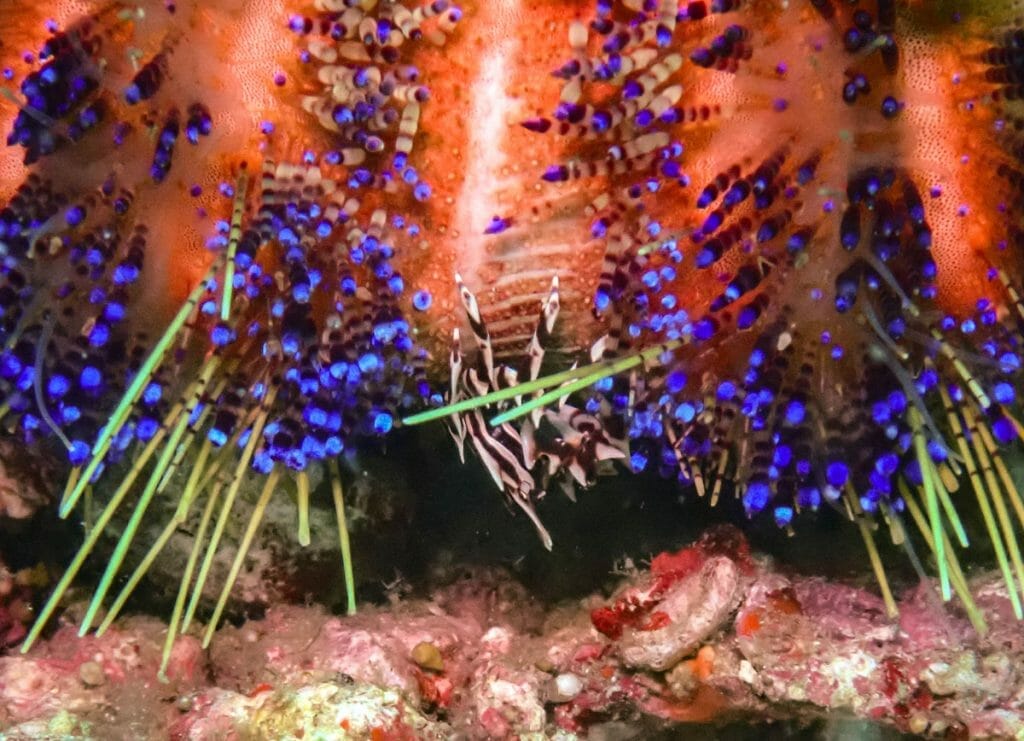 What does the magic entail? So many seahorses for example! We saw 5 in one dive alone plus a tiny pygmy when we shallowed up on the wall. In addition, cool moving sea urchins home to zebra crabs, tiny Nemos surrounded by translucent shrimp, and to my utter delight 2 tiny sea moths.
Luckily my amazing dive guide Josh made it his mission to finally find me a frogfish and delivered doubly: we saw a really cute red one on the sand and another huge black one on the way up.
It is one of those dive sites where you will need to watch your NDLs especially if you have already done a dive and your feet because while it may look derelict the bottom is full of life. And if you are like me, chances are you might be tempted to stretch your bottom time when taking too many pictures of that frogfish.
Don't worry though because once you shallow up you will reach a beautiful plateau at about 15m with the most amazing pinkish soft corals. Especially when the visibility is good this looks like a field of wildflowers. Am I being overly poetic? Maybe, but honestly, Giliano is stunning!
Lapus Lapus
Lapus Lapus is another favorite dive site in Malapascua for macro diving. The trip with the boat will take about 15 minutes to the southwest shore of the island. There is no mooring line so you will jump as is unless you are diving with a less than reputable dive center in Malapascua that thinks it is okay to actually drop an anchor here (it is not!).
You dive around a bit slopey pinnacle reaching from 10-22m. Usual highlights are nudis, frogfish, cuttlefish, shrimp, and other macro life. Alas, our dive was not as lucky. We did see cute juvenile sweetlips, a lot of seahorses, a peacock mantis shrimp, a few nudis, and my absolute highlight – a tiny flatworm which I found myself swimming mid-water.
That said, it is one of those dive sites that even on a 'boring' dive you can see quite a lot if you have an appreciation for macro. Sometimes the search is most of the fun!
Also, once you start to shallow up the corals become unbelievably beautiful and colorful – it reminded me a bit of Koh Lipe, 50 shades of pink and all.
The Deep Slope
Josh, my favorite dive guide ever since he found me my two frogfish, told me Deep Slope was his favorite dive site and a must for a macro lover like myself. Off we went! It is very close to Giliano and Steep Wall, and does have a mooring line you can use as a reference if needed.
It is a good dive site to use Nitrox so you have more time to explore the sandy rubble bottom at around 23m and look for cool critters. You will need to be cool with diving over sheer rubble for a bit – it is literally a deep slope with not much to see. Unless you know what to look for…
We started at 15m as we were told a marble-mouthed frogfish had recently been seen in one particular outcrop. Alas, they know how to camouflage so well and we didn't get to see it. Instead, we did see not one but two robust ghost pipefish and two banded pipefish (yours truly finding one of them). Once we went deeper we saw some more pygmy seahorses – honestly, I don't think there is a Malapascua dive site that doesn't have its resident sea fan with at least one pygmy!
Then I found two little sea moths, realizing I am at this point in my diving when I am no longer happy to be shown stuff. I love finding cool things myself!
Once we started shallowing up more beautiful coral fields, unfortunately, the currents weren't in our favor. Let's just say I was happy for once to have a mooring line to do the safety stop at. I'd be keen to dive it again sans current.
The best diving center Malapascua
There are plenty of Malapascua dive shops all around the island. I was told that before Covid hit it was almost 30 though that number has gone down quite a bit. As usual, I did quite a bit of research and finally settled on Evolution Diving Malapascua, a dive center my friend and instructor Fiona from Koh Tao recommended. They are not only a premier dive center in Malapascua but also a TDI tec center where she went to do a 100m rebreather dive. If you can trust a dive center with your life at 100m you can trust them to find you some thresher sharks!
From the initial correspondence, I knew I was in great hands. Friendly staff, great instructors, and the most amazing dive guides are part of the team. I cannot speak for their equipment as I brought my own (thank you Scubapro!) but I tend to trust tec dive centers when it comes to equipment upkeep and gas mixtures.
They offer PADI, SDI, and TDI courses as well as various fun dives and day trips in the area. Usually, you can just put your name down on a board, they tend to do 4 dives throughout the day. Some trips will require a minimum amount of divers or a minimum cert but the team will walk you through it all.
All diving is done from one of their dive boats (named after tragic Greek heroes and dive theory legends) that offer enough space to chill and kit up. The bankas have ladders on the side that get lowered into the water for you to get back on board. This can be a bit tricky when there is high swell but the awesome crew will literally pull you up if needed.
Evolution also has their own accommodation as well as the Craig House Bar & Restaurant for coffee in the morning (obviously served in a thresher shark mug), lunch, dinner, and a great happy hour. They can also arrange for a private transfer from Cebu Airport.
How much is Malapascua scuba diving?
To be honest I have never selected a dive center by their prices. Well, actually I did so once when I dove in Amed and Tulamben, and I kind of regretted it after as the service wasn't great. For my Malapascua dive trip I only checked prices with Evolution and never looked back.
Day dives are ₱2,100 incl. equipment (ca. $37) and ₱1,850 if you bring your own, night dives are ₱2,250 and Nitrox is an extra ₱300 per dive. If you book 10+ dives you pay ₱1,890 per dive incl. equipment and only ₱1,665 if you have your own.
Day trips to Gato Island or Kalanggaman usually include lunch and are separately priced. You will always have to pay an additional marine park fee of ₱400 per day.
How to pay for your diving in Malapascua with Evolution? When you book you will usually have to pay a deposit. The best way to do this is with a transfer from Wise as this will have the lowest fees. It gets a bit more expensive if you are paying by credit card. Also, do come prepared and bring enough cash to Malapascua (pesos, US$, or euros). While there are ATMs on the island, the exchange rate they offer is absolutely horrible.
At the end of your stay, you can pay for your diving, your accommodation, and your restaurant bill by credit card or again, with a Wise transfer.
How to get to Malapascua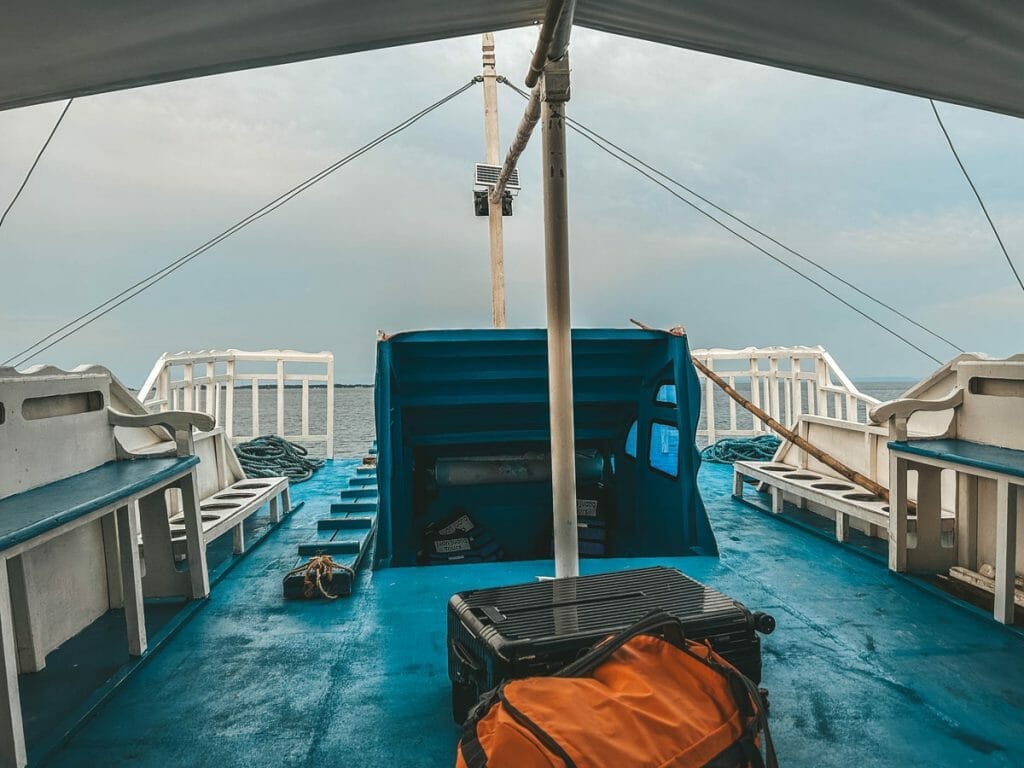 To be honest, there is no easy way to get to Malapascua. If you arrive from Cebu you will need to take a bus or book a private transfer to get to the north to Maya Port. Depending on your choice of transport this can take anywhere between 3 and 5 hours.
If you choose to take a Ceres bus you will first need to get from the airport to the Cebu North Bus Terminal.
At Maya Port, you will board a boat that will take you to Malapascua. Now this is an adventure especially if it is your first trip to the Philippines. Their bankas are world-renowned outrigger boats and while the crossing is usually smooth getting on and off the boat is not the easiest. You will literally use a little plank to cross, usually, the crew will use a long bamboo rod as a makeshift railing. If you have a lot of luggage I recommend you ask the boat guys nicely and tip them well to give you a hand.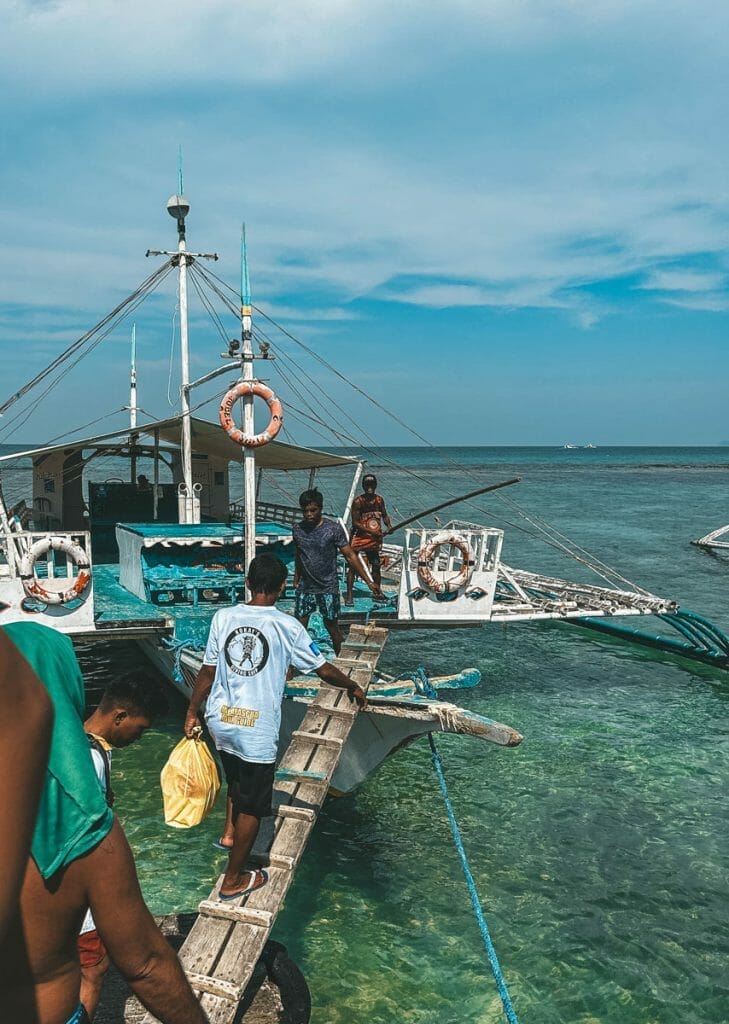 The trip by public boat costs ₱200 one way and ₱120 port fee when you leave Maya Port. Note that you will need to time your arrival at Maya quite well as the boats don't run after dark – the last one is usually around 5 pm. Depending on the conditions the boat ride takes about 30-40 minutes.
Boat don't really run on a set schedule but depending on the season every half an hour or every hour. That said, if a boat is not full you may have to wait for additional passengers.
If you don't want to worry about connecting times, busses, etc. I recommend you ask Evolution to organize a private transfer for you. While not cheap it is so worth it especially if you are new to the Philippines and don't quite know yet how things work. This way you will also be on their private boat and disembark right on the beach in front of Evolution and not on the port on the other side of the island.
Where to stay in Malapascua
Evolution has some great accommodations right by their dive center on the beach where you can stay. They offer something for various budgets.
Check out rooms & prices at Evolution
I decided to stay next door at AABANA Beach which was even cheaper. Unfortunately, I booked a fan room, a big mistake as Malapascua gets hot. Luckily they could move me into an AC room the day after. If you are going for a fan room don't go for the one right by the beach – there is no view and it gets rather loud in the evening.
The whole resort is definitely in need of some TLC but the rooms have everything you need, the staff is friendly and you can refill your water bottle for cheap. Also, you are one minute by foot from Evolution.
Otherwise, there are plenty of other accommodation options dotted around the island, however, I was more than happy to be within walking distance from Evolution as it allowed more flexibility in my dive planning.
Check out rooms & prices at AABANA
Tips for your Malapascua visit
While I have visited plenty of small islands all over Southeast Asia I was a bit surprised by how surprised I was by Malapascua. Make sure to come prepared:
Yes, there is wifi but no, it isn't always great. Get a local SIM card at the airport when you arrive.
There are no 7-Eleven or proper shops in Malapascua. Pack everything you may need i.e. mosquito spray, shampoo and conditioner, sunscreen, and any snacks you can't live without.
There is no medical facility on the island. There is also no pharmacy and the nearest decompression chamber is in Cebu. Dive conservatively and bring a good first aid kit with antibiotics. I scratched my foot ever so slightly and got an infection, something that happens easily in the warm waters of Southeast Asia. I was glad to have antibiotics on me but was woefully understocked with band-aids, betadine, and antibiotic cream. Obviously, good travel insurance is always a must!
As mentioned above, best to bring cash so you won't depend on the island ATMs.
I will not speak about Filippino food. I cannot. What I will say is that Angelina's makes a really decent pizza and that the Gingerina cocktails at the Craig House are an excellent source of vitamins.
How to get around Malapascua? You walk. There are no cars and no Grab or such but a few motorcycles that can take you to the port or other parts of the island.
Things to do in Malapascua
When you look at the top 10 things to do in Malapascua you will usually see a whole lot of individual dive sites listed because, to be honest, diving in Malapascua is just the thing to do. Sure there are some nice beaches and you can do a day trip to Kalanggaman, a beautiful sandbank, even if you are not a diver but I don't think that would justify the trip.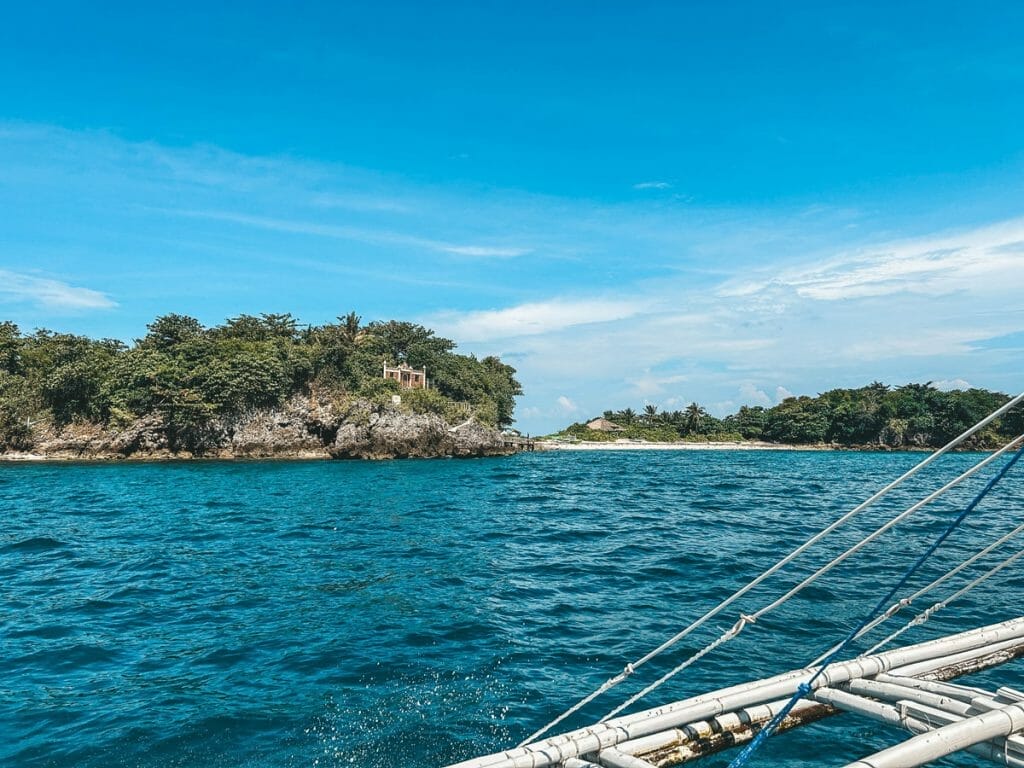 If scuba diving Malapascua is not what you came for, I recommend you pick any of the other countless stunning Philippines islands where you can hike to waterfalls, snorkel, lay in the sun, and drink coconuts.
So yes, that was me describing nicely that there is not much to do in Malapascua unless you are a diver. But for Malapasca diving the long way is so very worth it!
Want to dive somewhere else in the Philippines? Check out these posts:
THE BEST DIVING IN THE PHILIPPINES – WHERE TO GO & HOW TO PLAN YOUR TRIP.