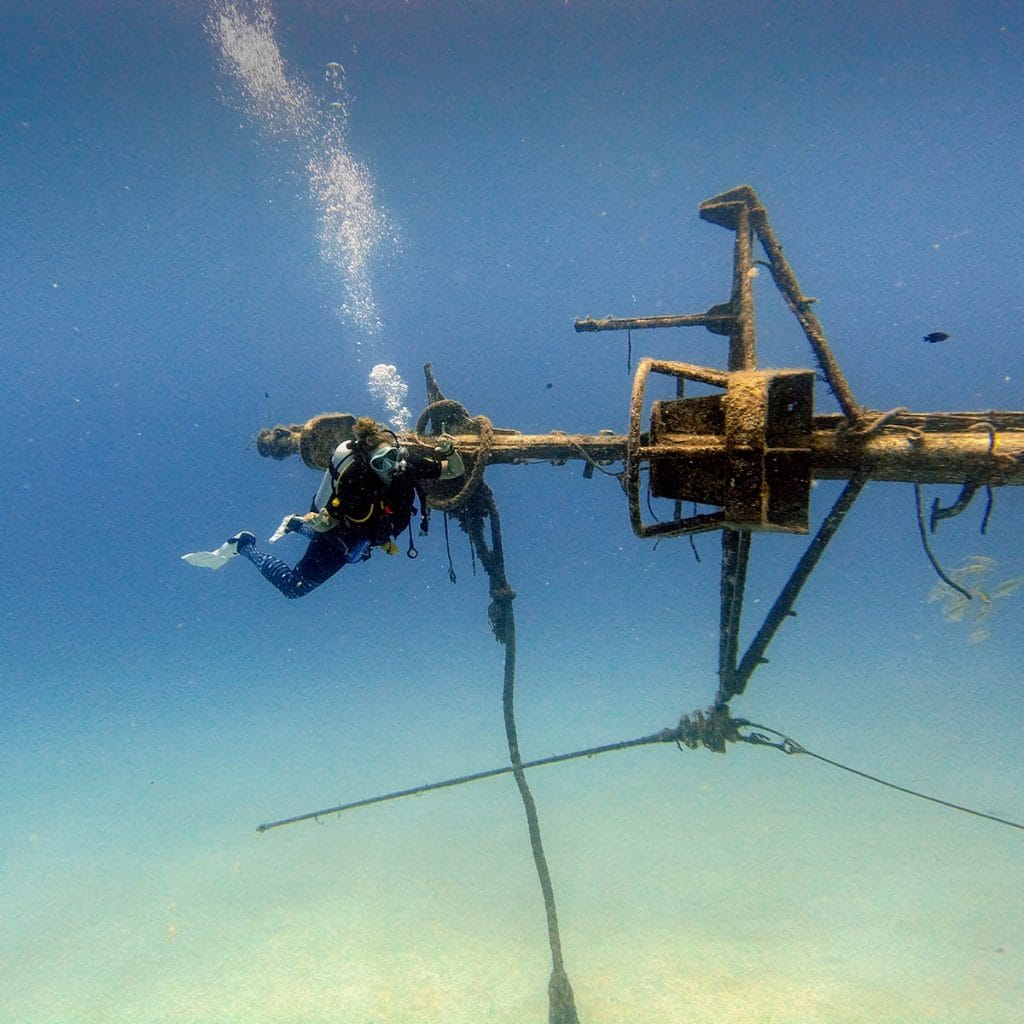 Do you dream of finding treasures underwater, explore hidden wrecks, and make history as a wreck diver on the cover of National Geographic? I hate to break it to you but the chances for all of this are pretty slim. That is not to say that doing a Wreck Diver specialty is without its appeal because there are great wrecks – ships, planes, cars – to explore all over the world.
When learning how to wreck dive you will not only learn how to safely get inside (and most importantly out) a wreck but also about the history, what to look out for on wreck dive sites, and what to do or not to do should you really come across a sunk treasure.
WHAT IS THE Wreck DIVER COURSE?
Usually, you can choose to do a wreck dive as part of your adventure dives when getting your AOW.
Obviously, you will need to be in a location where there are wrecks that have been sanitized (made diveable so to say) but your chances are good – there are beautiful wrecks to see all over the world.
But most if not all agencies also offer a separate Wreck Diver Course as a specialty where you go into more detail about:
Dive-planning for a wreck dive
Mapping a wreck
Buddy system in a wreck & emergency procedures
Special equipment needed
Hazards to expect
Diving in limited visibility
Sources to get more information about wrecks
And yes, what to do when you come across that hidden treasure – hint: you are not allowed to take it!
You will usually have the choice to do a limited penetration of a wreck as well. Limited penetration means that you are always within the ambient light of your entry point – you know your way out at all times!
Full wreck penetration is only possible for tec divers and requires advanced training.
In order to do limited penetration, you will first learn on land how to lay lines, do tie-offs, and find your way along that line without relying on your eyes before you take your skills underwater and inside a wreck.
WHY YOU SHOULD GET YOUR Wreck Diving Certification
Wrecks are fascinating and not only for those who are interested in maritime history but also those looking for marine life – wrecks are often artificial reefs and home to a myriad of fish and macro life (as well as frogfish – hello, Meno Bounty!)
A Wreck Diver specialty is great for those who want to learn their way around a wreck, know how to identify a ship's special features, and of course, see part of its inside. If the latter is especially important to you you will need to do a Wreck Diver specialty course to learn all about wreck penetration (or rather limited penetration when you start).
Mind you, if that doesn't appeal to you there is still much to explore on the outside – you don't need to go inside to become a certified wreck diver!
Prerequisites for the Wreck Diver Certification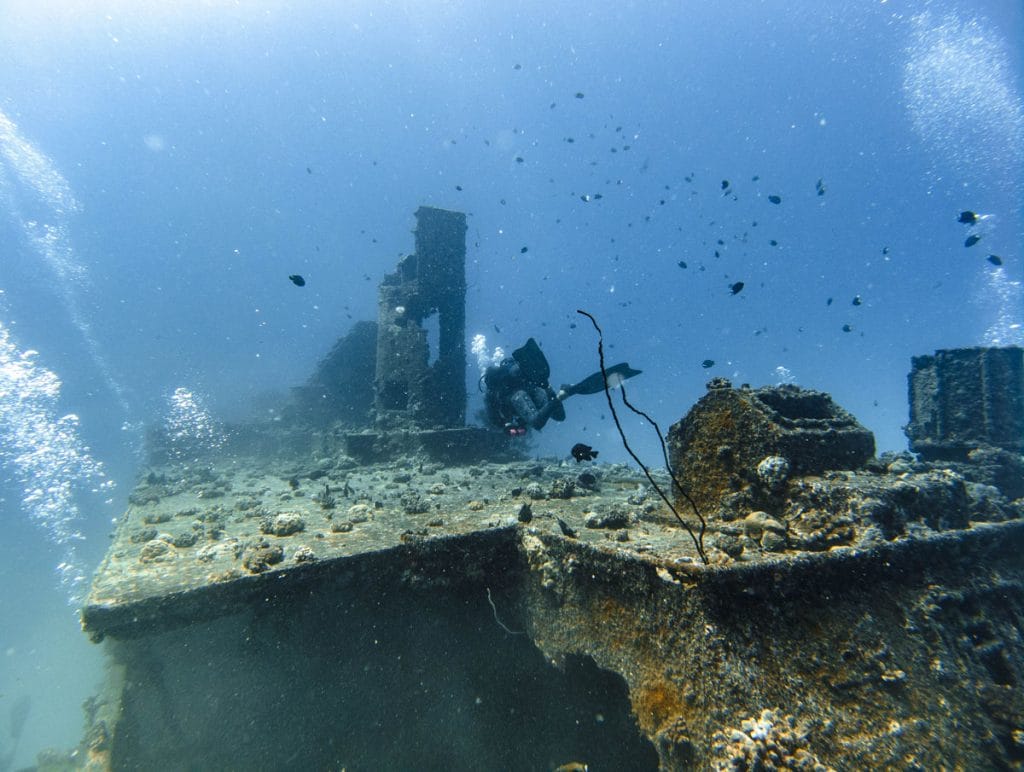 As with most courses, the prerequisites to become a wreck diver differ only a little from agency to agency. While PADI is asking for at least an Adventure Diver (you can read here what that means exactly), for SSI and SDI you will only need an OW though SDI will want you to have deep dive experience to dive below 18 m – I am sure there are wrecks in shallower water but honestly, chances are you will need to dip below 18 m.
Also interesting to note: SDI differentiates when it comes to age in regards to doing limited penetration.
PADI Wreck Diver:
Includes 4 open water dives
Minimum 15 years
Must have a PADI Adventure Diver, or equivalent
SSI Deep Diver:
Includes 2 open water dives (this one doesn't offer limited penetration)
Minimum 10 years
Must be an Open Water Diver
SDI Deep Diver:
Includes 3-4 open water dives
Minimum 18 years for limited penetration course (or 15 with parental consent) or minimum age 10 with parental consent for a non-penetration course
SDI Open Water Scuba Diver, or equivalent but divers must hold Deep Diver specialty or proof of deep diving experience to go below 18 m in this course
SDI Wreck Diver with Big Blue
I do remember doing a wreck dive to the Sattakut during my AOW in Koh Tao many years ago and I also remember being not impressed. That wrack is always crowded and/or has really bad visibility and it turned me off from wrecks for a long time. In addition, I get slightly claustrophobic and if a wreck wasn't sunk on purpose (luckily many are) I always find them a bit creepy.
Luckily I eventually went to Mauritius where the recks are beautiful and empty and have great vis!
A GUIDE TO SCUBA DIVING IN MAURITIUS.
When I was looking at courses for my recent training in Thailand with my instructor Fiona from Big Blue I was still less than enthused when she suggested do the wreck diving specialty. But that changed…
During our theory review, Fiona tried her best to install a love or at least an interest in wrecks in me. Thinking about one of my favorite books "Shadow Divers" I could certainly see the appeal but dared to question if there were any unexplored wrecks left to find – especially for a recreational diver like myself – and if not, was it worth it?
I think in the end I got excited because she promised me we would do the limited penetration and I could practice laying lines which I considered a good experience for a future cave course.
Still new on my sidemount we set out to the Sattakut once more which thanks to Covid and a lack of divers was been blissfully empty. At first, we practiced tying off lines outside and Fiona even got me to go with a blindfold to follow the line back to the beginning imitating loss of visibility inside a wreck. While I was terrified when she told me about this task before, I was actually quite confident once I got going – something is soothing when you know that you can still dive and breath even if you can't see
After I was feeling confident with tying off my lines, following them back to the beginning, and tidying my reel up afterward, it was time for our limited penetration dive. Still new on sidemount and unaware of how to position myself to get through narrow doors and corridors I will admit that I was probably clumsy and a bit loud, to say the least. I tried my best to keep silt to a minimum and focused on what was right in front of my eyes, one tie-off at a time ignoring fish and darkness and what I considered creepy-looking cell-like cabins.
Mind you, I made it, and then we did it again and again. And while I still don't dream about discovering a hidden pirate ship to search for treasures, I did just buy myself a new reel and look forward to exploring some more wrecks in Mauritius over the next weeks.
Pin for later!