This post contains affiliate links. If you book something through these links I get a small commission at no extra cost to you. You can read more about mydisclosure and affiliate policy here.
…
The ocean has always been a lure and inspiration for many creatives – writers, musicians, and painters. So it comes naturally that the sea and its inhabitants would also inspire a jewelry designer. Waves, sand patterns, weird & wonderful looking creatures – what better present for the mermaid in your life than a piece of ocean themed jewelry?
I have put together some amazing companies and designers for ocean inspired rings, necklaces, and bracelets. Whether you want something fun and colorful, a piece to last for eternity or something to remind you of an especially memorable dive encounter.
Best of all – many pieces are not only inspired by the sea but actual save-the-ocean jewelry made from recycled materials or by companies that donate part of their profits to ocean-related causes.
Ocean themed jewelry for mermaids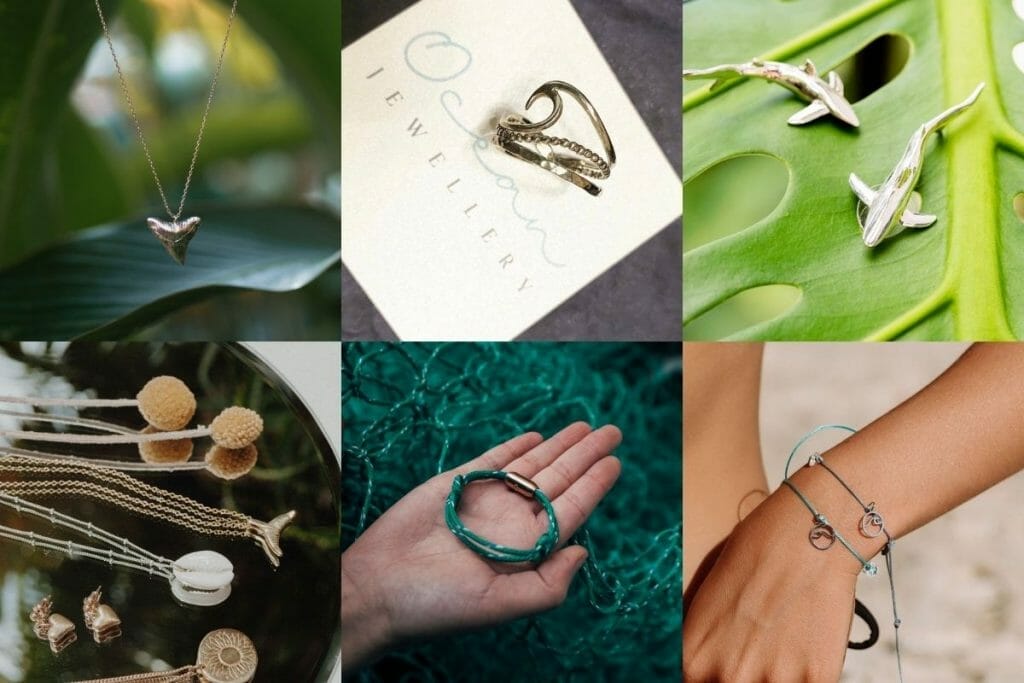 Two in the Sun
I am pretty obsessed with Two in the Sun because they make such wonderful pieces in not too shiny gold. While my favorite is their femme pendant I also love all their ocean inspired jewelry as it is somewhat simple and not too perfect – just like nature! Each design is hand-carved in wax before it is cast into different metals.
They also focus on using sustainable materials like recycled gold, silver. and brass. Part of the profits is donated to the local marine conservation organization, Positive Change, in Byron Bay.
Check out Two in the Sun here.
Dorsal
Looking for some fun ocean inspired or nautical jewelry and give back at the same time? Dorsal bracelets have made exactly that their mission: to make cute, quality products, spread awareness, and give back.
With their motto #RespectTheWay, they donate 15% of their net profits each month. What that means for you is that each bracelet you buy helps with plastic removal through Empower Eco, coral restoration via Coralive.org, and ocean conservation through a partnership with The Ocean Agency.
Use the code EFB8966798C to get 15% off your first order at Dorsal Bracelets.
VANDAYA
Amalie & Nicklas are the creators of VANDAYA, a company that makes beautiful ocean themed jewelry. Both have a background in sustainability and ocean conservation and so for each piece you buy they donate 3 € to coral reef restoration.
Pieces are made from recycled silver and plated with recycled 18 k gold – great for people like me who love to wear gold jewelry but don't love the price of it. All products are shipped plastic-free in 100% compostable mailers from Denmark.
Check out VADAYA jewelry here.
Ocean Jewellery
A unique mermaid may want to have some very unique jewelry and that's where Coco comes into play. She is a silversmith from South Wales and handcrafts all pieces herself. She has various collections, one called the Seaside collection with dainty starfish studs, sailboat pendants, or wave rings – all made from sterling silver.
If you have an idea of what you would like, you can also work with Coco to have a custom design made. And if you happen to be in the area, you can check out what she has available as she has just opened her first store in Saundersfoot Harbour.
Check out Ocean Jewellery here.
'Alohi Kai Jewelry
Shera is the designer behind the beautiful 'Alohi Kai Jewelry line. She is an underwater photographer as well as a jeweler and gets her inspiration from the pictures she takes. Her pieces are silver or gold, carved or made by hand – thus her motto: Sculptural. Slow. Sustainable.
Best of all no wildlife was harmed in the making of her jewelry which means you won't find any real teeth, shells, or pearls in her designs! Packaging is plastic-free and each order includes a postcard with the animal that inspired the jewelry.
Check out 'Alohi Kai here.
Castaway Jewellery Company
What do mantas, mermaids, and whale tails have in common? They are all part of the signature bracelet collection from Castaway Jewellery. Their trademarked pieces sell all over Australia (but yes, you can also order them internationally) and their sale supports the Australian Marine Conservation Society which works on issues that endanger marine wildlife.
All bracelets are made to order by hand in Kirra, Australia. This means that you have basically free reign to choose your favorite color/ marine animal combination!
Check out Castaway Jewellery here.
Ocean Republic
Do you like the idea of some ocean themed jewelry without it taking the whole concept too literally? Then Ocean Republic is just right for you. They have a few different collections and even the "Ocean Originals" pay a simple, quiet homage to the sea.
Designer Sophie Mylou wants to create pieces that you will wear forever and reuses, recycles, and reworks existing materials. This concept is put into practice: you can return your own jewelry that you don't wear anymore and either exchange it for something new or get a credit.
Use the code THEVERYHUNGRYMERMAID21 to get a 10% discount on your total order at Ocean Republic.
Spindrift Collections
Spindrift Collections is a small company with a big vision. As part of 1% for the Planet, they have made it their mission to give back to protect and conserve the environment – for every sale, they plant a tree through One Tree Planted in Australia. The goal is to make sustainability the norm in the jewelry industry.
Pieces are inspired by landscapes and wanderlust, designed in Sydney and made in Italy and Bali. The jewelry is made from sterling silver with hand-collected beach glass being the star of each piece.
Check out Spindrift Collections here.
Paguro Upcycle
Paguro is the Latin name for a hermit crab, the inspiration behind the brand as the crab uses an empty shell and gives it a new purpose. Paguro makes bags, jewelry, and accessories that are made from reclaimed, recycled, and repurposed materials in order to give them – just like the hermit crab – a new life and purpose.
Their ocean earrings and necklaces are handmade from teak wood offcuts and inspired by the sea and the sand, making them the perfect beach-themed jewelry.
Use the code mermaid10 to get 10% off your order at Paguro Upcycle.
Bracenet
I am personally super excited to also put an amazing German company on the list for save the ocean jewelry: Bracenet. Their mission is to retrieve ghost nets from the oceans and to prevent them from polluting the oceans in the future. As the name implies all of their bracelets are made from those ghost nets. They hope to eventually eliminate all ghost nets which would make the company itself redundant.
Until this goal is reached you can support their mission by getting yourself a Bracenet. With each sale, they are raising money for organizations like Healthy Seas, Sea Shepard, and many more while upcycling those old fishing nets. And super cool – they also support 200 divers from Ghost Diving, an organization that retrieves ghost nets all over the world through highly trained teams of tech divers!
Check out Bracenet here.
Girls that Scuba
If you are not just looking for ocean inspired but diving inspired jewelry check out the pieces from Girls that Scuba. A tiny hammerhead, a manta, a tank, a fin, or an actual diver are available as necklace pendants made from sterling silver.
Necklaces start at £45.99 but if you get a Girls that Scuba membership card you can get it for £39 and also save on dive gear, liveaboards, and much more with your membership.
Check out Girls that Scuba necklaces here.
Pin for Later!