This post contains affiliate links. If you book something through these links I get a small commission at no extra cost to you. You can read more about mydisclosure and affiliate policy here.
…
Are you a sharkoholic? Then there are a few things more exciting than Aliwal Shoal diving! The reef on the Pacific coast near Durban, South Africa is an absolute paradise for the apex predators and those who want to get close to them. No cage needed!
The Ins & Outs of Aliwal Shoal Diving
What makes diving in Aliwal Shoal so special?
Apparently, Jacques Cousteau already called Aliwal Shoal one of the top ten dive sites in the world. It definitely offers some of the best diving in Africa. I like to call it shark-heaven instead (in a good way as the sharks are very much alive here!) because if you want to go diving with sharks in South Africa, this is the spot to be.
Aliwal Shoal, Umkoomas is a reef that runs about 3 kilometers along the coast in KwaZulu-Natal. There are a variety of dive sites that offer something for each level of diver.
What can you see when going diving in Aliwal Shoal? The correct question should be what you cannot see! But seriously, this area is a shark lover's dream come true. Depending on the time of the year you can see giant Guitar Sharks, Hammerheads, Tiger & Bull Sharks, Whale Sharks, and Ragged-Tooth Sharks which breed here. And even if you don't get lucky enough to see any of those there are always plenty of Oceanic Black Tips around!
Best time for diving Aliwal Shoal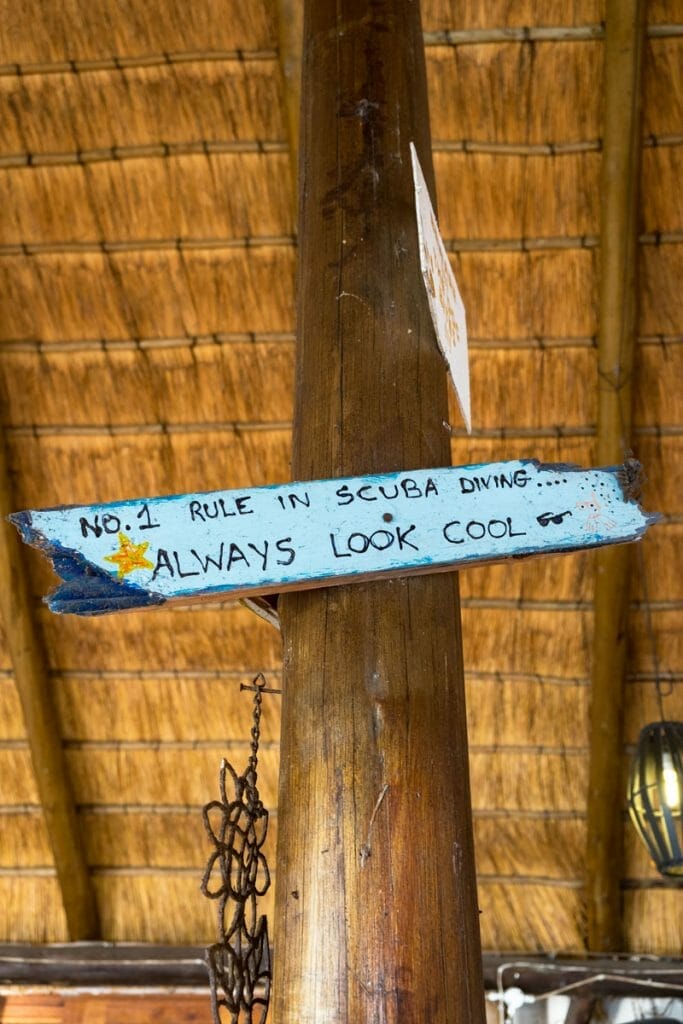 Generally, diving in Aliwal Shoal is great all year long. It does get a bit less busy from September to November due to strong winds but other than that you will be good. Just check before what kind of water temperatures to expect because they can vary between 18 – 26 °C.
Or you could make a wishlist of what kind of shark you want to see most and go by this – most dive centers will have a calendar when chances are good to see your favorite. Luckily you can see the majestic Oceanic Black Tips all year long!
If you are coming in June or July you can even do the Aliwal Shoal Sardine Run, a diving adventure like none other!
Dives in Aliwal Shoal you shouldn't miss
Baited Sharks Dives in Aliwal Shoal
Diving with sharks is one of the highlights of Aliwal Shoal. While sharks are never being fed as such, most dive centers will offer baited shark dives. For that divemasters will take drums with
"fish soup" (blood & fish bits) on a rope underwater to attract the sharks.
Before you go in you will get a detailed briefing of what Aliwal Shoal shark diving entails.
While even Open Water divers can do it since the dives aren't particularly deep, it is super important for divers to have good buoyancy. After all, this isn't shark cage diving!
When doing a baited shark dive you are required to stay as still as possible in the water, keep vertical, and keep at a given depth. Sharks do not appreciate divers splashing and bobbing up and down. The same goes for limbs dangling and sticking out so you will be told to keep your arms close and your cameras closer.
Chances are the view will take your breath away and you may have to remind yourself to actually breathe: usually, there are at least a dozen majestic Oceanic Black-Tips that can get up to 2.5 m in length. If you are lucky and come in the summer months you might also see Tiger Sharks or a Bull Shark.
Check this post for the scuba hand signal for the different shark species
Other cool sites for diving in Aliwal Shoal
Raggie Cave
One of the most popular dive sites in Aliwal Shoal is the Raggie Cave. With a maximum depth of 18 m, even Open Water divers can meet the famous Ragged Tooth Sharks here.
The cave is only accessible when there are no sharks inside, otherwise, you will have a great view from the sandy patch outside.
The Cathedral
The Cathedral is another favored hangout of the Raggies. Shaped like an amphitheater you can see dozens of sharks here as it is one of their breeding grounds.
In addition, you can see hammerheads above (if you get lucky of course) and some stingrays. The maximum depth of the Cathedral is 27 m, making it a dive site only suited for advanced divers.
MV Produce
The Produce Wrack lies on her starboard side at 32 m. She was a Norwegian ship carrying molasses and luckily all crew was saved after she sank in 1974.
The visibility and the currents can be quite bad (we had to call our dive when I was there) but when it's good it is really good! Penetration dives aren't allowed at the MV Produce but there are beautiful tropical fish all around making it a worthwhile Aliwal Shoal dive site.
My favorite Aliwal Dive Centre

Blue Ocean Dive Resort is one of the premier dive centers in Umkomaas and has a great team of dedicated staff. They offer various PADI dive courses, guided scuba dives, and also have a wide range of technical dive equipment and courses.
You can either rent or bring your own equipment, usually a 5 mm wetsuit will serve you well.
Scuba gear for beginners
Aliwal Shoal diving prices start at ZAR 1,500 for a baited shark dive and ZAR 700 for a reef or wreck dive including tanks, weights, and Nitrox.
Book dives with Blue Ocean Dive Resort
Tips for Aliwal Shoal Diving
Aliwal Shoal diving is a little more involved than your regular fancy boat or liveaboard dive, at least for me. Dives are conducted from huge rubber ducks that launch from the beach close to Umkoomas. I dare say it is not for the fainthearted or those getting seasick especially when the swell is rough as it was for us. You know it is going to be bumpy when the captain hands you a lifejacket!
Getting in and out of the water is a bit tricky if you are not very fit but luckily the crew is always there to give you a helping hand or literally pull you on board if needed.
Make sure to take something for seasickness if you are prone as the ways to the dive sites can be quite long (and as I mentioned bumpy), wear lots of waterproof sunscreen and a hat and/or a bandana as well as long sleeve t-shirt for the surface intervals (chances are you will want to take your wetsuit at least partially off).
Where to stay in Umkoomas & Other practical tips
If flying internationally or domestically you want to catch a flight to Durban in Kwazulu-Natal. Umkoomas is located about an hour's drive from Durban airport. You can either take a rental car or book a transfer with your dive center. The drive is pretty straightforward but I dare say the Durban drivers are something to get used to and are not too fond of indicating. And if you haven't driven in South Africa before, remember – you drive on the left side of the road!
Blue Ocean has their own accommodation with rooms that are all newly renovated and very cozy. They also have a great restaurant with a patio and a bar. A light breakfast is included with your room and I even got my lunch for free as a late breakfast. They also offer dive & stay packages. For those who rent a car, they offer secure parking on the property.
Alternatively, you can check out various hotels and guesthouses in Umkoomas here.