This post contains affiliate links. If you book something through these links I get a small commission at no extra cost to you. You can read more about mydisclosure and affiliate policy here.
…
Keen for a diving adventure in the Middle East? How about heading to Qatar for some diving in Doha?! If you hadn't considered this as a potential dive destination, you definitely should because diving in Qatar is so much fun!
The Ins & Outs of Scuba Diving in Doha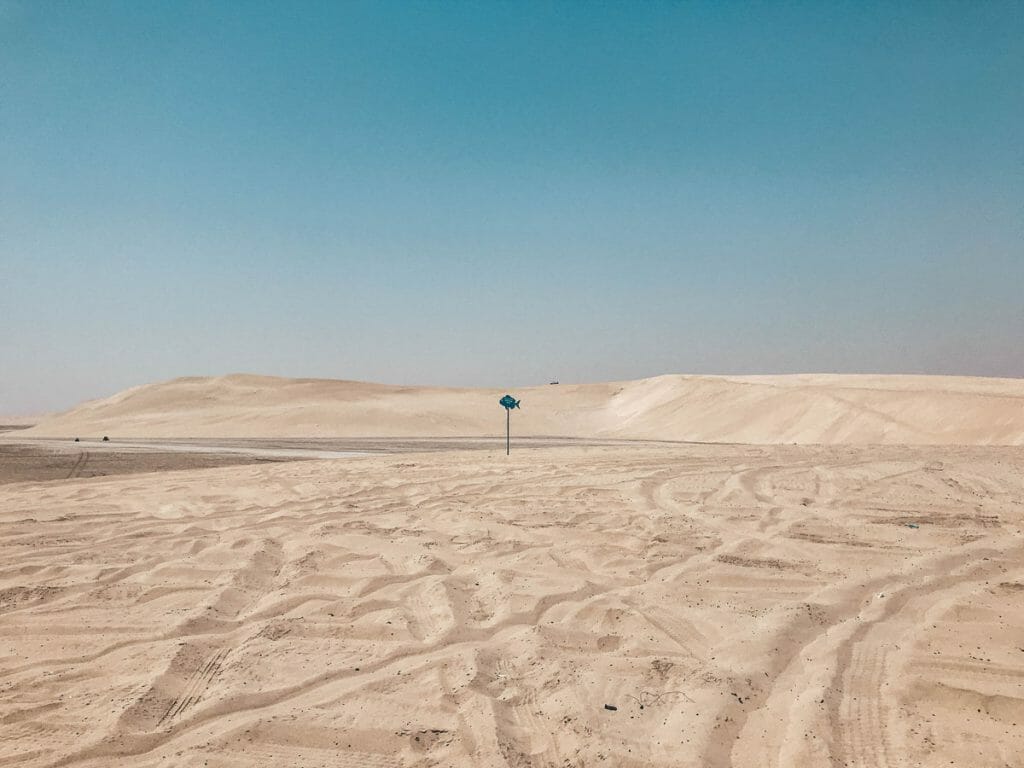 What makes scuba diving in Doha so special?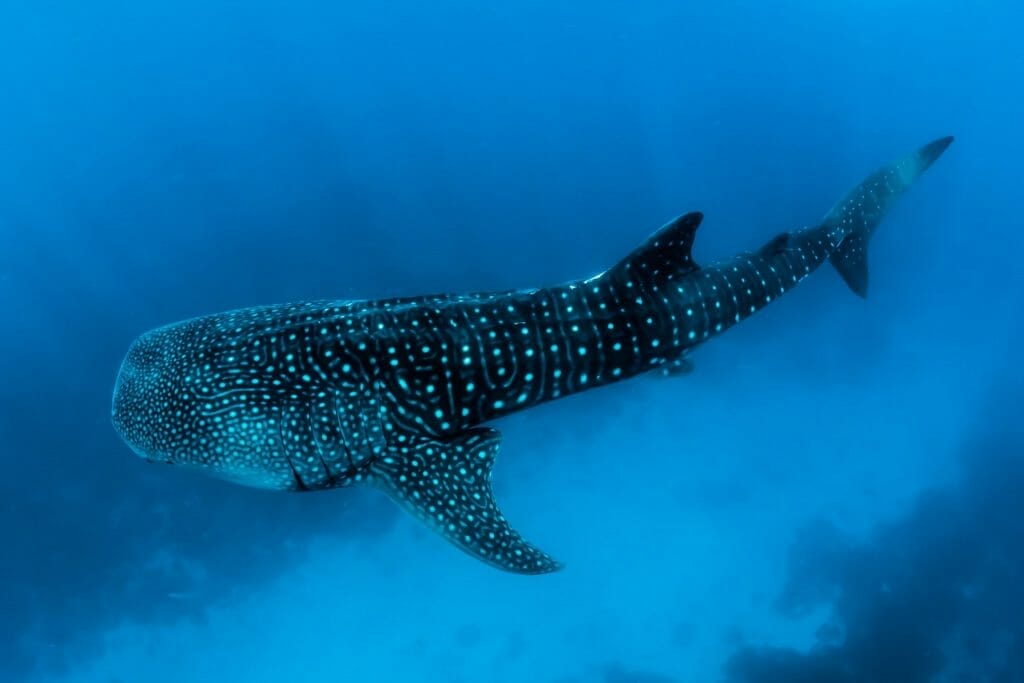 To be honest, I would have never considered diving in Doha. After all, would there be anything to see but underwater sand dunes?
While I knew that scuba diving in the Middle East is huge, I never considered the Persian Gulf for scuba diving. I really should have and luckily I met Mahmoud from Nomadik Hub who convinced me.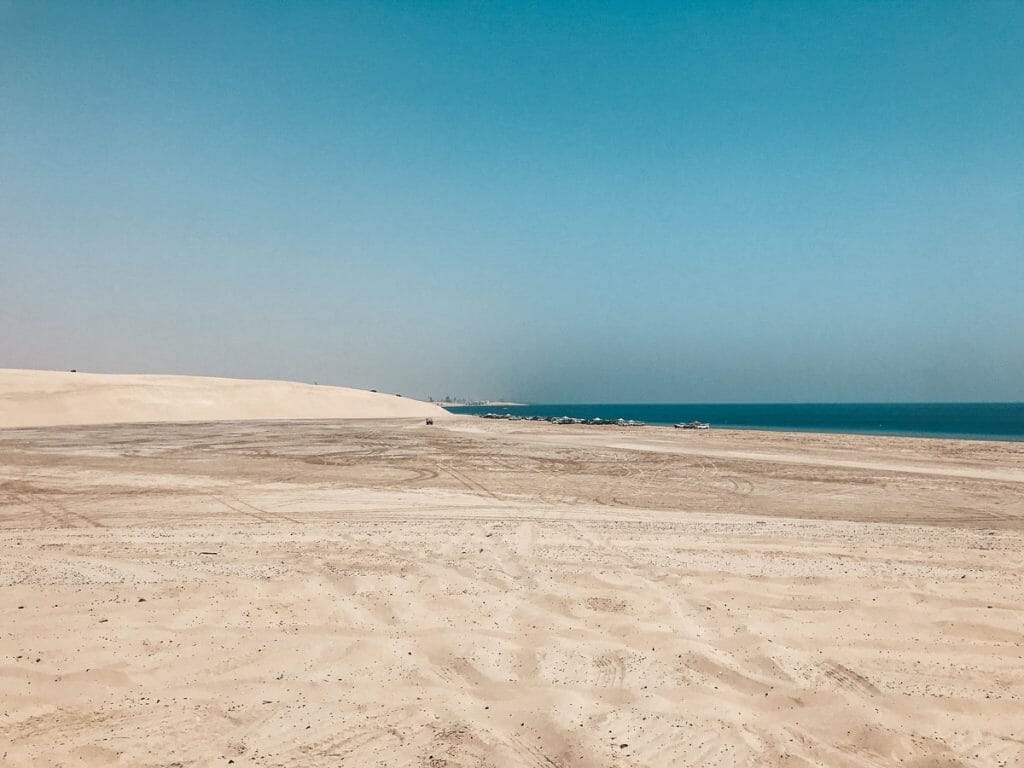 Qatar has become one of the largest gathering zones for whale sharks (they even made it into the Qatari intro video on the plane!) and offers a fascinating mix of desert and underwater adventures.
Khor Al Adaid also called the Inland Sea is one of the few places in the world where you can experience how these very different vegetations collide – in a good way of course.
Best time for diving in Qatar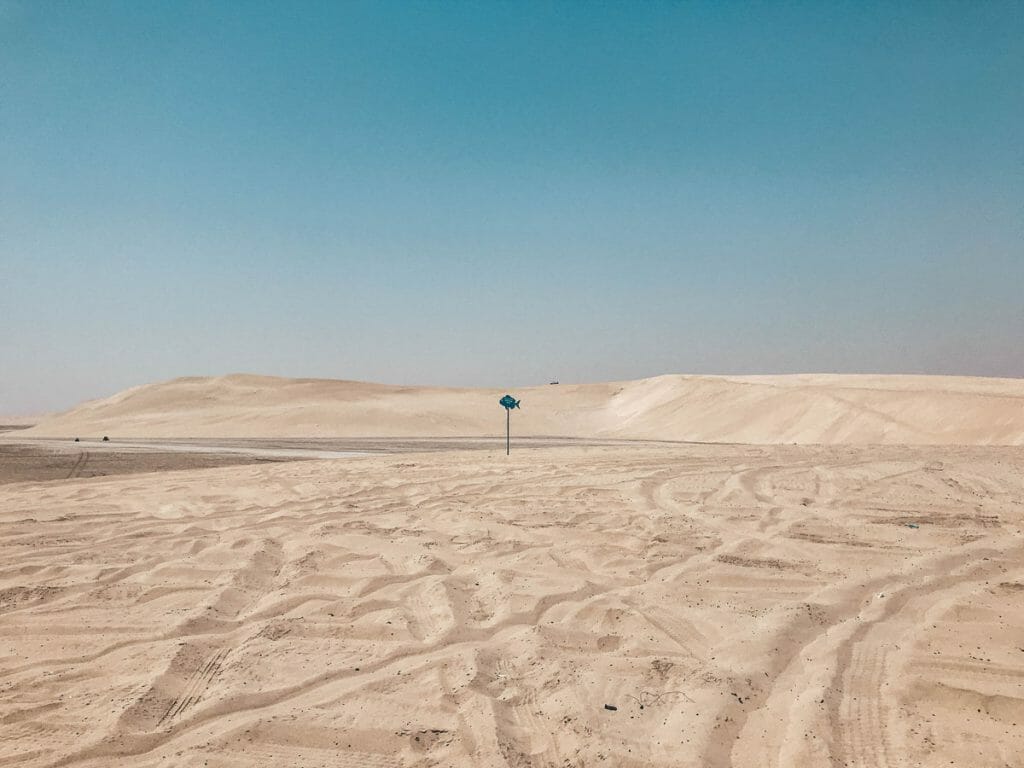 You can go scuba diving all year round in Qatar. Whether you will like the conditions will depend on how much heat or cold you can stomach. In July the average water temperature goes up to 32 °C but you will need to be careful not to overheat before and after your dive. February is the coldest month for diving in Qatar with an average temperature of 19 °C. I went diving at the beginning of April and the water ranged from 21°C to 23 °C.
While I wasn't toasty I was okay with a full 5 mm suit, then again my friend opted for his drysuit. If you go diving in the Inland Sea and plan a dive for later in the day or even a night dive, make sure to pack some warm clothes for after as the desert gets cold quite quickly after the sun sets. Visibility is usually not the greatest when scuba diving in Doha. At least not for me after being seriously spoilt in Mauritius. You can expect anything from 5 m to 15 m depending on the dive site and the conditions. Chances are a sand storm on land will also mess with you underwater.
Best diving spots in Qatar
There is not just sand in Qatar! Underwater you will find cool wrecks, beautiful reefs, and some large pelagics to go with. If you come from March till September you have the chance to see dugongs and whale sharks as well as nurse sharks and even hammerheads.
Diving spots in Qatar include some great offshore wrecks like the Pericles and the Mo. Much more exciting for me – because the journey is the destination – are the shore diving sites in Doha. As one of the few places in the world where ocean and sand dunes meet you will go dune-bashing before you get to your dive site.
Depending on where you go you will drive through the desert to the Sealine Beach or further to the Inland Sea. Any dive trip in Doha that takes you there will start with a drive through the dunes. At low tide, you can even see some ancient fossils on the ground!
The Barge & GMC
Mesaieed at the Sealine Beach is about 57 km from Doha. Here you will find a couple of dive sites like the Barge, a sunken platform that is great for beginning wreck divers. As long as you have an Advanced Open Water you are good to explore this dive site at 20 m depth, and for wreck training, you can even do some limited penetration. Otherwise, you can play with Arabian Blue Angel Fish, nudibranchs, Batfish or take pictures on the topside toilet.
Why you should take a wreck diver course!
Not far from the Barge you will find the GMC dive site, an artificial reef. As the name implies this reef was brought to life by GMC and so it comes as no surprise that you will find an underwater truck, home to the marine life that has settled here.
Inland Sea
The Inland Sea is about 82 km from Doha center and you will have a view of Saudia Arabia from the beach. There are a few reefs with a maximum depth of 15 m that you can explore. Depending on the season and visibility you will get to see some more beautiful Arabian Blue Angel Fish, Barracuda, and if you get lucky nurse sharks.
How to find a great dive center in Doha
I didn't find a good diving school in Qatar, a good diving school found me! I met Mahmoud from Nomadik Hub while doing my tech dive training in Mauritius as he was one of my instructors. We immediately bonded and I was thrilled when he invited me to come to dive with him in Doha.
His dive center is a Padi 5 Star Dive Center located between the city center and the airport. Mahmoud is an IDC staff instructor and he and his team offer various recreational and technical PADI courses and fun dives. They have their own boat which they take out when the conditions are right or take you to the Inland Sea for shore dives.
What does scuba diving in Qatar cost? Unfortunately, it is not the cheapest (Toto, we ain't in Koh Tao anymore!). Guided fun dives cost about 100 Euro, a bit more for boat dives, and a bit less if you have your own equipment.
Keep in mind that you will need to have your own 4×4 to take into the desert to get to the coast, and some dune driving skills. If you don't, they can organize a vehicle and driver for you.
Nomadik Hub offers air and nitrox fillings and also have certified technicians for repairs of diving equipment in Qatar and visual tank inspections.
How to get to Qatar & Where to stay in Doha
Qatar is basically a peninsula in the Persian Gulf and neighbor to Saudi Arabia, the UAE, and Bahrain. From Germany, it is about a 6-hour flight to Doha, the capital. While Dubai has become a favorite holiday destination for well-off families, Qatar wants the title too (hello Worldcup!).
Money aside, I am not sure I would choose Qatar for a holiday but it is a great destination for a stopover. I added a 4-night stay when flying with Qatar Airways from Bangkok back to Germany. They have a good stopover program that allows you to book a hotel room for a small amount extra, and stay for a couple of days to explore the city.
How to plan a Doha Stopover
I stayed at the Four Points by Sheraton, a 4-star hotel right next to the Msheireb metro station. While there was nothing really wrong with the hotel, it just felt a bit soulless, to be honest. Next time I would rather go for a hotel in the Souq Waqif to be in the center of action or choose something super nice like the Banyan Tree Doha. Getting around Doha is very easy thanks to the option of Uber and the excellent and inexpensive metro.
Pin for Later!