This post contains affiliate links. If you book something through these links I get a small commission at no extra cost to you. You can read more about mydisclosure and affiliate policy here.
…
Scuba diving in Mauritius was such an unexpected surprise to me. Actually, everything about Mauritius was unexpected. I had never considered the island as a destination for me as it seemed reserved for honeymooners and too expensive at this. While it is both, a great place for honeymooners and definitely on the pricier side, I realized quickly that diving in Mauritius makes it worth a trip.
The Ins & Outs of Scuba Diving in Mauritius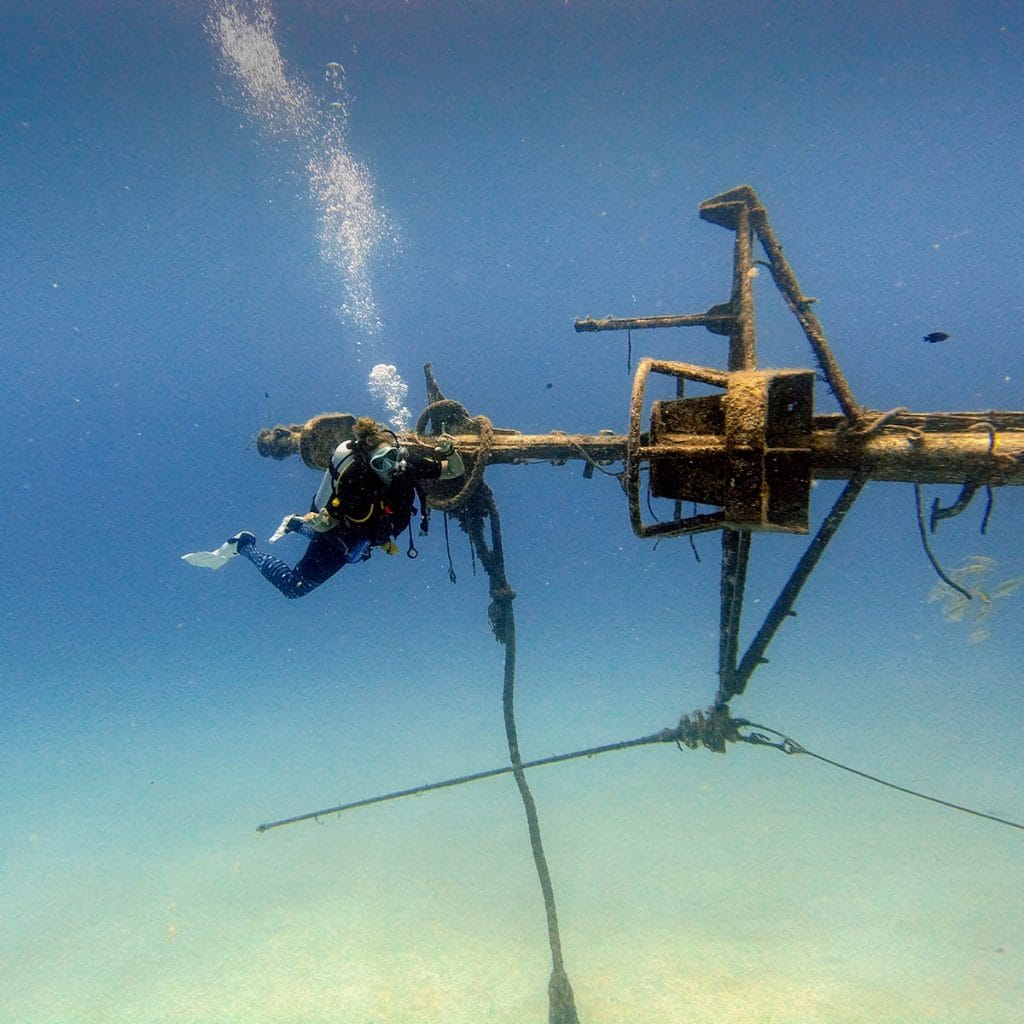 What makes diving in Mauritius so special?
"Mauritius was made first and then heaven; and heaven was copied after Mauritius"
Mark Twain
Chances are Mark Twain also stuck his head underwater before he made such a grand endorsement. Mauritius is remote and wild, making it a great destination not just for honeymooners seeking luxury but also for adventurers. Huge biodiversity above and below the surface is part of the island's appeal for nature lovers.
For divers, this means some of the best marine life the Indian Ocean has to offer. A large variety of hard and soft corals and with it some incredible macro critters like leaf fish, nudibranchs, and yes, my favorite, frogfish. Mind you, if you are on the lookout for bigger things, Mauritius will reward you with dolphins, sharks, and even humpback and sperm whales. And of course, there is everything in between like trevallies, octopus, and endemic species of angelfish and butterflyfish.
Another highlight is wreck diving in Mauritius. There are about 100 registered wrecks around the island at various depths that can only be found by waypoints making finding them a bit like a treasure hunt. Some are in incredibly good condition and have become home to some of the amazing marine life you can find here.
There are a few really good dive operators all over the island, accommodation that ranges from absolute luxury to inexpensive guesthouses, and food that is so good you may have to work it off with some extra dives the next day. Not to mention the rum…
Best time for diving in Mauritius
The water temperature hovers from around 23 °C to 28 °C in Mauritius throughout the year. July and August are usually the coldest months and February and March the warmest. Mind you, this is also cyclone season which you may want to avoid. Rather pack a 5mm and enjoy the balmy winter!
The visibility is another reason scuba diving in Mauritius is so incredible because 40+ meters are not unusual.
If you are keen to see whales you should plan your trip sometime between August and November as this is the time for humpback whales while sperm whales can be seen throughout the year. Keep in mind though those sightings are never guaranteed and will make you one lucky diver!
Mauritius Dive Sites you shouldn't miss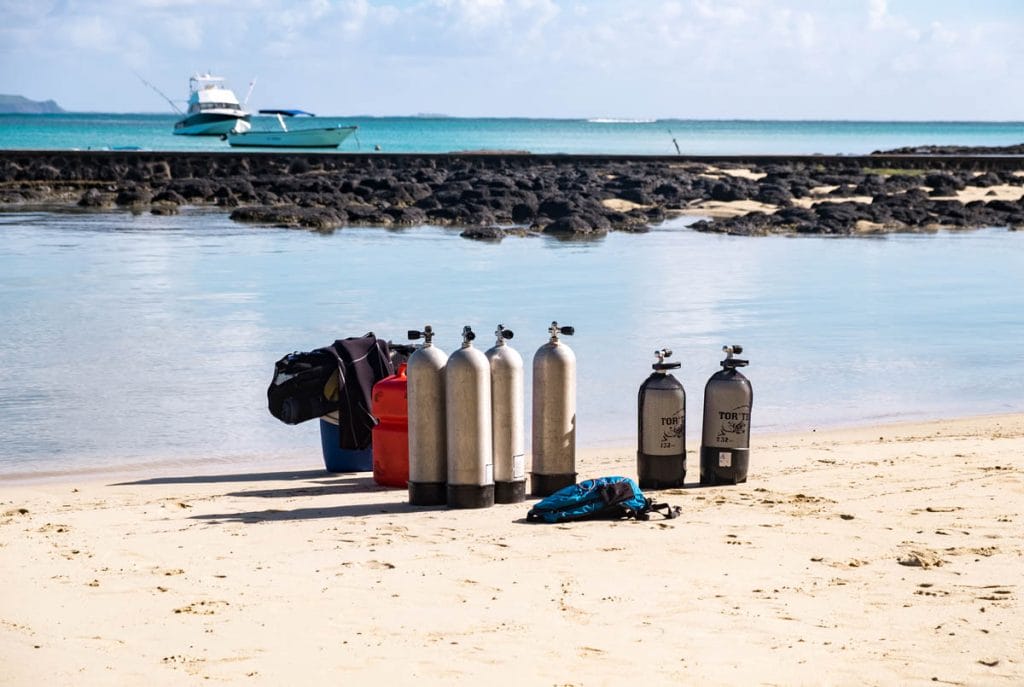 There are plenty of dive sites dotted all around Mauritius offering something for all-level divers. Some of the best diving in Mauritius is said to be found in the east around Belle Mare as well as in the north. As dive centers tend to stick to one area to avoid high fuel costs and long boat rides, you should decide beforehand where you want to settle down for your Mauritius diving trip.
I have so many dive sites yet to explore but here are some of my favorites in the north of Mauritius:
Coin de Mire
Coin de Mire is a great place if you want to check out some easily accessible dive sites in the north of Mauritius. The small island is about 9 km offshore from Cap Malheureux and home to 11 different dive sites.
Most Open Water courses will head to Confetti Bay for easy conditions and shallow depth while the Wall and Pyramids offer some more excitement for certified divers. Reef fish, a squid family, and with some luck, rays await!
On a good day, Carpenter is a thrilling place to dive though the conditions have to be just right because otherwise, you end up in a washing machine. Even when the conditions are perfect, getting in and out of the water can be challenging, making this dive site only suitable for experienced divers.
An all-time favorite is the Djabeda Wreck that is well-preserved, not too deep, and home to a variety of reef fish and maybe even a frogfish!
Silver Star
The Silver Star was flooded in 1992 to form an artificial reef and is now home to a huge variety of marine life. The ship lies on its stern reaching a depth of 39 m. While you can dive it with an AOW, it pays off to have a Deep Diver Specialty and/or a Wreck Diver Speciality to explore it to its fullest.
Learn new skills during your Advanced Open Water
The dive site is ideal for both wreck and marine life lovers as you will usually find barracudas, trevallies, and batfish here. And of course, this being a wreck, chances are good you will find a frogfish if you keep your eyes open and have a good guide.
Stella Maru
The Stella Maru used to be a Japanese trawler that was sunk in 1987 onto sandy bottom next to a reef. It reaches down to 26 m so you will need an AOW or deep dive specialty to explore it.
You can dive it all year long and visibility tends to be pretty good here. All around you will find a variety of reef fish as well as smaller critters that made their home on the wreck.
Catamawar Wreck
The Catamawar was my favorite wreck in Mauritius. I loved its geometric lines and the fact that you can explore most of it even with an OW as it lies between 12 m and 23 m.
Get your Open Water scuba certification
You can find pufferfish here, frogfish (again, only if you get very lucky) as well as some smaller schooling fish. It also pays off to look into the blue, away from the wreck – this is how we spotted a beautiful guitar shark!
Ti Corail
Together with Grand Baie Aquarium (that is the name of the dive site, not an actual aquarium!), Ti Corail is considered one of the best dive sites in Mauritius thanks to its stunning reef. With a maximum of 14 m depth, it is a perfect place for beginners. Photographers will get excited as it also tends to be a macro paradise. Critters include garden and ribbon eels as well as some resident leaffish.
Note: After the devastating oil spillage of the MV Wakashio in 2020 on the east coast of Mauritius, many feared that the coral reefs around the island would be destroyed. Luckily the locals came together helping to contain the damage so that 96% of reefs around Mauritius remain unharmed.
Round Island & Snake Island
Look out for dive centers in Mauritius when they offer a trip to Round Island and Snake Island as you will be in for a treat. The boat ride takes about 45 minutes, and usually, operators charge a bit more for fuel – well worth it in my opinion! Make sure to go with an operator that leaves early in the morning to avoid too many other dive boats and one that has a speed boat because otherwise the trip takes too long.
A favorite next to Round Island (named after its round shape) is Batfish Wall where you will find – as the name implies – big schools of batfish. Don't worry if they come close, they are quite friendly and like to follow divers around (I was once told, they eat feces and are looking for 'treats' from us humans which is why they come so close but I don't know if that is 100% true).
Another famous dive site is the Cathedral close to Snake Island (don't worry, there are no snakes around!). You will have to jump in the blue and be quick to avoid surface currents and the adjacent reef. Once you are down, you will head towards an open rock cave aka the Cathedral. Besides it being a beautiful location where light and shadows play, you might get lucky and see sharks here. If that is the case, you will simply stay put and enjoy the show as the sharks tend to swim in the 'arena' in the middle of the cave.
Even if you don't get lucky, it is a great dive site with a fun swim through suitable even if you don't have a cavern certification.
My favorite dive center Mauritius
Call me biased but I do my research and I do it well and then I usually stick with my plan. And that is why the one and only dive center in Mauritius I will ever recommend is Crystal Divers.
It is a dive center run by Emma and Tony Andrews and classed as a PADI 5* IDC Center, one of the highest accolades you can get as a dive center. It not only means that they run amazing classes for all levels of divers but also an incredible IDC (instructor development course) which I am proudly part of. They are also the only PADI Green Star Award center in Mauritius, which means they do more than their share to keeping Mauritius green and operate as eco-friendly as possible.
They are located in Bain Boeuf in the north of the island but also have partners in Bali and South Africa. The dive center comes with a state-of-the-art pool, perfect for confined water training, a relaxed classroom area, an equipment room, and their own little Airbnb.
They also have their own boat called TEANA (a name made up of Tony's, Emma's, and their three girls' initials) which launches from Cap Malheureux. This little bay is famous for its red-roofed church and more importantly (at least for me!) the amazing roti you can buy here from a snack seller after the dives.
Crystal Divers Mauritius offers various dive packages for fun divers which always include tanks, equipment rentals, boat trip as well as water and snacks between dives. The great thing is that they offer packages with 1, 2, or 3 dives per day so depending on your budget and your time you can choose what suits you best.
Due to their location, most of the diving they do takes part in the north, northeast, and northwest of the island. If you want to explore further south it might be wise to relocate and they can hook you up with another dive center – otherwise, boat rides simply get too long.
Check out more dive centers in Mauritius
How to get to Mauritius
If you are coming from Europe or South Africa you are in luck as there are plenty of direct flights to Sir Seewoosagur Ramgoolam International Airport, the international airport of Mauritius. Air Mauritius, Lufthansa, Air France, and Condor will take you directly from Frankfurt or Johannesburg.
At the moment a 2-week hotel quarantine is mandatory for unvaccinated travelers to come to Mauritius. If you are fully vaccinated you will just need a PCR test and take another one upon arrival. Do check entry-requirements before you plan your trip though as things change quite quickly at the moment.
When traveling from the States you will need to plan at least one layover in a place like Dubai or Istanbul.
Once you are there keep in mind that while Mauritius is a 'mere' island it is also a country and quite big. The easiest way to get around is with a rental car as taxis can really add up here. Keep that in mind when you choose your location/ dive center.
Where to stay in Mauritius
Since the island is quite big and public/cheap transport is hard to come by I recommend booking a hotel in Mauritius that is close to your dive center.
Unique Traditional Mauritian Loft Space
If you are diving with Crystal Divers you can book a room at the dive center with them. For those who prefer proper hotel facilities and a bit more luxury, I can recommend the Veranda Paul et Virginie Hotel & Spa that is not too far and absolutely stunning.
Check out rooms at Veranda Paul et Virginie
If you want to explore the dive sites in the east of Mauritius like Belle Mare, I recommend the Tropical Attitude Hotel as a base.
Check out rooms at Tropical Attitude
PIN FOR LATER!