This post contains affiliate links. If you book something through these links I get a small commission at no extra cost to you. You can read more about mydisclosure and affiliate policy here.
…
Guest post by Deb Hendricks of Introvert with Itchy Feet
The coast of South Africa is full of spectacular adventures. And with close to 3.000 kilometers of coastline to explore, it's known all over the world for its incredible scuba diving. One of the best adventures in South Africa is diving Sardine Run. This annual phenomenon should be on every diver's bucket list.
The Ins & Outs of Diving Sardine run
Table of Contents
What is the Sardine Run, South Africa?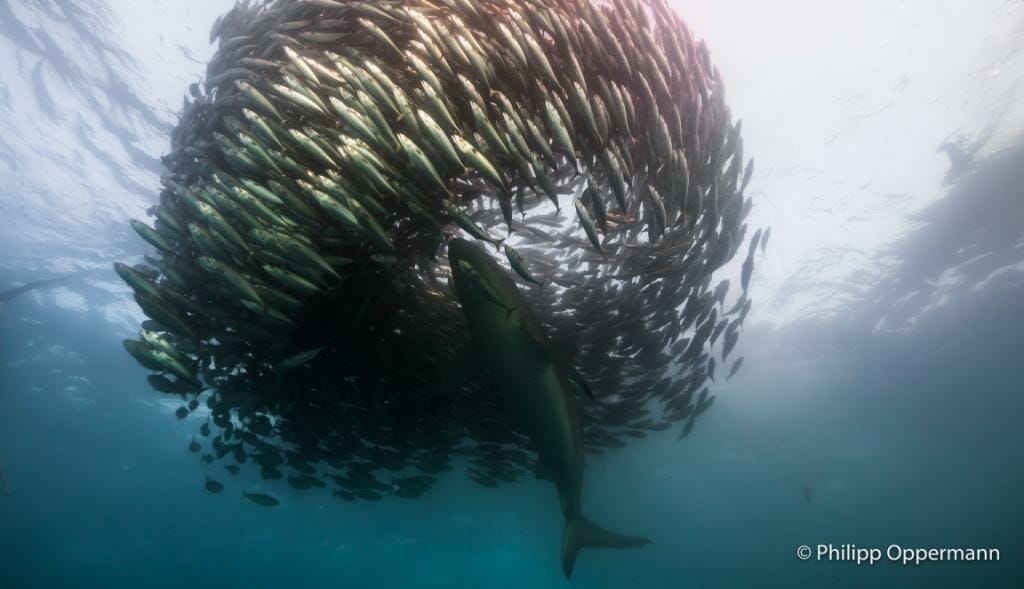 From golden kelp forests and shipwrecks to coral reefs and fossilized sand dunes, there is no shortage of magical underwater sights in South African waters.
But the spectacle of the Sardine Run is something else entirely.
During South Africa's winter, from June to July, shoals of thousands of sardines move from the icy waters of Cape Town and head northeast toward Mozambique.
Though the cause of the Sardine Run is still a bit of a mystery, it's thought to follow a seasonal cold water current. As the current moves up the Wild Coast along the eastern seaboard of Africa, the narrow strip of cold water displaces the warm water normally found here.
This in turn causes an increase in tasty plankton and other small marine life. The sardines, a cold water fish, come to feast on this mobile buffet. In the interest of their own safety, the tiny fish travel stacked one on top of the other in enormous shoals, each of which can stretch for miles. They stay close to the shore and to the surface of the water where the cold current runs.
This mass of fish is easily spotted from above. It's been said that it's even visible by satellites in space. The Sardine Run has been compared to the great migration of the wildebeest in Eastern Africa in terms of numbers.
Check out the Sardine Run when diving in the Philippines
Why you should dive the Sardine Run
However, the massive shoals of fish are not the most exhilarating part of the Sardine Run. The shoals are tailed by an entourage of predators – game fish, dolphins, whales, seals, penguins, gannets, cormorants, and, of course, sharks. It's an absolutely jaw-dropping sight to witness in person.
There is also the real possibility of seeing a humpback whale while diving the Sardine Run. If this should happen to you, you might wonder if it's possible for your heart to just give out entirely from the excitement. Remember to breathe!
The dolphins of the entourage take a leading role in the action. They'll swim around shoals of fish and force them into tight "bait balls". This makes for efficient eating, especially for larger predators like bronze whaler sharks and Bryde's whales.
Sharks often join in with the herding as well – it's fun to see these guys working together! Once the bait ball is formed it can reach up to 50 feet across. The hungry crowd of predators will swim through it over and over again with mouths wide open, and it might last for as little as 10 minutes.
Yet even with so many predators in the mix, the activity never seems frenetic or violent, but more like a choreographed flash mob. Once one bait ball disappears, you will be back on the boat to find another one.
Keep in mind, though, that these predators aren't all after the sardines – they're also after each other. It's not uncommon to see sharks chasing dolphins, which in turn are chasing sardines. When diving the Sardine Run you will have a first-row seat to the spectacle.
And above it all are the seabirds, swooping down to snatch up as many fish as they can. It's an unexpected thrill to watch groups of Cape Gannets dive one after the other under the surface of the water, at speeds up to 60 miles per hour. With the fish packed together – like sardines – they're an easy meal for these expert fishermen.
Where does the Sardine Run happen?
The best place for Sardine Run diving is along South Africa's Wild Coast, at the little village of Port St. Johns. It's a great spot in what is roughly the middle of the Run, which makes finding the large shoals of sardines a bit easier.
The town is located at the mouth of the Umzimvubu River and is a very diver/backpacker/surfer-friendly place. But even though you will find many fellow travelers while you're here, Port St. John's is still very much a small African town, and spending time here is a great experience all in itself.
However, it's during the annual South Africa Sardine Run that Port St. Johns really comes alive. You're bound to meet up with many like-minded divers, excited to witness this unforgettable phenomenon.
Unlike most dive tours, your boat doesn't head for a particular reef or wreck. The Sardine Run is always moving, and the boat crew will be looking for signs of that bait ball.
These signs include masses of seabirds circling over a spot in the water, as well as whales, sharks, or dolphins. Any type of action will catch the crew's and your attention, and you're off!
The Best Time for Diving the Sardine Run
If you're hoping to do some Sardine Run diving yourself, it's best to try to keep your dates flexible. Although the specifics surrounding the phenomenon are still just theories, it seems to be based on water currents and temperature. And of course, these are notoriously unreliable.
The sardines have been known to start their move as early as May, but it's more commonly June before the massive shoals begin to form. By that same token, the excitement usually wraps up in July but can go on into August.
There have also been odd years where the Run didn't seem to happen. This has only been the case twice in the last 20 years, however, and it's speculated that the Run may have just been unusually deep, or farther out to sea than it usually is.
Dive Center Recommendation
There are several options to choose from when you're planning your dive. The one I highly recommend is Off-Shore Africa Port Saint Johns. It's a local company, and I always like to support local businesses when I travel.
On top of that, because these guys are based in Port St. Johns, they know the town and its waters inside and out. Rob and Debbie and their crew are incredibly experienced and professional, and at the same time are friendly, personable, and have a real passion for the sea life they dive with.
They even have a little aircraft that helps with spotting the sardine bait balls. This can cut down enormously on the time you spend on the boat, which is an 8-meter semi-rigid inflatable.
In addition to indicators like large flocks of seabirds circling and Off-Shore's aircraft looking out for the bait ball, they have a network of other spotters around, as well as Natal Sharks Board members that are flying in the area. Not to mention, the Off-Shore team has been diving the Sardine Run for years, and they seem to know where the best spots are.
You'll spend anywhere from 6 to 8 hours on the water. Also unlike your typical dive trip, there is no set number of dives. When the bait ball is spotted, the crew will decide if things are moving so fast that jumping in with a mask and snorkel is the best way to get the best view. Or, if the bait ball looks like it's going to last long enough, that jumping into scuba gear is the way to go. Believe me, however it happens, you'll be thrilled just to catch a glimpse of the action.
Off-Shore does like you to have your certification level of advanced diver, but Open Water with a lot of ocean experience might be accepted. Be sure to discuss this with them, and DO NOT fudge your experience. These requirements are essential for your safety. Check-out dives are conducted on the first day of your trip, so if you're found to be too lacking in experience, you might just be out of luck.
Off-Shore offers very flexible packages which allow you to arrange the number of days you'd like, from 4 to 10. The more days you're out on the water, the better your chances of seeing what you came to see.
Their packages include your tanks and dive weight. All other equipment is available as separate rentals. You also get your accommodation with breakfast and dinner, refreshments on the boat, and your permit to dive in the marine protected area. And of course your dives!
Here are some examples of package pricing:
Single room, 4 nights/3 days – $1,634.60
Double room, 4 nights/3 days – $1,543.80
Single Room, 7 nights/5 days – $2,769.72
Double room, 7 nights/5 days – $2,610.85
For divers on a budget, you might find it more affordable to find your own accommodations. This will be less convenient, but definitely worth it if it means you can take this dive. Off-Shore has a daily boat rate if you decide to go this route. A day on the boat includes the same crew, gear, and refreshments for about $280 per day.
Plan your trip as far ahead as you can! Spots fill up quickly.
Find other accommodation in Port St. John's
Tips for diving the Sardine Run
When you're planning your dive, keep in mind that water temperatures are less than balmy, as the run takes place in the winter. Temps average between 13 and 21 ºC, and call for full cold water gear, including gloves, boots, and hood on a good 7 mm wetsuit or a drysuit. I recommend a wetsuit, just because they're easier to move around in.
You could be spending a lot of time on the boat as you search for the shoals of sardines. Though the boat will have a canopy covering, do take a broad-brimmed hat with a clip to attach it to your suit, reef-friendly sunscreen, and some good, inexpensive sunglasses.
PVC rain jackets are provided on the boat but remember this is South African winter so take something warm for the wait times.
There is no toilet on the boat. Sorry!
Keep in mind that any issues with seasickness can make this a miserable trip for you. And for anyone you might accidentally get seasick on. Or near. Take some non-drowsy medication or wrist bands with you.
You're going to want a waterproof camera. Buy the best one you can afford, and practice with it before you leave home. You won't have time to fiddle with the settings or learn how things work during the dive.
You might end up spending more time in the boat than you do in the water, searching for the sardine shoals in your wetsuit. Try not to get distracted by the humpback whales in the area. And be ready to dive in as soon as that bait ball is in sight!
In addition, the surface conditions can be rough, and the movement of the sardine stampede will churn up the sand. This can cause vastly decreased visibility. There may even be times that you'll be able to see more of the underwater action looking down from the boat.
Due to the low visibility, the strong current, and the general non-stop action that can be a part of Sardine Run diving, it's an event that's best suited to experienced divers, not beginners. Your dive operator may require Advanced Open Water certification. Make absolutely sure you check with them when you book your dive. And don't forget to bring your certification cards and logbooks!
You will in all likelihood be experiencing shark encounters and other intense underwater action. You'll need to be able to react calmly and control your breathing.
Remember that, as with any type of natural phenomenon, there is no guarantee. You might have a day where there doesn't seem to be a sardine in sight. I'm afraid it's not like a whale-watching cruise, where you get a free trip if you don't see any whales. No guarantees, no discounts, no free days.
If the sardines elude you, the crew will find all kinds of amazing things to see. The South African coastline is a famous diving destination for a reason. You'll have no regrets. You might even end up wanting to book another dive!
How to get to Port St. John's
There are a few options when it comes to making your way to Port St. Johns. If you are just flying into South Africa, your best first stop is the King Shaka International Airport in Durban, about 360 km up the coast.
One option is to fly from Durban to Mthatha Airport. Flights can be as low as $160. Off-Shore Africa Dive Centre offers a paid transfer from the city of Mthatha to Port St. Johns, which is about a 100 km trip. You could also hire a taxi from Mthatha for about $50.
You could take a taxi or Uber from Durban to Port St. Johns. This will cost in the neighborhood of $120-$160.
A public bus called the Baz Bus can take you from Durban as far as Mthatha for roughly $100, and you can hire a taxi or Uber from there.
You can also decide to rent a car at the airport in Durban. This is about a $200 option, plus fuel.
If you're flying into Cape Town or Johannesburg airports instead, your best option is to fly on to Mthatha Airport for about $175.