This post contains affiliate links. If you book something through these links I get a small commission at no extra cost to you. You can read more about mydisclosure and affiliate policy here.
…
Guest post by Cat Roberts from Cat is out of the Office
Scuba diving in Roatan, Honduras was one of the best experiences of my entire 3 months in Central America. And that's saying something!
Scuba diving in Honduras means diving at the southern part of the Mesoamerican Barrier Reef, the largest barrier reef in the Western Hemisphere, and the second-largest reef in the world (only the Great Barrier Reef in Australia is bigger!). Yep, it's actually the same beautiful reef system that runs through Belize and Mexico.
Roatan diving is some of the best scuba diving in the Caribbean and the world, and belongs on every mermaid's bucket list!
In this guide, you'll find out why Roatan diving is magical, when is the best time to dive in Roatan, the best Roatan dive sites, how to get to Roatan, and which Roatan dive shop is recommended.
The Ins & Outs of Diving in Roatan
Table of Contents
What Makes Diving in Roatan So Special?
Roatan, Honduras is safe and well-developed, a favorite of tourists and ex-pats alike.
The Roatan reef system is extremely healthy thanks to the Roatan Marine Park, which is leading the conservation efforts of Honduras' marine and coastal ecosystems – one of the main reasons why diving in Honduras is so wonderful.
Diving is great on any of the Honduras Bay Islands, but the best Honduras diving is on Roatan, the largest and most well-developed of the three. From shipwrecks to coral gardens to sand flats and shark dives, Roatan diving has so much to offer.
When diving in Roatan, you'll see green and hawksbill turtles (I saw two on one dive!), southern stingrays and majestic eagle rays, giant crabs, seahorses, parrot fish, angelfish, damselfish, hogfish, trunkfish, triggerfish, lionfish – just to name a few. The week after I finished diving in Roatan, my dive shop saw a hammerhead shark! I was so jealous.
Almost every website about Roatan will mention whale sharks, but my dive shop told me that it's been several years since they saw any. Sad.
If you do a Roatan night dive during the new moon, you'll be able to see the phenomenon that occurs called the String of Pearls, a dazzling display of bioluminescence, very unique to diving in Roatan!
No matter your level of experience, Roatan diving is perfect for newer open-water divers or more advanced divers. The water is warm all year round, the currents are mild, and the diversity of Roatan's dive sites has something for everyone.
The Best Time for Diving in Roatan, Honduras
There is no bad time to experience Roatan diving!
No matter the season, the Roatan dive shops can find dive sites on any side of the island with good diving conditions.
The Roatan water temperature is always warm, ranging from about 25 °C in December-February to 29 °C in September. Many Roatan divers don't even wear a wetsuit, opting to wear skins instead!
The best time for Roatan diving is in September after the kids have gone back to school, while the weather is still hot and (mostly) dry.
Diving in Roatan is also great December-March. But keep in mind this will be the busiest time in Roatan. It also gets busy in July and August when families are finishing up their summer vacations.
The quietest time on the island is April-June, but that's also when it's hot and sticky – won't that will make the diving in Roatan even sweeter? In mid-June, a lot of the caves and swim-throughs are brimming with small silver fish called Silversides, which make for a memorable experience.
The rainy season in Roatan is October-March, but other than for a few weeks in November and February, the majority of rain happens at night. A little rain never hurt anybody – this is the Caribbean after all!
The best Roatan Dive Sites
One reason Roatan diving is so special is that there are so many – literally, hundreds of – breathtaking dive sites around the island. These are just a few of Roatan's best dive sites.
Mary's Place
Mary's Place, famous for its beautiful corals and fun swim-throughs, is considered to be one of the best dive sites in the world. A lot of dive shops in Roatan don't go to Mary's Place very often, which makes a visit all the more special. There won't be too many other divers when you do go.
You'll swim between beautiful coral canyons brimming with life. It is recommended that only intermediate and advanced divers dive at this site.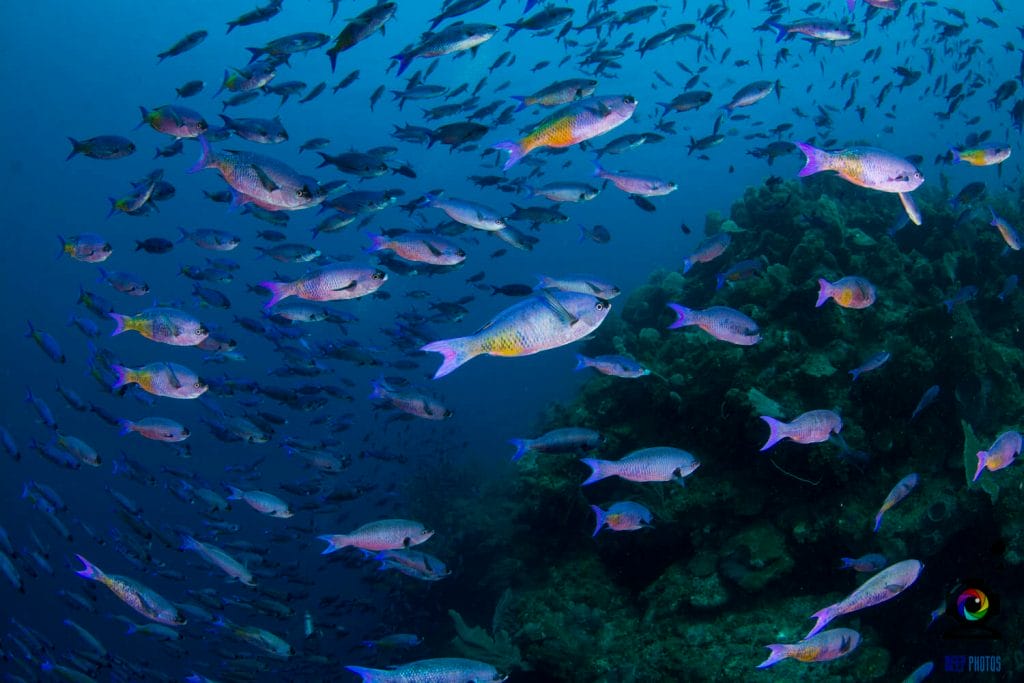 Texas
Texas is one of several dive sites located on "the point" of Roatan and is one of the top dive sites of Roatan. The current, which the site is known for, carries lots of nutrients to the area, which attracts big schools of fish. This site is best for more experienced divers, because of the current, and shouldn't be missed.
Hole in the Wall
This dive was one of my personal favorites and is great for all levels. To start this dive, you'll enter through a sand chute tunnel and a reef wall, then continue by swimming through a maze of swim-throughs to explore its famous "swiss cheese" rock formations. There are tons of sea animals who call this dive site home.
West End Wall
Another favorite Roatan dive of mine was at West End Wall because this is where I got to see beautiful eagle rays! West End Wall is a favorite among many Roatan divers. As the name suggests, you'll be diving at a large wall of underwater life, often in a drift current. This is a very fish-filled dive, and in August there are schools of silversides here.
El Aguila Shipwreck
El Aguila, meaning "The Eagle," is one of the more well-known dive sites in Roatan. The El Aguila shipwreck is 76 meters long and 33 meters deep, right off the Roatan coast. A hurricane broke the ship into three parts and makes for a very interesting dive. You have to have your advanced open water certification to dive here due to its depth.
Night Diving in Roatan
Night dives are particularly special in Roatan due to the phenomenon that occurs called the String of Pearls. This impressive bioluminescent show is best seen on a New Moon and an hour after the sun has set. Octopuses and squid also like to make an appearance at night.
My Favorite Dive Shop in Roatan
There are A LOT of Roatan dive shops to choose from, but the best one by far is Roatan Divers, located in the West End neighborhood, which is one of the best neighborhoods to stay in when visiting.
Roatan Divers is a boutique dive center that will spoil you with full service (you won't have to worry about your equipment at all!) and private docks. The group sizes will be small, with about 4 divers per group. And they strategically pick the day's dive sites based on weather and crowds – they will try to choose sites that won't be too crowded, which I appreciate.
The staff is incredible, going above and beyond to make sure you have the best experience. You will feel like family within one dive, and it will be very hard for you to leave when it's time to go home!
Roatan Divers offers 3 single take dives per day as well as a night dive twice per week. The night dive in Roatan was one of the best night dives I've ever done – there was so much to see!
When diving in Roatan, you should expect to spend about $40-50 per tank depending on how many dives you do (the price goes down with the more dives you do).
How to Get To Roatan, Honduras
There are a couple of different ways to get to Roatan, Honduras, depending on where you're coming from.
Roatan actually has an airport right on the island! Juan Manuel Galvez International Airport has direct flights from several major cities in the United States including Atlanta, Houston, and Miami, as well as from Toronto, Canada, and El Salvador. You can also fly to Roatan on a connecting flight from major cities in Honduras including Tegucigalpa and San Pedro Sula.
If you're coming from mainland Honduras as I did, it might make more sense to take the ferry from La Ceiba to Roatan. The Roatan-La Ceiba ferry is called Galaxy Wave, and makes two trips per day to Roatan from La Ceiba, at 9:30 am and 4:30 pm, and returns from Roatan to La Ceiba at 7 am and 2 pm. A ferry from Utila to Roatan also runs twice daily.
When you arrive at the Roatan ferry terminal or the airport, you'll need to take a taxi about 30 minutes to West End, or wherever you're staying on the island and should pay no more than $15 for the trip.
Useful Tips for your Roatan Dive Trip
Although the currency of Honduras is the lempira, US dollars are accepted everywhere on Roatan.
A lot of divers in Roatan opt to just wear a skin, but I was very happy in my 3 mm shorty.
Bring a flashlight if you can, not only for the night dives but also to be able to see into the holes and cracks.
The best neighborhoods to stay in are West End, West Bay, and Sandy Bay.
There are collectivos (mico-buses that are usually big passenger vans) on the island that cost just $1, so it's easy to get around. Yell "ba" or "baja" to the driver when you want to get off, and he'll pull over.
Check for hotels in Roatan
If you take a taxi, it's best to ask a local what the ride should cost to ensure you don't get overcharged. Taxis charge per person and will pick up other passengers along the way.
Be sure to eat the cinnamon rolls at Sandy Buns, located in West End across from Roatan Divers, as often as possible. In fact, Roatan Divers will take your order every morning, and have your breakfast from Sandy Buns waiting for you after your morning dive!
Bring a sweater for the ferry if you are going to sit inside – they keep it freezing!


Want to see more from Cat? Check out her Instagram!