This post contains affiliate links. If you book something through these links I get a small commission at no extra cost to you. You can read more about mydisclosure and affiliate policy here.
…
Guest post by Shandos Cleaver of Travelnuity
When people think of coral reefs and diving in Australia, they generally think of the Great Barrier Reef. But while the Great Barrier Reef, or GBR for short, is a spectacular natural wonder, Australia is also home to a second World Heritage-listed coral reef, the Ningaloo Reef.
The Ningaloo Reef is on the other side of the country from the GBR, and far more remote. Situated halfway along the Western Australian coastline, in between Perth and Broome, it's a spectacular place to visit and dive. Read on to find out more about diving in Ningaloo Reef…
The Ins & Outs of Diving in Ningaloo Reef
Table of Contents
Why Diving in Ningaloo Reef is So Special
Ningaloo Reef is probably most famous for swimming with whale sharks. The reef is reliably visited by these giants of the sea each year, with Ningaloo one of the most ethical places in the world to swim with them, thanks to Australia's strict guidelines.
However, swimming with whale sharks is not technically diving in Ningaloo as only snorkeling is permitted with them.
Once you do gear up and head deeper underwater, you can expect to encounter manta rays, green turtles, and copious amounts of marine life. Over 500 species of fish and 250 types of coral have been recorded. Manta rays and humpback whales are other regular visitors to the reef.
And one of the best features of the Ningaloo Reef is it starts right at the shoreline. Most dive sites are not that far offshore, requiring just a short boat trip, unlike most dive sites at the GBR which require a transfer of 90 minutes or longer.
Swimming with whale sharks in Maldives
Best Time to Dive Ningaloo
Peak season at Ningaloo Reef is during the Australian winter months, from May to August. This also coincides with the whale sharking season, from March to August, and the whale watching season, from June to November.
Temperatures are warm but mild, generally in the 20Cs during the day. Water temperatures are usually around 22-24 °C.
During the summer months, both air and water temperatures climb. Daytime temperatures around 45 °C are not uncommon, along with a chance of cyclones (or hurricanes). One of the strongest and most devastating cyclones to ever be recorded in Australia made a direct hit on the area in March 1999.
Best Dive Sites in Ningaloo Reef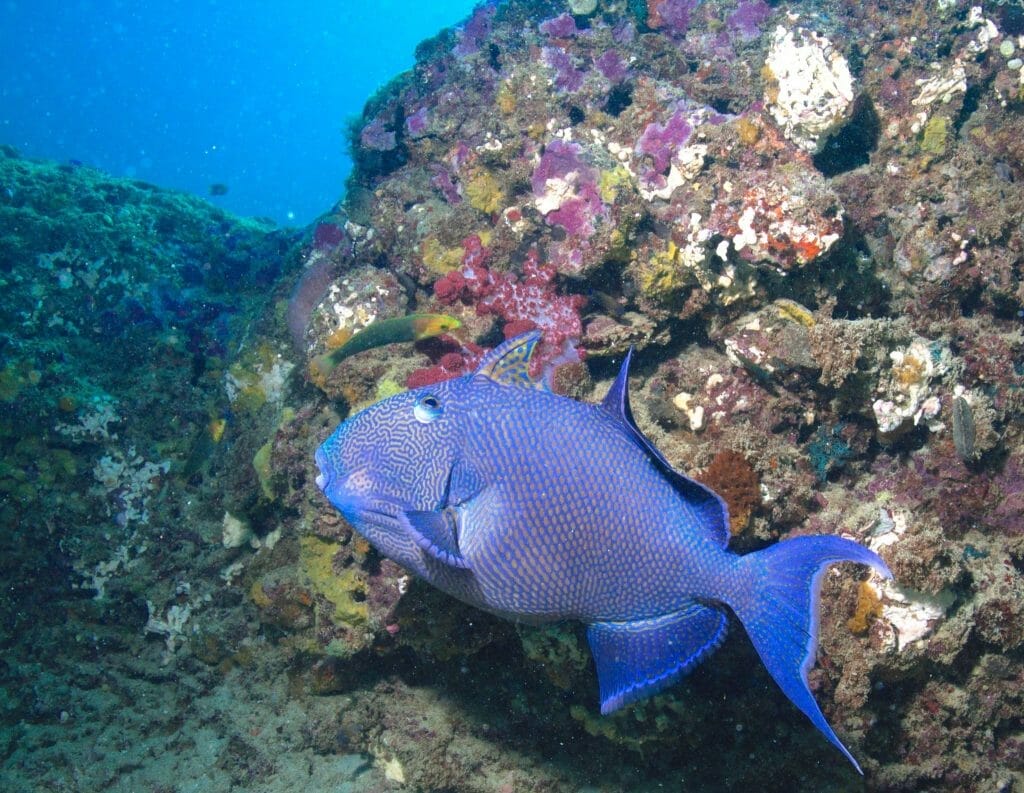 Most dive trips at Ningaloo Reef take place from Exmouth, the largest town in the region, although some trips also depart from Coral Bay, a small outpost 90 minutes drive south.
The majority of Ningaloo Reef dive trips on offer are day trips with a double dive. However, some companies also offer liveaboard tours. There's also the option to get your PADI cert at Ningaloo (as long as you have already completed your medical) or take other dive courses.
These are some of the dive sites that you may visit at Ningaloo Reef.
Central Station, Ningaloo Reef
One of the most popular dive sites at Ningaloo Reef is Central Station. Thanks to the manta ray cleaning station found at the site, there's a high chance of encountering one or more manta rays on this dive during the manta ray season – perfect for a lazy dive spent just observing these graceful giants!
As the cleaning station is surrounded by a sandy bottom, visibility can be an issue on less calm days. The cleaning station is surrounded by coral, with a range of tropical fish likely to be sighted, including butterfly fish, wrasse, and half-circled angelfish.
The Canyon, Ningaloo Reef
A fairly easy dive, this site features a canyon of coral at the start and end. Much of the dive is at lower depths, only 6 to 7m at the beginning and end, great for beginner divers or just a relaxed dive with great underwater photography opportunities.
A cave along the canyon is often inhabited by a grey nurse shark, although I missed out on an encounter during my dive.
Exmouth Navy Pier
This dive site is recognized as one of the top shore dives in the world. Just make sure you organize it well in advance – as a working naval site, special permission is required, and naturally, you need to be on a tour. Currently, Dive Ningaloo is the only operator of the dive.
The amount of marine life found around the 300 m long pier is sensational, partially thanks to limited access, including no fishing in the vicinity. Highlights include grey nurse sharks and giant gropers, plus plenty of smaller creatures.
Murion Islands
The Murion Islands are two deserted islands that are located nine nautical miles off Exmouth. Home to plenty of birdlife on land and marine life in the water, particularly turtles, many dives at the island feature swim-throughs. One of the most popular dive sites is a drift dive between the two islands.
Best Dive Centers at Ningaloo Reef
The two main dive centers operating in Exmouth are Exmouth Dive & Whalesharks Ningaloo and Dive Ningaloo.
Dive Ningaloo exclusively operates dive trips, including day trips and overnight trips, plus diving courses. They also have the only license for diving the Exmouth Navy Pier. If you want to go whalesharking as well as diving, they can organize it through another company, at a slightly discounted rate.
Exmouth Dive & Whalesharks Ningaloo offers a wide variety of trips. In addition to diving and snorkeling trips plus dive courses, they also offer whale shark trips, humpback whale tours, and sunset cruises.
At Coral Bay, the sole dive operator is Ningaloo Reef Dive. They offer both full and half-day snorkeling and diving in Ningaloo tours. As manta rays are year-round residents at Coral Bay, unlike further north, they are a particular focus of many trips.
How to Get to Ningaloo Reef
The easiest way to get to Ningaloo Reef is by flying to the nearby Learmonth Airport. From there you can take a shuttle bus to the main town of Exmouth. Most dive and whale shark trips take place from Exmouth, although some visitors stay in the smaller village of Coral Bay. Snorkeling is also possible right off the beach at Coral Bay.
The alternative way to reach Ningaloo Reef is on a road trip from Perth. It's a long 1200 km drive from Perth to Exmouth, but there are plenty of other attractions to see along the way. For the ultimate Western Australia road trip, continue heading north for another 1500 km to the tourist hotspot of Broome.
What else to do at Ningaloo
While visiting, diving in Ningaloo Reef isn't the only thing to do. There are plenty of other activities to fill your days, both in the water and on land.
Swim with Whale Sharks at Ningaloo
Don't visit Ningaloo Reef during the whale shark season (between March and August) without going swimming with these graceful giants. Thanks to spotter planes, there's a high chance of excellent encounters with these creatures.
Multiple whale shark tour companies operate out of both Exmouth and Coral Bay, including two of the dive companies listed above. If visiting on the weekend or during holiday periods, advance bookings are essential.
Previously during my first visit to Ningaloo, some of the companies offered the chance to go for a morning dive before swimming with whale sharks on the same tour. However, I believe this is no longer offered as an option. Although you'll still usually go snorkeling on the reef first thing in the morning – partially to allow less experienced participants a chance to practice their snorkeling, before the thrill of getting in the water next to a whale shark.
Spot Humpback Whales at Ningaloo
Ningaloo Reef is home to the largest congregation of humpback whales in the Southern Hemisphere during their breeding season, which takes place between June and November.
You'll likely spot one or more whales during any boat trip, whether you are on your way to swim with whale sharks or go diving in Ningaloo. But in recent years the government has granted permission to selected operators to offer the option of swimming with these even larger marine giants.
The tours offering the chance to swim with humpback whales also operate with a spotter plane, meaning there is a good chance of an in-water interaction. These tours are a fabulous option if you're too late in the year to swim with whale sharks.
Visit Cape Range National Park
Want to spend a day out of the water? Then head to the Cape Range National Park, which is also part of the World Heritage listing. It's a 30-minute drive around the cape from Exmouth to the northern entrance of the park.
As well as multiple hikes alongside rocky gorges, snorkeling off the beach is a top attraction. The two most popular sites are Turquoise Bay, home to a drift snorkel, and Oyster Stacks, best visited at a higher tide.
More Tips for Visiting Ningaloo Reef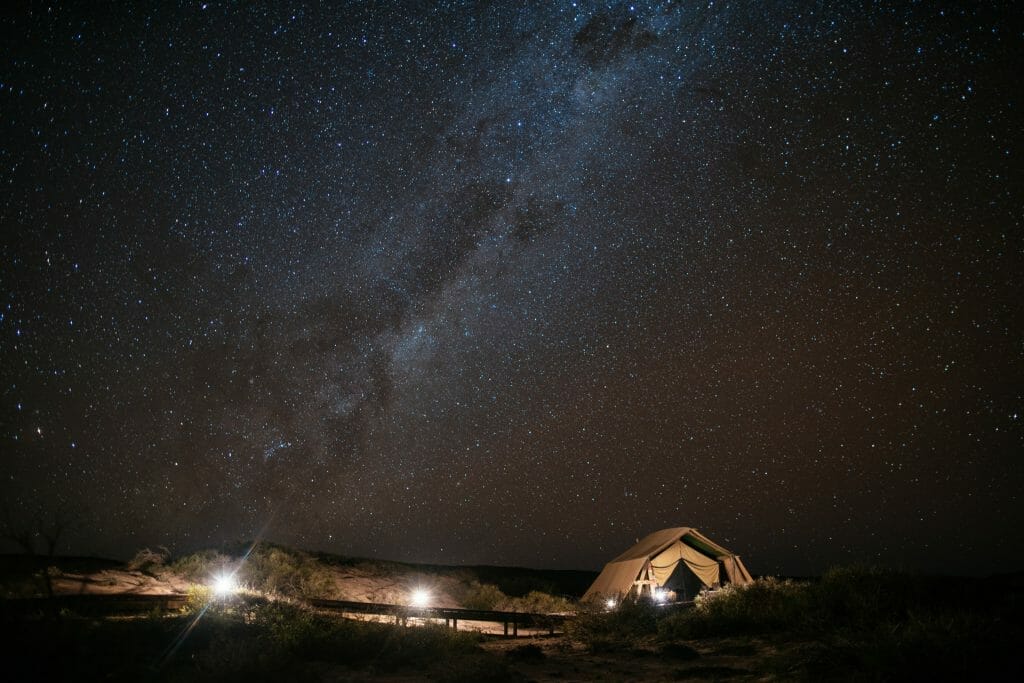 Ningaloo Reef has become an increasingly popular destination in recent years, so it's best to book your tours and accommodation well in advance, particularly if you are visiting on weekends or during the winter school holiday period, or for a limited number of days.
Accommodation in Coral Bay, Ningaloo Reef
In the evening, one of the most popular places to head within Exmouth is Whalebone Brewing. Order one of their tasting paddles served on a carved wooden board, or enjoy a wood-fired pizza.
Alternatively, head to the Vlamingh Head Lighthouse, a 15-minute drive from town. The elevated lighthouse and its carpark is a popular sunset spot, as well as the best spot on land to spot whales out to sea.
Find Hotels in Exmouth