This post contains affiliate links. If you book something through these links I get a small commission at no extra cost to you. You can read more about mydisclosure and affiliate policy here.
…
Guest post by Rachel Brathwaite from Around the Caribbean
Located in the Southern region of the Caribbean, Grenada is a tri-island state often overlooked by individuals considering a vacation. But with numerous wrecks, dive sites, and rich marine life, the excellent diving in Grenada should not be underestimated!
In this guide to the best diving in Grenada, we share a comprehensive overview of the best time to visit as well as some of the best restaurants in Grenada. So get ready for an incredible trip!
The Ins & Outs of Diving in Grenada
Table of Contents
What makes diving in Grenada so special
Diving in Grenada is an extraordinary experience due to the diversity of the underwater landscape. There are approximately 15 wreaks sites suitable for beginners as well as intermediate and advanced divers.
Tyrell Bay is the most recent vessel added to the sunken fleet which is a decommissioned coast guard boat. The vessel was donated to the government by the United States of America in 1984. It is located one mile from the shore of Grand Anse Beach.
The island is home to a wide range of fishes, corals, sponges, stingrays, turtles, lobsters, eels, and other captivating marine life. Sustainability and coral transplantation are efforts that are ongoing to maintain healthy coral reefs and marine life around the island.
The best time for diving In Grenada
So you may be wondering when is the best time of the year for diving in Grenada? Well, the fantastic news is that Grenada's tropical climate provides remarkable diving conditions all year round.
The island experiences a dry season and a rainy season. The dry season starts in January and ends in May while the rainy season starts in June and ends in December each year.
Divers will experience slightly improved visibility underwater during the dry season. However, you can still have a memorable experience in the beautiful turquoise waters in the rainy season.
The best dive sites in Grenada
Underwater Sculpture Park
Did you know that Grenada is home to the first world public underwater sculpture park by British sculptor, Jason de Caires Taylor? Well, it's true and due to the massive success of this site, other underwater sculpture parks have since been erected in many other countries including the Bahamas and Mexico.
Designed in 2007, some of the notable statues include the Christ of the Deep, the Nutmeg Princess, and the Ring of Children.
The Bianca C
This wreck is one of the most prominent dive sites in Grenada and sank in 1961. Thankfully, there was only one fatality out of the 673 passengers on the ship.
Divers are still able to view the rooms, decks, and galley. This dive is more suited to advanced individuals due to its depth.
Exmouth Navy Pier
The MV Shakem sank in 2011 and is an ideal dive for an advanced wreck lover. Many areas of the ship are still in pristine condition and divers will be able to see the bridge and engine room for example.
The wreck is home to various marine life which is a beauty to behold.
Why you should do your wreck diving course
The best dive center In Grenada
Diving is one of the key attractions in Grenada and Eco Dive Grenada located next to Umbrellas Restaurant on Grand Anse Beach is our recommended choice. The team has qualified marine biologists who play an integral part in coral transplantation throughout the Caribbean. There are special rates offered to St George's University students. The University is a medical school with approximately 8,000 persons enrolled in Grenada.
Eco Dive is a PADI five-star dive and free diving center with offering various PADI certifications including open water diver, advanced diver, free diving, and rescue diver. A 2-tank dive for certified divers will cost you approximately $145.
Customized packages are available for groups with a 10% discount available for individuals with personal dive equipment.
Snorkeling tours are also accessible with a 25% discount available for children under the age of 12. The price for a visit to a snorkel site is about $45.
The team is professional and knowledgeable with safety being at the heart of each tour.
How to get to Grenada & Grenada Travel Tips
Grenada is 344 km² and consists of mainland Grenada and its two dependencies Carriacou and Petite Martinique respectively.
The island of Carriacou is accessible in 90 minutes by ferry or in 20 minutes by a small aircraft. It is only 38 km² and has a population of about 8,000 inhabitants. Petite Martinique is just over 2 km2 with about 900 inhabitants and is only accessible via ferry services.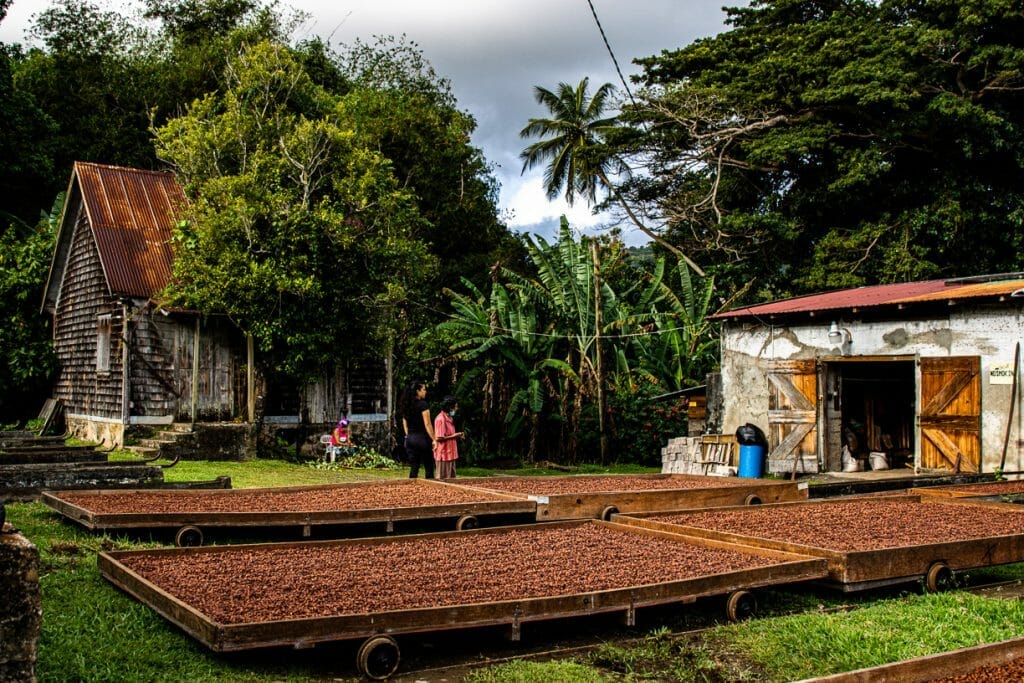 Though not a popular Caribbean tourism destination, Grenada contributes significantly to the global production of spices being the second-largest producer of nutmeg in the world after Indonesia. As a result, it is fondly referred to as the 'Isle of Spice'.
English is the official language spoken. However, there is a dialect used for interaction by the locals. The island has a family-oriented culture with limited businesses open and no public transportation available on Sundays.
There is no Uber or Lyft. However, transportation can be accessed via local ridesharing apps Haylup or Carib Eats.
The official currency of the island is the Eastern Caribbean Dollar. Nonetheless, US dollars are readily accepted by businesses on the island. Hotels and guest houses usually accept credit cards as a method of payment. For ease of doing business, it is ideal to use US dollars in smaller denominations.
There are numerous international flights from major countries thus making it easy to get to Grenada:
American Airlines provides daily non-stop flights from Miami International Airport to Maurice Bishop International Airport. Also, flights originate from Charlotte North Carolina once weekly.
Jet Blue provides daily service from J FK International Airport.
Both British Airways and Virgin Atlantic operate weekly flights via London Heathrow and Gatwick respectively.
For visitors coming from Canada, Sunwing and Air Canada provide flights to Grenada every week.
Finally, in terms of international carriers, Condor provides a flight once every week from Frankfurt, Germany.
For individuals traveling from various Caribbean islands, there are connections via Liat, InterCaribbean, Caribbean Airlines, and SVG Air.
Where To Stay In Grenada
The South of the island is a hub for hotels, guest houses, malls, and other commercial activities. As a result, there is a myriad of accommodation providers within walking distance of the dive shop.
Find hotels in Grand Anse, Grenada
For a more high-end and luxurious experience, both Coyaba Beach Resort and Spice Island Beach Resort share their shoreline with Grand Anse beach.
The Best restaurants in Grenada
Where to eat after a long of diving in Grenada? Due to its location on Grand Anse Beach opposite Eco Dive Shop, Umbrellas Beach Bar is highly recommended. They offer a range of salads, burgers, fish, and chicken snacks.
For a sit-down three-course dinner and formal ambiance, Dexter's Restaurant located in Belmont is our top suggestion.
However, if you truly want an authentic culinary experience, Street Food Wednesday hosted by True Blue Bay Resort is a must-visit. This hotel is located approximately a ten-minute drive from Grand Anse Beach. It is best to take a taxi to this venue as it is not on the main bus route. As a result of the popularity of the event, a booking is required to secure your table.
Numerous local vendors sell local cuisine so be sure to look out for Grenada's national dish called 'oil down'. This dish is prepared in one pot and cooked with coconut milk with various types of meat with breadfruit being the principal ingredient.
If you love pizza, then you should head to Rick's café. It is located in the Grand Shopping Center and is a well-loved hang-out spot for the locals. Ice cream made by local company Sugar & Spice is available in tropical flavors such as nutmeg and coconut.