This post contains affiliate links. If you book something through these links I get a small commission at no extra cost to you. You can read more about mydisclosure and affiliate policy here.
…
Guest post by Abigail Dalton from I'm Going on an Adventure
Undeniably the best Bali wreck dive is diving the Liberty Wreck, Bali. It lies off the coast of Tulamben, a small fishing village on the northeast coast of the popular island, and is the perfect spot for a sunrise dive on Tulamben beach.
The Ins & Outs of diving the Liberty Wreck, Bali
What Makes the Liberty Wreck so special?
The USAT Liberty Wreck is exceptionally special as it's only, at its shallowest point, 4 m from the surface and 40 m from the beach. This means it's easily accessed from the shore, meaning no long boat journeys. That being said, the shore is full of large rocks and stones, so be careful!
You won't need a boat to reach it – which makes it a little cheaper – although that being said, Bali is already a very cheap destination.
It's one of the most accessible wreck sites not only in Indonesia and put wreck diving Bali on the map.
The Story of the USAT Liberty Wreck
Alongside its location, the USAT Liberty has a fascinating history of how it ended up on the shores of Bali. During World War 2, it was targeted and hit by a Japanese torpedo, although luckily it wasn't fated to sink.
The ship was later towed to recover its cargo but took on too much water during transport and was quickly beached in Tulamben. This is where it sat for decades, slowly being stripped of its cargo and parts.
Some 20 years later, during the eruption of Mount Agung, and due to the movement of the ground, the ship slipped into the ocean where it has remained.
The Shipwreck & Marine Life
Its deepest sections are around 30 m, making it an ideal site for beginners to advanced divers. Due to its variation in depth, it's also a fun site to snorkel and you will notice snorkelers splashing around at the surface.
Indonesia is known for its marine biodiversity, such as that of the Komodo National Park which has one of the most diverse underwater habitats in the world and the island of Bali is no exception. At the USAT Liberty shipwreck, you can expect to see an abundant amount of sea life.
When we dived, we saw an eel garden upon our approach to the wreck closely followed by a huge bump head. There was a massive, and I mean massive, napoleon fish hiding within the wreckage and countless soft and hard corals.
It's not uncommon to see turtles and black tip sharks there either but you are certain to find colorful nudibranchs, lionfish, moray eels, and dozens of parrot fish, clown fish, angel fish, and other common tropical fish as well.
The corals are sensational, they have truly taken over the wreckage, however, it's still possible to see certain columns and structures of the USAT Liberty and explore areas such as the deck, engine room, hold and bow section. And while it is a great speciality to have, you don't need to be a certified wreck diver to dive the Liberty Wreck, Bali.
Best Time To Dive USAT Liberty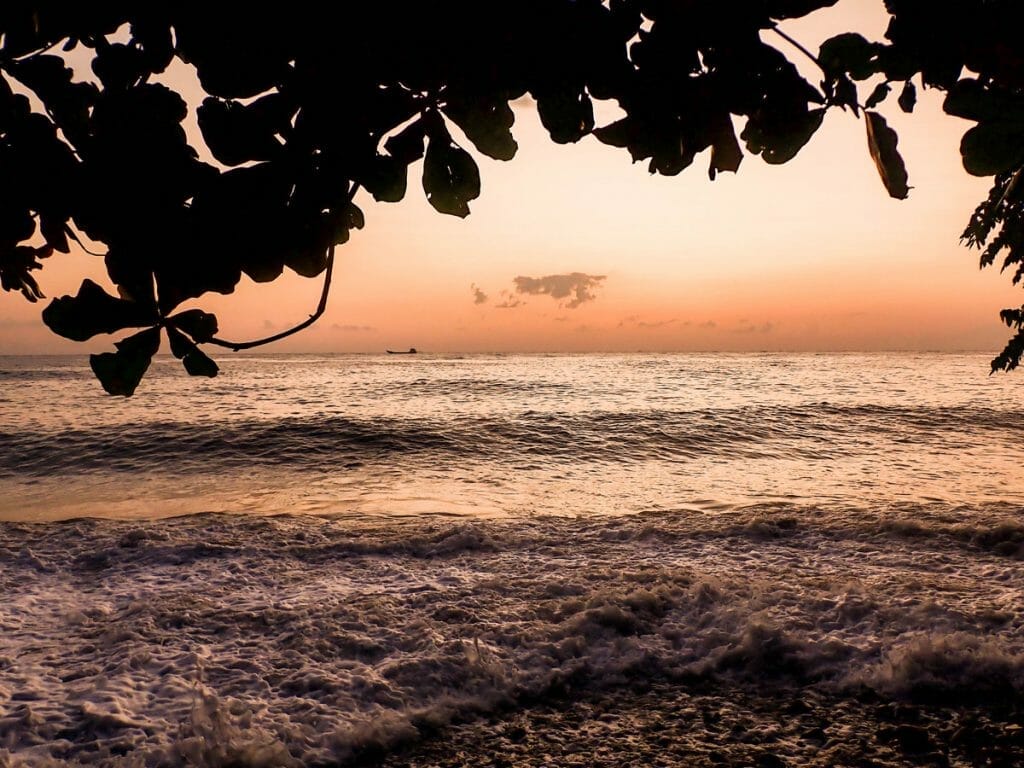 It's possible to dive the Liberty Wreck all year long – one of the great things about Bali is the weather. However, Bali does experience a rainy season between October and April which can reduce visibility.
Visibility is usually around 20 m, rarely reaching more than 25 m due to the plankton in the water. However, it's certainly enough to see the wreck in detail and find yourself surrounded by mesmerizing fish.
During the rainy season it can drop to around 10 m, so keep that in mind if you plan to dive during this time.
There is hardly any current at the USAT Liberty shipwreck either. This means a fantastic opportunity to stay with certain critters and admire corals that you might have struggled to enjoy.
Due to Bali's tropical location, the temperature is consistent throughout the year. It sits comfortably at around 25 ºC. We were in a short 5mm and felt lovely and warm throughout both dives.
The most popular months to visit are during August and September, this is usually when most divers are in the area and so I would suggest avoiding these months if you don't want your dive ruined by others.
The best time to dive the USAT Liberty Shipwreck is in the early morning before the day trippers arrive. It's the perfect location for a night dive and a sunrise dive which will get you in and out of the water before the 10 am hustle!
Night dive at the Liberty Wreck, Bali
During the sunrise dive, which was our first-ever experience starting a dive at night, we were unable to make out the size of the wreck as we were swimming by torchlight. It was pitch black and unworldly.
Closely following our dive master, we were privy to a whole host of new sea life. This is where we saw the 1,5 m napoleon and other nighttime dwellers such as a grouper, 2 large moray eels, bump heads, and a blue-spotted stingray.
On our sunrise dive, we entered the water just as the sky had started to turn orange, reaching the wreck just before sunrise. The changes in scenery were incredible, as the sun came up the daytime species of fish became more active and we'd lost our napoleon and bump heads.
When the light began beaming through the water we saw a breathtaking lionfish, an ugly stonefish, a tiny porcelain crab hiding in the corals, yellow box fish, and many, many puffers. We think that we saw a barracuda lurking in the depths too.
The variety of life at the Tulamben wreck is terrific and we felt so lucky we were able to experience it!
Recommendation for Tulamben dive resort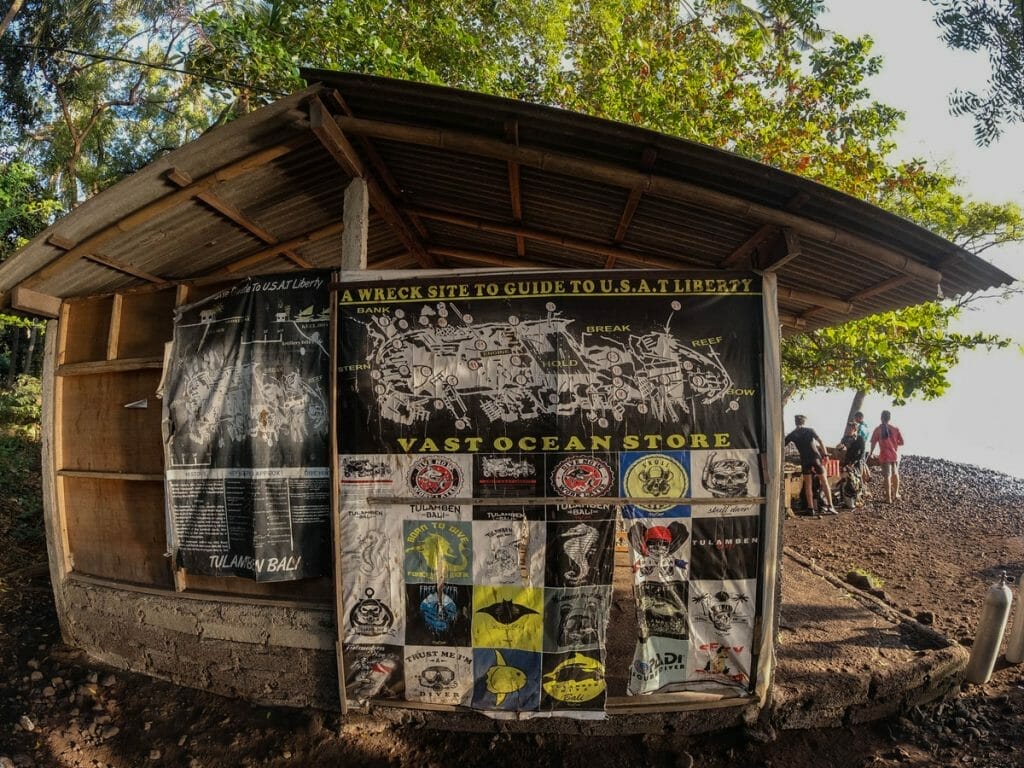 There are loads of dive centers in Bali and Tulamben is no exception. That being said, the village is still rather small so if you can't find one there, you can bet all other dive centers in Bali will offer the chance to dive the USAT Liberty Shipwreck. Therefore you will have no issues finding a dive center.
We used Dive Concepts Tulamben for our dive, the same company we used in Nusa Lembongan and Nusa Penida.
All scuba diving equipment is included in the price
Free Nitrox for Nitrox-certified divers.
Group of 4 persons max. supervised by an experienced dive guide
Free water refill & free wifi at the dive center
1 x fun dive is $22 / Rp 350,000

If you book a whole yoga & diving retreat with Zen Resort they will also take you to dive the Liberty Wreck in Bali. You may have to get up extra early but it is so worth it when you end up diving the wreck without any crowds.
Other great sites for diving in Tulamben
If you want to dive Liberty Wreck, Bali chances are you want to check out what else Tulamben diving has to offer. There are quite a few other dive sites that are also pretty spectacular. Nearby is the fishing village of Amed, which has more dive sites and snorkeling possibilities. The area is a great place to stop by if you want a week of diving!
Coral Garden
Depth: 10 – 25 m
Marine biology, night diving, free diving, navigation & photography.
This dive site is famous for its black-tip sharks which you are more than likely to see. The reef is located in an extremely biodiverse region of Tulamben Bay, the shallow water means it is accessible to divers of all levels and great for underwater photography.
Boga Wreck
Depth: 18 – 36 m
Wreck diving & deep dive specialty courses.
Intentionally sunk in 2011 the Boga Wreck has created an artificial reef bursting with marine life. Not only the shipwreck but cars, statues, and other objects have also been sunk to create an incredible dive site.
Drop Off
Depth: 20 m average
Photography, deep diving & night dives.
Otherwise known as the Tulamben Wall, this dive site has an immense drop-off into the abyss. Starting at 3 meters it's ideal for all levels of divers and an interesting, never-ending place to dive. The reef formed on a lava river from the Mt Agung eruption that caused the USAT Liberty Shipwreck to slide into the water!
Canyon
Depth: 10 – 30 m
Cave & canyon diving
An exciting dive site with a hidden cave and coral wall parallel to the shore. It makes for a fun adventure to test your diving skills with two drops at 6 and 24 meters to arrive at the coral wall. The site has excellent visibility of 10 – 30 m.
Batu Belah
Depth: 15 – 25 m
Macro life & photography
You'll be able to see purple-leaf scorpionfish at this dive site which consists of large lumps of coral on the sand bed. Slightly different from other dive sites in Tulamben it makes for an exciting dive with the possibility of seeing other species than those at the USAT Liberty Shipwreck.
Read more:
A complete guide to diving in Tulamben
A complete guide to Amed diving
Where To Stay in Tulamben & Tips For Your Stay
Tulamben is quite a sleepy village. There are a few resorts dotted along its beachfront which are aimed toward diving retreats, so they are great places to meet like-minded travelers.
Hotels & Guesthouses in Tulamben
However, we wanted somewhere with a little more excitement and entertainment. Enter Amed. Luckily, prices in Bali are very affordable and the island is pretty small, so you don't have to stay in Tulamben. Leaving Amed we met our dive instructors at the dive site in the early hours – after getting a little confused trying to find the entrance.
Amed is a great place to stay with a laid-back boho vibe. Therefore, I would recommend planning your stay in Amed too. There are also many dive sites around Amed, and another shipwreck – The Japanese Wreck – which is spectacular. Otherwise, it takes around 20 minutes to reach the USAT Liberty Shipwreck from Amed.
Accommodation in Amed
How To Get To Tulamben
You can either fly into Bali International Airport which will land you in Denpasar, the capital of Bali. This is the easiest way to get to Bali, however, you might be able to find more affordable flights to Jarkata, which is the capital of Indonesia. You will then need to catch an internal flight to Bali.
These run frequently and you should have no problems reaching Bali on the same day but to be safe, ensure you land in Jarkarta early morning.
If you are already in Bali you will need to make your way to Tulamben. We stayed in the fishing village of Amed which is the next town along and has more facilities. It was one of our favorite places to visit in Bali!
The easiest way to get to Tulamben from Denpasar is by taxi. You can arrange a transfer to meet you at the airport or use an app similar to Uber. Indonesia uses Gojek or Grab, which both are reliable.
Public transport in Bali is questionable at best and I would not rely on it wholeheartedly. We used taxis to move around, luckily they are affordable. Another popular way to get around the island is to rent a scooter.
You'll be able to find scooter rentals throughout the island. Make sure you have applied for an international license in your home country before you travel!
More great diving in Indonesia here!