This post contains affiliate links. If you book something through these links I get a small commission at no extra cost to you. You can read more about mydisclosure and affiliate policy here.
…
You have dived in Tulamben and seen the Liberty Wreck? Great but don't forget its beautiful neighbor and go for Amed diving too!
While Tulamben and Amed diving is usually mentioned interchangeably, Amed has plenty of its own amazing dive sites. And when it comes to action above the surface in terms of beaches, viewpoints, and restaurants Amed is the clear winner.
The Ins & Outs of Amed Diving
What makes Amed Diving so special?
Amed is a paradise for macro lovers. Diving over black sand makes it all the more special and creates a contrasting, interesting backdrop for photographers.
The Amed dive sites are home to an amazing array of cool critters: various nudibranchs, scorpion and leaf scorpion fish, frogfish, ghost pipefish, pygmy seahorses, mantis shrimp and so much more. And all who like it a bit bigger will be delighted by plenty of blue spotted stingrays, reef sharks, and moray eels.
Best of all – diving in Amed is suitable for all levels and the conditions are usually fairly easy. And since most of it is done by shore you won't have to pay extra for expensive boat dives.
Best time for Amed Diving
While you can technically dive in Amed all year long, the best time is during Bali's dry season from April to September. Now the water is warm, the visibility is best and the surface conditions to get in and out of the water are the calmest. You can expect water temperatures around 27-29 °C. You will be plenty warm with a 3 mm wetsuit, in fact, most dive centers will give you a shorty.
While Amed isn't a super lively resort town it can get busy in the high season from July till September when school holidays everywhere bring more divers to the area. While you will probably still find a place to dive and stay without a problem, dive sites can get a bit crowded. I'd recommend you rather come a little earlier in the summer if you can.
Great dive sites in Amed
Most dive centers will offer you to dive both in Amed and Tulamben and mix dive sites accordingly. They are approximately 20 minutes by car from each other. You can find an overview of the best dive sites in Tulamben in the post below, here I will just focus on some of the best Amed dive sites.
What they have in common is that the majority of Amed dives are shore dives and you go in by the beach. Depending on the beach it will be either black sand or small rocks. Local workers usually man the most important dive sites and your dive center will pay them to bring your tanks and gear to the shoreline. A great service especially on dive sites like Japanese Wreck which is only accessible from a car park and stairs leading down to the beach.
I guess the majority of the dive sites in Amed are also accessible by boat and I think it depends on the dive center and conditions which option is chosen. Discuss with them beforehand and also ask for the prices because as a rule of thumb boat dives are always more expensive than shore dive. If it is not necessary, there is no need to pay extra I'd say!
Pyramids
Pyramids is probably one of Amed's most famous dive sites and is home to as the name implies 20 hollow pyramid structures. The whole dive site reaches from 5-20 m with different pyramid clusters at various depths that were put up by the Balinese diving association. By now they have become beautiful artificial reefs. While there is not much in terms of reef when you start your dive the pyramids provide pops of color in the black sand that are teeming with life.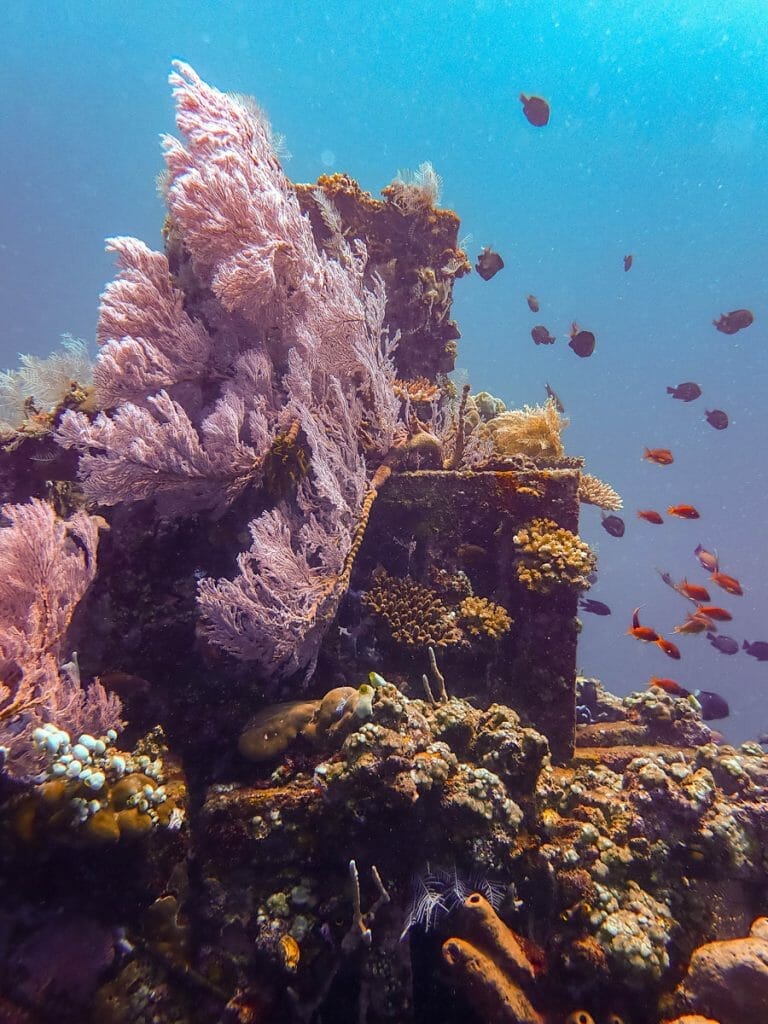 Lots of little reef fish, a few leaf scorpion fish, nudis, morays, and some huge stone fish live there. And they are covered with beautiful soft corals and pink sea fans. In between the pyramid clusters you are most likely going to come across a somewhat boring-looking patch of sand that is full of blue-spotted stingrays. Honestly, there are too many to count and it resembles an airport with stingrays constantly 'taking off' and 'landing'.
Heading back north and shallowing up on your way back you will come across a beautiful field of creamy soft corals and if you are lucky a turtle or two.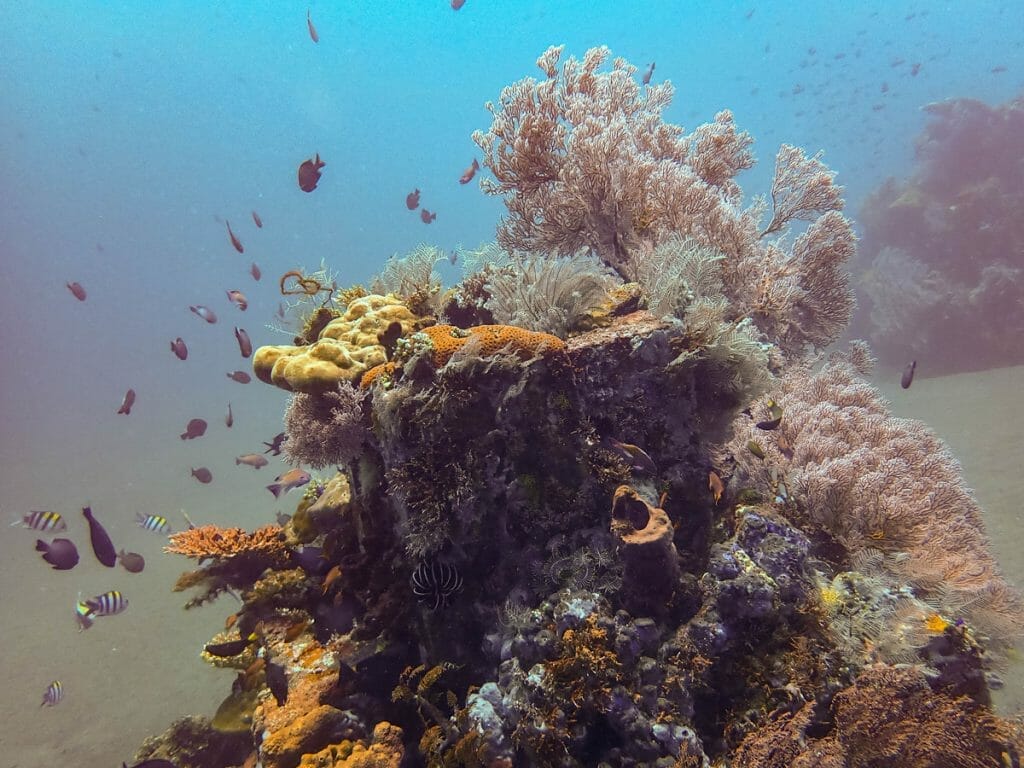 Ghost Bay
I ended up in Ghost Bay by accident as we were meant to dive Pyramids but the current was too strong so we decided to drift the other way. That was just as well because Ghost Bay is known as one of the best muck dive sites in Amed.
Other than black sand and the occasional rock there is not much to it but that doesn't mean it is not full of life. We saw fields of garden eels (creepy but kind of cool), a flying gurnard, and another 'airport' full of blue-spotted stingrays. If you know where to find them there are also frogfish, mantis shrimp, and plenty of nudis to be found – make sure to bring your camera.
Once you shallow up you might see some lobster cages (sad) and stone structures, excellent for finding fun pufferfish and my favorite – bannerfish. We also saw a really cool ghost pipefish in 5 m on our way out!
Japanese Wreck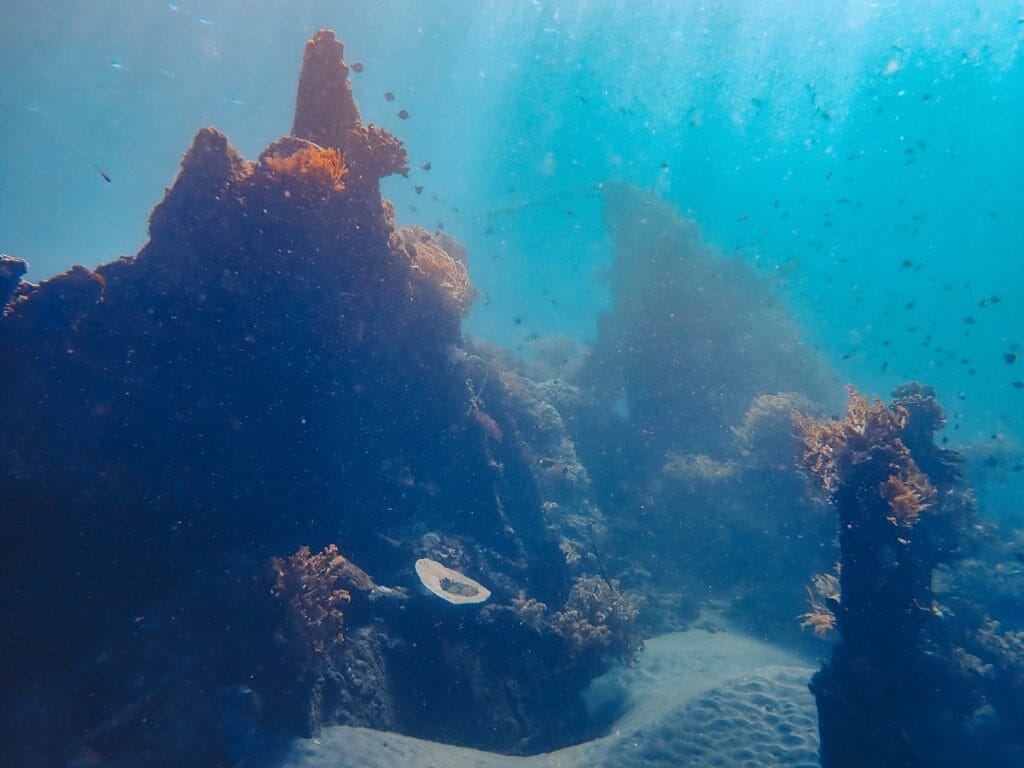 If you are a wreck lover and have already dived the Liberty in Tulamben you might be a tad bit disappointed when you encounter the Japanese Wreck. It is falling apart, to say the least, but still, I reckon it is very worth a dive.
First of all, few wrecks lie that shallow – you will often see snorkelers at the Japanese Wreck because at its deepest it is maybe 8-9 m. It is also just a quick swim from shore though I will admit that we had the roughest surface conditions here from all our dives. Still, it was very manageable.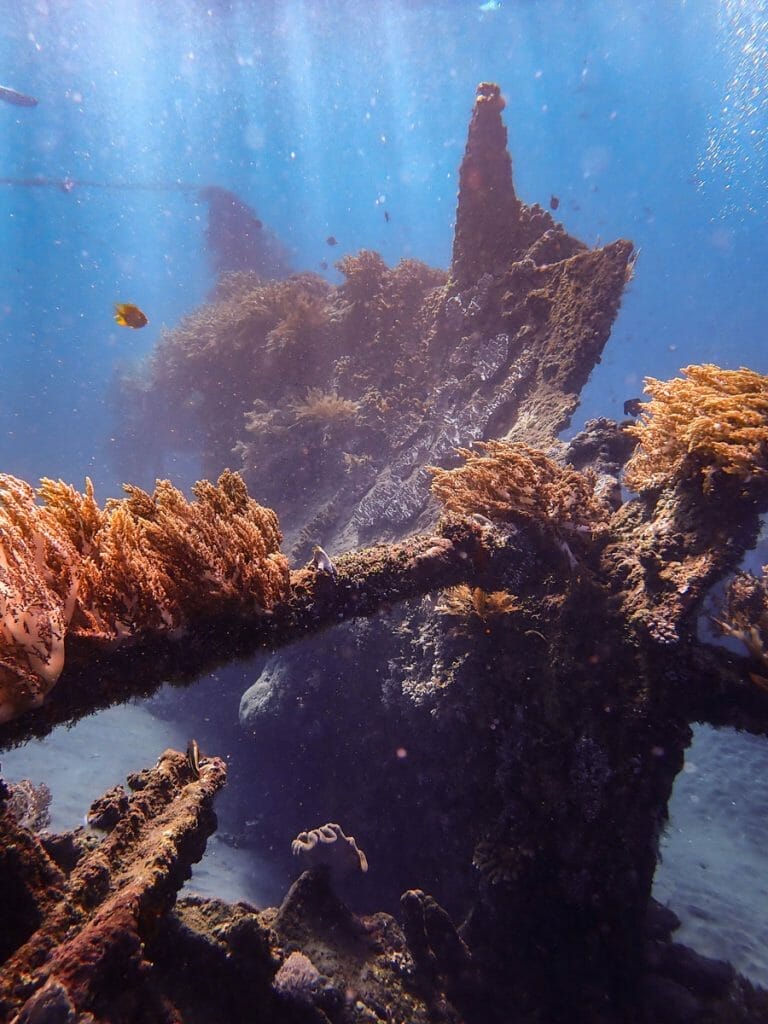 Unlike the Liberty, you won't dive in to explore the ship's structure but rather admire it as the reef it has become especially the beautiful pink and yellow soft corals that cover most of it.
Once you have admired the wreck and waited your turn it is time to head straight to the pink sea fan next to it in 12 m depth. If you have a good guide you will not spot one but two pygmy seahorses who live here!
From there, you follow the reef which is probably not the best I have seen but still full of life. Look for nudis, scorpion fish, and leaf fish, and if you are lucky you will even find an octopus.
Note: Even coming from Amed the drive to the Japanese Wreck is a bit longer so some dive centers will charge extra for diving here.
Jemeluk Wall
Jemeluk Bay consists of Pyramids on the one side and Jemeluk Wall on the other side. As the name wall implies you are diving along a drop-off going down to about 40 m.
To be very honest, I am not the biggest fan of wall diving but Jemeluk Wall is a beauty as there is a lot to discover. And best of all – you don't have to be deep certified or even an Advanced diver as the fun already starts at 10 m.
The wall is famous for beautiful Gorgonias, plenty of reef fish, and if you get lucky even some sharks. We didn't see any but instead got a white scorpion fish, leaf fish, a turtle, nudis, and a cute barramundi.
The sheltered bay is located at the south tip of Nusa Penida and usually well protected from current. With a depth of 10-12 m the manta cleaning station (aka a big rock) is even suited for beginners, though there is usually a bit of surge going on. Not too bad though, once you get used to it and learn how to go with the flow.
How much does diving in Amed cost?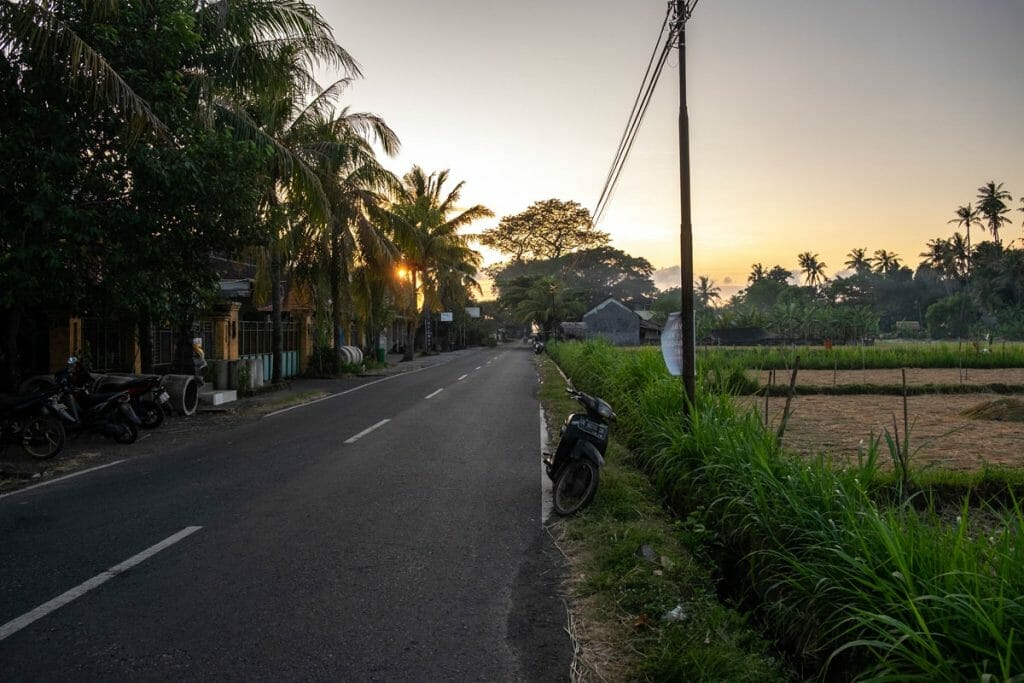 Diving in Amed is not too expensive compared to other parts of Bali like Nusa Lembongan as most of it is shore diving so there are no fuel costs. Also, many dive sites are close together so there are no long drives to consider. Even if you go to dive in Tulamben the drives are about 20 minutes.
Costs for diving in Amed can vary greatly between the different dive centers and range from Rp 350k incl. equipment and Nitrox for a single dive to Rp 700k excl. equipment and Nitrox for one.
My tip: whether you are renting or bringing your own make sure you have open-heeled fins and sturdy neoprene booties. Otherwise, your feet will suffer on the rocks or the hot sand when getting in and out of the water.
I use these Poseidon booties, which not only look cool but are also super comfortable. Otherwise you can look here for neoprene dive booties.
Fact is even a 2 dive day will make it a lot cheaper and all dive centers offer good package deals for multiple days of diving and sometimes also accommodation. Most dive centers charge extra for night dives as well as for dives further out in Nusa Lembongan or Padangbai.
Most prices are the same for dives in Amed and Tulamben and will include land transport, tank, weights, dive guide for a shore dive, and drinking water as well as any local fees at the dive sites and porters who bring your gear from the parking to the beach.
Note that pretty much all dive centers will charge 3-5 % extra when you pay with credit cards. I recommend you either come prepared with enough cash or use Wise for a bank transfer.
I would usually give you a recommendation for a dive center in Amed here but to be honest, I am having a bit of a hard time. I went with a well-established dive center in Tulamben that also has an office in Amed. While they are by far the cheapest dive center in the area and have amazing local guides, I found the overall experience lacking. From the get-go while emailing it was confusing and disorganized and unfortunately, that continued once I arrived.
For me, it was still worth it because their prices are just that low (make sure to put some budget asides to tip your guides!) and I dove with my own gear. If you use rental gear anywhere make sure that everything is up to date and in good condition before you head towards the ocean.
Otherwise, there are plenty of great dive centers in Amed like Two Fish Divers that come greatly recommended and that I would go to if you are looking to get your Open Water certification or do your Advanced.
How to get to Amed & how to get around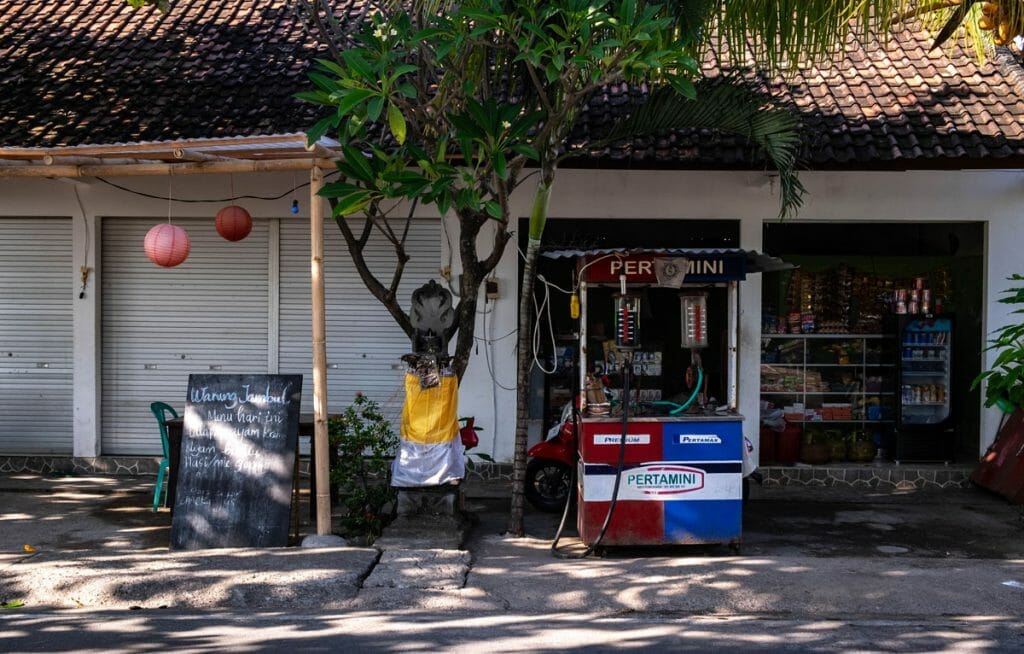 Amed is all the way on the east coast of Bali, surrounded by rice fields, banana orchards, and mountain ridges. And of course, it is watched over by mighty Mount Agung, Bali's highest and still very active volcano.
To get here you can either take a private transfer (most dive centers can organize that for you) or a shared shuttle minivan. The drive with a private car will take you about 2,5 hours from Ubud and 3 hours from Canggu but do take these travel times with a grain of salt as there is always Bali traffic to consider.
A private transfer will cost you 600-700k.
Shuttles leave from all major hot spots in Bali and depending on the distance will cost you 150-200k. Mind you, this will take you quite a bit longer as people are being dropped off and collected on the way. What kind of luggage you can take will depend on the operator. Additionally, you should check before if the shuttle will pick you up from your accommodation and drop you at your guest house in Amed or if they go to a meeting point as this can also vary.
And of course, you could always take your own motorbike if you are a decent driver. The roads are not bad and the views are pretty stunning on the way. That said, if you are traveling with a lot of luggage and your dive gear this probably won't work.
Once you have made it to Amed you either rent a bike now or you walk but the town is surprisingly long. Unfortunately, Grab and GoJek do not work here though there are some ojeks always waiting on the side of the road.
If you go diving check with your dive center if they offer a shuttle to pick you up and drop you off at your accommodation, or if they are within walking distance. If you don't drive a motorbike I recommend you book yourself accommodation close by so you can walk places.
Hotel & restaurant recommendation for your Amed diving trip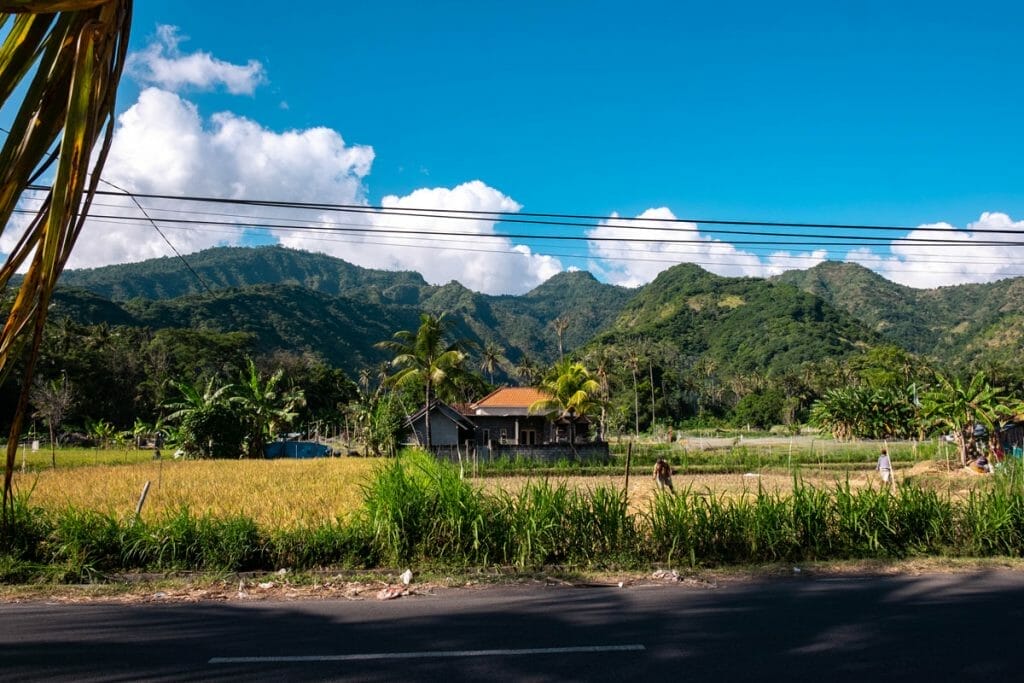 I hope I have convinced you to go diving in Amed. How to plan your trip and what else there is to Amed as well as some great dining recommendations here:
Come prepared and do bring enough cash to Amed! There is only one ATM in town at the Indomaret and it frequently runs out of money. While some restaurants accept credit cards not all do and as I have mentioned, many hotels and dive centers charge a fee for credit card use.
Where to stay in Amed
I stayed at Amed Kunara guest house and cannot recommend it enough. It is re located right at the start of Amed and is run by the incredibly nice Elsa and her mom. The rooms are spacious and comfortable with good wifi, aircon, and a hot shower. There is also a big terrace in front of each room and you overlook their garden.
The prices are incredible and a yummy breakfast is included each morning. They do have 2 dogs and a very cute cat – if you don't like animals around, well, Bali might not be the place for you.
Check out rooms & prices at Amed Kunara Guest House
Great restaurants in Amed
For such a small place, Amed has a surprising amount of good restaurants in addition to the usual warungs.
My favorite was Pasta Home, right opposite my guesthouse. As a complete pasta snob, I can confirm that their pasta is always al dente, very yummy and the service is lovely.
If you are in the mood for tacos or nachos head to La Cocina Mexicana, a pretty decent Mexican restaurant. No, the tacos don't compare with those in Tulum but they do make all their nachos and corn tortillas themselves and it shows. They also have a vegan option for tacos, burritos, and nachos and also bottle their own coconut water.
No place was recommended more often to me than Rimba Cafe and on my last day I finally made it there. It is a little garden jungle paradise and if it was in Canggu it would be overflowing with influencers. As it is, it is overflowing with divers enjoying a dry day with a smoothie bowl or one of their very good pastries.
I also spent 2 evenings on the beach at Green Lemon and at Stone Cafe & Bakery. Neither was something to write home about but the food was good and the sunset was lovely, at least for an east coast location.
For my final meal, I went to Warung Enak which came also highly recommended. I don't know if I misread the description (someone mentioned a great sunset view) however, it is not on the beach but on the main road. Unless you are set on having a proper seaview sundowner it doesn't matter – the setting is nice enough and they make a very nice grilled tuna.
What else is there to do in Amed?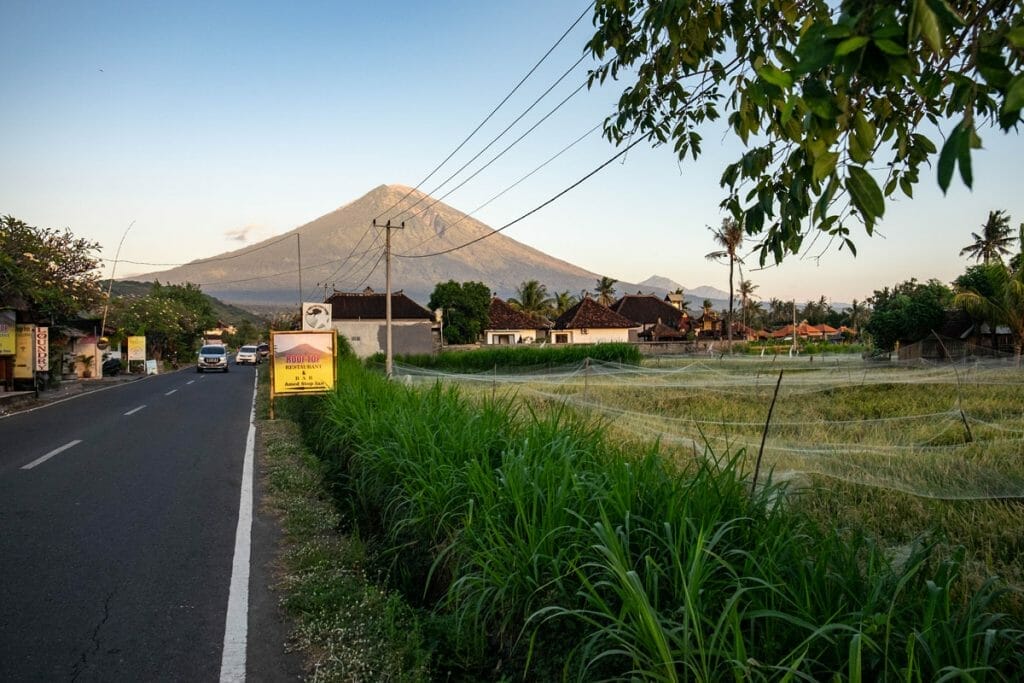 The honest answer: not much. I sincerely doubt that many will take the trip to Amed if they are not divers. There are much nicer beaches elsewhere in Bali and also more activities to do in other parts of the island.
That said, Amed is a great starting point to hike Mount Agung if you are fit enough.
Alternatively, there are a few cafes on the beach where I am sure you can lounge for a few hours or head for a dip in their pool and a sunset cocktail. There is also a surprising amount of tattoo studios for such a small town as well as a couple of cute boutiques.
On a dry day, you should definitely go to Aura Spa (they have 2 locations now on opposite ends of Amed) as they do great and inexpensive massages.
Want to dive somewhere else in Indonesia? Check out these posts:
RAJA AMPAT LIVEABOARD WITH THE EMPEROR RAJA LAUT
A GUIDE TO DIVING IN GILI ISLANDS, INDONESIA