This post contains affiliate links. If you book something through these links I get a small commission at no extra cost to you. You can read more about mydisclosure and affiliate policy here.
…
Diving in Tulamben and Amed on the east coast of Bali easily leads the charts when it comes to some of the best diving in Indonesia. With good reason, I think!
Why you should go diving in Tulamben, what to expect, and how to plan your trip in this article.
THE INS & OUTS OF Tulamben, Bali DIVING
What makes Tulamben Diving so special?
Diving in Tulamben is world-renowned probably because it is home to the Liberty shipwreck. The dive site is a beauty to be sure and easily accessible even for Open Water Divers, not a given when it comes to stunning wrecks.
But beyond the Tulamben US Liberty wreck ship, there are so many stunning dive sites in the area, especially if you are a macro lover. Add to this all the amazing Amed dive sites which you can cover in one trip and you are in for a proper treat.
THE ULTIMATE GUIDE TO AMED DIVING
In addition, diving in Tulamben is not too expensive, conditions are not too challenging, and the dive sites come with dramatic backdrops thanks to the black sand as well as healthy corals all around. And have I mentioned all the teeny-tiny nudis and cool critters you can find? How I only managed to see one lone frog fish I still don't know…
Best time for Tulamben Diving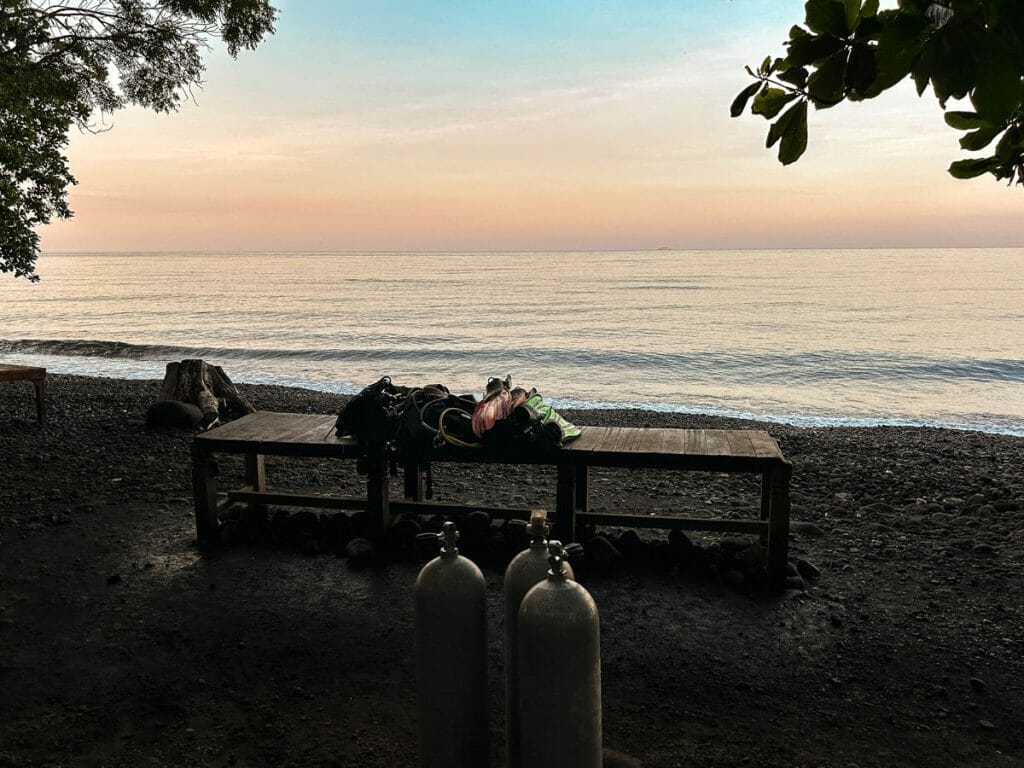 You can go diving in Tulamben all year long but the best and busiest season will be April to September when it is Bali's dry season. Water temperatures will hover around 27-29 °C and you won't ever need more than a 3 mm wetsuit if that. Visibility will also be best during these months and the surface conditions are calmer. The latter I find especially important because when the waves are crashing it can be tricky to get in and out of the water.
If you come from July to September it will be the most crowded as this time collides with school holidays. You will need to book your accommodation a bit in advance and be prepared for more crowded dive sites.
Great Tulamben dive sites
You probably know about my love for tiny critters and frogfish by now. Macro and muck diving is my thing. And Tulamben is known not only for Lady Liberty but some of the best macro diving in Bali. Here are a few of the great dive sites in Tulamben:
Liberty Wreck
To be very honest, the Liberty is not my favorite dive in Tulamben nor is it my favorite wreck (that is in Mauritius if you are wondering!). But to be fair this is probably due to the fact that I had horrible surface conditions during my one and only dive at the Liberty. I stumbled on my way out and ended up sitting on the rocks, just hoping the waves wouldn't crash my face into said rocks. Luckily I had the most amazing dive guide from Zen Resort who basically carried me out.
But I digress – I am actually not here to scare you (just watch the conditions!) because the Liberty is a stunner and if you only do one dive in Tulamben this would be it. You can read all about her here:
A GUIDE TO DIVING THE USAT LIBERTY WRECK, BALI.
She can get quite crowded though so I recommend you inquire about a sunrise dive. In addition, if you come early enough in the season you will be able to see a school of bumphead parrot fish around.
Drop Off
Drop Off is often combined with diving the Liberty and is a lovely dive site. You will usually dive or drift along a wall after having descended a black sandy slope.
On your way, you will see blue-spotted stingrays, groupers, black-tip reef sharks, and schooling reef fish. They say, you also have the chance to see some passing mantas but honestly, I wouldn't count on it and rather go to Nusa Lembongan after.
That said, Drop Off is a perfectly pleasant dive though for me looking for tiny nudis and pygmy seahorses is just so much more exciting.
Coral Garden
The Coral Garden, Tulamben is another dive site that may need to grow on you. Going down all you will see is black sand and plenty of black rocks. Next up is an artificial reef with some cool structures: stone sharks, turtles, dolphins, and a TULAMBEN sign covered in colorful marine life.
From there you make your way over to some more Balinese structures and underwater temples. On the way, you are looking for garden eels, peacock mantis shrimp, leaf fish, and yes, hurrah a tiny yellow frogfish!
Shallowing up after the next set of structures you will finally see the coral garden the site is named after. In about 5 m you will find 'fields' of anemones and tiny reef fish – this is Tulamben diving at its best!
Seraya
Seraya was the first dive site my friend (who is an instructor in Koh Tao) told me I had to do when diving in Tulamben. It is one of those dive sites I would describe as 'ugly as shit' and thus a beautiful paradise for macro lovers. Honestly, I am getting chills just thinking about it because it is just so stunning.
You don't have to go deep in Seraya unless you want to say hi to the pygmy seahorse that lives in a purple-pink fan at around 32 m. Once you have seen it you just zigzag along on a black sand slope with a few rocks and corals – as I said, it is ugly. But wait! Because now you will see sea moths, a small scorpion fish, big stone fish, and a lot of cool nudis. If you have a good dive guide they will also find you some tiny fighting shrimp that reminded me of Fantastic Beasts.
Oh and if you get even more lucky you will see the 2 white ghost pipefish that live at around 9 m.
Melasti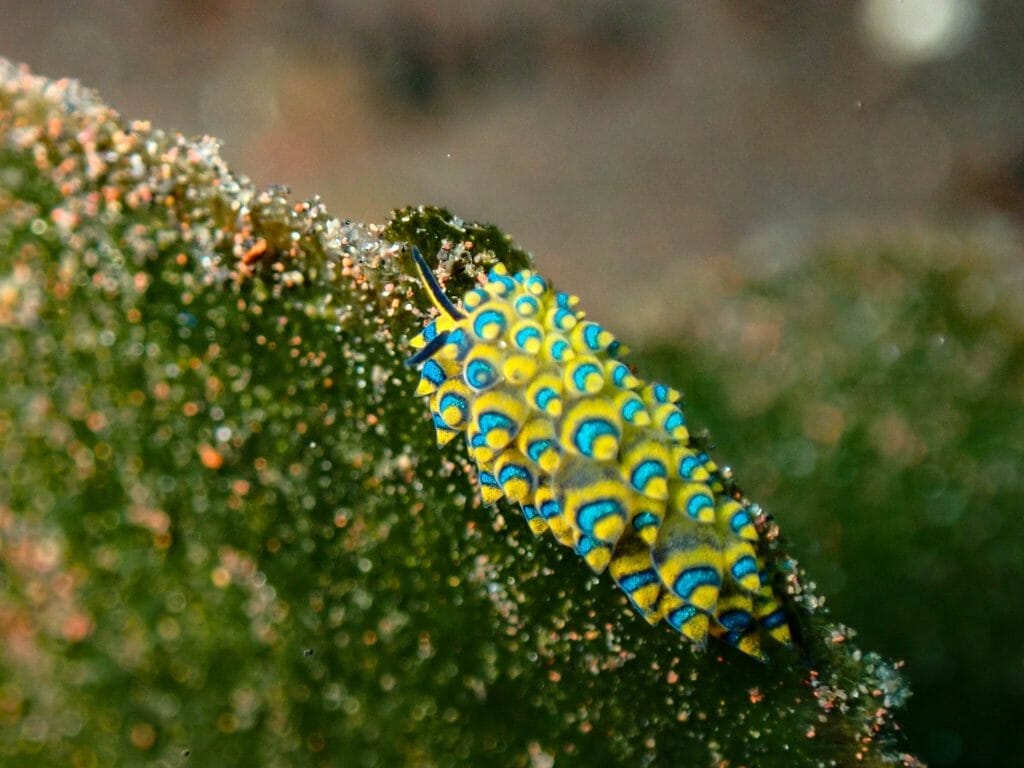 Melasti is also part of the Seraya coast and if possible even uglier. You shouldn't come here if you don't appreciate 'Where is Waldo?' and looking for the tiniest of tiny sea creatures. Melasti should be better-called Nudi Heaven because it is best known as home of Shaun the Sheep and stiligers. The latter is a type of sea slug only somewhat related to nudis. They are both equally hard to find especially if you have an untrained eye as they are smaller than a grain of rice.
But honestly, once your guide has shown you, the hunt is on! To me I am not happy anymore simply seeing them, I want to find them myself and take a good picture too. I am still working on the latter but honestly, Melasti was probably my favorite dive site in Tulamben.
How much is diving in Tulamben?
How much diving in Tulamben costs is a tricky question to answer. I guess I am used to places that have a more uniform pricing system. There is no such thing as a standard price in Tulamben and I found prices ranging from Rp 350k for a dive including equipment & nitrox top Rp 700k for a dive without equipment & nitrox. Crazy if you ask me!
But in general, prices tend to be lower here than in the rest of Indonesia or even parts of Bali as the majority of the dives are shore dives and pretty close to each other.
I wasn't really happy with my dive center in Tulamben, to be honest, but they were by far the cheapest in the area and did offer some great package deals. But I wouldn't recommend you pick a dive center purely for a cheap rate especially if you are renting equipment from them. So with that said, I won't endorse them here but recommend you do your own research.
In general, all dive centers in the area offer some good packages so as soon as you book 2 dives or more you will save a bit. Dives will include land transport, tank, weights, dive guide, and fees for the local porters who take your gear from the parking to the beach. The rest of your equipment may or may not be included in the price.
Another nuisance when it comes to Tulamben diving prices: a lot of dives are at a surcharge and sometimes it is a bit hard to keep track of. This usually happens for those that require a longer drive, early morning or night dives at the Liberty, and obviously when heading out with a boat.
I also recommend you come prepared with enough cash as there is no ATM in Tulamben. The next one is in Amed and it is not always stocked. Most dive centers will charge 3-5 % for credit card transactions so either pay in cash or do a transfer with Wise.
Some general tips for diving in Tulamben
Whether you bring your own gear will be up to you, however, make sure you have sturdy neoprene booties. Otherwise, your feet will suffer on the rocks or the hot sand and it might be tricky getting in and out of the water. Check out my Poseidon booties or look here for neoprene dive booties.
All dive sites in Tulamben have black sand bottoms. This means you will need to have excellent buoyancy so you don't mess up your and your buddy's visibility. While you can dive in many locations with an Open Water I recommend doing your Advanced or Peak Performance Buoyancy course so you are prepared.
Same goes if you are bringing your camera – this is definitely the area to bring out a macro lens or use a great macro camera like the Olympus TG-6. I am personally not a big fan of the UW photography courses that PADI and SSI offer but recommend you familiarize yourself with all the settings and again, practice your buoyancy.
How to get to Tulamben & how to get around
The cheapest way is to get a minibus from various locations in Bali to Tulamben or Amed. That said, the drive will be quite long and probably bumpy. It will depend on the company whether you are being dropped off at your accommodation or at a central point in town and how much luggage you can take. Make sure to check before booking!
If you are not carrying a lot of stuff or your own dive gear, you could always rent a motorbike and drive to Tulamben. The trip is stunning but you should be a confident driver because traffic even in this more remote corner of Bali can be a bit ruthless at times.
The most comfortable way is definitely hiring a private driver. Needless to say, this is the most expensive option as drivers will usually come from Denpasar or Ubud and will need to charge for their time driving back. I recommend you ask your dive center as they might be able to offer a shared, semi-private ride. Otherwise, a car will cost you Rp 600-700k.
In Tulamben, you will need to walk or ask someone for a ride. There are no Grabs or taxis, then again Tulamben itself is small enough to walk. Your dive center will organize the rides to the dive sites.
Tips & recommendations for your Tulamben diving trip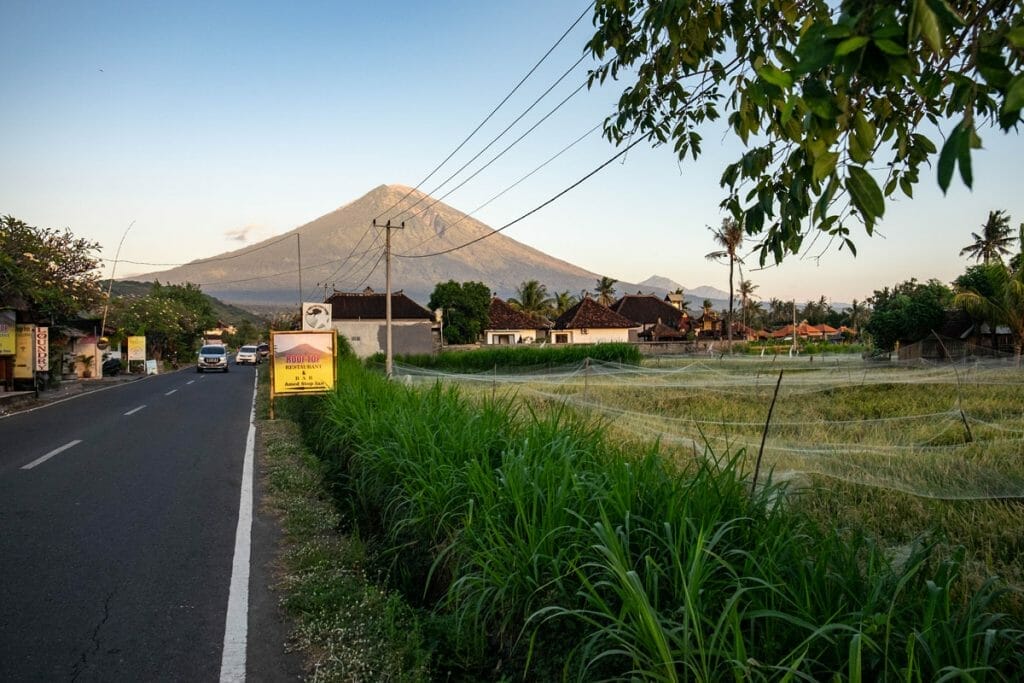 My most important tip for your diving trip to Tulamben – don't go! As in, don't stay in Tulamben.
Having stayed in both, Tulamben and Amed, for a few nights, I would always, always recommend you stay in Amed. Honestly, I was miserable the first couple of nights in Tulamben until I made a cat friend.
Tulamben is basically one long road, a few mini-markets, and the Liberty. And yes, there are dive shops and dive resorts but honestly, Tulamben made me sad. There is one nice restaurant/bar called Slice and Brew on the main road and the resort next to it makes a really good grilled tuna but that's it.
All the dive centers will do trips to Tulamben and fetch you in Amed so there is absolutely no good reason to stay in Tulamben. The drive, depending on the dive site you are going is around 20-30 minutes.
Please please do yourself a favor and book a room at Amed Kunara, a guest house in Amed. You will thank me later! The guest house is stunning, the owner is the loveliest, and you are so close to the beach, many great Amed restaurants, and Aura Spa. You can find all my tips about Amed here and while you are there you can dive all the great dive sites Amed has to offer!
Check out rooms & prices at Amed Kunara Guest House
Want to dive somewhere else in Indonesia? Check out these posts:
A GUIDE TO DIVING IN GILI ISLANDS, INDONESIA.