Advertisement: I was invited by Zen Resort and Neue Wege to my retreat.
Yoga and diving are two sports that complement each other like few others. While I used to do a lot of yoga at one point in my life, my practice has slipped a lot in recent years and I realized – I miss it! So I was incredibly excited to be invited to join a yoga and diving retreat at Zen Resort in Bali by Neue Wege.
If you are looking for a great place that offers wellness, yoga and scuba diving retreats I suggest you read on.
Yoga and Diving retreat at Zen
Zen is a wellness and dive resort on Bali's north coast, an incredible area for scuba diving. They offer various retreat packages with a focus on Ayurveda, wellness, healing, yoga, and diving.
What is different from a regular diving resort in Bali you may ask? Zen's holistic approach to diving is quite unique. Under the name Zen Harmony Diving their expert team integrates yoga, Ayurveda, and pranayama (breathing exercises) with diving. The goal is to explore Bali's amazing underwater world but also to use scuba diving to improve your overall health and fitness.
Incorporating yoga and pranayama into your daily routine will ultimately improve your diving. Your air consumption will decrease the better you get at utilizing your air and your buoyancy control will get better as well – ultimately two of the most important aspects of what makes diving fun and helps you to become a better diver. A bonus: if diving doesn't already feel like meditation for you, this will surely do the trick.
What does a yoga and diving retreat at Zen entail?
Zen offers various wellness and Bali diving packages for you to choose from. It doesn't matter if you are a total newbie when it comes to diving or a pro – they have something for each level. Retreat packages run from 3 to 10 days. If you are not a certified diver yet you can either do a Scuba Discovery or get your Open Water and Advanced Open Water while there. For those already certified you go fun diving and explore some of the best dive sites Bali has to offer.
All packages include accommodation, full board, dives including a guide or instructor as well as equipment. If you book your diving retreat through Neue Wege they will also include your flight as well as airport transfers.
In addition, you can do meditation and yoga classes in the morning, have a post-dive pranayama session, and do sunset yoga every day. Depending on the package you choose there are also various activities included that range from waterfall visits to a sunrise dolphin cruise.
By the way: if you are not into scuba diving you can also do a freediving retreat at Zen!
The Dive Center at Zen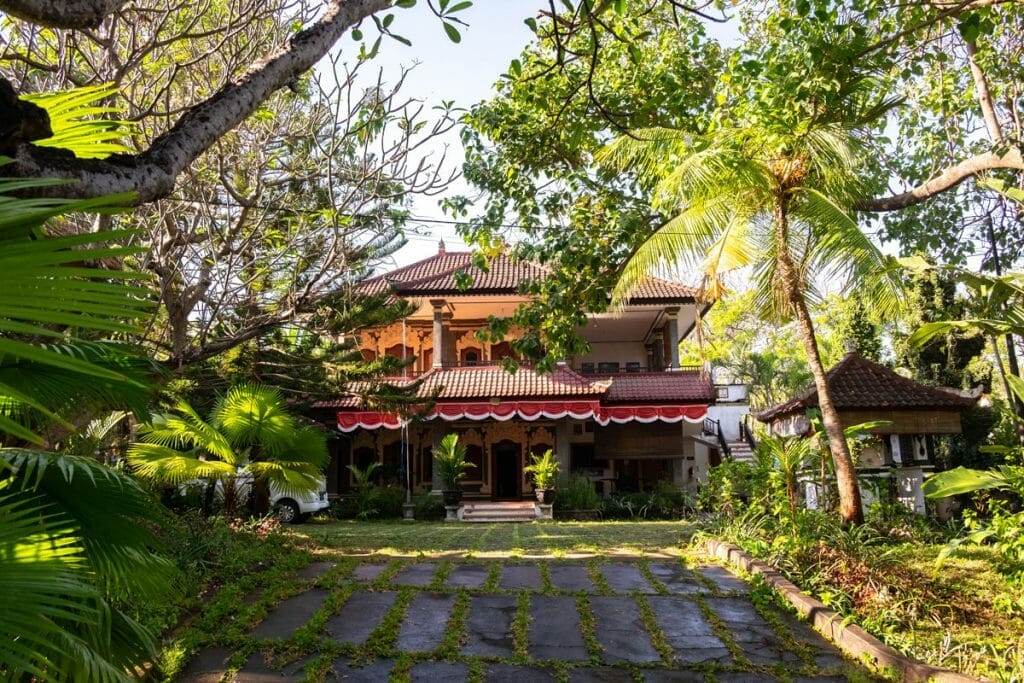 The dive center at Zen is a PADI 5 Star Dive Center led by their amazing local guide Gede. Instructors are called in on a freelance basis as needed. If you are doing a course, you use the resort's pool for your confined water sessions.
What makes Zen the perfect diving resort in Bali: you have all that you need for a relaxing holiday right at your fingertips. This way you can simply roll out of bed in the morning, do yoga just a few steps from your room overlooking the ocean before a coffee to-go and transfer awaits to your dive site.
And needless to say, the wonderful staff will take care of your equipment when you get back so you can simply focus on your post-dive pranayama and lunch (you will not want to miss that!).
For longer trips, the crew will prepare a takeaway breakfast or lunch for you and take care of things like water, towels, and park fees where applicable. All you will need is your bathing suit, reef-friendly sunscreen, and your camera.
My yoga and diving retreat experience
My yoga and scuba diving retreat went a little differently as I also got to try some of their Ayurvedic treatments while I was there. Neue Wege had organized a 4 nights/ 5 days package for certified divers for me. Since I was the only diver at the time, I got to modify the itinerary to my liking after chatting to Gede.
For the first dive, we went to Puri Jati, a muck diving site just a few minutes from the resort at Pantai Umeanyar. I am obsessed with muck diving! I love nothing more than diving at a seemingly 'ugly' dive site only to discover little treasures. And ugly Puri Jati is! But for those with a keen eye and appreciation for weird and wonderful creatures, it is absolute paradise.
Puri Jati is a known dive site to find Mimic Octopus though we weren't lucky. Mind you, I was still very excited about what we found. First up were two Pegasus Sea Moths, a creature I had only heard about but never seen. Then we saw plenty of Shaun the Sheep Nudis and having my Olympus TG-6 with me I got my first somewhat decent shots of them. I also found a baby scorpion fish, expertly camouflaged in the sand, and a family of bannerfish. Schooling bannerfish are another obsession of mine and so I was excited to see that there were babies amongst them.
The next day after morning meditation and yoga we drove west to Menjangan Island which is part of the West Bali National Park. Menjangan is known for its migrating and swimming deer (sadly we didn't see any as there were too many people on the island's temple for a ceremony) and for some pristine reefs.
We dove at the Underwater Cave and Coral Garden, two beautiful dive sites with walls covered in fan corals. The Underwater Cave is easy to access even for non-cave divers and home to a few electric clams.
Overall, diving in Menjangan was a beautiful experience. I am not sure I would travel far for it but if you are in the north of Bali, I think the island is definitely worth a detour!
My final day of diving took us to Tulamben. I had missed out on diving the Liberty Wreck and Amed due to being ill before so I was excited to go now. Zen Resorts does diving in Tulamben a little differently. You will leave the resort at 4 am (yes, you can take your pillow!) to be on the east coast and ready to dive by 6 am just in time for sunrise. This way you will usually avoid any crowds at the USAT Liberty, the wreck the area is so famous for.
By the beach, there are facilities you can use like toilets, showers, and basins for equipment washing, and there are local porters to help with your tanks. Mind you, this was shore diving I had not experienced before. While getting in was okay, getting out was quite tricky thanks to crashing waves. Let's just say that I looked anything but graceful and was very thankful for Gede and a local guy who helped me get out safely.
Complete guide to diving the Liberty Wreck, Bali.
The wreck itself was beautiful though due to the waves we were struggling with bad visibility. We decided afterward to scrap our second dive in the area and instead headed to calmer shores in Lovina.
Lovina Reef isn't one of the most exciting dive sites in Bali, but I was more than happy to be done with shore diving shenanigans for the day. We hopped onto a traditional fishing boat and I followed Gede to find tiny shrimps, Nudis, and even a reef shark for me.
Other Experiences during my yoga and diving retreat
There are plenty of activities for you to partake once you get out of the water at Zen. You can read all about their complete wellness program in this post. A highlight for me was the dolphin cruise on the last day. Unlike other tours, Zen organizes their cruises to start way before sunrise. Being on a boat, gliding over the dark ocean, and finally greeting the sun is all part of it. When I was told that I had to get up at 4.30 am again, I rebelled and arranged to be picked up an hour later. To be honest, I found it slightly unnerving being alone on a boat with the captain in the dark ocean. At least for a little while until the sun was coming up and we started to look for dolphins.
Dolphin cruises are big on Bali's north coast and some operators can get quite aggressive in their approach. Luckily my captain was well chosen because he was gentle and would often take 'the road less traveled'. While the passengers of other boats would often cut in front, he would simply tell me to look to the other side. More often than not, he was right, and we got rewarded with some spectacular sightings. Alas, my camera wasn't quite fast enough to catch them. I didn't mind, after all diving and dolphin cruises should be about being in the moment.
You can check out Zen's packages for their yoga and diving retreats here, or if you are flying from Germany contact Neue Wege for their offers.
Pin for later!