This post contains affiliate links. If you book something through these links I get a small commission at no extra cost to you. You can read more about mydisclosure and affiliate policy here.
…
When divers talk about diving in Bali, they usually mean Nusa Lembongan diving or Tulamben/Amed. Even for dive centers in Bali, it is a highlight to take divers to the Nusa islands – Penida, Lembongan, and Cenningan.
What makes Lembongan diving so special, which dive sites to visit, and which dive center to go with in this post!
The Ins & Outs of Nusa Lembongan Diving
What makes Nusa Lembongan diving so special?
Lembongan diving is considered some of the best diving in Bali. The three Nusa islands are blessed with some amazingly healthy coral reefs, great visibility with up to 40 m, and some incredible marine life.
The area is known for their manta and mola mola sightings thanks to some strong currents that bring nutrient rich water. You will still need a bit of luck, but even on 'regular' dives you can look forward to colorful corals, schools of reef fish, turtles, nudis, and some bigger hunters like barracudas and tuna.
Best time to dive in Nusa Lembongan
You can dive in Nusa Lembongan all year long, but personally, I would avoid the rainy season in January and February. That said, the water is the calmest from November to May, and it is the only place in Bali where you can see mantas all year long!
My favorite time is July/August until October because this is when the mola mola come. Once again, I did not get lucky, but the day before my arrival a group spotted 10 (!!!) on a single dive. So they are not an underwater unicorn in these waters.
What about the water temperature in Nusa Penida/Lembongan? Honestly, I don't know what to tell you… the temperatures average between 24-29 °C all year long which to me already means the difference between a 3 mm and 5 mm wetsuit with a hood. And there is a good chance for a current or thermocline dropping it down to 18-20 °C. I recommend you come prepared with layers.
The Best Dive Sites in & around Nusa Lembongan
Whether you are coming for Lembongan diving or scuba diving in Nusa Penida your dives sites will be the same. All dive centers in the area frequent the same ones, and chances are you will be in for a treat.
The most famous are Manta Point Bali and Crystal Bay, Blue Corner (name of a dive site as well as a dive center), and Mangrove. If you have a specific dive site in mind that you absolutely have to dive, make sure you spend enough time in the area because many are inaccessible due to conditions some days. Currents can be challenging even at the best of times, especially around Blue Corner and when it's a full moon, so budget for a few extra days. Unfortunately, I didn't make it to Blue Corner myself, but here are the dive sites I did see and that you shouldn't miss when diving in Lembongan!
SD
SD or Sekolah Dasar is a dive site on the north of Nusa Penida and perfect for a nice drift dive over healthy reef with tons fish. Nemos, nudis and oh so many puffer fish await! And if the water temperature isn't in the high 20s, there is a good chance for Mola Mola too.
The reef is sloping, so SD is also a good choice if you have snorkelers on board. While most divers will spend some time at depth to look for big stuff, I recommend you do a lengthy safety stop because the corals at around 7 m are spectacular.
PED
PED is often dived together with SD as they are not far from each other. You will get a good amount of current here, making this Nusa Penida dive site also great for drifting.
While you are at it, you will see turtles, moray eels, maybe some tuna and trevallies, and all around schools of reef fish as well as one of my favorites: redtoothed triggerfish.
Crystal Bay
Named for its crystal clear water (we did not get so lucky!), Crystal Bay is one of the favorite dive sites in Nusa Penida and known for its unpredictable current and mola mola when the water is chilly.
The currents make it a dive site usually unsuited for beginners, though I was told ever since they built a temple in the bay no one got lost or hurt.
From the bay you swim out towards a channel where you will look out for those molas. Don't go too deep and rather look at the other divers – if a mola gets spotted, you will know!
Alas, again I was not lucky, though we found the most beautiful leaf fish and didn't have to battle any currents.
Mind you, the dive site was busy, and I was told there are much better places to look for sunfish.
Manta Point
When people talk about diving in Bali, they usually talk about diving at Manta Point. This dive site is as famous as it gets and for good reason, considering it is the only place in Bali where you are likely to see mantas.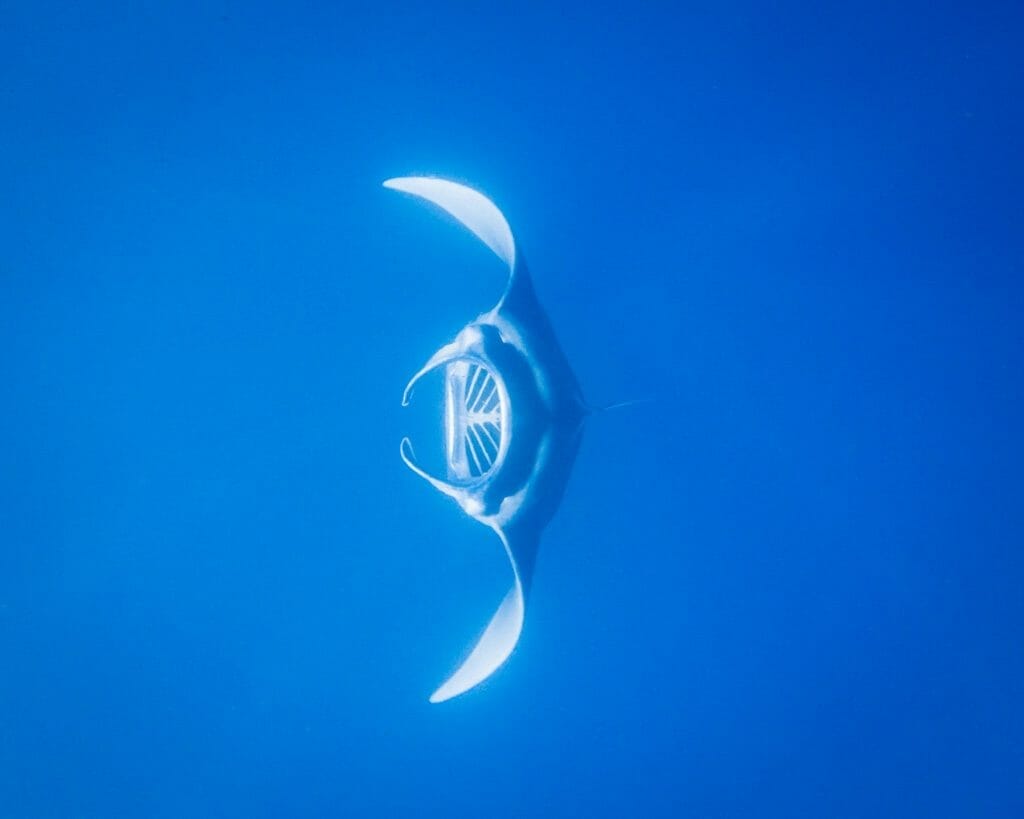 The sheltered bay is located at the south tip of Nusa Penida and usually well protected from current. With a depth of 10-12 m the manta cleaning station (aka a big rock) is even suited for beginners, though there is usually a bit of surge going on. Not too bad though, once you get used to it and learn how to go with the flow.
DISCOVER SCUBA DIVING – GET DIVING.
Your dive guide will give you a detailed briefing on what to do and what not to do once the mantas come, and then all you got to do is wait. Of course, there is never a guarantee guaranteed, but your chances to see a manta are as good as it gets here. While surface conditions can be quite choppy, even snorkelers may see them.
And once the mantas have left, you might be lucky enough to see a few eagle rays (which, I think, are even more exciting, I know I'm weird…).
Sampalan & Karang Sari
We opted to go to Sampalan and Karang Sarai after having to cancel Manta Point due to water conditions, and all I needed to hear to get me excited was: thresher sharks.
The dive sites on the northeast of Nusa Penida are great for a somewhat shallow drift and a decent chance to see thresher sharks. Hermann my dive guide also mentioned hammerheads, though he quickly curbed my enthusiasm by telling me that he last saw some 4 years ago.
Mind you, there is plenty of other cool stuff to see including batfish, turtles, barracudas, and all kinds of reef fish playing amongst healthy corals.
My favorite Nusa Lembongan Dive Center
It doesn't really matter on which Nusa island you stay when it comes to the dive sites, as they all frequent the same. I decided to stay on Nusa Lembongan as it is a bit smaller and easier to get around. I dived with Blue Corner Lembongan, but there is also Blue Corner Nusa Penida if you prefer to stay there.
The dive center in Lembongan is located on Jungutbatu Beach and they have a training pool as well as a free diving pool, a bar/restaurant and 2 boats. In addition to PADI courses and fun dives, they also offer a conservation program that will teach you all about coral restoration and take you on dives to plant in their coral nurseries.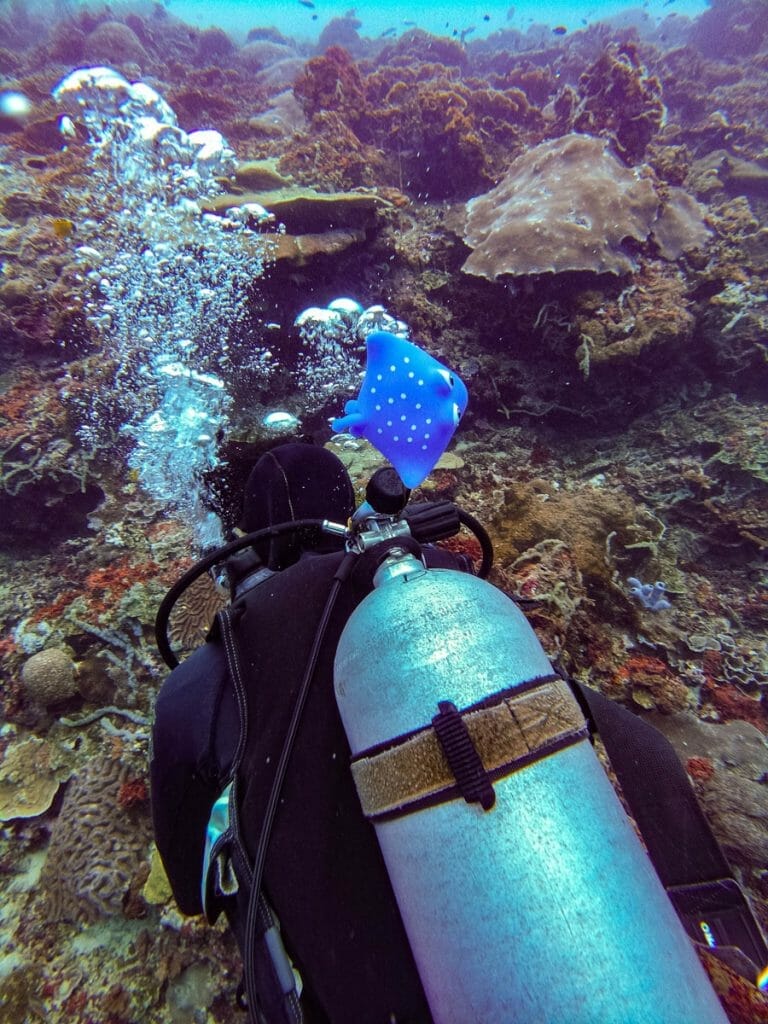 Most of the staff are local instructors and dive guides, and they are awesome!
What does diving in Nusa Lembongan cost? Most dive centers will charge 1.4 million (ca. $94) for 2 boat dives including your rental equipment, dive guide, and snacks. If you book a trip to Manta Point/ Crystal Bay, you will usually have to pay a small fuel surcharge.
How to get to Nusa Lembongan
How to get to Nusa Penida from Bali? Easy, and the same goes for getting to Nusa Lembongan. You hop on a speedboat departing from either Sanur or Padang Bai. Trips take about half an hour and your ticket usually includes a pick-up and drop off at your hotel depending on where you stay in Bali.
I went with Scoot, though they put me on another company's boat as theirs wasn't full enough. To be honest, getting on and off those speedboats can be a bit of a mission. While the crew takes care of your luggage (please tip them, it is such hard work!) you will usually have to get on from the beach and depending on the tide this can get wet. If you have any issues walking, this is unfortunately not for you.
Boats are comfy enough, though the seats were tiny, and I was glad it was only a 30-minute ride.
You can book your tickets below, or alternatively contact the boat operator of your choice by WhatsApp. Keep in mind that schedules are still limited at the moment so double-check what they offer before you set your mind on a specific time.
When coming back to Bali make sure to add a buffer if you are flying out – depending on the weather conditions boats can run late!
Alternatively, you can book trips from Bali for Nusa Penida diving. Dive centers in Sanur and Padang Bai will usually go to favorite dive sites like Manta Point and Crystal Bay. This is a good option if you are pressed for time; however, it is also a lot more pricey – most dive centers in Bali charge 2.4 million (ca. $160) for 2 dives in Nusa Lembongan/Penida.
Nusa Lembongan accommodation & Other practical tips
I like to stay close to my dive center, and luckily, there are plenty of options for various budgets nearby from Blue Corner.
I stayed at Nata Homestay which was an absolute steal, and while the rooms did not have Wi-Fi they were clean, had good aircon, and a wonderful shower (you will want hot water at the end of a long dive day!).
Check out rooms & prices at Nata Homestay
Alternatively, you can stay at Hello Beach Huts right on the beach if you can spend a bit more. They are part of Ombik Zero Waste, a café I spent most of my time at. The omelet and the Nasi Campur are amazing as is the Good Karma smoothie that supports local seaweed farmers.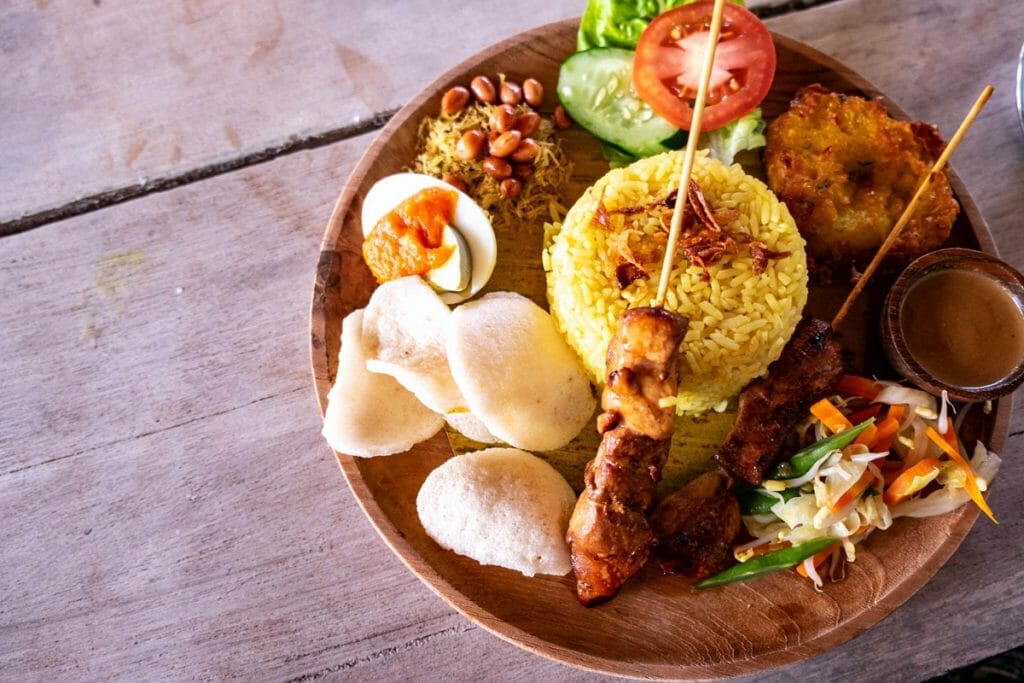 Where else can you eat in Nusa Lembongan? I liked Little Prema Warung across the street for inexpensive, good Indonesian food, Warung Pizzeria & Steakhouse for proper Italian food in a beautiful garden setting as well as Koa Donuts for a little sweet treat after diving.
If you are vegan, you may also like Ginger & Jamu though it was a bit too 'healthy' for my liking, but the setting on the beach is super nice.
Make sure to bring enough cash when you come to Nusa Lembongan as ATMs are few and far. There is none in Jungutbatu, and you will have to go to Mushroom Bay which is about 2.5 km. I ordered a scooter taxi from Nusa Lembongan Island Taxi via Whatsapp, and while they were fast and super friendly I paid 75k (ca. $5) for the roundtrip and there are no helmets to be found on the island it seems.
Want to dive somewhere else in Indonesia? Check out these posts:
RAJA AMPAT LIVEABOARD WITH THE EMPEROR RAJA LAUT
A GUIDE TO DIVING IN GILI ISLANDS, INDONESIA
Pin for Later!