This post contains affiliate links. If you book something through these links I get a small commission at no extra cost to you. You can read more about my disclosure and affiliate policy here.
…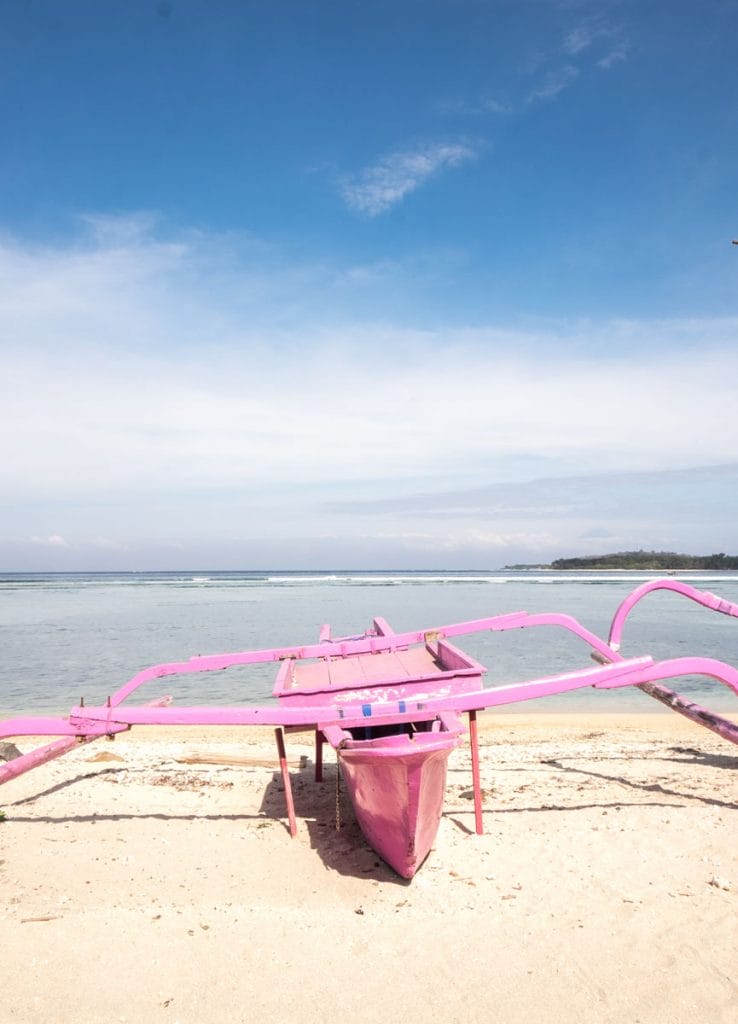 What makes diving in Gili Islands so special?
Gili Islands diving is somewhat underrated in my opinion. Mind you, I wouldn't consider it part of the best diving in Indonesia like Komodo or Raja Ampat but if you happen to be in the area I think they are worth a trip. After all, the Gilis are known as the turtle capital of the world thanks to plenty of Hawksbill and Green Turtles. You will also find a varied underwater landscape at the local dive sites and most importantly some amazing muck diving.
If you aren't keen on turtles (who even are you?!) don't worry because there are good chances for black and whitetip sharks, octopus, lionfish, and sometimes even for mantas! If you prefer elusive macro critters like frogfish, leaffish, nudibranchs, and pygmy seahorses you will also find your diving paradise here. Macro fans should ask their dive center to put a muck diving trip on the agenda – Kecinan bay and Lombok harbor are full of amazing critters but regular dive trips won't take you there.
If you happen to get cold easily rest assured because the water temperatures tend to hover around a balmy 28°C – a bliss compared to Bali! In addition, there are plenty of well-outfitted dive centers around the islands and most dive sites can be reached with a short boat ride. Visibility is also very good unless you come during the rainy season and many dive sites are suitable for snorkelers as well.
Conditions on most of the 20-something dive sites are easy to moderate which makes the Gili Islands the perfect place for beginners without being boring for more experienced divers. If you are interested in getting certified there are plenty of dive centers on all three islands that offer both PADI and SSI courses, and more often than not will also throw in inexpensive accommodation.
How to get your Open Water Scuba Certification
And while the Gili Islands are not old-school charming like Lombok nor as pristine or picturesque as more remote islands in Raja Ampat, they offer a perfectly nice holiday destination altogether. It is easy to get around, there are some great places for a cold beer and decent food, and depending on which island you choose you will find tranquility or a good party after your dives. My favorite is Gili Air as a base for diving!
Where they are & how to get to the Gili islands?
While many travelers refer to them as Gili Islands Bali they are technically part of Lombok, Bali's neighbor further east. The tiny archipelago consists of Gili Trawangan, Gili Air, and Gili Meno, and looking at a map they seem to be little drops just off Lombok.
You can reach them all either from Bali or from Lombok by boat.
From Bali, the fast boats have various departure spots so you can find one in your vicinity. Check if they include a free hotel-pickup as many do to save some money to get to the pier. After having done the trip a few times and reading too many TripAdvisor reviews of boat companies I always ended up choosing Gili Getaway for their great safety record – even though they are quite pricey. The service onboard is good though and they will also help with your luggage as getting on and off the boat can be a bit precarious.
Boats usually stop at all 3 Gili Islands and the boat ride from Bali will take 2,5-3 hours depending on which you are going to. If you are coming from Lombok the ride only takes 15 minutes and you can take the same boat company. You can book your tickets with Gili Getaway directly here on their website or with the link below. By choosing the transfer option they will pick you up from your hotel in Bali.
Check here to find the best way to get to the Gili Islands:
Once you have arrived on your Gili Island you are on your own though – they only allow non-motorized vehicles on the islands. Personally, I prefer to travel with a bit less and carry my own luggage in order to forgo the "Gili Taxis" which are horse-drawn carriages.
Where to stay in the Gili islands
Many dive centers also offer accommodation and will make great package deals if you book both. However, there are plenty of other options on where to stay in the Gili Islands depending on your wants and budget. If you are diving from Gili Air you don't have to worry too much about the distance between your accommodation and your dive center as you can walk from A to B pretty quickly in most cases.
I have only ever stayed on Gili Air, my preferred island of the three, and can recommend the following: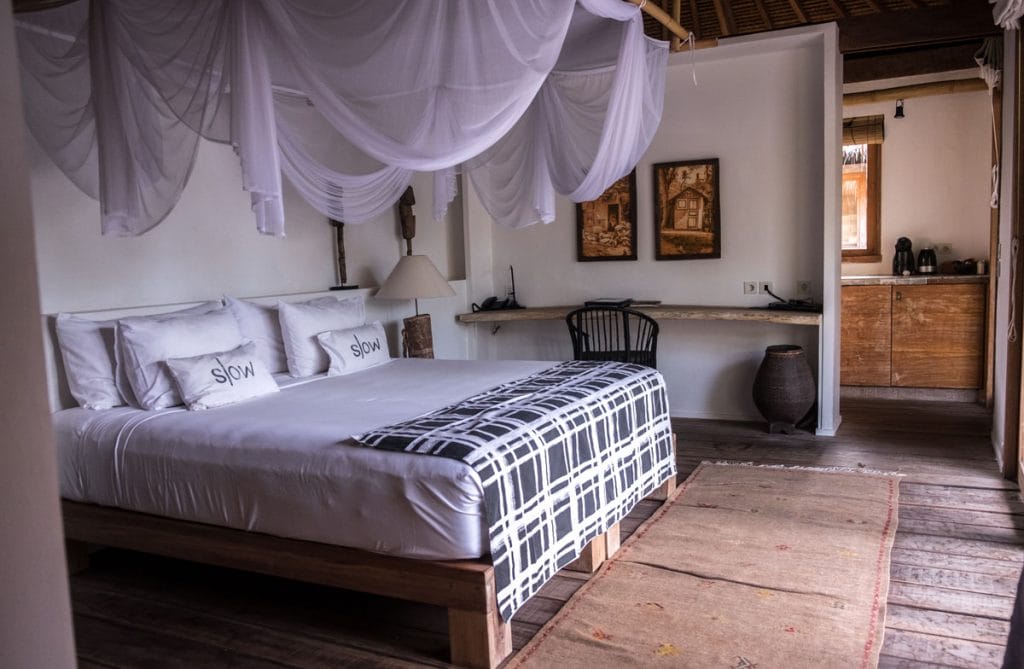 Beranda Eco Lodge
If you can only afford a hostel in Gili Air but want a resort-feel this is the place. Beranda has simply little wooden houses with little more than a bed and a mosquito net as well as shared bathrooms but a huge pool, bar, and breakfast area. For someone like me who doesn't like the idea of a dorm room, this was the perfect budget accommodation that still felt fancy and like being on holiday.
Check out bungalows at Beranda Lodge
Slow Gili Air
If you are not too worried about your budget or are coming for a romantic trip, check out the Slow. It is a beautiful sustainable, contemporary lodge on Gili Air that offers stylish villas. Best of all – there are only 10 of them and they all come with their very own pool. Once you are there definitely check out their beautiful spa (also open to outside guests!).
Check out rooms at Slow Gili Air
Elephant Guest House
I stayed in their open-air room in the middle of the property which admittedly doesn't give much privacy but feels very outdoorsy in the best way possible. They also have regular rooms, a great pool, and an amazing breakfast.
Check out rooms at the Elephant House
Best time for diving in the Gili Islands
The good news is that you can have good Gili Islands diving all year long. However, the best months to dive are May and June as well as October and November. During these months you will avoid huge crowds as it is off- and low season and the diving conditions are the best. If you can, avoid the rainy season that starts in November as it lowers the visibility, and be aware that the water is coldest in high season as strong winds can cool down the water temperature. But as I have mentioned before – cold water is relative in the Gili Islands.
How to find a good dive center in the Gili Islands?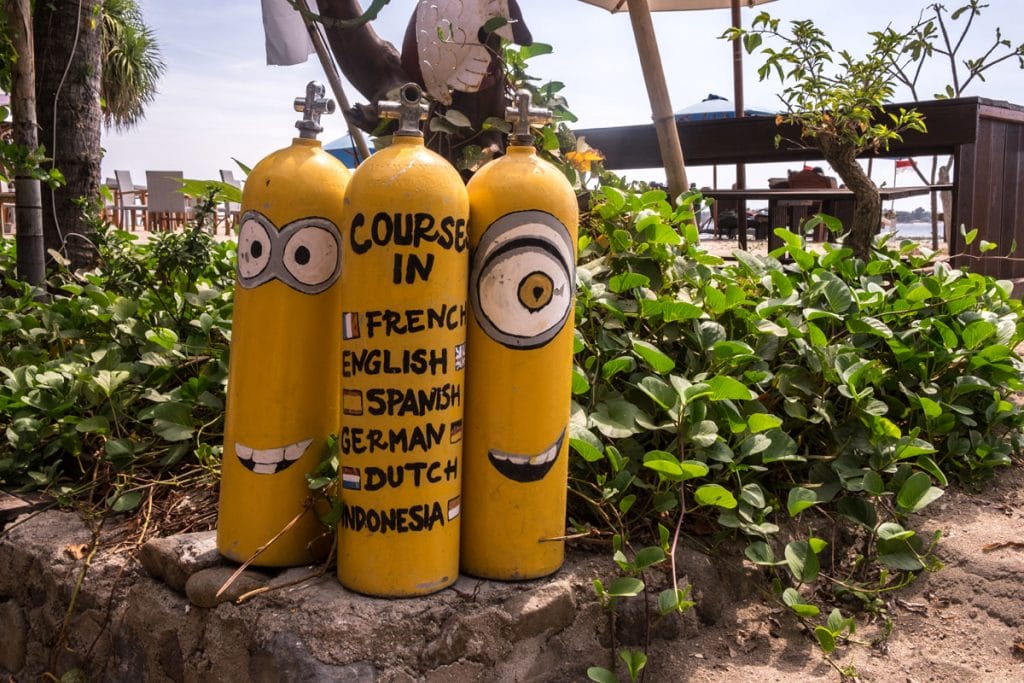 Many dive centers have a location on each of the Gili Islands and will take you to all the various dive sites. Unless you come in high season you don't need to pre-book your fun dives but can just pop in the day before to plan your dives. If you want to do a course I highly recommend you do the same. For me, courses are all about the instructors and I like to know who is teaching me. That is, if you are very short on time it might be wise to do your theory in advance online. After all, you are on holiday and may not want to hit the books while lounging in paradise.
If you prefer to do your course in your native language you are in luck as many dive centers in the Gili Islands have instructors for German, French or Spanish too. Many dive centers offer a selection of the most popular SSI and PADI courses which range from simple Open Water to specialty certifications. If you are planning on getting your OW certification, the Gilis are a great location as prices are moderate and it usually won't take longer than 3 days. And there is plenty to see underwater, even in shallower depth!
Look for a dive center in the Gili Islands
I have dived and liked Gili Air Divers and have also heard great things about Manta Dive Gili Air and you can check out their offers below. But as I said, I highly recommend you arrive, take a stroll around the island and see which dive center you vibe with. Some divers prefer a smaller, more intimate set-up while others like a dive center to have its own bar or dancefloor. Just walk in, say hello, and see what clicks – don't worry you don't need to do much price shopping: small islands like the Gilis are usually price-controlled when it comes to fun dives and courses.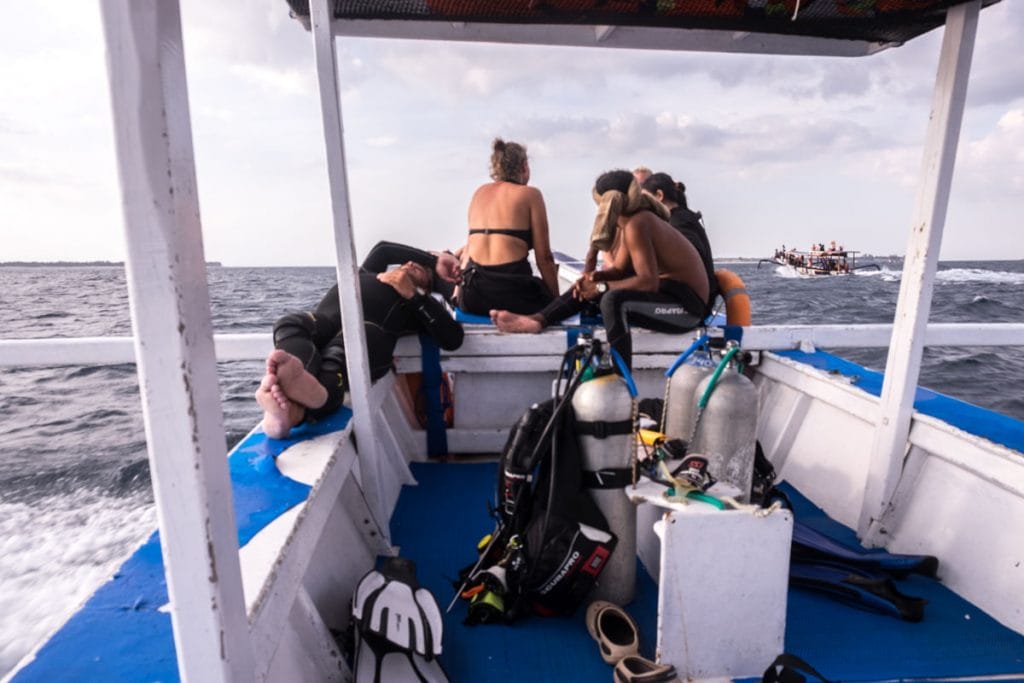 Certified divers can usually do up to 4 dives each day including a night dive. Since all the dive sites for diving in Gili Air as well as Gili T and Gili Meno are within a short distance you can come back to the dive center after each dive. This comes in handy if you are on a budget, short on time or must adhere to the no-flight time after and just want to get one morning dive in.
Look for a dive center on Gili T
Dive sites in the Gili islands
There are around 25 dive sites in the Gili Islands offering something for each taste and certification level. Dive sites are chosen daily depending on the conditions and course planning (and sometimes special requests if you ask nicely). Usually, you can see a board in front of each dive center and check what is on the agenda for the next day.
Here are some of my favorite Gili dive sites:
Meno Bounty
There isn't much wreck diving in the Gili Island but the Meno Bounty is a glorious exception. It is a floating dock that was sunk in 1999 and a beautiful artificial reef has emerged at a maximum depth of 18m. You can expect some medium current, shoals of various angelfish species, and if you have a good divemaster a few frogfish on the wreck itself.
Learn new skills during your Advanced Open Water
Mirko's Reef
This reef is a favorite for many divers and a great spot even for advanced divers as it slopes down to 35 m. What is there to see? A better question is – what isn't there to see? On a single dive, I saw a giant frogfish (can you tell I am slightly obsessed with frogfish?!), pygmy seahorses (yes, plural!), peacock mantis shrimp, orangutan crab, and a shoal of bump head parrotfish.
Turtle Heaven also called Meno Wall
It is actually tricky not to see a turtle or two when diving around the Gili Islands but Turtle Heaven is very aptly named. Don't worry about counting them and just enjoy the dive!
To be honest, as this is one of the most favorite dive spots in the Gili Islands it does get rather crowded here at times but for turtle lovers, it is still worth it. Just be careful when taking pictures, chances are you will get photobombed by a turtle!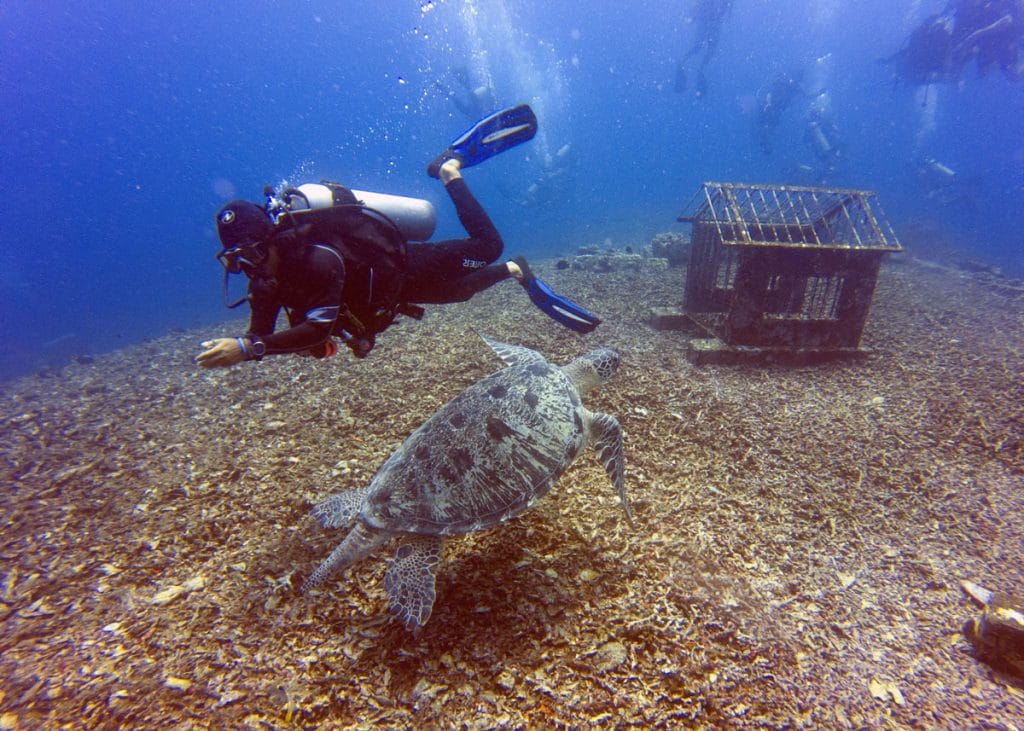 Muck diving in the Gili Islands
And then there are the muck diving sites which are often neglected as the ugly ducklings in diving. A pity I say but then again it means you have those dive sites usually to yourself!
Muck diving is a bit like playing "Where is Waldo?" and you will need patience, perseverance, and preferably a really good local dive guide.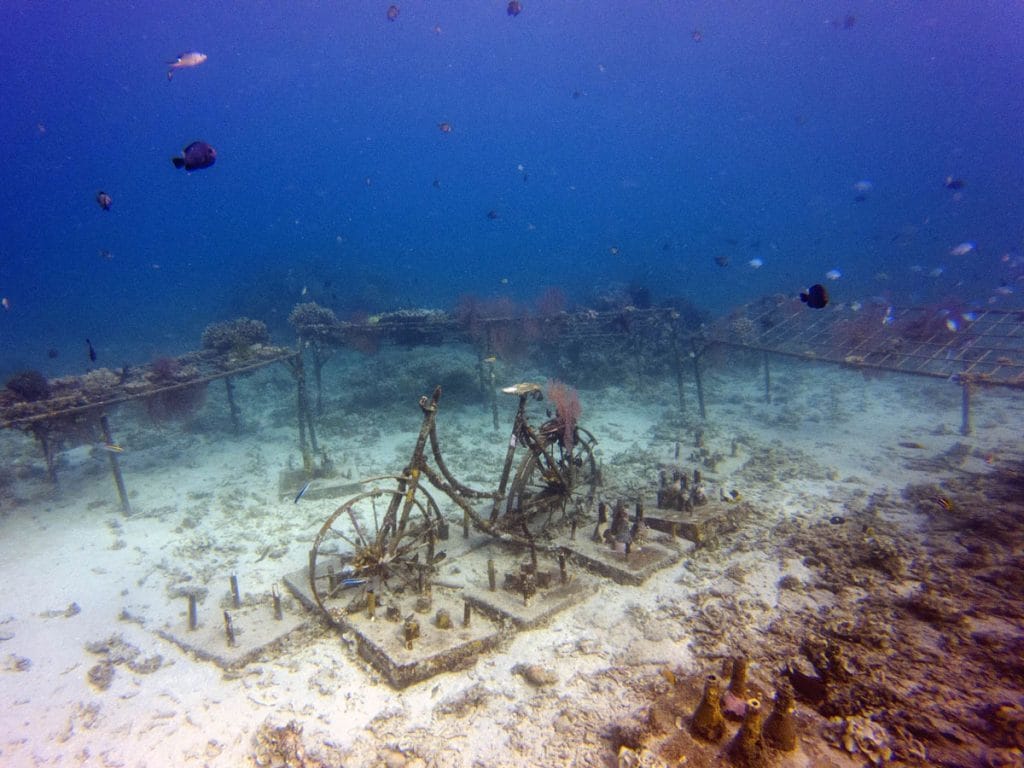 From my experience muck diving is not for the masses and usually dive centers in the Gili Islands don't really advertise muck dive sites very often. However, I realized that most are more than happy to put it on the agenda if you ask for it and usually the entire staff tends to join – muck diving is special!
I have been to 2 muck dive sites in the area – one being Lombok harbor and another one called Kecinan Bay. Lombok harbor is quite ugly and covered in trash as well as black sand so good buoyancy is key. And while I was shocked at first upon seeing so much trash in the water, don't fret because this trash has become a nursery for juvenile fish: tiny yellow boxfish, baby Nemos, and pink frogfish await.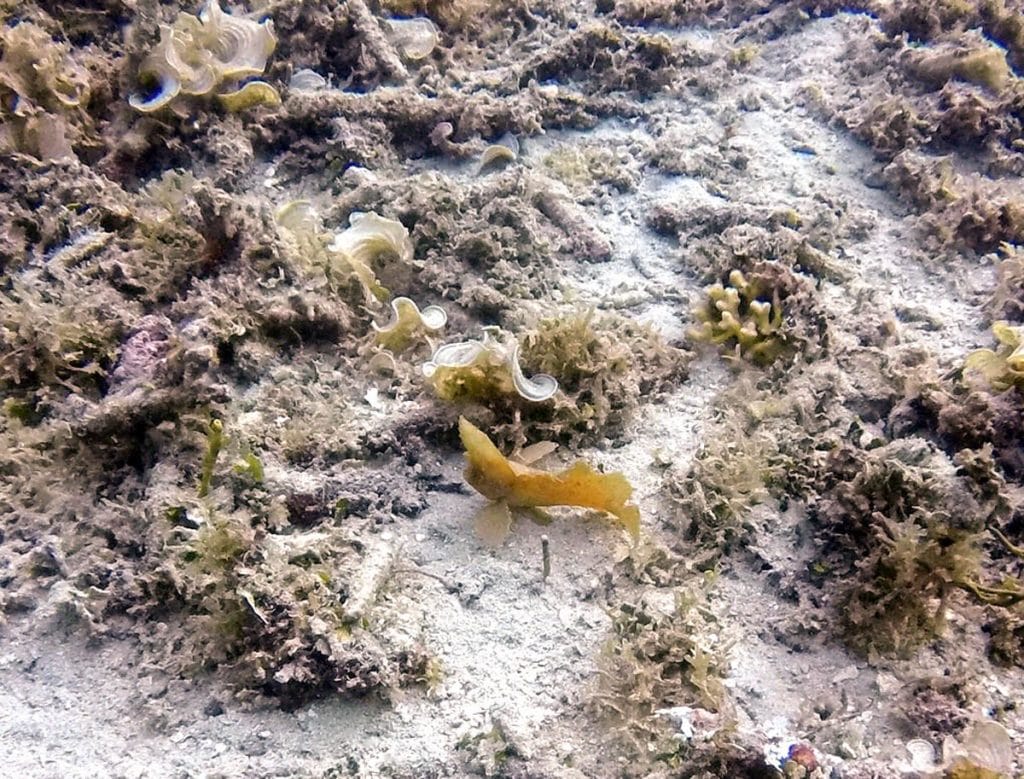 Unlike Lombok harbor, Kecinan bay is a white sanded dive site with plenty of seagrasses. If you get lucky you can find Rhinopias, leaffish, garden eels, and ringed pipefish here.
In shallow depth, there is even a small coral plantation with metal structures and an old bicycle with plenty of sea life – a real underwater garden.
Pin for Later!