This post contains affiliate links. If you book something through these links I get a small commission at no extra cost to you. You can read more about mydisclosure and affiliate policy here.
…
If you are a macro lover there are few places better than diving in Dauin. The little town in Negros Oriental in the Philippines is a muck diving paradise if I have ever seen one. Hairy frogfish and blue-ringed octopus anyone?
What else to expect, how to get there, and what Dauin diving costs in this article.
The Ins & Outs of Diving in Dauin
What makes diving in Dauin so special?
People argue about where you can find the best muck diving in the Philippines. And while Anilao is usually mentioned first, Dumaguete diving and Dauin, Philippines are always a close second. And looking at my nudibranch group on Facebook most cool nudis seem to live in Dauin.
For me, it was an easy choice as I was coming from Malapascua and Moalboal and didn't want to add another domestic flight to my itinerary (necessary if had I gone to Anilao). You also have the advantage of being close to all the Dumaguete dive sites as well as beautiful Apo Island and Siquijor.
Dauin itself has the most spectacular sites if you love hunting for tiny, cool and weird creatures. So many seahorses, so many octopuses, aforementioned nudis, and of course my beloved frogfish – it is a muck diving paradise. And while I didn't see the infamous hairy frogfish or clown frogfish that just means I have a great reason to come back soon!
The best time to dive Dauin
You can dive in Dauin and Dumaguete all year long though the non-typhoon season from October to June is considered a bit better. While typhoons usually don't hit this part of the Philippines, conditions might still get a little rough.
Apparently, October is especially good as it is octopus mating season.
Water temperatures are usually around 28/29 °C while it drops in March to around 26 °C. I took a full 3 mm wetsuit and was usually nice and warm, many divers just wear dive skins and rash guards. Regardless of your exposure suit, make sure to have some sturdy neoprene booties as the dives are shore dives and you will have to walk over sand and sometimes stones.
Great Dive Sites in Dauin
All the dive sites in Dauin are shore dives and sometimes the entry gets a bit rocky (luckily nothing compared to Tulamben!). If you are diving with Bongo Bongo Divers (more on the below) you either walk over to the beach or take a short drive to the dive sites which are usually and literally accessed through people's backyards.
Don't expect too much in terms of coral reefs. Ups, I said it. Yes, there are some beautiful and healthy reefs here but I much preferred the dive sites that were slopey, ugly, with sandy bottoms and pebbles, and just full of the most beautiful treasures.
Depending on your level check with your dive guides before the dive but apart from getting in and out, most dive sites in Dauin seem pretty beginner-friendly. That said, you will need a love for macro to appreciate them.
Masaplod Norte
Masaplod is a favorite if you want to see flamboyant cuttlefish. We saw a group of four and a coconut shell with eggs which was very special.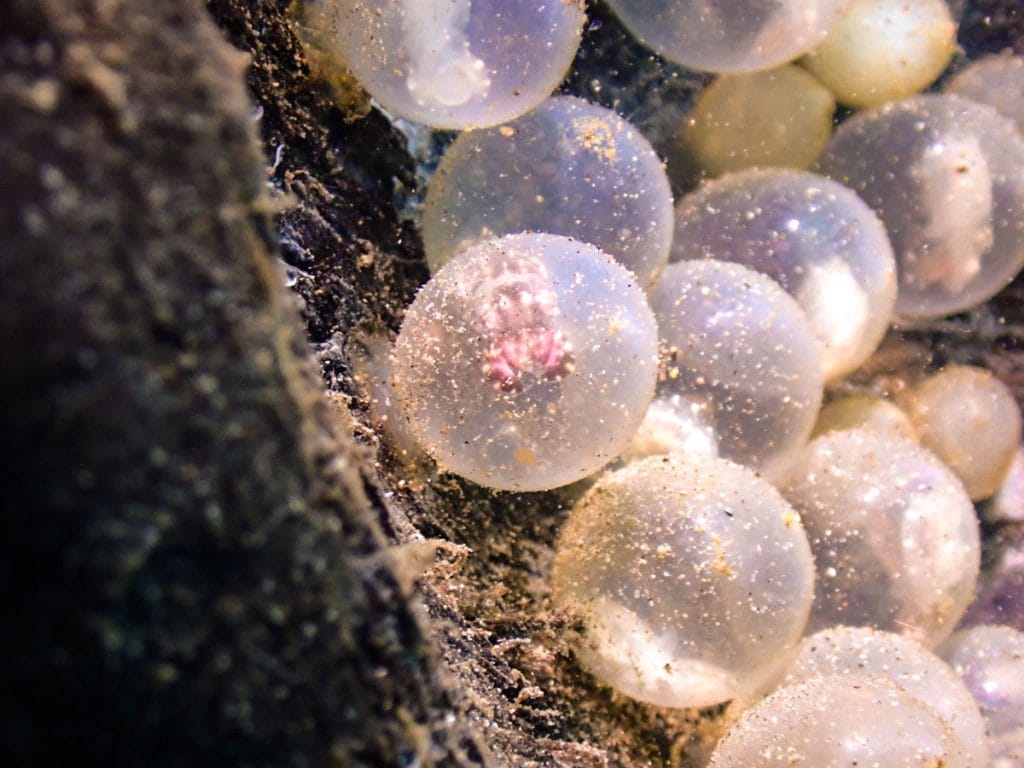 The dive site itself isn't too exciting: sandy grey bottom and some coral blocks but if you have a good guide there is plenty to find. Like lots of Gymnodores, also called yellow blob or banana nudis (my names for them), lots of shrimp, and the tiniest of tiny Nemos.
And while we were there it really seemed that love was in the water – in addition to the cuttlefish egg we also saw a Nemo family guarding their eggs as well as a pregnant seahorse.
Dauin North & House Reef
Dauin North and the Bongo House Reef are sometimes merged together on a dive and is also the preferred spot for night dives.
You are diving over black sand so do watch your buoyancy! At the moment there are 2 frogfish that live on the mooring rope just 20 m out from shore. One is bright yellow so you might even see it from the surface when snorkeling, the other is light pink and a bit more camouflaged.
Once you swim out further you are in nudi heaven including some spectacular panda nudis (Jorunna Funebris). There are also many anemone shrimp, soft coral crabs, candy crabs, and pink hairy squat lobster.
Towards the end of the dive, you will find some very pretty hard corals, shoals of reef fish, and maybe even small barracudas and turtles.
Find the decorator crab!
During our night dive, we found a porcelain crab with cute polka dots, a decorator crab (still not sure this wasn't just a piece of fluffy something), and I found a very cool Phantom Velvetfish.
El Dorado
El Dorado is the perfect mix of both worlds – a simple-looking muck dive site and a stunning artificial reef. You start off swimming over black sand dotted with green leaves while looking for – yes, you guessed it – Shaun the Sheep! Costasiella wherever you look.
You might also see a mommy and baby ornate ghost pipefish as well as countless seahorses.
Once you hit the artificial reef you are in for a treat. The way the structures are set up resembles a garden with greenhouses, wild and colorful. Reef fish everywhere, some moray eels, and to my delight a group of teenage batfish that let me quietly hang out with them for a bit.
Take your time to soak it all in – El Dorado is a beauty!
Secret Corner
Truth to be told Secret Corner is not so secret anymore. In fact, it is a favorite dive site if you want to see cool octopuses. If you come in the morning make sure your dive guide takes you at 8 am at the latest as the dive site gets crowded by 9 am.
And if said dive guide is very good you might just be greeted by an elusive blue-ringed octopus to start your dive. From there it gets busy – wonderpus, algae octopus, and maybe even a coconut octopus and its home.
We also saw some creepy-looking Napolean Snake Eels or rather just their heads which added to the creepiness, spiney devilfish, tiny peacock mantis shrimp, and pipefish.
I was told that Secret Corner can be a hit or miss and also has some crazy weird currents. That said, when it's good it is really good so please don't be deterred if your first dive isn't great and just try again the next day. Though I will say a great guide is indispensable (thank you, Tito!).
Dauin South
First, you go through another backyard and then you have to brave some rocks to get in the water. Honestly, getting in and out to dive Dauin South is not the easiest as the rocks get progressively bigger before they disappear when you get in. If you are not very sure-footed ask your guide for help especially when the surf is up.
Once you are in all is well with the world. Seagrass with frogfish and turtles await as well as more and pretty much countless Costasiella. This is a photographer's dream site!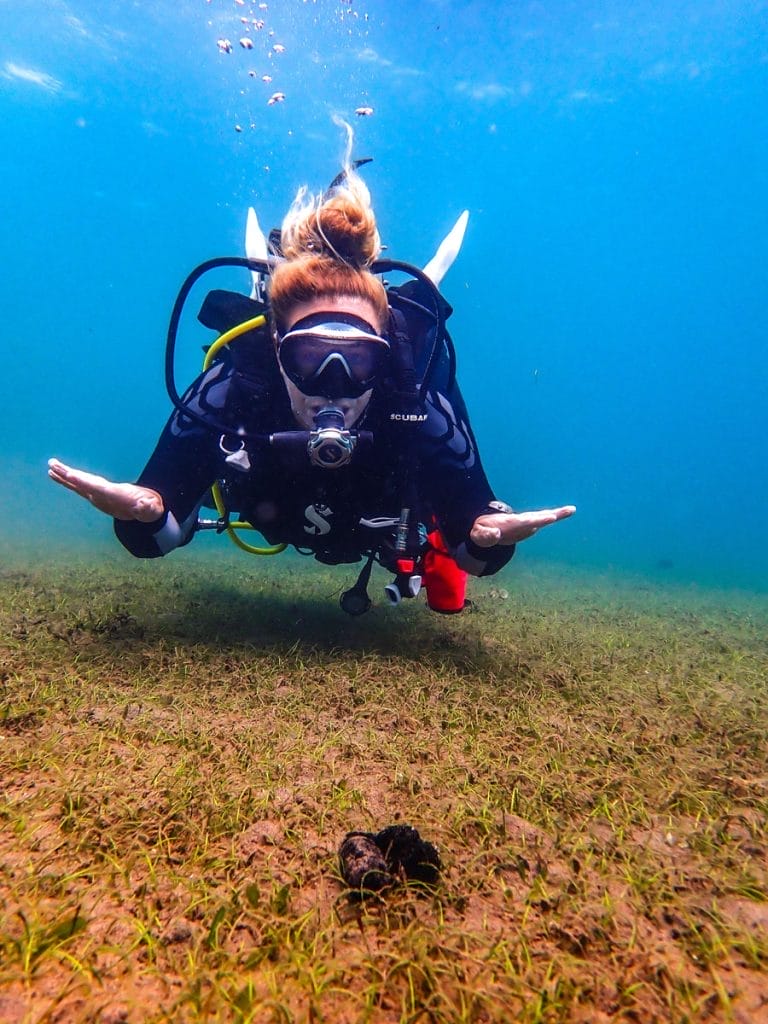 In addition, pipe horses, pygmy pipe horses, more ornate ghost pipefish, and maybe even some flamboyant cuttlefish.
Dive Center recommendation for Dauin Diving
A few people recommended Bongo Bongo Divers as one of the best dive centers in Dauin and I was not disappointed. They are a PADI 5 Star IDC Resort and well-liked and respected in the area. They also have a few rooms and dorms as part of their set-up as well as a cafe. While they don't serve food yet the lovely staff makes great smoothies, there is always cold beer in the fridge, and they gladly help you to order food for delivery. They also have gummies and chocolate for sale, a very appreciated feature!
Best of all is their team and upon my arrival, I was immediately invited to their impending IDC party and made some friends.
They offer 4 dives each day and you can just put your name on the board if you are keen to go. A big advantage of diving in the less busy season: you can usually request certain dive sites or even an early dive time since chances are you will be diving in a very small group.
In the back, they have a huge equipment area where each divemaster and guest has their own storage area and wardrobe of sorts, and there are plenty of washing basins.
By the way: if you are keen to become a diver and get your Open Water or do any other course, Bongo Bongo Dauin has a great training pool on the premises!
How much is diving in Dauin? As per usual, I didn't compare prices once I settled on Bongo. I think finding a dive center that is professional, safety-conscious, and has an awesome team is much more important than saving a few bucks.
Dives in Dauin are ₱ 1,550 (about $27, you can find the most recent exchange rate here) incl. equipment, guide, and marine sanctuary fee and night dives are ₱ 2,050. If you want to go to Apo Island the trip will cost you ₱ 5,500 for 3 dives that include all of the above as well as the boat trip and lunch. If you want to dive Apo Island let them know as soon as possible as they usually require a minimum amount of divers so they can organize in advance.
How to get to Dauin
Dauin is located on the southeast coast of Negros Oriental in the Central Visayas. It is about 15 km south of Dumaguete. The good news is you can book your ticket on Air Asia or 12go to fly to Dumaguete and from there, it is about ₱ 500 with a tricycle to get to Dauin.
Since I came from Moalboal I paid for a taxi to take me to Liloan port in the south of Cebu. From there I took a boat to Sibuan. The ferry crosses every hour and costs about ₱ 120. There is a waiting area where you can even buy lunch if the next boat is still some time out.
By the way – you can ask for a porter to get on or off the boat if you need help with your dive gear. I'd say a worthy investment unless you want to slip and fall on your bum while crossing the plank onto the boat like yours truly.
The boat ride takes about 15-20 minutes. In Sibuan there are plenty of tricycles to take you to your final destination. I was told it shouldn't cost more than ₱ 600 to get to Dauin, alas not in the mood for negotiations I paid ₱ 800 which seemed a fair price for the almost hour-long drive.
If you are coming from Siquijor you can also get to Dumaguete with a ferry and catch a trike from there.
Where to stay in Dauin & other tips for your trip
I immediately decided to stay with Bongo Bongo Divers as I love the convenience of staying close to a dive center. After realizing how hot the Philippines are I quickly changed my booking to an AC room at Bongo. To be honest, I was a bit surprised by how expensive accommodation is in the Philippines compared to other Southeast Asia countries and rooms of a similar level. So if you are on a strict budget, I'd say go for a dorm room or make do with a fan.
My room at Bongo had everything I needed but was truly tiny and unfortunately, the warm water is solar-powered. While this might be great in theory it is a problem if you spent a whole cloudy day underwater and look forward to a hot shower at the end of your diving day.
That said, the proximity to the dive center makes up for it. If you are traveling with your partner or want something a little fancier you can find a variety of other hotels in Dauin for every budget in Dauin.
What are the best restaurants in Dauin? To be honest, I wouldn't know! There is not a promenade as such and the main road has mainly shops and imbisses, and so I didn't venture much. I usually ordered a burger or pizza for delivery or went next door to Anahaw, a yoga and free dining center that also has a great vegetarian restaurant (most options can be made vegan). They are a bit on the pricier side but there are also a few cheaper options in the vicinity. However, I was told that finding vegetarian meals can be tricky.
You can pay for your accommodation and diving with Wise at Bongo Bongo. Unfortunately getting cash can be a bit difficult in Dauin. There is an ATM at the town hall nearby but unfortunately, none of my cards would work. And Google Maps is pretty useless in showing the accurate locations of other ATMs. With that said, come prepared and bring enough cash.
If you are flying out from Dumaguete don't arrive too early! Honestly, this is one of the tiniest airports I have ever seen and you can buy all but a cup of noodles and a coke. They do have a corner for blind massages as well as a guitar player entertaining passengers (random) but there is no cafe just a big waiting area. Seriously, nobody cares about the two hours before a flight rule here…
Want to dive somewhere else in the Philippines? Check out these posts:
THE BEST DIVING IN THE PHILIPPINES – WHERE TO GO & HOW TO PLAN YOUR TRIP.