This post contains affiliate links. If you book something through these links I get a small commission at no extra cost to you. You can read more about mydisclosure and affiliate policy here.
…
Guest post by Khushboo Motihar from Munni of all Trades
The Andaman and Nicobar Islands, India are renowned for their crystal clear waters and pristine coral reefs. Scuba diving in Andaman offers a world rich in biodiversity as the region is home to some of the most spectacular marine life on earth.
From whale sharks and manta rays to seahorses, colorful coral reefs, and hundreds of species of fish, the Andamans offer a unique underwater experience. How to plan your trip to go scuba diving in Andamans, what to see, and who to dive with in this post.
The Ins & Outs of Scuba Diving in Andaman
Why is diving Andamans so special?
The Andaman Islands are one of the few popular destinations in India for scuba diving and offer an excellent opportunity to see a wide array of marine life. The islands are renowned for their diverse coral reefs that attract a variety of fish, mollusks, crustaceans, and other marine creatures.
More than 20 dive spots are located around the islands, offering a variety of depths and underwater topography. They are a popular destination for divers of all levels, from beginner to advanced. The waters of the Andaman Islands are teeming with vibrant coral reefs, sea turtles, seahorses, and many other species of fish and marine life.
From jellyfish to starfish, sea anemones to sea cucumbers and urchins, the oceans are teeming with fascinating aquatic life. In most dive sites, you will at least be able to spot Ocellaris Clownfish, better known as Nemo – always a highlight! In addition to the colorful sea creatures, divers can also explore spectacular coral formations and walls underwater.
Once you are in the water you will quickly see why Jacques Cousteau was not shy to compare diving in Andaman to paradise.
Best time for scuba diving in Andaman
Located in the Bay of Bengal, the Andamans are comprised of 836 islands/ islets/ rocky outcrops, and 38 are permanently inhabited. These islands are renowned for their untouched beauty. With temperatures ranging between 25°C – 32°C year round, the region is home to the best diving in India.
The best time to dive in the Andamans is between November and May. However, it should be noted that visibility can vary depending on the season. During the monsoons, visibility may drop due to increased silt in the water. It is best to check with your dive operator for more details.
Best Dive Sites in Andamans Islands
When you are diving Andamans you are most likely going to be diving on Havelock Island or Neil Island. Reefs, walls, pinnacles, and if you are lucky visibility of up to 40 m await.
While some dive sites will experience currents, they are usually calm or easy to drift through.
Head to the 'other' Andaman and go diving in Thailand!
Diving in Havelock Island
Havelock also called Swaraj Dweep is home to many popular dive sites that offer a variety of coral formations, sea turtles, and an abundance of schooling fish. Havelock Island is typically full of tourists and has several popular diving centers offering courses for beginners and experienced divers.
There are around 20 dive sites dotted around. Some are as close as 10 minutes by boat or as far as an hour but there is definitely something for everyone. Highlights include Johnny's Gorge and Dixon's Pinnacle.
Johnny's Gorge is an underwater wonderland that bears the name of a discoverer and local divemaster. On your dive, you will find a mesmerizing landscape of rocky outcrops, adorned with gorgonians and multicoloured soft corals that beckon to be explored.
Life thrives here in abundance, with a bustling community of small angelfish, anemones, and surgeonfish seeking shelter amongst the rocks. Schools of mackerel, trevally, snapper, Andaman sweetlips, barracuda, giant groupers, batfish, tuna, queenfish, unicorn fish, and more.
No dive holiday in the Andaman Islands would be complete without experiencing the wonders of Dixon's Pinnacle, a true jewel of the underwater world. The maximum depth is 35 meters. Experienced divers can delight in the world-class spectacle that unfolds before their eyes at Dixon's Pinnacle. Be awestruck by the majesty of manta rays, mobula rays, turtles, Napoleon wrasse, and even the occasional whale shark as they gracefully glide through the azure waters.
Some other highlights include the various manta ray cleaning stations around Barren Island which is the only active volcano in India.
After your dives, you can chill at Radhanagar Beach, one of the most beautiful beaches in Southeast Asia that was home to the last swimming elephants in the Andamans. Once you see its beauty, you will quickly understand why the elephant hung out here!
Diving in Neil Island
Neil Island also called Shaheed Dweep is still a bit more relaxed and low-key than Havelock Island. That reflects in the diving as well. You can base yourself on either island, but if you wanted to find a little island paradise from 'back in the days' head to Neil Island.
It has great dive sites for relaxed drift dives and divers of all levels can explore the marine life at this site. And thanks to a lack of mangroves a lot better vis most of the year!
Next to the usual colorful array of reef fish, macro life, and some bigger animals like barracudas, sharks, and even the occasional manta, the highlight is the dugongs. They are also the national animal of the islands and can even be seen at the house reef in front of Bharatpur beach.
Recommendation for a dive center in the Andamans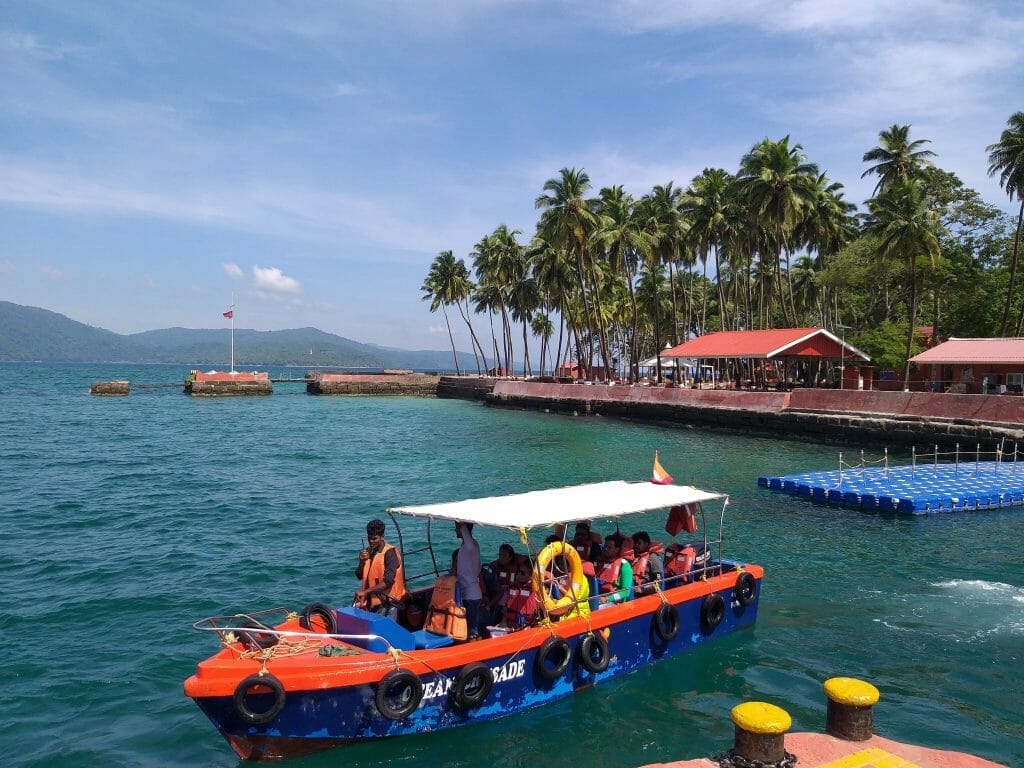 Unfortunately, there are some dubious scuba 'training' sessions happening around the islands. While a quick 15-minute dive sounds like a great and cheap option to get your first taste of scuba diving in the Andamans, these experiences are not conducted by professionals. Please don't!
Instead, go with an accredited SSI or PADI dive center – you can always search on their websites to find something suitable close to you. Once you have found a good dive center you can book a properly supervised and conducted Discovery Scuba Dive if you are not a certified diver yet, book your Open Water course or fun dives with licensed divemasters.
DISCOVER SCUBA DIVING – EXPERIENCES & COURSES TO GET YOU DIVING.
Barefoot Scuba is one of the popular dive centers in the Andamans that offers a mix of fun dives as well as PADI courses. They are a 5-Star PADI IDC center and thus also offer instructor development courses.
They currently charge Rs. 7.000 (approximately $85) for 2 fun dives and a surcharge for dive sites further out.
How to get to the Andaman Islands in India & Other Tips
The closest airport to the Andamans is Vir Savarkar Airport in Port Blair. The airport is served by most domestic Indian airlines, and regular flights are available from all major metros in the country.
Port Blair is a short 40-minute flight from Chennai. It is recommended you spend a day at Port Blair
before you move towards Havelock and Neil Islands.
From Port Blair airport you can get to the pier (book your transfer here) where boats and ferries depart to various islands like Neil Island and Havelock Island. Both private and government-operated ferries are available.
Most tickets sell out fast and you would either have to figure out a complicated process to get on a government ferry or shell out double the price to buy tickets from travel agents.
Practical tips for your Andaman trip
Here are some important things to bear in mind while travelling to Andamans:
Do I need a permit to get to the Andamans? There are certain islands that you will need a so-called RAP – Restricted Area Permit. However, you won't need a special permit for 30 islands including Havelock and Neil Island. Check current government regulations before you book your trip though.
Respect the local culture: The Andaman and Nicobar Islands are home to several indigenous communities, and it is important to respect their customs and traditions. The Jarawa Reserve, for example, which you may cross during your visit to Andamans is a sensitive zone and photography as well as interacting with locals is strictly prohibited. Do adhere to the rules.
Buy a BSNL Sim: Andamans tends to have limited mobile connectivity and it is best to invest in a local BSNL sim card before reaching your destination.
Carry cash: While most places in Port Blair accept cards, network disruptions may often cause your card to be declined. Paying in cash is the best option more so if you are travelling to offbeat destinations like Rangat or Long Island. As a rule of thumb, keep cash on you at all times.
Book a private ferry: Private ferries like Markuzz are overall more comfortable and always run on time. It takes nearly two days to procure the cheaper government ferry tickets to Havelock and Neil Islands. During the peak season (typically around Diwali, a Hindu festival that usually falls during October/November), you are advised to book your ferries to Havelock and Neil Island at least two months prior.

If you are adventurous, you can visit off-beat destinations in Andamans like Long Island and Diglipur. However, please note that they do not have scuba diving infrastructure yet but if you have your own gear, you can always go snorkeling. Here are some more cool things you can do in the Andaman Islands: