This post contains affiliate links. If you book something through these links I get a small commission at no extra cost to you. You can read more about mydisclosure and affiliate policy here.
…
Most divers will happily forgo fancy shoes and dresses to make space for that second mask or an additional wetsuit when they pack for a trip. I am one of them but one thing I will not go without is a quick dry towel for travel.
Even when I stay at a somewhat fancy resort or pack for a liveaboard, I think one can never have enough fast-drying towels so I never regret taking an extra one.
Even if you are packing for a regular beach trip, chances are you won't have too much space left in your suitcase so regular towels like terry cloth towels or bath towels are not an option. Those will also need much room to dry and take a lot longer, regardless of how small or large a towel it is.
Top QUICK DRY TOWELS for travel
My top pick for quick-drying towels is a simple cotton hammam towel or Turkish towels in different colors. While mine come from the markets in Morocco, I have put together some of the best travel towels to buy online if you can't hop on a flight to Marrakech before your next trip.
Keepsie Kits
Keepsie Kits is a tiny online shop offering a curated collection of good options for eco-friendly travel products. Their sustainable quick dry travel towel is made from recycled plastic, has a large size but is incredibly light and most of all super stylish. Which mermaid doesn't love an ocean print?
The summer chaser
The Summer Chaser makes some of the best quick dry towels out there that are also sand-free – meaning sand won't stick to them like regular towels. They come in different sizes and with a carrying case, some perfect for the beach others great for workouts or travel. And they are one of the best options out there if you are looking for an eco-friendly towel as they are made from 85% post-consumer recycled polyester (rPET) and only 15% nylon.
Nomadix
Nomadix is another company that has the motto 'from trash to towels' using a MicroTerry™ material, a recycled fabric, for the perfect travel towel. They offer the best towels in terms of absorption, versatility, and weight – even a wet towel is incredibly light. Towels come in different sizes, they even have a small size Mini Towel, as well as cool changing ponchos and blankets.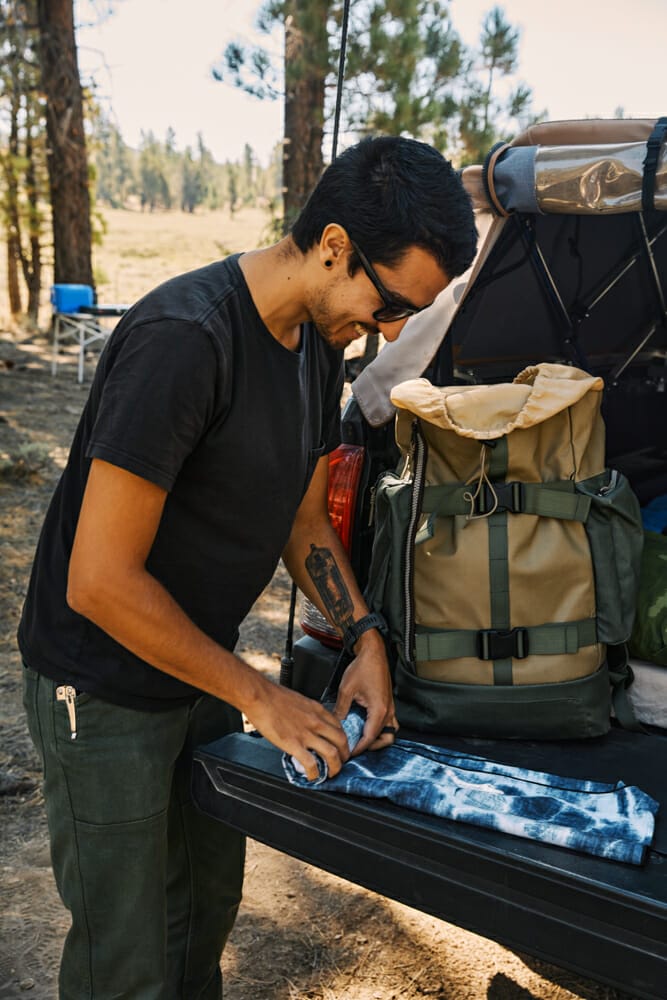 Watch out for microfibre towels
Microfiber towels are a great option for those who want to travel lightly and need the best quick dry towel for travel.
However, even the best microfiber towel comes with a couple of caveats. For me, the main downside is comfort. Even if they are fast drying once wet, I wouldn't consider microfibre a very absorbent towel material. I prefer the feel of natural materials.
The second issue is that whenever you wash them (same as with any clothes made from synthetic fabrics), microfibers will be released into the water. This causes huge issues in our oceans and can potentially harm marine animals that absorb them with their food.
If you love microfibre towels consider investing in Guppyfriend, a wash bag that catches the majority of fibers released while washing.
Hammam Towels & Turkish Towels
Want some more options for the best quick dry towel for travel made from natural fibers?
What is your favorite brand for a good quick dry towel for travel?