This post contains affiliate links. If you book something through these links I get a small commission at no extra cost to you. You can read more about mydisclosure and affiliate policy here.
…
Do you want to discover one of the best dive destinations in the world? Of course, you do! To dive Raja Ampat, Indonesia is a once in a lifetime experience for many – I was lucky enough to go there twice and still dream of returning again. Raja Ampat is wild, remote, and breathtakingly beautiful.
If you are dreaming of diving in Raja Ampat read on and start planning your trip.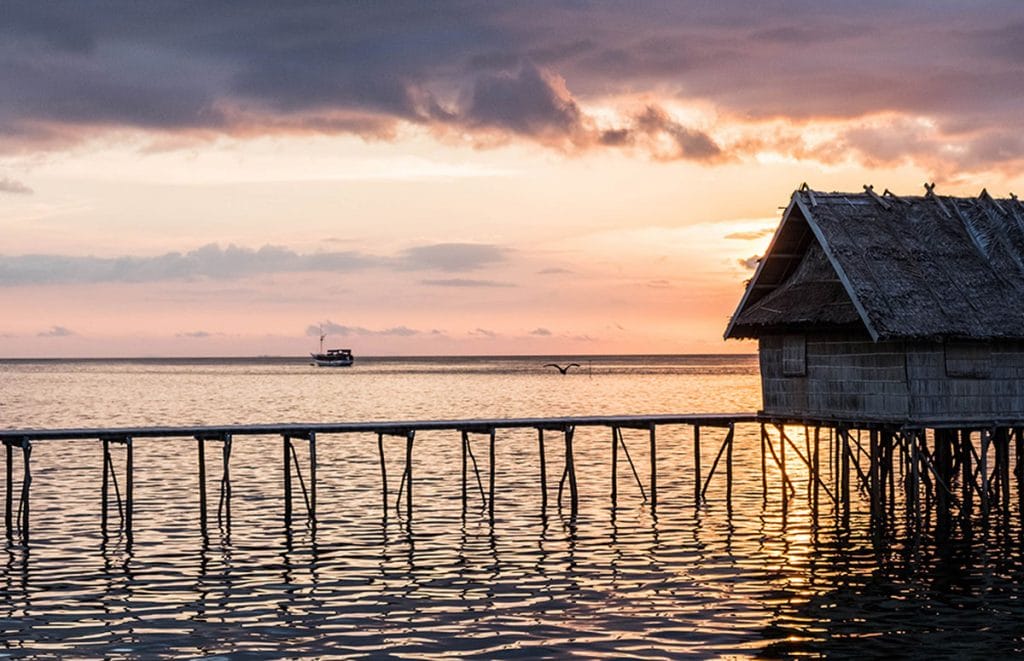 What makes diving in Raja Ampat so special?
There is not much tourist infrastructure in Raja Ampat except for a few dive resorts and some local shops. Sorong is nothing to write home about and if you are looking for fancy restaurants or hotels, entertainment or bars, you have come to the wrong place. This is lucky for the rest of us who come here for solitude, nature, and of course diving in Raja Ampat.
Raja Ampat means "Four Kings" (referring to the 4 main islands), a fitting name considering how royal the underwater world here is. When one talks about the best dive destinations around the world it seems that Raja Ampat has long overtaken Sipadan's fame. I dare say even Cousteau would agree with that assessment.
It lies smack bang in the middle of the Coral Triangle where the Indian Ocean and the Pacific Ocean meet and offers marine biodiversity second to none. On a single tank dive, they recorded 374 different fish, coral, and mollusk species at Cape Kri – a world record.
In addition, the water just seems a bit clearer (unless it gets crowded because there are so many fish around!), the sunsets are just a bit more spectacular, and the islands just a little more remote. Adventures await everywhere in Raja Ampat – below and above the surface.
Below the surface, you will find … everything. From huge mantas to different varieties of tiny Pygmy Seahorses, Wobbegong and Epaulette walking sharks, Hammerheads, Blue-ringed octopus, Frogfish, Barracudas, Mandarin fish, and even some elusive saltwater crocodiles.
And also above the surface, Raja Ampat has much to offer for nature and especially bird lovers. If you have the chance to visit the area's most famous viewpoint, Piaynemo, go ahead – the hike up is easy enough and the view from is incredible.
How to get to Raja Ampat?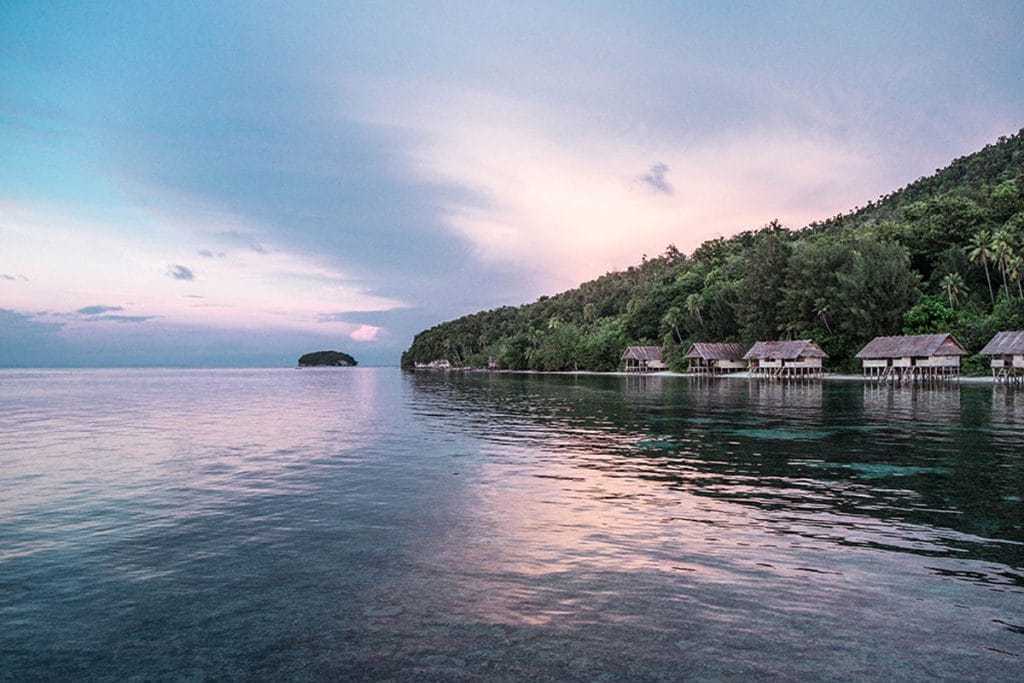 Where is Raja Ampat? To say it is hidden would be an understatement. Chances are unless you are Indonesian or a diver you will not even have heard of it. This group of 1500 islands and islets is part of Indonesia and lies off the coast of West Papua, making it the most eastern Indonesian islands.
Even in our days, getting there is an adventure, to say the least. There is no international airport and you will definitely need to add a few layovers even getting there from other Indonesian destinations. The most frequented airport in the area is Sorong and getting from Jakarta or Bali to Raja Ampat will require a stopover in Makassar. From here you can catch the infamous 4 am flight to Sorong. Chances are you will meet some fellow divers at the Ibis Hotel at the Makassar airport which is conveniently located right in the airport thus perfect for an early morning flight. The hotel is not fancy but at least inexpensive and so close to your gate that you can almost literally roll out of bed and land in your seat. Luckily Starbucks is open 24/7 so you can grab a coffee on your way.
Check out rooms at Ibis Makassar Airport
From Makassar, it takes about 2 hours to get to Sorong. Mind you, once you have arrived you are not quite there yet. Depending on which island you choose – Waigeo, Batanta, Salawati, or Misool – you still have 2-4 hours by boat ahead of you. Luckily most dive resorts in Raja Ampat can easily organize your pick-up.
Nobody ever said getting to paradise was easy – but it is oh so worth it!
How to find a good dive resort & accommodation in Raja Ampat
If you want to dive Raja Ampat there are a few accommodation options and most Raja Ampat resorts are diving resorts with their own dive center. There are also a few homestay options on the local islands or you can do a liveaboard trip in Raja Ampat – a great option to cover a lot of ground in little time.
Finde a dive center in Raja Ampat
Most resorts in Raja Ampat offer diving and non-diving packages that include set meals, transfer from/to Sorong, and accommodation for a set amount of nights.
Check out accommodation option in Raja Ampat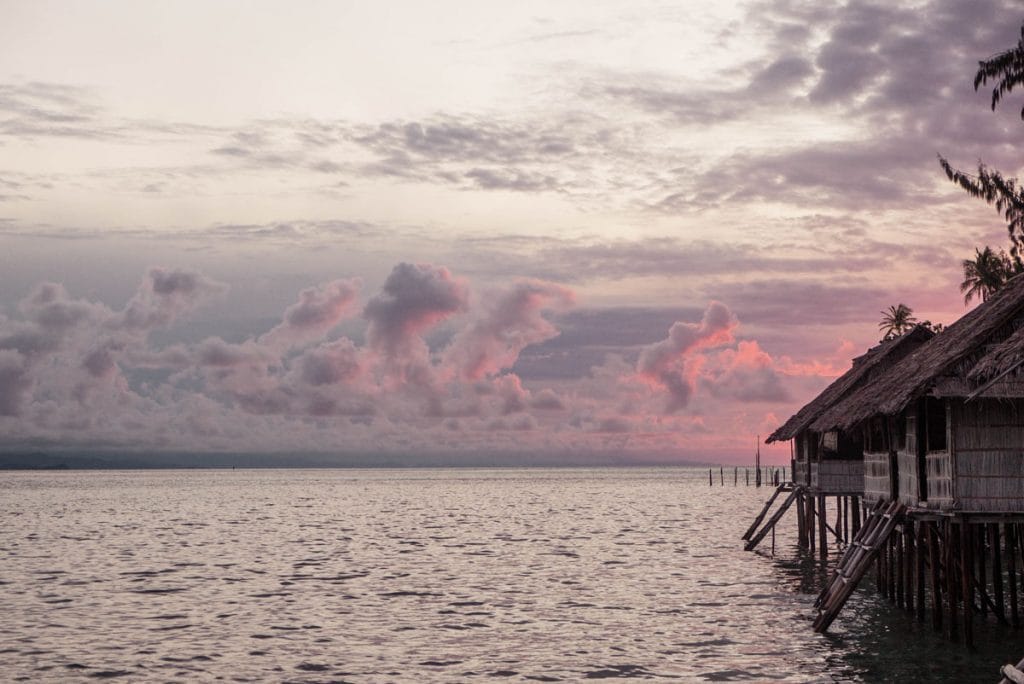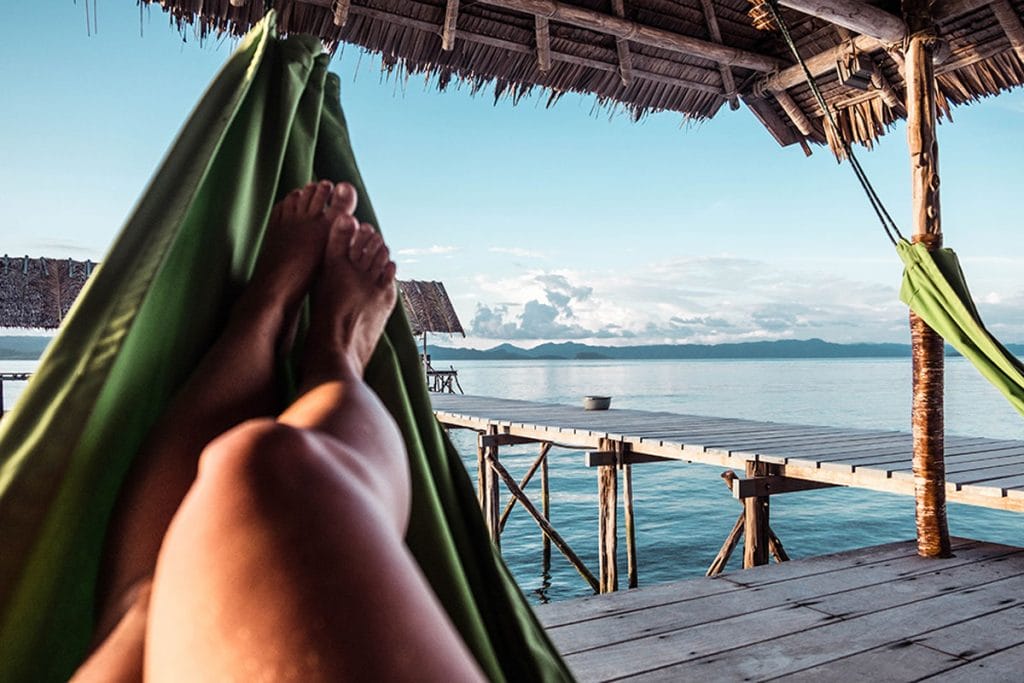 For most places like Kri Eco Resort or the famous Misool, eco-chic is the name of the game. You won't get 5-star butler service but instead simple overwater bungalows, lots of nature, and incredible hospitality. Sustainability is key or a lot more prevailing than in other parts of Indonesia which is a good thing once you get in the water and realize that thanks to currents trash has found its way even to remote Raja Ampat.
Book cottages & with Papua Diving Kri Eco Resort
Here are some things to keep in mind when planning your trip to Raja Ampat:
You will need to pay an extra IDR 700.000 (approximately $50) for the marine park fee. The card you get is valid for a year, a good enough incentive to come back quickly.
There is no 7/11 in Raja Ampat once you leave Sorong. While there are some little shops on the local islands I recommend you take snacks, soft drinks, and any hard liquor you may want.
There are also no ATMs. While most resorts will allow you to pay by credit card take enough cash for excursions to the local islands and tips.
Wifi is spotty and quite expensive at the resorts. Prepare to disconnect or get yourself a local Telkomsel SIM card and their app to top up when needed. While even cell reception is quite bad in places, it worked wonders for me at Kri – I even watched Netflix in my cottage thanks to my hotspot.
Bring enough of your preferred toiletries. Include reef-friendly sunscreen and conditioner, mosquito spray, and tampons (or better yet a diva cup!).
If you can take your own scuba gear and a safe-the-dive-kit. While the resort dive centers in Raja Ampat are usually well outfitted, chances are something may not fit, be available in your size, or may need a quick repair.
Of course, you can also do your Open Water course or many specialty courses while you are in Raja Ampat. A word of warning though: diving in Raja Ampat will spoil you for the rest of the world!
How to get your Open Water Scuba Certification
The best time to dive Raja Ampat
The Raja Ampat diving season is rather long and lasts from October to May with water temperatures at a steady 27-30 °C. During this time the water is calmer and the visibility is excellent making it the best time to dive Raja Ampat. From June onwards the monsoon starts which brings rain and more turbulent water. Note that while some areas in Raja Ampat will still sport beautiful weather and good diving conditions, most liveaboards tend to limit their season from October to May. Chances are if you come rather late in the season you will have most dive sites in Raja Ampat for yourself, making the weather gamble worth it.
Click through to read all about a Raja Ampat Liveabaord
In general, it is a good idea to check the calendar and talk to your dive center if you are worried about currents – some dive sites in Raja Ampat tend to get a rather strong current during the full moon. This may or may not something you like.
The best dive sites in Raja Ampat
Arborek Jetty
Check the map of Raja Ampat and you will have a hard time locating Arborek Village as it is only a tiny local island east of Mansuar where Kri Eco Resort is located. The island has its own dive center and a few homestays and is home to one of the most famous dive sites in Raja Ampat: the Arborek Jetty.
You will see its magic as soon as you arrive at the jetty as you will find millions of schooling fish around its wooden poles. It is not only a great dive site but also good for snorkelers and freedivers as it is quite shallow.
Chances are you will get photobombed here but then again this is what you came for: schools Trevally, various Snappers, and Sweetlips await.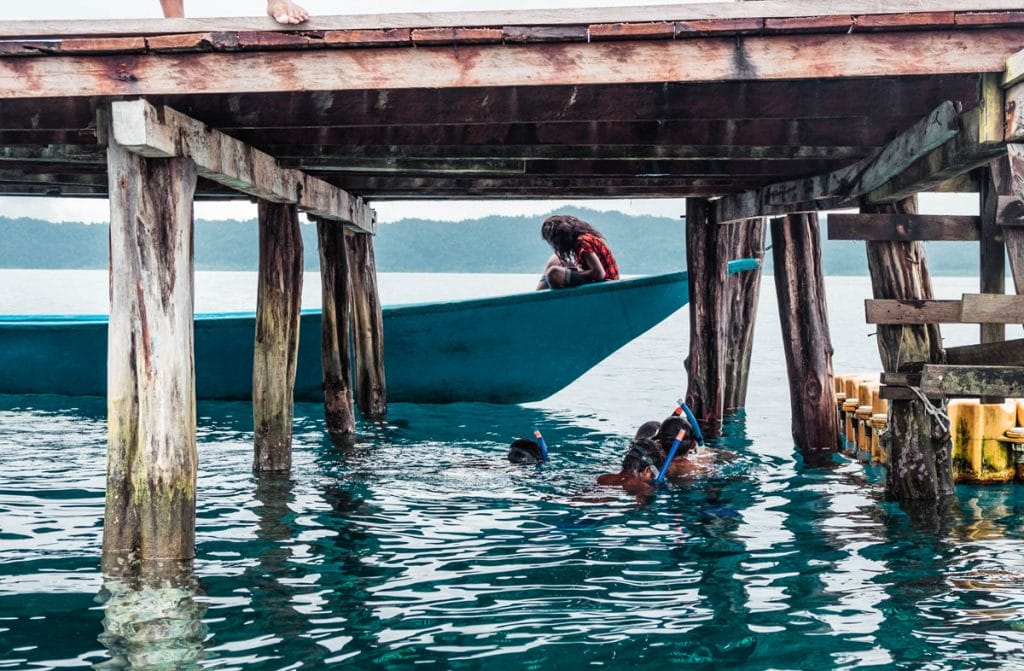 It is also a great site for night dives in Raja Ampat and chances are good that you will spot a Wobbegong or Epaulette walking shark here.
The Passage
The Passage also known as Kabui passage was one of my favorite dives in Raja Ampat. It is surprising, to say the least as trees & trunks meet soft corals underwater. This makes for a unique topography, unlike any I have seen, and of course for stunning unusual pictures.
Chances are good that there is some strong current that will sweep you through the passage making it a proper underwater highway. Keep your buoyancy and enjoy the ride!
Cape Kri
Cape Kri is that infamous dive site where those 374 species were counted. It is truly magical even if you won't be able to identify all those species yourself.
Chances are that there will be a medium to strong current, making it a dive site better suited for advanced divers.
You will be able to see beautiful Sweetlips, Trevallies, Barracudas, Red Tooth Trigger Fish, and also some White Tip Reef Sharks. And if you are very lucky you will even see an elusive Blue-ringed Octopus here – make sure to keep your distance but bring your camera!
Learn new skills during your Advanced Open Water
Blue Magic
Blue Magic is also known as one of the best dive sites in Raja Ampat (but really – which one doesn't hold claim to this title?!). Tunas, Jacks, Sharks, and Barracudas await on this beautiful reef in the middle of the ocean that slopes down from 8 m – 30 m.
Currents can be quite strong so you should be an advanced diver but it is worth the effort – this is also one of the few places to see mantas in Raja Ampat!
Pin for Later!