This post contains affiliate links. If you book something through these links I get a small commission at no extra cost to you. You can read more about mydisclosure and affiliate policy here.
…
I started my diving life in Thailand where I did the majority of my courses on Koh Tao including my OW and AOW. While I quickly realized that diving in Thailand couldn't hold up to diving in the likes of Raja Ampat or the Maldives, it still holds a special place in my heart. I would have never hailed Thailand to be one of the best dive destinations in the world but I liked it well enough.
Complete Guide for Koh Tao Scuba Diving
That was until I went diving in Koh Lipe and realized – wow, there is a place in Thailand that can easily keep up with the big shots!
The Ins & Outs of Diving in Koh Lipe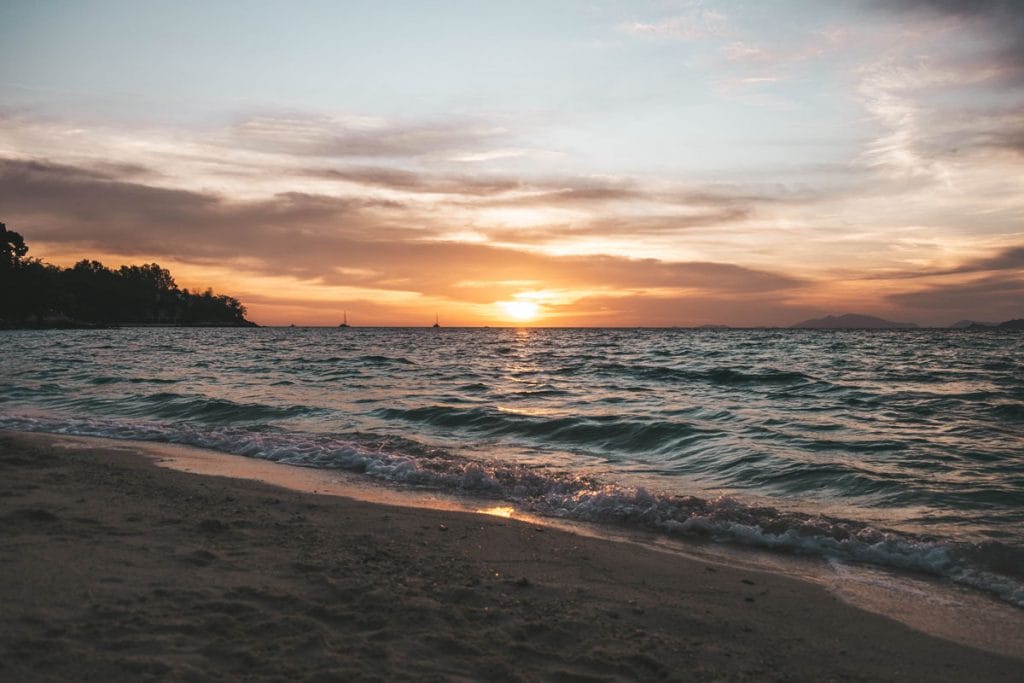 What makes diving in Koh Lipe so special?
Many dive sites in Koh Lipe are at home in the Tarutao National Marine Park that shares a border with Malaysia. The park is closed for some months a year which gives it plenty of time to recuperate and the abundance of fish and coral you will find here is astonishing.
This ranges from big guys like Whale Sharks and Mantas to tiny macro critters – Koh Lipe now holds my personal record of the tiniest Nudibranch ever seen and most Seahorses within a week. I did not get so lucky with the gentle giants but to be fair I did not come in season for that.
But what made diving Koh Lipe so special for me was the corals. I learned that thanks to some stronger currents many dive sites in Koh Lipe are covered in the most beautiful soft corals – think 50 shades of pink & purple. So even if you don't get to see your favorite marine animal on a dive you will definitely have a great time because those Koh Lipe dive sites are as pretty as it gets!
In addition, Koh Lipe is a perfectly sized island for a holiday: not too big and not too small, easy to get around, some stunning beaches and nice restaurants, not too overrun with backpackers while still home to some great bars. With that, you are sure to have as much fun above the surface as you will have below.
More great spots for Diving in Thailand
Best time for diving in Koh Lipe
Tarutao is closed for tourism which includes diving from mid-May until mid-November. But fear not, there are still plenty of great dive sites around Koh Lipe that are not part of the national park and therefore open.
The season slows down from May to October but that doesn't mean there isn't great diving at Koh Lipe at this time of the year. The water temperature hovers around 28 degrees all year long and visibility is at 20+ meters. The low season is a good opportunity to find good deals on accommodation and diving so if you travel and dive on a budget it is worth checking out.
As with many dive sites conditions will also depend on the moon and some can get strong currents. During the summer months, there will be more plankton in the water which yay, means more Whale Sharks!
Koh Lipe Dive Sites you shouldn't miss
There are plenty of great dives sites around Koh Lipe and the surrounding islands and your dive center will choose the best one depending on tides and conditions. The nice thing is that none of them is further than a 30 minutes speedboat ride, meaning you can go back to land in between dives on most trips.
If you are diving in Tarutao National Park you will need to pay a marine park fee of 220 baht. One ticket is mandatory before you get on your speedboat and it is valid for 5 days. If you stay longer you will need to get another ticket which most dive centers include in their prices.
Note that on some dive sites you will see fishing cages. These cages belong to the Chao Ley, the nomadic fishermen who have lived around the area for a long time. While this can be a hard sight to stomach for some divers, they have explicit permission to set up these cages for fishing.
Zero Rock
I started my diving in Koh Lipe with a trip to Zero Rock which is aptly named for a small islet that looks like a zero (if you squint your eyes that is). The dive site is a great introduction to Koh Lipe diving as conditions are easy and there is plenty to see.
We got especially lucky with a big Marble Ray, dancing Feathery Starfish, and my personal favorite – a school of Bannerfish during our safety stop.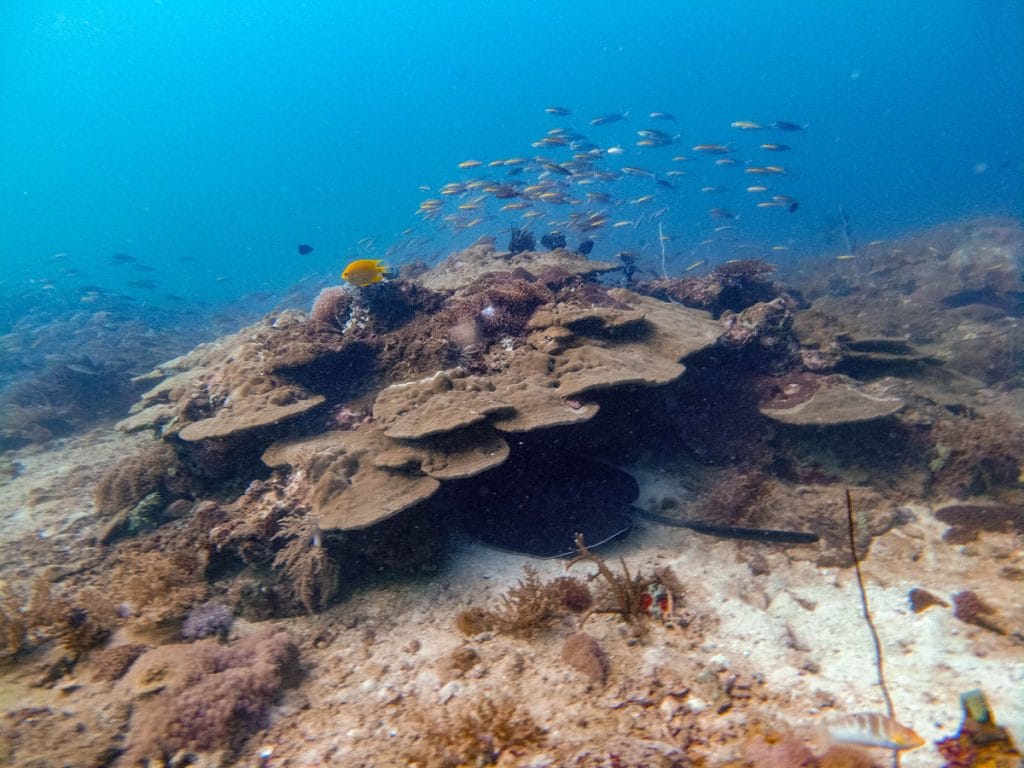 Koh Yang West & Koh Yang East
As the name implies these dive sites are east and west of the island Koh Yang, close to Koh Lipe. They are both shallow dive sites going down to 15 m maximum and offer great protection from the current, making them a good option even during a full or new moon when currents tend to be quite strong here.
You can see beautiful yellow, purple, white, and pink soft coral here which will give you a good indication of why diving in Koh Lipe is so special. In addition, there are schooling snappers, the occasional turtle, and some interesting macro life
Sarang & Pakaciem
Sarang belongs to the Far Islands and together with Pakaciem it is the furthest dive site from Koh Lipe – they are usually visited in one trip to make the 30 minutes boat ride worth the effort.
Sarang is a favorite for its so-called Christmas Tree Pinnacle which is decorated in beautiful soft corals and beds of pink and purple soft corals all around. If you have a good guide you might even be able to spot a tiny seahorse or the beloved Harlequin Shrimp.
Stonehedge
Stonehedge is probably Koh Lipe's most beloved dive site. It is a mere 5-minute boat ride from Sunrise Beach and named after its rock formations that resemble an underwater version of the original Stonehedge.
This dive site is as beautiful as it gets as many of the rocks are covered in vibrant pink and purple soft Leafy Corals all over. Honestly, even if you see nothing else on your dive it will still be worth it. As I realized Stonehedge is beautiful even if the visibility is not great!
On top, it is a perfect beginner dive site in Koh Lipe (if the current is not too strong) as most of the action happens in the shallows – Stonehedge's most beautiful part shows itself in 5 m depths when you are drifting through fields of pink. Mind you there is a cleaning station at 22 m and you can find big hunters like Barracudas as well as seahorses and other critters all around.
And in case if you are obsessed with Frogfish like me – there is a little brown one that lives in a staghorn coral!
8 Mile Rock
While Stonehedge is Koh Lipe's most beloved dive site 8 Mile Rock does lay claim to being its most famous one. As its name indicates it is located 8 miles from Koh Lipe and only suitable for experienced divers. Its pinnacle reaches from 12 to 40 m depth and is quite exposed. During full or new moon or when the wind is blowing, diving is usually not possible here and chances are there is some current even under optimal conditions.
Learn new skills during your Advanced Open Water
But if you brave it you can be rewarded with huge schools of Trevally, plenty of various marine life, and yes – Whale Sharks and Mantas! With that said, many dive sites in Koh Lipe will technically mention Whale Sharks and Mantas as they have been sighted all over but conditions and the season must be right (summer!) and you still need to be quite lucky.
How to find a good Koh Lipe dive center
There are about 20-something dive centers in Koh Lipe with quite a few still being closed when I visited in February 2021. After some research, I settled on Adang Sea Divers, Koh Lipe, a super eco-friendly dive shop that had gotten great reviews all around.
I was not disappointed – Kris, the owner of Adang, has put together an amazing team of dive professionals and ocean lovers.
The dive center also offers onsite accommodation as well as their amazing vegan restaurant Benny's on the beach. They have a great speedboat steered by captain Bang Dang and offer a whole variety of SSI courses.
Usually, you will have 4 dives on offer per day, and the more dives you book with them the less you pay per dive. All of the dives I did with them never had more than 4 divers to 1 dive guide.
In addition to being awesome at their jobs, I love the eco-conscious effort Adang Sea Divers makes. You will get refillable water bottles to use, divers are frequently reminded not to touch marine life, and at Benny's they use fabric serviettes and bamboo straws.
How to get to Koh Lipe
Getting to Koh Lipe is one of the few downsides of diving there. If you are coming from Bangkok your best bet is to take a flight to Hat Yai. From Hat Yai, you will need to jump in a mini-van for a 2-hour drive to Pak Bara. At the pier, a speedboat will take you to Koh Lipe. The ride will take between 1.5 – 2.5 depending on weather conditions and the route – some boats will make scenic stops along the way for people to take pictures.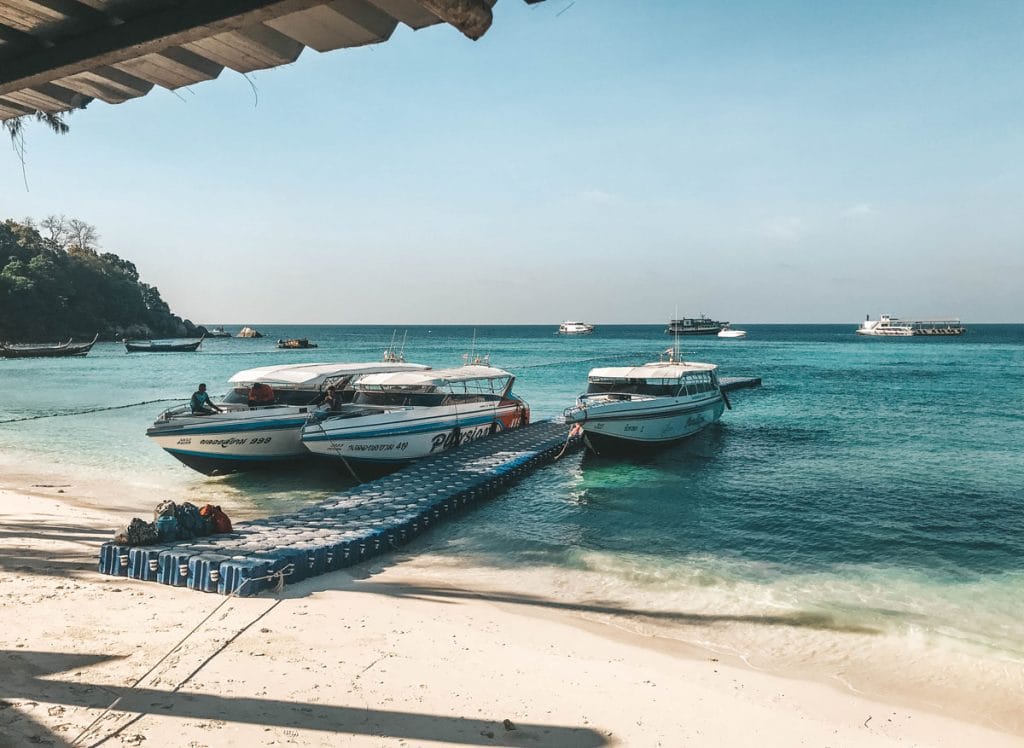 You can ask your dive center to organize both minivan and speedboat tickets for you or you can book tickets yourself on the links below. As per usual in Thailand, the transfer is organized incredibly well but simply due to logistics, it may take you the better part of a day to get to Koh Lipe from Bangkok. If you are coming from other parts of the country it might take you even longer as there are not many direct flights to Hat Yai.
Your dive center on Koh Lipe can also advise you on the flight times you should book to avoid waiting times or a stopover.
Under normal circumstances, you can also reach Koh Lipe from Langkawi in Malaysia. There is even an immigration office on the island. Alas, this is of course not possible at the moment.
If you are coming from Koh Lanta, Phuket, or Koh Phi Phi there are other options to get to Koh Lipe by boat. If you are seaworthy that is – some boat rides can be quite long. And again, not all are possible at the moment.
You can check below which is the best way to get to Koh Lipe depending on where you are coming from:
Where to stay in Koh Lipe
Adang Sea Divers offers a few accommodation options – you can either stay directly at their dive center or in the Hideaway which is a few minutes away. I chose the latter as they offered me free accommodation for the days I was diving in Koh Lipe and it didn't disappoint. The Hideaway has beautiful wooden bungalows, a lovely garden, and a big restaurant area. There is no AC but all bungalows have a fan.
And yes, the eco-friendliness extends here: there is no toilet paper whatsoever but a bum gun in every toilet. You are in Asia after all so you might as well get used to it – this way next time, toilet paper is sold out at home again you will be prepared!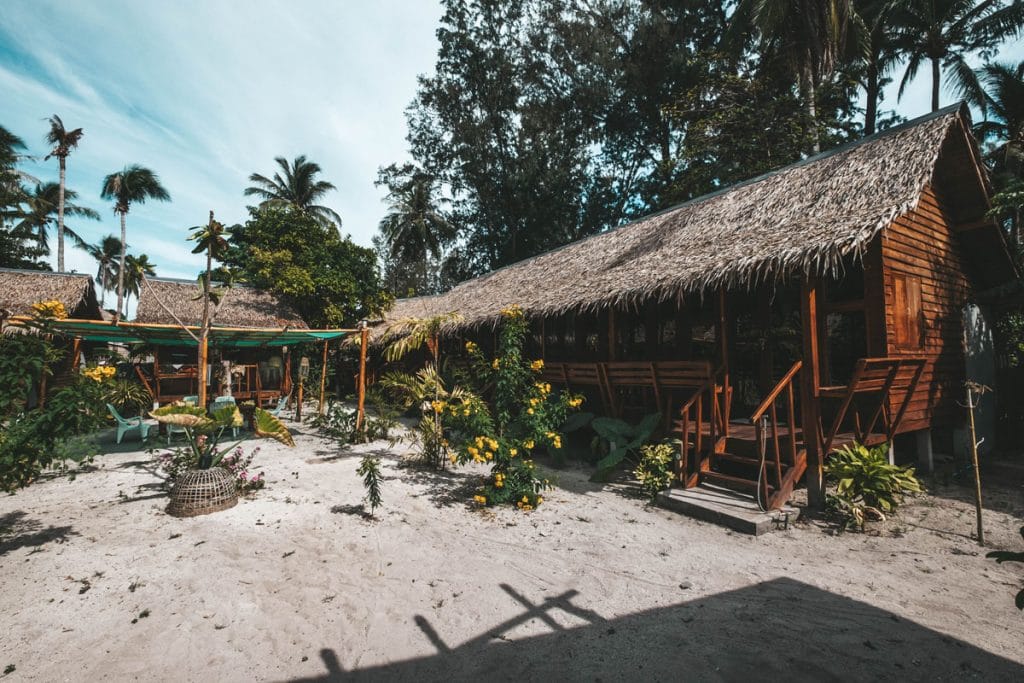 Check out rooms at the Hideaway
Of course, there are plenty of other hotels and guesthouses on Koh Lipe island. I was also eyeing Castaway Resort which looks lovely. But if you want to save some money, I recommend that once you settle on a dive center you ask them if they offer accommodation deals first before booking a place independently.
Check out rooms at the Castaway Resort
Pin for Later!