This post contains affiliate links. If you book something through these links I get a small commission at no extra cost to you. You can read more about my disclosure and affiliate policy here.
…
Can I plan a dive trip in 2021? That is a question which many divers have on their minds these days. With much of the world closing down over the past months, many travelers have put their trips on hold, postponed, or canceled.
But luckily there is light at the end of the tunnel with vaccines coming and quite a few destinations opening up to tourists under strict safety precautions. So yes, I say you can plan a trip to some of the best dive destinations around the world and feel safe doing so.
So where to head for diving in 2021? I share some destinations I have been eyeing, tell you why you should put them on your diving bucket list, and what requirements they have for you to travel there now!
Please note: Make sure to check each country's entry requirement before you book a flight – things change rather quickly at the moment and entry requirements will also depend on where you are coming from.
And in case you are wondering why Indonesia and Mexico didn't make the list – while they are two of the best places in the world to scuba dive, I wouldn't feel good promoting travel there at the moment. Indonesia is currently closed for tourists and Mexico does not even require a PCR test to get in so to me it doesn't feel safe to recommend a trip at this time.
Best Dive Destinations 2021
Thailand
As you are reading this, I am sitting at a laundromat in Bangkok after returning from an amazing dive trip in Koh Lipe about to head on a liveaboard in the Similan Islands.
While Thailand diving may not be world-renowned it is a great destination to get certified, dip your toes into the tech diving world, and have an all-around great holiday. Fabulous dive destinations include Koh Tao, Koh Lanta, Koh Phi Phi, famous Richelieu Rock, one of the best dive sites in the world as well as my newfound favorite the Tarutao National Marine Park in Koh Lipe.
A Guide to Koh Tao Scuba Diving
Click here to read about diving in Koh Lipe
Especially at the moment, you can get some great deals from dive centers around the country with many offering free accommodation when you book dives. And chances are you will have some of the best dive sites in Thailand all to yourself!
Find a dive center in Thailand
How to travel to Thailand in 2021
Thanks to very strict protocols Thailand has managed to keep a tight grip on Covid, making me feel incredibly safe while being here. Masks are mandatory in most stores as are temperature checks and check-in with a QR code. This results in the freedom to roam around the country and low Covid numbers almost everywhere in Thailand.
The one downside for travelers – Thailand has implemented the so-called ASQ, a state-mandated hotel quarantine with up to 15 nights upon arrival (depending on where you come from and whether you are vaccinated). You will also need a COE, negative PCR-test, and some other forms to get in.
While this may throw a spanner in the works for some travelers, it might still be an option for you if you are planning to stay longer. In addition, they have eased their tourist visa restrictions considerably. Even if you are visa-exempt like travelers from the UK and US you now get a 45 day stay instead of the usual 30 days to make up for the days you spent in quarantine.
Check the posts if you want to know the details about getting your COE and the hotel quarantine.
As of July the Phuket sandbox program will start, allowing vaccinated travelers from low & medium risk countries to go there without quarantine. Visitors will have to stay on the island for 2 weeks in a SHA+ hotel before being able to move to other parts of Thailand. Great news for families: unvaccinated children can still go with their parents without quarantine!
Mauritius
Mauritius became one of those dive destinations I never saw coming. The water is warm and clear, there is plenty to see (including humpback and sperm whales as well as dolphins), and the waters offer an amazing array of cool shipwrecks to explore.
Click here to read more about diving in Mauritius
Below and above the surface, Mauritius is a cool country for a holiday, offering something for all kinds of travelers: yummy street food, great golf courses, rum around the clock, and stunning hikes.
How to travel to Mauritius in 2021
Like Thailand, Mauritius introduced a hotel quarantine last year, basically eliminating Covid on the island thanks to these strict measures. Unfortunately that changed when a few people were allowed in without quarantine and numbers started to rise again almost immediately putting a stop to international arrivals.
Fortunately, Mauritius will reopen its borders on July 1st. Vaccinated travelers will be able to stay at a pre-approved hotel for a 14 day resort holidays and will be able to use most hotel facilities. Unvaccinated travelers will still have to do regular hotel quarantine. It is said that as of October 1st, vaccinated travelers will be able to come to Mauritius without quarantine. You can check the exact requirements and hotels here.
Regardless of your vaccine status, you will need to have a negative PCR test to get in as well as do 2 tests during your quarantine.
Find a dive center in Mauritius
Bahamas
If you are a shark fan then the Bahamas are the place for you! They have some of the richest shark populations in the world and one of the most progressive shark conservation measures to protect those beauties. The local population knows that a living shark is worth much more than a dead shark and they act accordingly to protect them.
Diving with sharks is one of the things to do in the Bahamas and paired with great visibility you can see bull sharks, hammerheads, reef sharks, and nurse sharks.
In addition, the waters in the Bahamas are great for cave diving, wrecks, and blue holes – did you know that there are 180 blue holes in the Bahamas?
Book a liveaboard trip in the Bahamas
How to travel to the Bahamas in 2021
To get to the Bahamas you will need to apply for a so-called Bahamas Travel Health Visa. In order to apply, you will need to get a negative PCR test no older than 5 days before your arrival in the Bahamas.
The costs for the visa depend on the length of your stay and start at $ 75 which includes mandatory insurance.
Once you have arrived you will also need to take a rapid Covid-19 antigen test if you are staying longer than 5 nights (cost for the test are also included in the visa). You can check out the current requirements here.
Mask wearing is compulsory in most public areas and failing to comply can lead to a fine of $200 or even a month in prison. You can find details on what public areas are included here and should also check for local regulations for the individual islands.
Maldives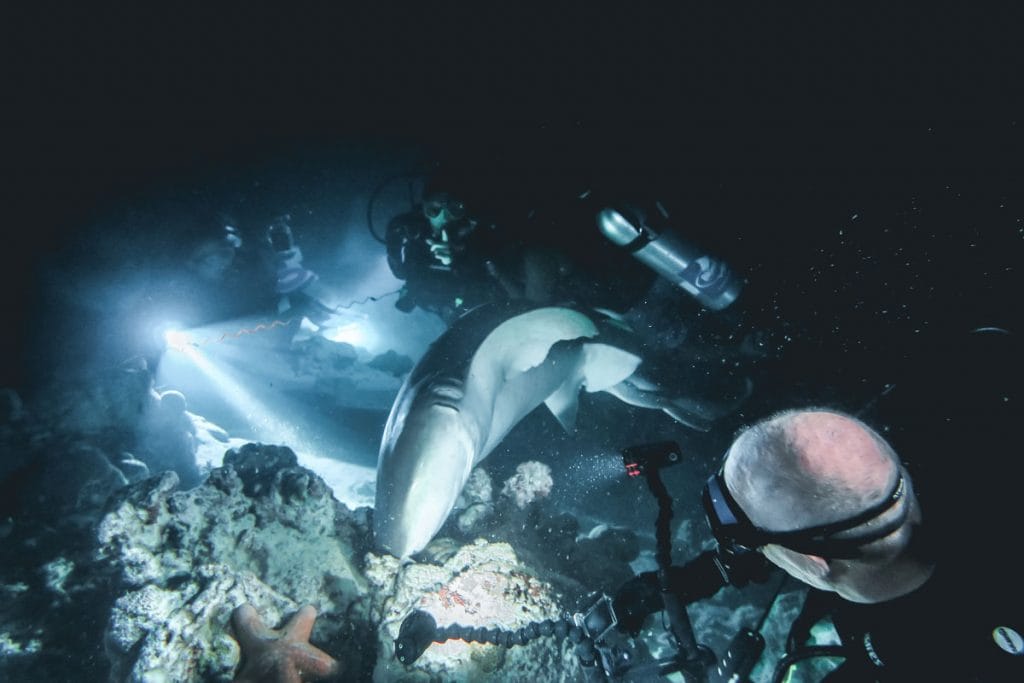 The Maldives are one of my favorite places to dive in the world. Whether you choose a local island, stay at a fancy resort, or join a liveaboard the underwater world here is spectacular.
Click here to read about diving with a Maldives liveaboard
Honestly to me, the best option is a liveaboard as the Maldives are quite big, and this way you can cover a lot of ground and easily reach far-flung dive sites. Depending on the season most liveaboards head through the central atolls route and do special trips which will take you deep into the south. In addition, a Maldives liveaboard is not too pricey compared to some of the resorts while still offering you a cold beer after your dive and the option to see a variety of dive sites.
On your way you can except sharks and mantas galore, exciting channel diving, whale sharks, and even the occasional frogfish – what's not to love?
Check out Maldives liveaboards here!
How to travel to the Maldives in 2021
The Maldives were one of the first countries to open back up for tourism in 2020 and they have done so pretty successfully. Traveling there is possible and even resort hopping is a go – with restrictions and strict health protocols in place of course!
First of all, you need a confirmed booking with a registered tourist establishment – you can check the list on Visit Maldives but they include resorts, guesthouses, and yes, liveaboards!
The usual rules apply once you arrive: wear your mask, sanitize, screen your temperature, and keep your distance. Visitors should also install the TraceEkee app for contact tracing.
What you cannot do in the Maldives at the moment is to just rock up at a local island. All stays need to be booked and confirmed with the accommodation beforehand. Split-stays aka resort hopping is permitted but need to be pre-approved and your hotels can help with that. Bear in mind that many resorts will require a new PCR-test when you arrive from a different establishment and you will be confined to your room until you get the negative result. Considering that most rooms in Maldives resorts are bungalows or villas this isn't such a hard task however, these PCR-tests can cost an additional $100-$200 I was told.
Once you leave a place you need to do an exit screening which is pretty much just a questionnaire and unless you have any kind of symptoms it has no bearings on your onward travel.
Jordan
I have been dreaming of diving in Jordan for a while now. Last year I was invited to go to Aqaba on a press trip alas it was the first of many trips that got canceled. So for now I am still dreaming…
Red Sea diving is amazing and Aqaba also has a few other perks in addition to warm water, great coral gardens, and a huge variety of marine life. There are quite a few wrecks to dive in Jordan and not all are of the nautical kind: there are quite a few sunken planes to explore (don't worry they were sunk on purpose!) which have become home to a big variety of fish and corals.
There is also the first Underwater Military Museum that shows off sunken battle relics. They include tanks, a combat helicopter, a troop carrier, and many more.
Check out dive centers in Jordan
How to travel to Jordan in 2021
Jordan has just recently reopened its borders for international travelers. In order to go diving in Jordan, you will need to show proof of a negative PRC test no older than 72 hours at departure.
You will also need health insurance and install the AMAN Mobile App. Before you board you will need to fill out the Health Declaration and Locator Form.
In addition, you will need to do another PCR test upon arrival and pay for it electronically before you depart. Depending on the airport you fly to there are different sites you must use to pay. You can check the sites and all the up to date entry requirements here. While you don't need to quarantine while you wait for your results it is obviously advisable to do so. Should your test be positive you will be instructed by the government how and where to quarantine.
Passengers who have been in the UK for the last 14 days are not permitted to enter at the moment.
Bonaire
I have yet to visit Bonaire but it seems the perfect Caribbean diving destination at the moment. I have a friend who migrated to the island almost 10 years ago and never looked back. Needless to say, she is a diver as Bonaire is an underwater paradise and thus a perfect home for mermaids.
There are over 80 dive sites around Bonaire with a majority offering shore dives. You can dive in the Bonaire National Marine Park all year long and it has something in store for all levels of divers. For everyone an amazing variety of reef fish, coral gardens, and schools of blue tangs or jacks await. If you get lucky Bonaire will throw in the occasional whale shark, a manta, or at the very least an eagle ray.
How to travel to Bonaire in 2021
I think Bonaire is doing quite a bit to offer as much protection for the local population while still attracting as many tourists as possible at the moment. Mind you this results in a system that seems pretty complicated and has different rules and regulations depending on where you come from.
You can travel to Bonaire without any restrictions if you are coming from Australia, China, New Zealand, Rwanda, Singapore, Saba, Sint Eustatius, Thailand, Iceland, and South Korea. You don't even need a test – hurrah!
Travelers from most other countries will need a negative PCR-test taken within 24 hours of departure OR a negative PCR-test taken within 72 hours of departure AND a negative antigen test taken within 24 hours of departure.
If that wasn't tricky enough travelers from the following countries currently have to do quarantine upon arrival: Argentina, Bolivia, Brazil, Chile, Colombia, the Dominican Republic, Ecuador, French-Guiana, Guyana, Panama, Paraguay, Peru, Suriname, Uruguay, and Venezuela as well as the UK and South Africa.
This also applies if you are transiting through another country and if you have been to one of those countries within the last 14 days.
Quarantine in Bonaire is 10 days in a designated location. After 5 days you will have to take a PCR test and might be allowed to leave. Needless to say, both quarantine and testing are at your account.
Additionally, travelers have to complete a health declaration at www.bonairepublichealth.org.
Keep in mind that lists with risk countries like these can change quite quickly so make sure to check the latest requirements before booking and boarding your flight.
Galapagos
The Galapagos are yet another dream destination for divers myself included. I'd go there if only to see some hammerheads but of course, there is so much more: whale sharks, mola molas, marine iguanas, mantas… I wouldn't even mind the water temperatures which I consider flipping cold (as low as 18 degrees though apparently, they do go up to 28 degrees in March and April which is just about acceptable for me).
Another aspect I find super intriguing when it comes to diving in the Galapagos is the lack of mass tourism and the focus on eco-travel. I am currently eyeing a liveaboard with Galapagos Shark Diving, a great company that offers eco dive liveaboards with a focus on conservation.
Book a Galapagos liveaboard
How to travel to the Galapagos in 2021
If you want to travel to the Galapagos you will need to keep rules and regulations for both the islands as well as Ecuador overall in mind. To get to Ecuador you will need a negative PCR-test no older than 3 days upon entering the country. In order to get to the Galapagos, you will need an additional test no older than 96 hours. This can be the same test you used to enter the country if you are just transiting and the results are no older than those 96 hours.
Alternatively, proof of your Covid vaccinations means you don't have to do a test.
You will also need a "salvoconducto", a so-called safe-passage, which your hotel or liveaboard will issue for you at least 24 hours before traveling to the Galapagos. You also need Transit Control Card which you get after payment to the Galapagos Government Council.
Once you have arrived the usual rules and safety measures apply.
And in case you are not ready to book a trip yet, check out this post with the 10 best dive books to keep you entertained on land!
PIN FOR LATER!