Disclosure: I was invited by Four Seasons for my stay and manta snorkel.
…
Seeing manta rays in Maldives is on the bucket list for many divers and snorkelers alike. There are plenty of spots around the country where you will find so-called 'manta points', cleaning stations where these gentle giants like to go and get a spa treatment. However, the majority of these spots will require you to have at least an Open Water certification. If you want to just swim and snorkel with mantas you generally need to be really, really lucky to see them.
There is one special place, however, where the mantas come for a few months every year to feast on plankton soup and often pop up right to the surface: Hanifaru Bay in the Baa Atoll. I will tell you how to organize your trip so you can see mantas in Hanifaru, a once-in-a-lifetime experience.
Seeing Manta Rays in the Maldives with Four Seasons Resort Maldives at Landaa Giraavaru
Table of contents:
What and where is Hanifaru Bay?
Hanifaru Bay is a UNESCO Biosphere Reserve located in the Baa Atoll. The bay itself isn't big but it is well known as a hotspot for mantas and whale sharks. While the bay always functions as a manta cleaning station, the rainy season from May to November brings currents to Hanifaru which bring a lot of plankton. Plankton is the favorite of both mantas and whale sharks who like to come here to feast on plankton soup while getting a scrub. Yummy!
Marine biologists have spotted up to 200 manta rays in the bay at once – an incredible sight that you can witness too with a bit of luck.
From Male you will need to hop on a domestic flight to Dharavandhoo in the Baa Atoll or catch a seaplane. Whichever resort you choose they will organize the transfer for you.
Why snorkel and not dive with manta in Maldives?
Hanifaru is a marine protected area and therefore it is not allowed to dive in the bay. Obviously, you can dive in other parts of the Baa atoll and probably also get lucky and see mantas. However, in Hanifaru you are only allowed to swim/snorkel with mantas to not disturb their feeding.
You won't be able to go on your own but have to book your trip through a licensed resort, guest house, or dive center. All Hanifaru snorkels have to be accompanied by an official guide and you will get a thorough briefing before getting into the water.
Both, mantas and whale sharks can show up here, and keeping a safe distance is key. This is easier said than done because I remember mantas coming up to the surface with no regard for any snorkelers around – in fact, it was up to us to pull up our legs or swim the opposite way to not collide. They are so damn curious!
Needless to say, you should never touch on purpose, avoid diving below them, and only use photography without flash.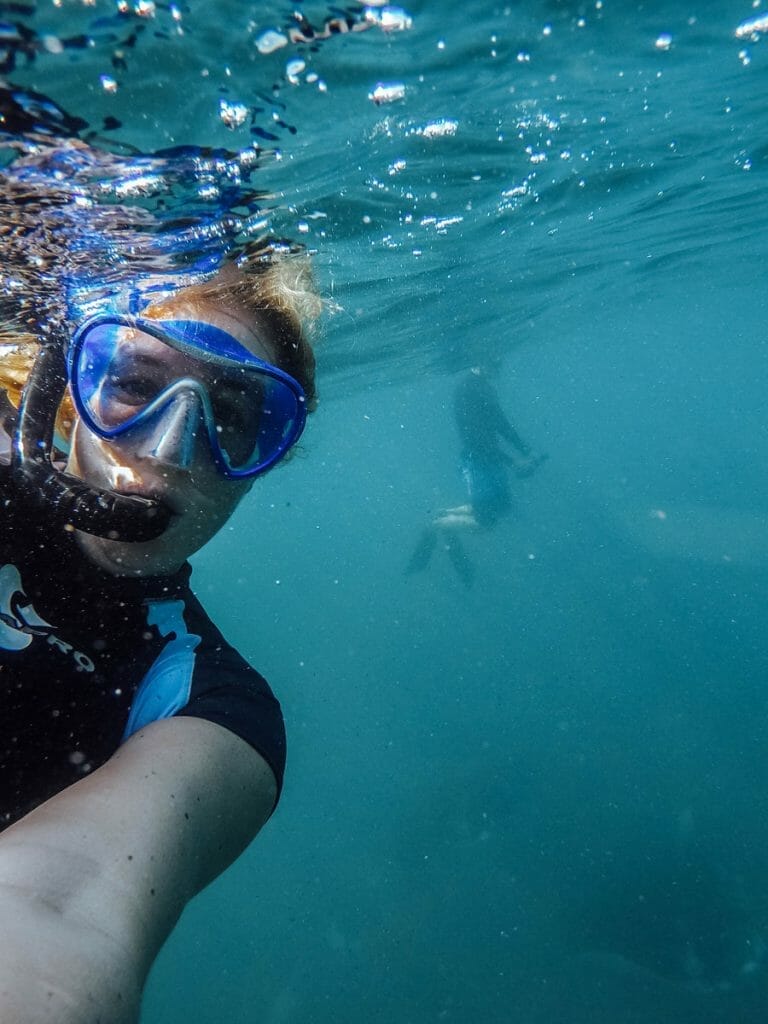 If you take some good pictures you should share them with the marine biologist which will most likely accompany you – whale sharks and mantas can be identified by their unique spots. All over the world databases have popped up with the rays or whale sharks in a given area, and they not only get counted but also named. And yes, chances are you will get to name the manta if you identify a 'new' one.
Where to stay in Hanifaru Bay?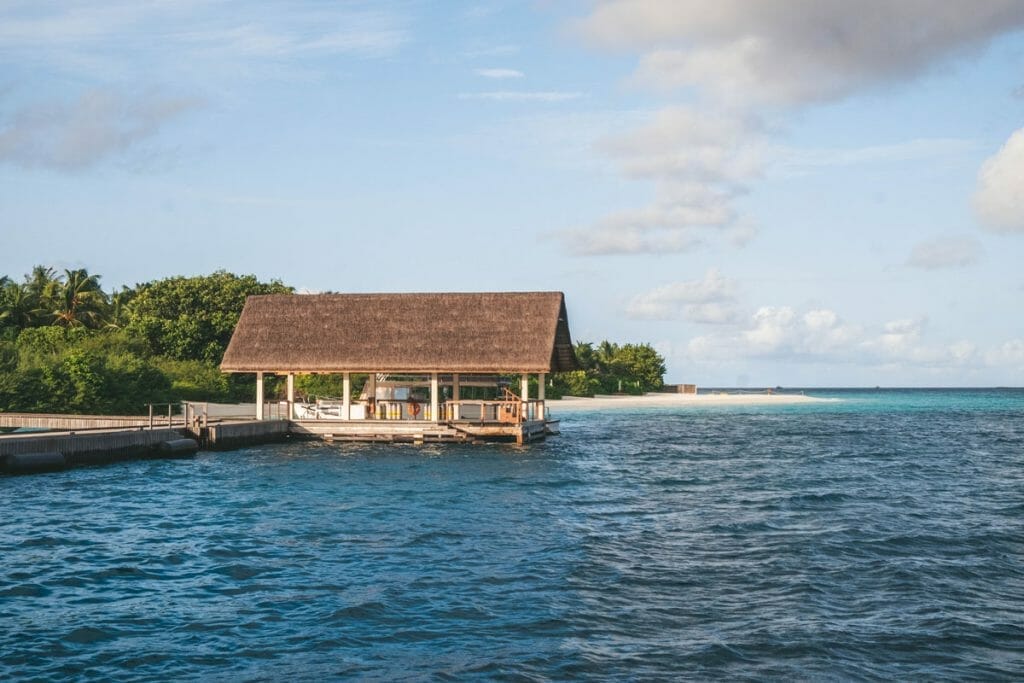 There are quite a few local islands like Fulhadhoo as well as resort islands in the Baa Atoll. In fact, some of the most luxurious Maldives hotels are close to Hanifaru Bay. Pretty much any dive center and resort in the area will offer snorkel trips with mantas to Hanifaru when the season is right.
Important especially if you are short on time: don't stay too far from Hanifaru so you can jump on a boat any time they are sighted. While I loved my stay on Fulhadhoo I wouldn't consider it a great base if you have come to the Maldives to see the manta train.
During my last trip, I got to stay at Four Seasons Landaa Giraavaru, one of three Four Seasons Maldives properties. Landaa Giraavaru is a modern island sanctuary with a huge focus on wellness and ayurveda, sustainability, and of course, marine life.
Each villa comes with its own huge pool and the beach villas are especially beautiful having recently undergone a makeover. There are plenty of dining options all around the resort including their showcase restaurant Blu overlooking an infinity pool, beach lagoon, and their very own sandbank.
As soon as you arrive you will see the heart of Four Seasons Landaa Giraavaru – the Marine Discovery Centre and resort's dive center. All guests can come and hang out to meet the local rescue turtles, learn about corals and how to build a nursery as well as manta ray research thanks to Manta Trust, an international NGO.
And while they are not the only ones offering manta trips to Hanifaru Bay here is one really good reason why you should go with Four Seasons…
Manta-on-call at Four Seasons Landaa Giraavaru
While your chances to see mantas at Hanifaru Bay are pretty good when the season is right, they are still wild animals, and don't follow a schedule. With that many resorts have research vessels in the area that will report back when mantas show up in the bay. Then it is up to the resorts to gather the crew and the guests to head out. Not a small task especially as some resorts will need to cover a bit of distance. And as you have guessed – once the mantas are in the bay, there is no guarantee that or how long they will stay for.
Usually, with these kinds of wildlife encounters you as a guest will have to take the risk to pay for the trip whether you see the animals you came to see or not. Sure sometimes you will get a chance for a redo but it can be a hassle, to say the least.
Luckily Four Seasons Landaa Giraavaru has come up with a genius concept: the manta-on-call phone. Upon arrival, you can sign up for your very own dedicated manta phone. This old-school cell phone comes in a waterproof pouch and is active from 9 am to 5 pm. If you have signed up for the service you will be given a call when mantas are seen in Hanifaru Bay. Once you get the call you have to get ready quickly (or in my case just snatch your already packed 'manta snorkeling' backpack) and cycle to the Marine Discovery Centre. From here the boat will depart and take you to Hanifaru Bay to snorkel with the mantas.
Four Seasons advises not to miss the first opportunity the call comes in as it is obviously not guaranteed that and when the mantas appear. I happened to carry my phone literally everywhere scared to miss the call.
The best thing about this genius concept: if your phone doesn't ring or you don't see any mantas once you arrive in the bay you don't have to pay for the snorkeling trip!
Obviously the longer you stay, the better your chances of getting to go on at least one manta trip. And don't worry, the trips don't run in the evenings so you won't miss a call while you are having sundowners on the beach.
You can book your room at Four Seasons Landaa Giraavaru & manta-on-call phone here.