This post contains affiliate links. If you book something through these links I get a small commission at no extra cost to you. You can read more about mydisclosure and affiliate policy here.
…
Crete diving offers some of the best in the Mediterranean. Read more to find out where to go, the best time & which dive sites in Crete you shouldn't miss.
I discovered the beauty of Greece quite late in my traveling life but after my first bite of proper feta cheese or simply cheese as it is called in Greece and sip of Grecian wine I was hooked. Not to mention the color of the ocean, the hospitality, and the amazing scuba diving in the Mediterranean. I was in love with Greece until I arrived in Crete – and Crete immediately took over. You may rightfully say that Crete is part of Greece and while that is technically true Crete is and wants to be independent and different.
Crete is a bit rougher around the edges, a bit wilder and more unconventional and at the same time absolutely breathtaking. The island has quickly become one of my favorite destinations in Europe and I cannot wait to return.
Needless to say, Crete diving is equally special as the rest of the island and its people. Read on to find out what diving in Crete is all about.
Table of Content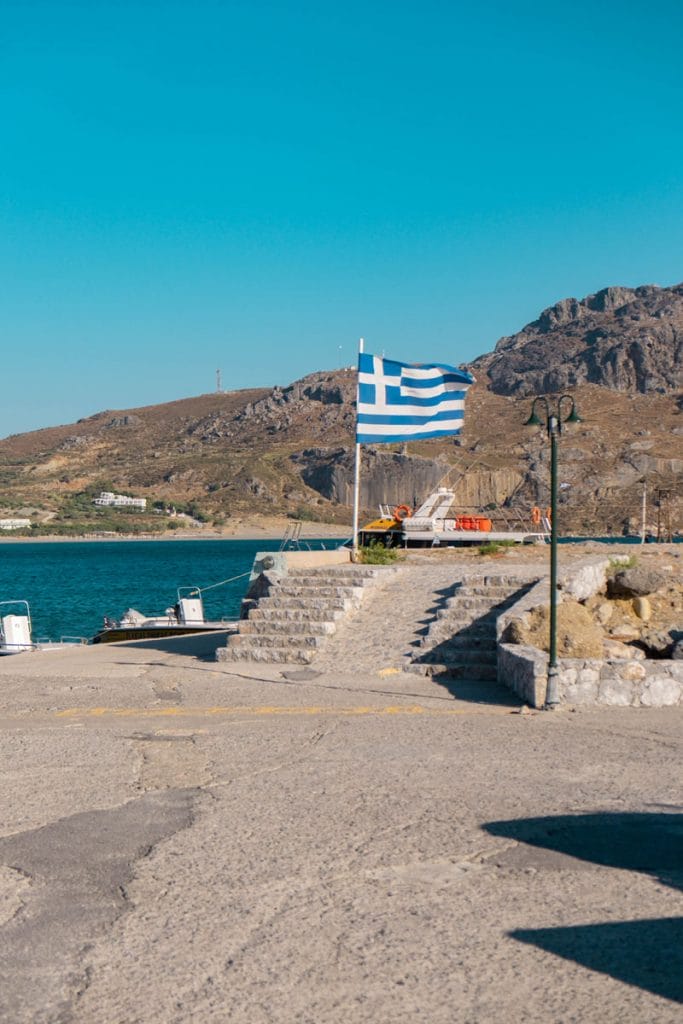 What makes Crete diving so special?
To be honest, I have been spoilt with balmy 30 degrees water temperature and colorful reef fish for most of my diving life. It started in Thailand and as soon as I got my AOW I was diving in Sipadan, shortly followed by trips to the Maledives and Raja Ampat. I am a self-proclaimed warm-water diver and am miserable when cold, I don't even try to deny it. Cold for me is anything below 30 degrees.
Click through to read how to become an Open Water Diver
With that, I have stayed away from diving in the Mediterranean for a long time. Don't get me wrong, I adore swimming in the Mediterranean but diving seems to be a whole different story and not just for the temperatures. What is there to see if there are no Nemos, no frogfish, or mantas?
It was diving in the South of Crete that convinced me to brave the plunge. The visibility in Crete is incredible and there is so much to see! Octopus, seagrass meadows, and most importantly amazing rock formations, caves, and caverns. Crete diving is different than what you may know from tropical waters but it is no less enjoyable.
The best time to dive in Crete
Crete is one of the best destinations for scuba diving in Europe during summer. The dive season here starts in April and lasts till October or November. Keep in mind that if you are late in the season a lot of restaurants and hotels might already be closed for winter depending on where you go.
The water temperature is said to range from 22 to 27 degrees. In the south, this was not the case: writing this I just checked my computer and can confirm that in July the temperature was at a consistent 21 degrees. Brrrrr….
I had arrived with a 5mm suit but quickly added another 5mm shorty and a hood. Considering that I have never volunteered to wear a hood this will tell you just how cold I was. But as I have mentioned before, I am just a warm-water diver and 21 degrees might feel balmy and warm to you!
How to get to Crete?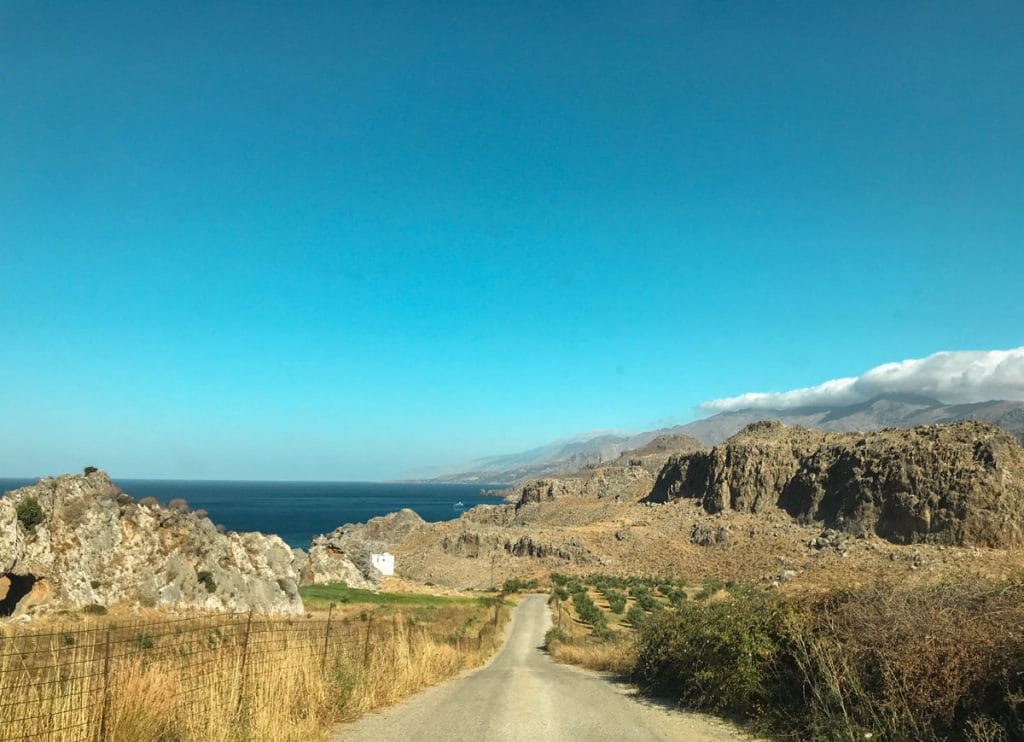 During the summer season and the holidays, you can catch many direct flights from European cities to Crete. You can either fly into Chania, Crete's former capital, or Heraklion, Crete's current capital.
If you are coming from overseas chances are you will have to transfer in Athens.
Once you have arrived your best bet is to get a rental car to get around. Driving in Crete is fun and the drives are stunning. I recommend PANCAR – they are one of my favorite car rentals in Crete and offer great rates as well as personalized service. Best of all, they will greet you at arrivals and have your car waiting in the front.
South Crete Diving Sites
Diving in Plakias, Crete
To get to Plakias you can take the coastal road coming from Heraklion or cross through the mountains inland. Both drives have their pros and are beautiful – if you have the time I recommend you do both!
Plakias is a relaxed little holiday town which is popular but not too popular. You will find just the right amount of restaurants, guesthouses, and entertainment. In sommer chances are there is a strong wind blowing which I enjoyed as it reminded me of Cape Town. As a diver, you will enjoy said wind as it brings amazing visibility.
Dive2Gether
Dive2Gether is the premier dive center in Plakias run by the Dutch brothers Eric and Paul. They offer PADI courses and fun dives and also run a boot camp for those who want to train and dive for at least 4 weeks.
Fun dives can be booked in dive packages of 2, 4, 6, etc., and include your equipment rental. They offer both shore dives and boat dives in the area around Plakias. In addition, they can have their in-house marine biologist accompany you if you are interested to learn more about the seagrass and the underwater inhabitants of the Mediterranean.
The best dive sites in Plakias
During my stay, we only did shore dives as their boat was out of action. Having done very few shore dives in my life I was a little nervous but got the hang of it quickly thanks to their amazing team.
Shinaria
Shinaria is a beautiful bay to chill but offers a great set-up for divers. There is a cafe with toilets, showers and sun loungers that you can rent. Equipment is set up on big covers in the sand and you can safely leave your personal belongings in the van.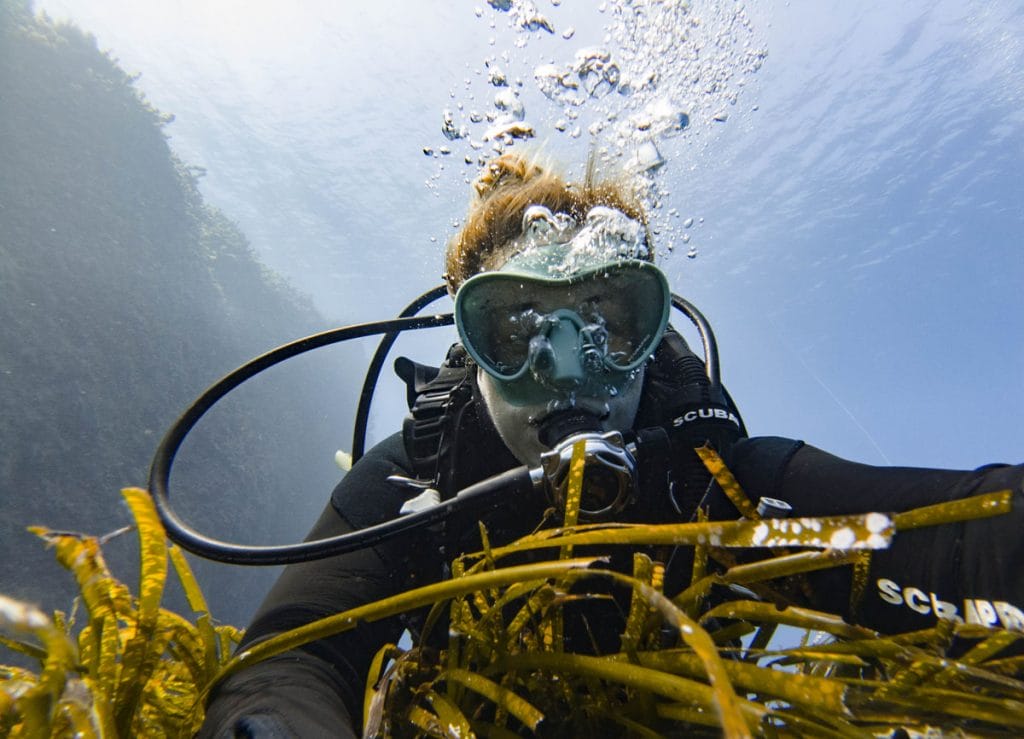 Diving in Shinaria is stunning as there are beautiful gorges, swim-throughs, and drop-offs going down to 30 m/ 100 ft. There is all so a small cavern advanced divers can explore, home to thousands of tiny shrimp.
Old Harbor
I am not sure if the Old Harbor is an official dive site but it is a popular place for divers in Crete. There are a few holiday homes and you will have to (legally) walk through people's backyard to get to the water. Once you are in the most amazing stone and stone slab formations await and you don't have to go deeper than 15 m/ 50 ft. To be honest, I was mesmerized. While there is little in terms of marine life except for some small fish and those seagrass meadows those rock formations were incredible. It resembled a moon landscape underwater!
Where to stay in Plakias?
Dive2Gether can easily organize accommodation for you. I stayed at Calma Apartments which they had recommended and absolutely loved it. It is within walking distance from their dive center in Plakias and the rooms have a small kitchenette, balcony, and aircon. There is also a pool and a pool bar outside.
Click here to check out Calma Apartments
For lunch or dinner, definitely visit Tasomanolis and Ταβέρνα Θρούμπι.
Scuba diving Chania
Diving in Chania is said to be the best in Crete and many dive sites are easily accessible when you are staying in Chania town. Water temperatures are a bit higher than in the south (around 26-28 degrees when I was diving there in August) and there are plenty of dive centers that offer fun diving for experienced divers as well as courses.
Certified divers can do boat trips to the dive sites in the north of Crete but most operators also offer guided snorkeling.
The best diving spot in Chania
The best dive site in Chania and also the most famous one is the Elephant Cave. Boats depart from the harbor in Souda and it takes about 15 minutes to get there. The cave is accessible for open water divers with its entrance hovering at 9m depth and daylight always visible. Once you are in you will dive for about 40 m until you get to the main part of the cave where you can ascent and take your reg out. Inside you will see the beautiful ancient formations of stalagmites and stalactites that have grown here over thousands of years.

The cave was named after some 50.000-year-old elephant bones that were found here, proof that Crete was once part of Africa. While some of the bones still exist they were not as exciting as I imagined. Mind you the rest of the cave made more than up for it!
Most dive centers offer a dive at the Elephant Cave in combination with the Minnewaska Wreck, an old passenger steamer that lies just in front of Souda bay. Or at least what is left of it does. The dive is an easy one, perfect to get your feet wet before you head into the cave. Wreck divers might be disappointed though – the Minnewaska is unfortunately broken into bits and pieces by now so there is no penetration possible.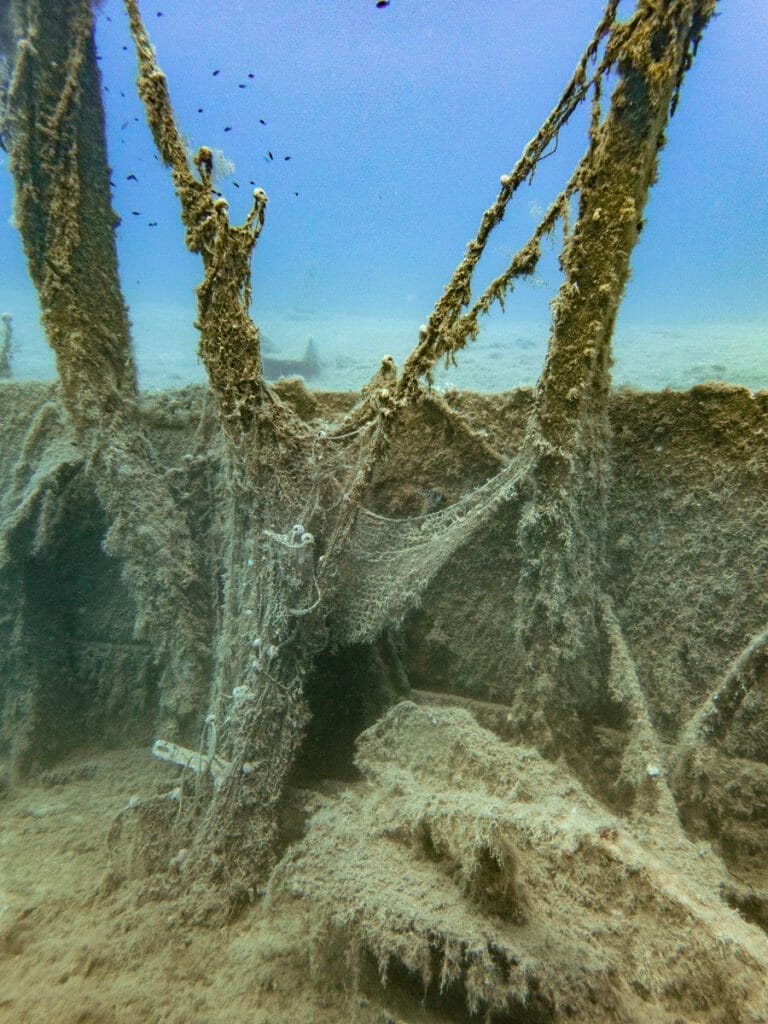 There are also some great walls for scuba diving Chania like the Lighthouse Wall, an airplane wreck as well as some other caves like the Seal Cave or God's Cave to explore. And with all those caves to dive it is obviously a great area for a cavern or cave diving course in Crete!
Check out Omega Divers, a Crete diving centre in Chania
Where to stay in Chania
There are plenty of great hotels and guesthouses in Chania. Many dive centers include transfer in their prices so you don't have to worry about having a rental car. With that said, I recommend you book yourself smack bang in the middle of Chania Old Town!
Click here to find accommodation in Chania
Diving in Hora Sfakion
Hora Sfakion is a cute little coastal town and an excellent Crete dive destination. You can either stay there or drive down from Chania town for the day. The drive takes about 1,5 hours and is beautiful. Do keep in mind though that you will be going through the mountains at quite an elevation so you may have to wait a couple of hours after your dive. I did and yet my dive computer still started beeping on my way home. Ups.
Notos Mare
I went diving with Notos Mare a small family-run dive center that also rents boats in Hora Sfakion. The dive center is located right by the harbor and in addition to fun dives, they also offer a variety of SSI courses. If language is important to you – Damulis, one of the owners, also speaks German.
Dive Sites in Hora Sfakion
There are a few great dive sites in the area but the cave was the most memorable to me. On their website, it is simply called the Cave while others refer to it as Italian Cave.
You will need to be an AOW and do a pre-dive beforehand. The boat will moor in front of the cave and they will take a maximum of 3 divers in. The entrance to the cave is quite tight and to be honest I was a tiny bit terrified. Luckily Damulis took good care of us and it was worth the effort: you access the cave through a halocline. This is where sweet water from the white mountains comes in and meets the saltwater of the sea. Once you are through you will see that the water is crystal clear all of a sudden and you can drink it. In the cave, you can ascend and take your reg out and admire the beautiful stalagmites and stalactites.
Click through to read how to get your Advanced Open Water
The only problem for me? The sweet water in the cave is about 10 degrees colder than the ocean outside. It took all but a few minutes and my teeth were chattering. Still, one of those dives I will never forget!
Where to stay in Hora Sfakion?
You can totally drive back and forth from Chania town or stay for a couple of days and do more dives in the area. Notos Mares can also organize a taxi boat for you to see Loutro, a cute bay a short boat ride away.
Click here to find accommodation in Hora Sfakion
Pin for Later!